Cinco de Mayo is just around the corner, so I'm dusting off my Mexican inspired dishes for the occasion.  This Crock Pot Salsa Verde Chicken is the perfect weekday meal.  Easy and packed full of flavor! Not to mention you can make two or more meals out of this one!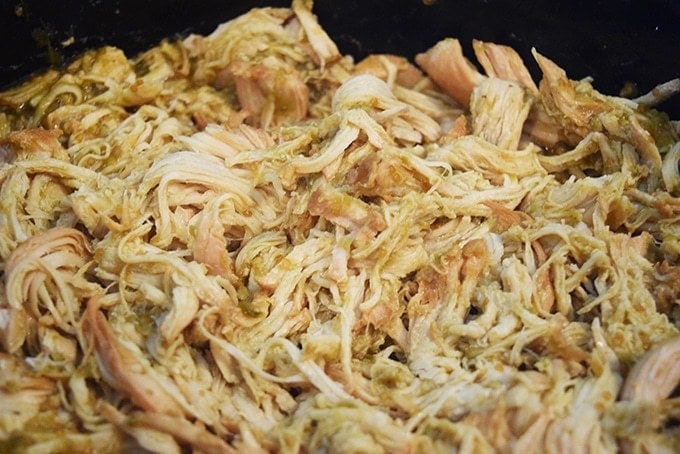 I just have to tell you I LOVE Mexican Food!!! The town I live in is rich with Mexican culture, so I get to enjoy authentic Mexican Cuisine as much as I want to.  Now this dish may not be what you would call an authentic Mexican dish, but hey I'm counting it as one!  Nonetheless, it is so delicious!
You put it in the crock pot and it is ready when you get home.  I will let you in on a secret!  Shh don't tell anyone this! I put the chicken in frozen. This way it doesn't dry out!  It would never be because I forget to take the chicken out (No not I). But really it turns out perfect this way!
Once you shred this chicken it's ready to be used in so many dishes.  Let's just count some of the ways! Ok first off,  I LOVE to make Creamy Green Chicken Enchiladas and second a Chicken Tortilla Soup Recipe (both coming to the blog soon)! You are sure to love them as much as I do. Oh Yes and not forget this oldie but goodie version of the Tortilla Soup (Forgive the blog post, this was back when I was posting recipes just for my family & very close friends). But hey you are family now so it's okay! The recipe is mostly the same, but now I use the Salsa Verde instead of the Red Salsa Chicken one.
Now imagine this on your favorite nachos recipe or in cheesy filled quesadillas!  Ok do you have your taste buds ready to dig in?? One more idea – Pile this yummy shredded chicken on a taco shell with all your favorite fixings and you have dinner done! I will leave the rest to your imagination!
Ok, so are your ready for how easy this is?? Take 3 nice big frozen chicken breasts and place them in your crock pot.  Sprinkle on 1 teaspoon of garlic salt, 1 teaspoon of cumin and pour that bottle of salsa verde on top.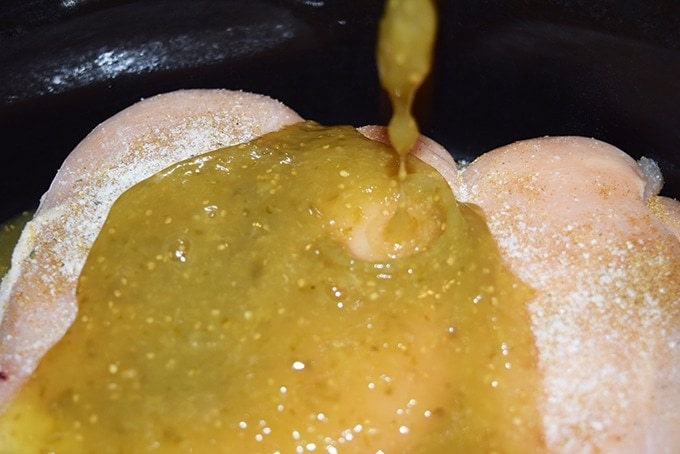 That is it.  Let the magic happen on low for 8 hours!  Shred by pulling the chicken apart with two forks!  It is so tender you will not have to use your muscles at all! Serve on tortillas or in recipes I mentioned earlier. First just go ahead and take a bite just like it is!  YUM!!!

Crock Pot Salsa Verde Chicken
Ingredients
3 boneless skinless chicken breast
1 teaspoon ground cumin
1 teaspoon garlic salt
1 (16 ounce) bottle salsa verde
Instructions
Place frozen chicken breast in crock pot. Sprinkle with ground cumin and garlic salt. Pour on salsa verde.
Cook on low for 8 hours.
Shred with two forks