Lemons and Blueberries just shout spring time is here!  I love using these fresh ingredients whenever I can and lemons and blueberries are all around!  So I was excited to put these two together for these Lemon & Blueberry Poppy Seed Muffins.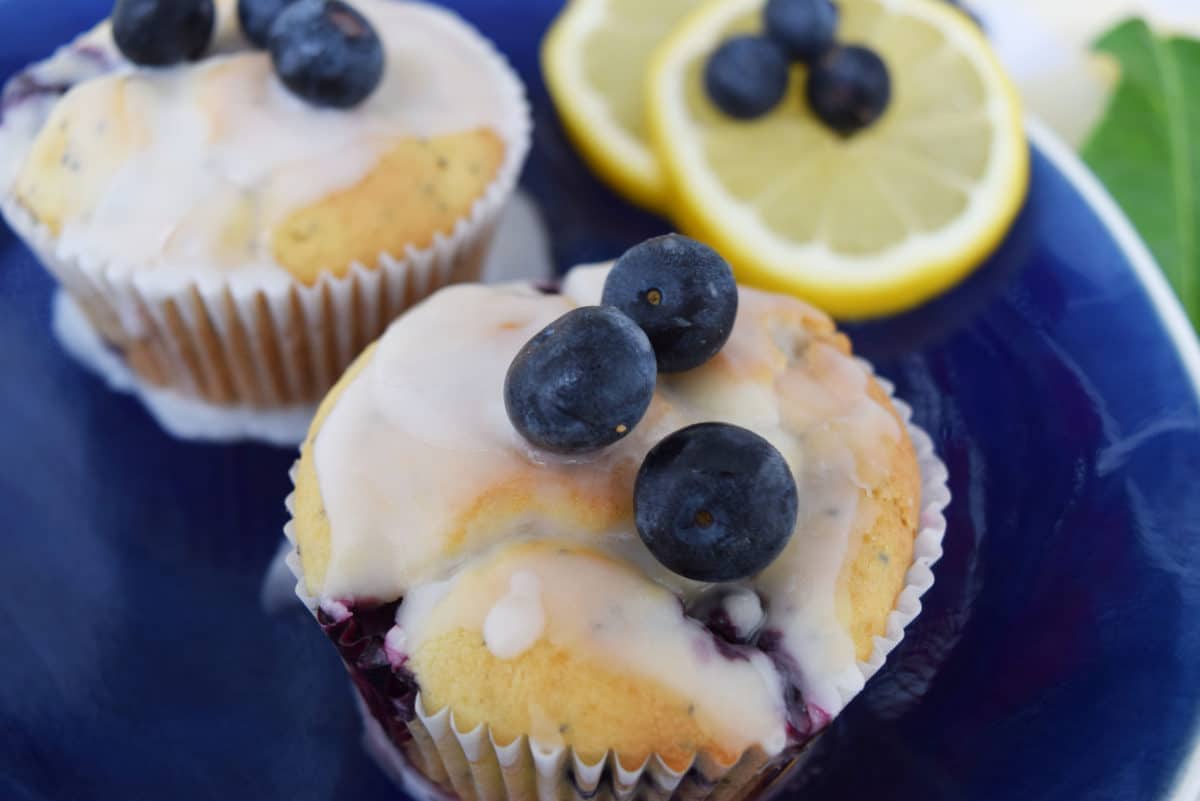 The two all time favorite muffins of mine (in the whole world) are blueberry and lemon poppy seed.  I had to give a go at putting both together in one muffin! They turned out delicious and such bright combo.
It was a perfect time to try these out.  I have lots of taste testers in the house.  My daughter is home for spring break with 8 of her friends!  We are having such a great time with them here. Having both my kiddos in the nest makes me thrilled, but to have all these extra ones too is so much fun!
These Lemon & Blueberry Poppy Seed Muffins are a perfect way to start off the day. Whether on the go for breakfast or to sit down and enjoy with a great cup of tea or coffee.
Today, I got to savor them while the kiddos slept in a little!  Needless to say I was glad, it was a late night listening to laughter, ping pong and all the going ons of college kids. Pure Joy!
Did I mention these kids like to eat and have to be fed (I LOVE to FEED people) you know what I mean! The kids gobbled them down. That is always the true test! Notice me smiling a big smile 🙂
Here we go, let's get to the recipe…  Gather your ingredients and let's get to zesting and juicing those lemons. (only two large ones ;))
You can lay out your butter to soften or use that soften button on the microwave. Cream butter and sugar in stand mixer for about 2 minutes. Then add in zest and mix.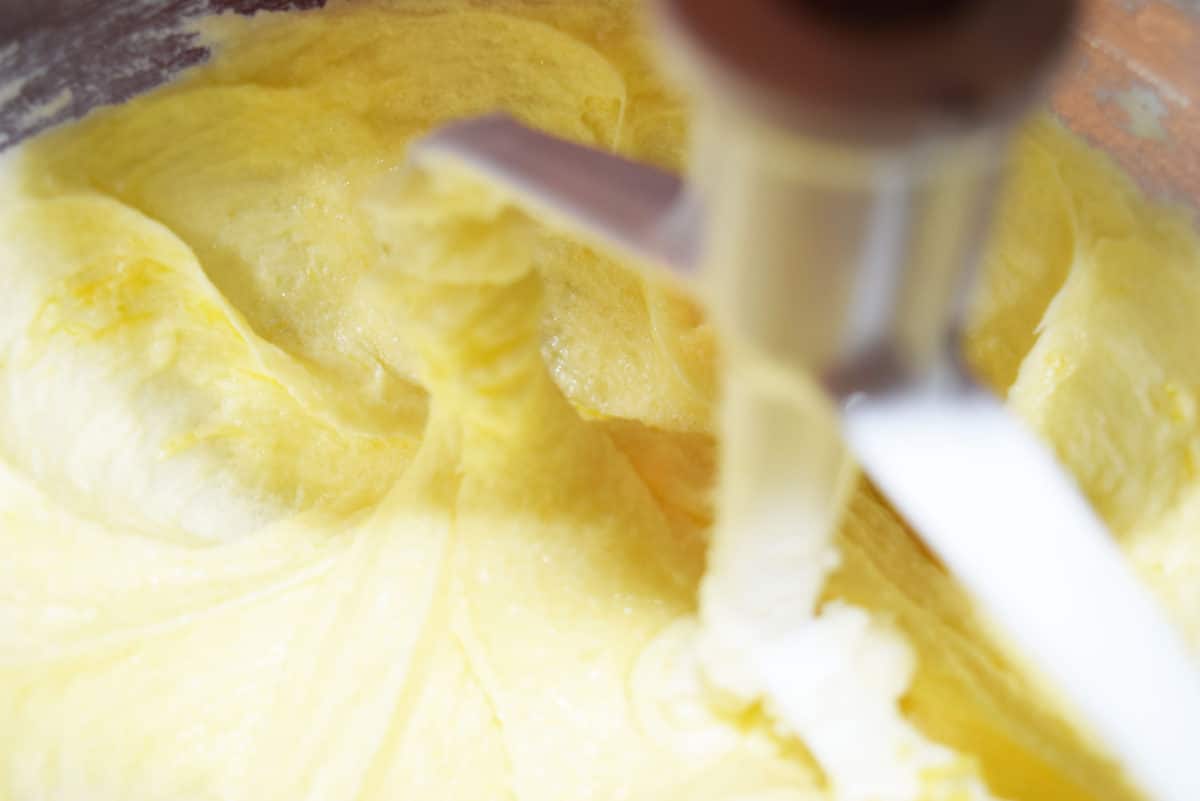 Next add in eggs one at a time and mix.
In another bowl mix flour, baking powder, baking soda, salt and poppy seeds. Then gradually add into butter mixture by alternating flour mixture, sour cream and milk, until just combined. You don't want to overmix your batter.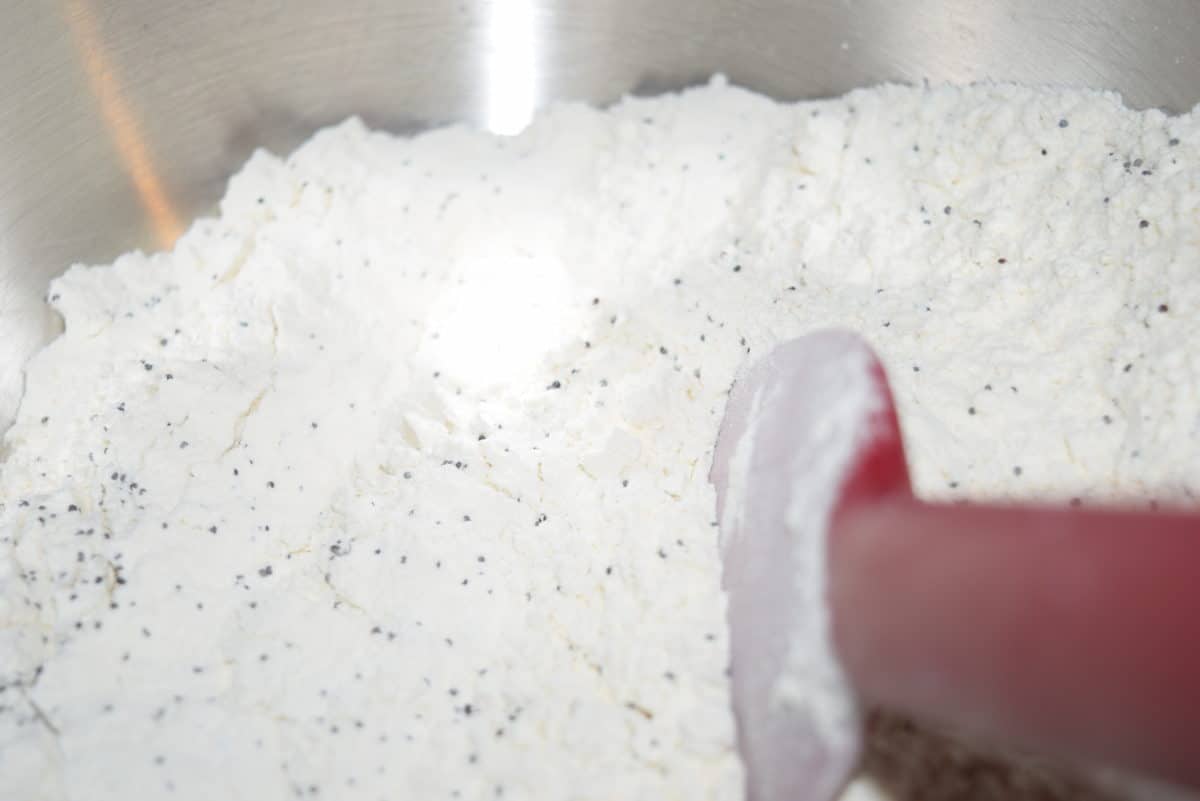 Lastly, fold in your blueberries gently!
Spoon this deliciousness into your muffins pan!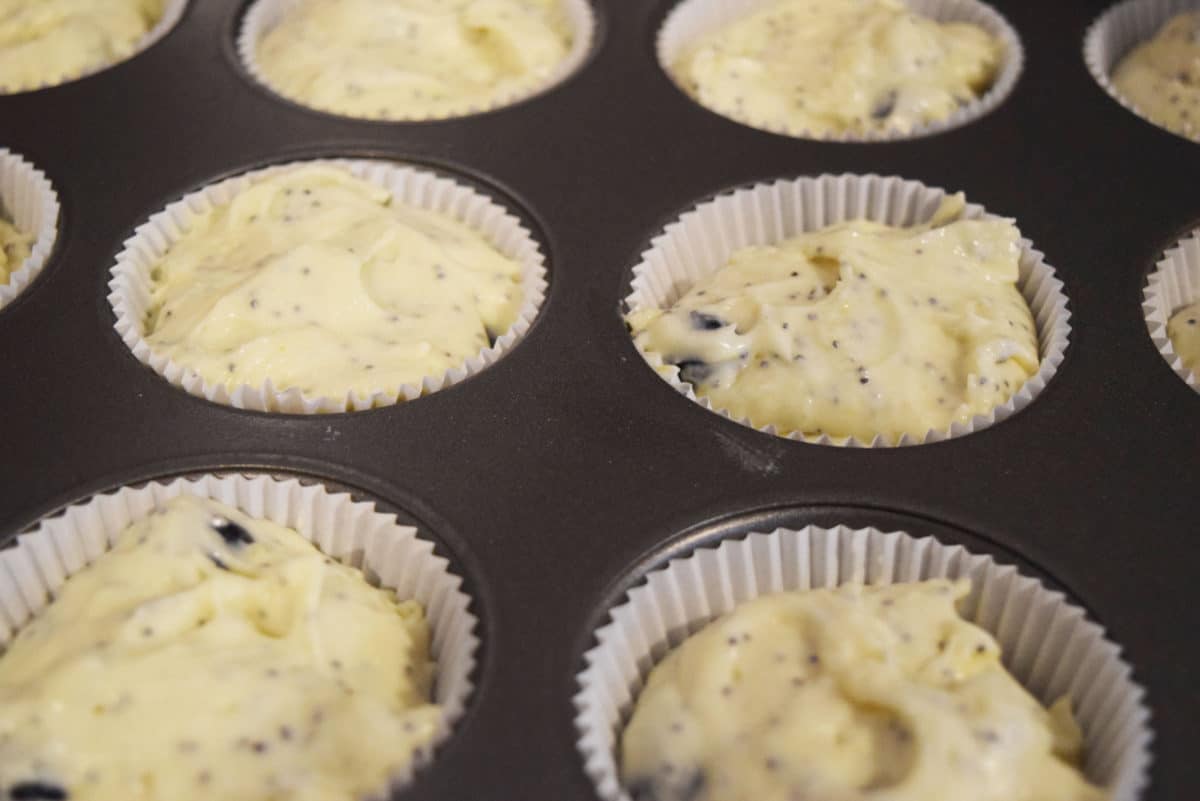 Bake these bad boys at 375° for 20 to 25 minutes!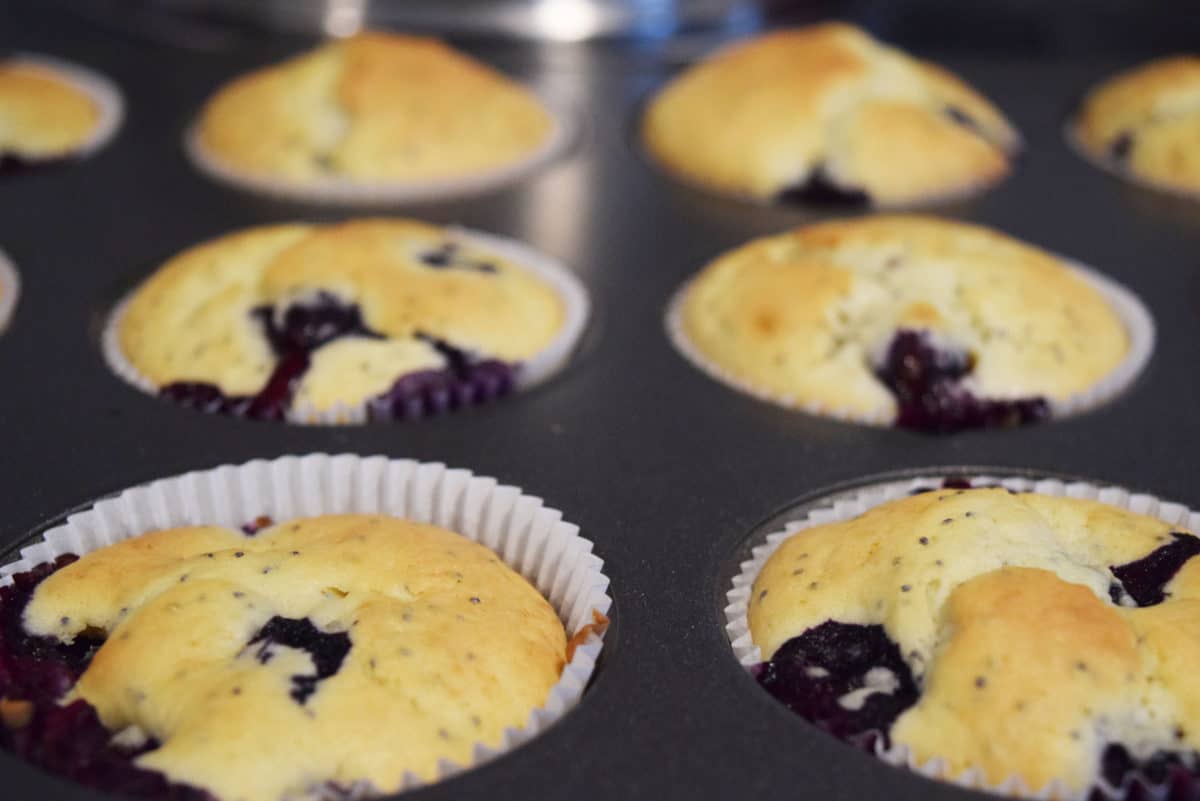 While they cool, make this simple yet delightful glaze.  Powdered sugar and fresh lemon juice is all you need! You can drizzle or just spoon on lots like I did today! See that pool of glaze there! Happiness on a plate 🙂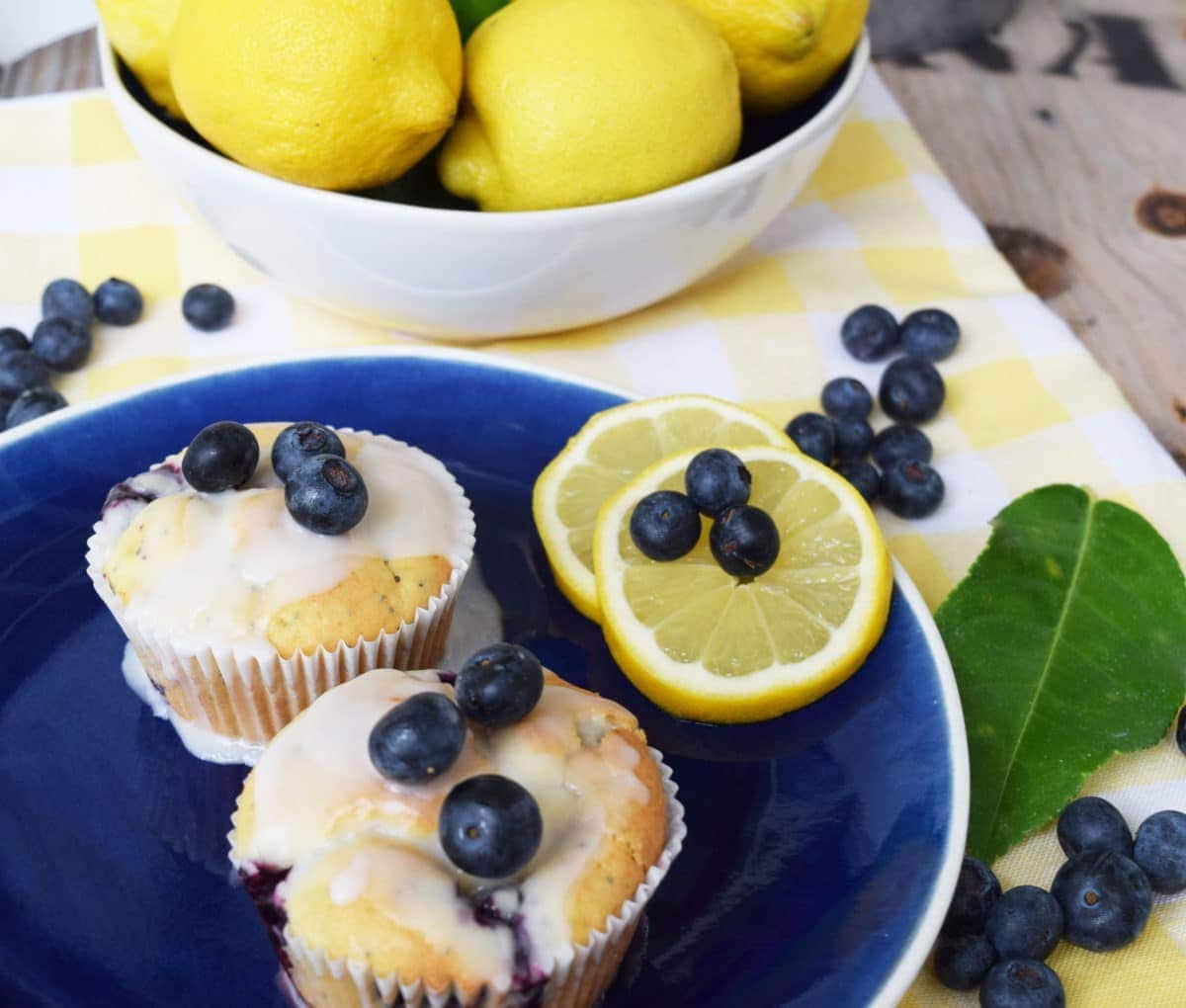 Lemon & Blueberry Poppy Seed Muffins
Author:
Nikki@Soulfully Made
Ingredients
For the Muffins
3 cups all-purpose flour
1 tablespoon baking powder
½ teaspoon baking soda
½ teaspoon salt
2 tablespoons poppy seeds
1 ½ sticks butter, softened
1 cup white sugar
1 tablespoon grated lemon zest
2 large eggs
16 ounces' sour cream
⅔ cup milk
1 ½ cups fresh blueberries

For the Glaze
2 cups powdered sugar
4 tablespoons fresh lemon juice
Instructions
Preheat oven to 375 degrees. Grease muffin tin or use baking cups.
In a bowl, whisk, flour, baking powder, soda, salt, and poppy seeds.
Cream together butter and sugar until fluffy about 2 minutes. Add in zest and mix.
Add in Eggs one at a time.
Slowly add in flour mixture alternating with milk and sour cream until combined. Do not over mix or batter will be tough.
Fold in blueberries gently.
Spoon batter into muffin tins.
Bake for 20 to 25 minutes until golden and tooth pick comes out clean.
While muffins are cooling, prepare glaze. Mix powdered sugar and fresh lemon juice. Drizzle or spoon over muffins, let set and serve.
Meal Plan Monday

on
: 
Southern Bite, Big Bears Wife,  Southern Plate & A Southern Soul