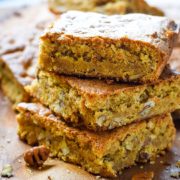 Print Recipe
Pecan Chewy Cake (Pecan Chewies)
Pecan Chewy Cake (aka Pecan Chewies) has a dreamy texture similar to a blonde. This delicious southern dessert is filled with gooey butter, brown sugar, and pecans!
Preheat oven to 375 degrees and grease or spray cooking spray in 9 X 13 pan.

Melt Butter. Add one box of brown sugar and mix together until well incorporated.

Next add two cups of self rising flour, three eggs, one and one half cups of pecans and vanilla. Mix until combined.

Pour into greased 9 X 13 pan and bake for 20-25 minutes. Remove pan and drop the pan onto the counter top to settle the cake and bake for 5 more minutes.