Strawberry Oreo Cheesecake Cookies - Pillowy soft strawberry cookies with velvety cream cheese and bites of cookies and cream!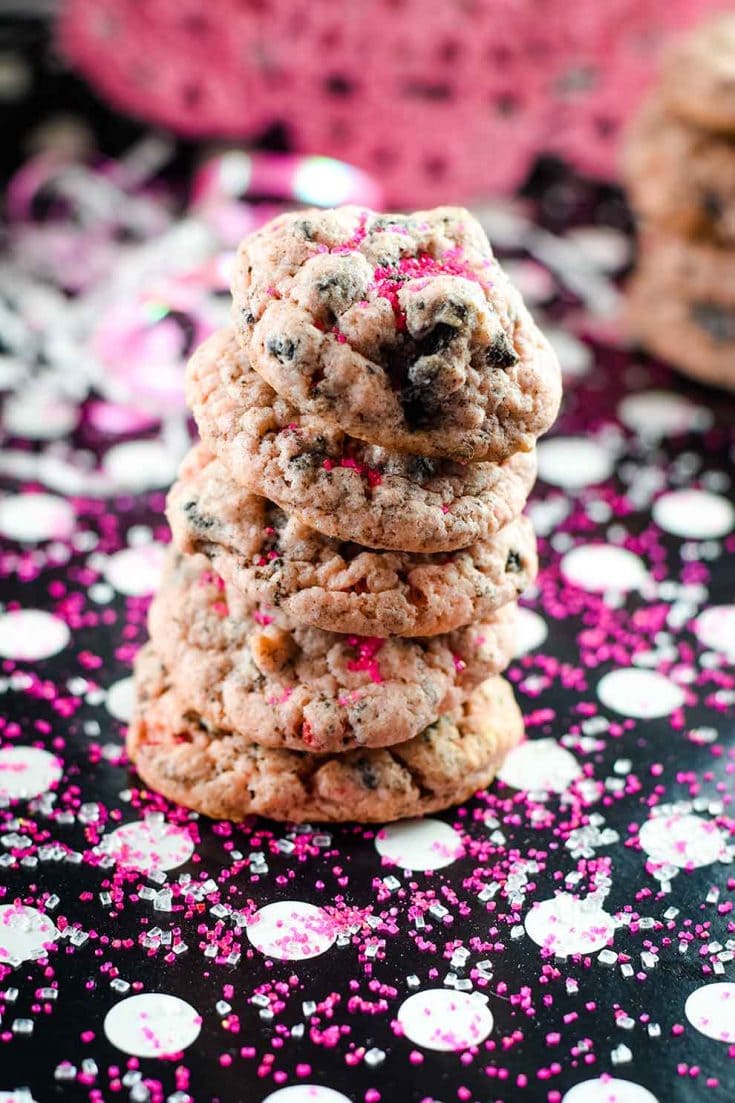 We are big fans of all things Strawberry at the Soulfully Made Home and we also adore all things cheesecake and Oreo. I mean who doesn't love OREOS??
We also have a true affinity for a super soft cookie. So these cookies were a no brainer. They were sort of born from the idea of these Strawberry Cake Mix Cookie and my Chocolate Oreo Peppermint Cake Mix Cookies. Both are amazing if you haven't made them yet you will want to add them to your sweet treat list!
That is how it is with recipes sometimes, while you are making one thing you just have all these combinations rolling around in your brain and know they must be created. And I love creating new cake mix cookies variations! They are really easy to make and produce a soft chewy cookie, which is heavenly in my book!
Let's get to bakin'!
What you need to make Strawberry Oreo Cheesecake Cookies
Strawberry Cake Mix
Butter
Egg
Cream Cheese
Vanilla
Oreo Cookies, crushed into chunks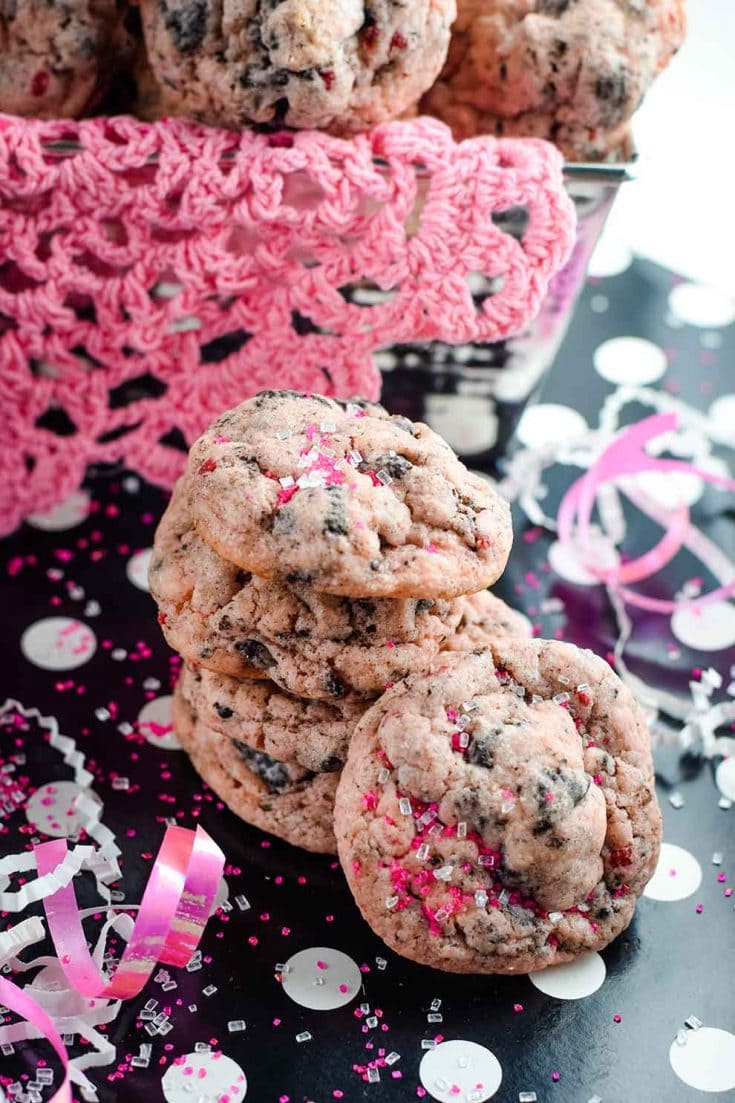 Decorating Tips for Strawberry Oreo Cheesecake Cake Mix Cookies
These cookies are perfect any time of the year, but it's getting close to Valentine's Day so I plated them with sprinkles of pink and white sugars for extra color.
Add sprinkles on top before baking or just out of the oven for more pops of color.
Put a few drops of red or pink food coloring into the dough if you want them to have more color.
Served on holiday themed or colored tray for whichever occasion you will be using them.
How to make EASY Strawberry Oreo Cheesecake Cookies
These cookies are so easy to prepare and make.
Step 1. Using a stand or hand mixer - mix cake mix, butter, egg and vanilla extract. Add in cream cheese and beat until combined
Step 2. Stir in Oreo chunks.
Step 3. Refrigerate dough 30 minutes to 1 hour. Remove and roll into 1 inch ball shaped cookies.
Step 4. Bake at 350 degrees for 8 - 9 minutes. Let rest on baking sheet for 2 to 3 minutes. Remove to completely cool on baking rack. Store in airtight container.
TIP: Make sure to not overbake these cookies. They may look slightly underdone, but go ahead and pull them out of the oven and let them sit to cool a few minutes on baking sheet before removing to cool on baking rack.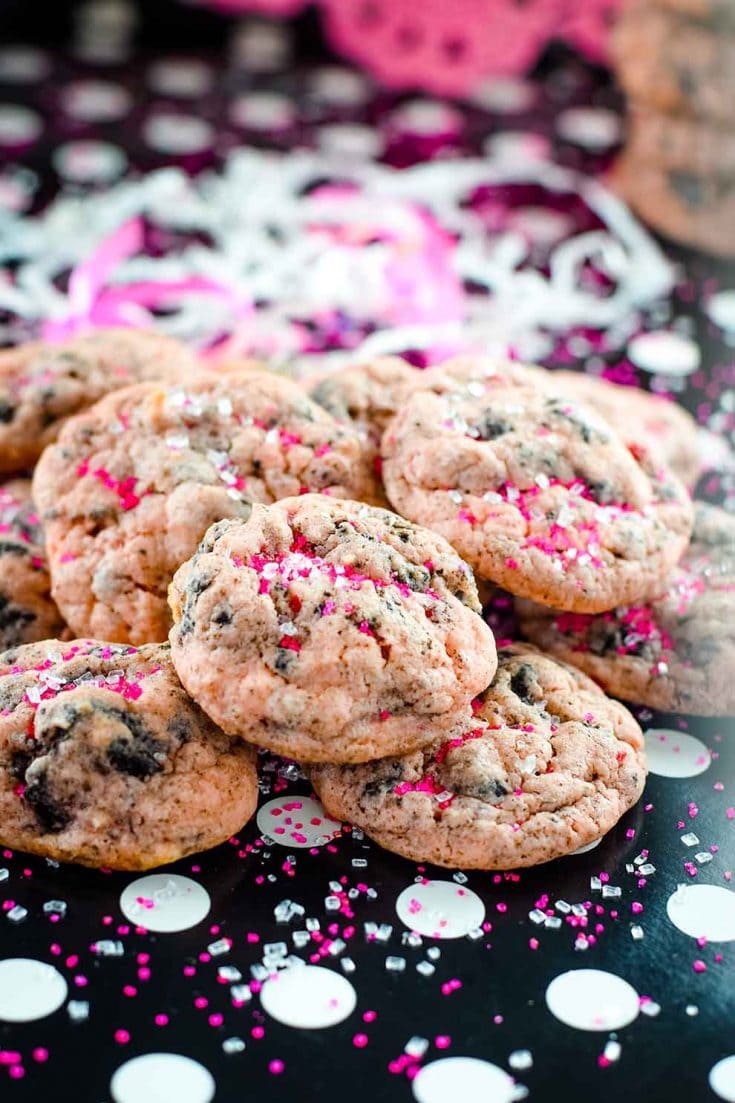 Other Strawberry Recipes you May Enjoy
Please Pin Strawberry Oreo Cheesecake Cookies to SAVE and SHARE with Friends