I am always looking for super easy chicken recipes. This tortilla chicken soup recipe is one of my favorites. It is a no fuss meal, but is seems like you worked really hard. And I just love when that happens!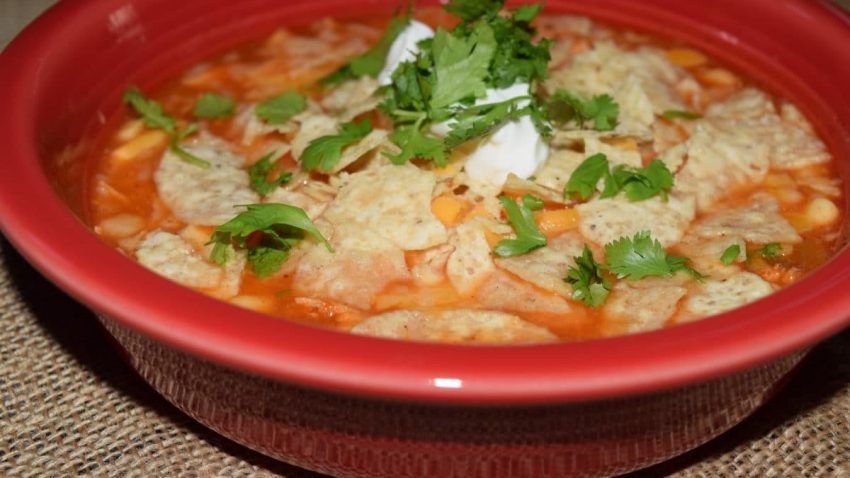 I originally found this recipe on pinterest and adapted the soup to my families tastes.  I cook the chicken in the crock pot ahead of time and often use it for tacos, enchiladas or a fiesta salad. But there is usually plenty of chicken left to make this soup too. Don't you just love making two meals at the same time  😉
Put 3 good sized full chicken breasts (I usually use frozen chicken) in the crock pot and pour a packet of taco seasoning and a jar of salsa over the chicken. Cook on high for 3 hours or low for 8 hours. Shred chicken with fork and reserve 2 cups for the soup!
In a pot add shredded chicken, 64 oz of chicken broth, 1 can of diced tomatoes, 1 can of rotel (diced tomatoes with green chili's), 2 to 3 teaspoons garlic, 2 teaspoons of chili powder, 2 to 3 tablespoons of tomato paste, 1 can of drained corn (or frozen corn works great too), 2 bags of boil in bag rice, juice of 1 lime, and cilantro to taste.  Bring to a boil  and cook for 30 minutes.  If you would like to cook longer that is fine just add the rice the last 20 minutes.
You could also cook in the crock pot, just allow extra time. I would say 1 hour on high and then at least 30 more minutes after you add the rice. (You don't want to over cook the rice it will get too puffed up and mushy.
Top with cheese and tortilla strips.  You could also top with avocado and sour cream and more cilantro.