Tomatoes are starting to spring up everywhere this time of the year! And that is a FABULOUS thing. I am always looking for ways to use them in recipes! Any way you slice, dice, crush or can them - they truly are delicious! Especially in these sweet and savory Cheesy Thumbprint Cookies with Green Tomato Strawberry Jalapeño Jam!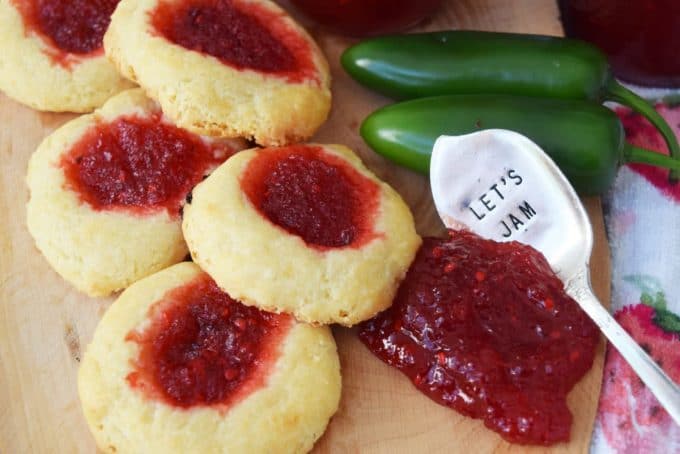 I always look forward to spring because there is nothing like a fresh grown Tomato pulled from your garden! Fun fact from the Floridian in me - 50% of the tomatoes that feed the United States are grown in the Sunshine State! YUM!! Now I know why they are so full of sunshine and juicy greatness. As the season begins I love to use green tomatoes. Probably because I am so impatient! Well and they taste so good. Grab the Green Tomato Strawberry Jalapeño Jam and make it ahead of time.
Cheesy Thumbprint Cookies are savory and perfect to pair with the sweet and spiciness of this jam! I love to serve them for a party, pack them for a picnic, or have them at fancy shower. Like a baby shower (I have this on my brain) - most of you know I will be planning one soon! My sister is having a baby girl and we must have some fancy little snacks for this shindig.
Most of you also know how much I love cheese and the white Vermont sharp cheddar gives it the perfect amount of saltiness and then the Jam balances it with spicy sweetness – how fancy! Give me cheese and spicy strawberry jam made with green tomatoes, and well my day is complete now!
Making the dough is super simple. Just cut up your butter and grate your cheese. I think grating it so worth it but you can buy it already shredded and I won't tell a soul.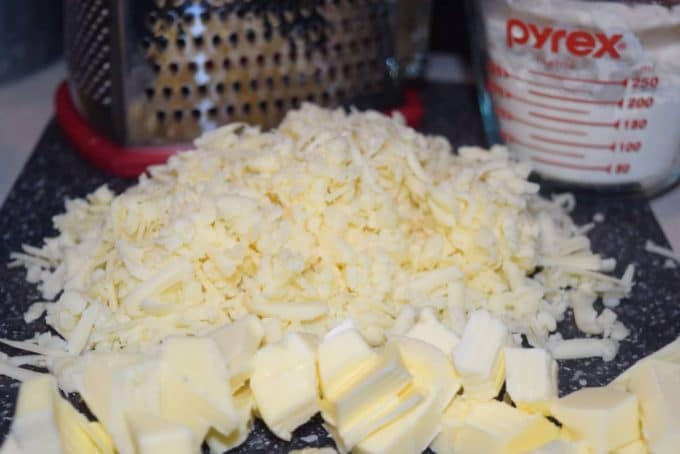 Grab your food processor and pour in your flour with the cheese and cold butter. Start pulsing it on low. It will form a meal consistency. Don't stop there keep going! Watch for it… here it goes it's magically a ball a dough! I know it is the simple things that amaze me! Kinda like the sunrise and sunsets I have been getting lately here! Thank you Lord for simple blessing that make me smile!

Chill this dough ball for about 30 minutes or until you are ready to bake these cookies! Once chilled pull out of fridge. Pull off a little dough and form 1 to 1 ½ inch balls. Bake at 400° for 5 minutes.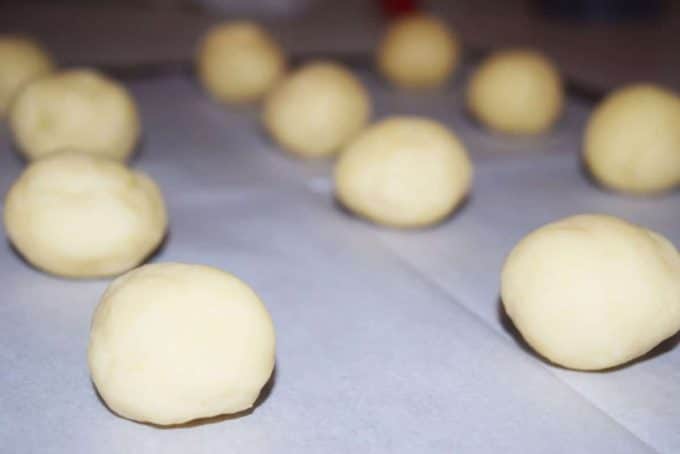 Pull out of oven and press an indention in the middle with your thumb (thus thumbprint cookie). Spoon in about a teaspoon of jam. Don't look I overdid it today so forgive my messy cookies. They taste the same ?. Pop back in the oven for 5 minutes or until the edges are golden brown.

Oh, now you have amazing Cheesy Thumbprint Cookies with Green Tomato Strawberry Jalapeño Jam!