Want an Easy Rice Pilaf recipe? Are you still making it from a box? Time to kiss that boxed stuff goodbye! Not only is this easy but it's Delish-IOUS! A perfect side dish for any meal!

I have always been a sucker for the stuff in a box aka Rice A Roni! Well, the taste certainly is a treat. But all those preservatives can't be good for you! Out with that boxed stuff and in with the homemade.
I am so glad I did. Homemade really does taste much better and it is just as easy as the boxed stuff! My favorite part is toasting the orzo pasta in the butter. That nutty smell! Divine!
This side dish finds its way to my table along with so many dishes! It pairs perfectly with Lemon & Garlic Glazed Chicken and these Fontina Pork Chops with Mushroom Sauce. YUM! Hey if you are in a hurry just grab a rotisserie chicken from your deli make this Rice Pilaf and a quick salad! Dinner is done in no time!
Now here is my favorite part! Start melting that butter in a skillet over medium-high heat. Toast that orzo baby until it's perfect golden brown deliciousness! Add in some diced onion and minced garlic. Stir, stir for a minute so this doesn't burn!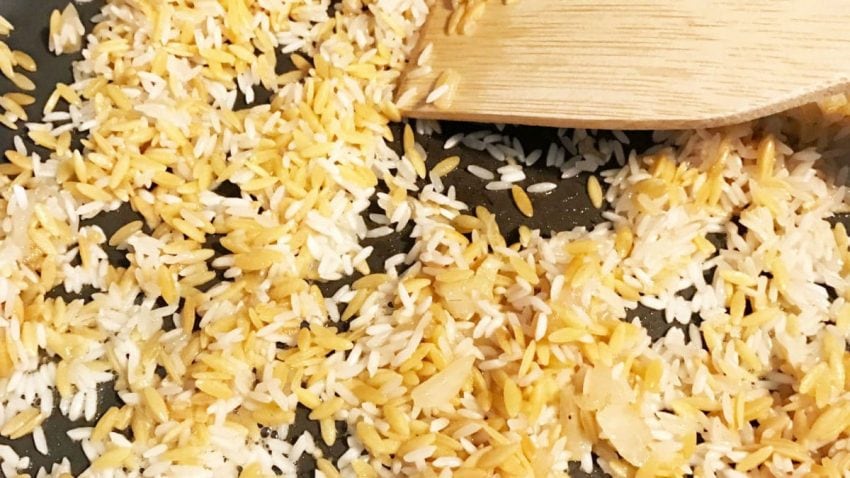 Mix in the rice and pour in that chicken broth. Cover, turn up to high to bring to a boil. Add salt and parsley. Then reduce heat to medium-low and simmer until the liquid is absorbed! Takes about 20 to 25 minutes! Enjoy!