This Instant Pot Lemon and Garlic Glazed Chicken is a tender pressure cooked chicken breast recipe infused with lemon and garlic. If you are looking for a quick and easy chicken recipe that is flavorful and juicy look no further! Dinner will be on the table in a flash!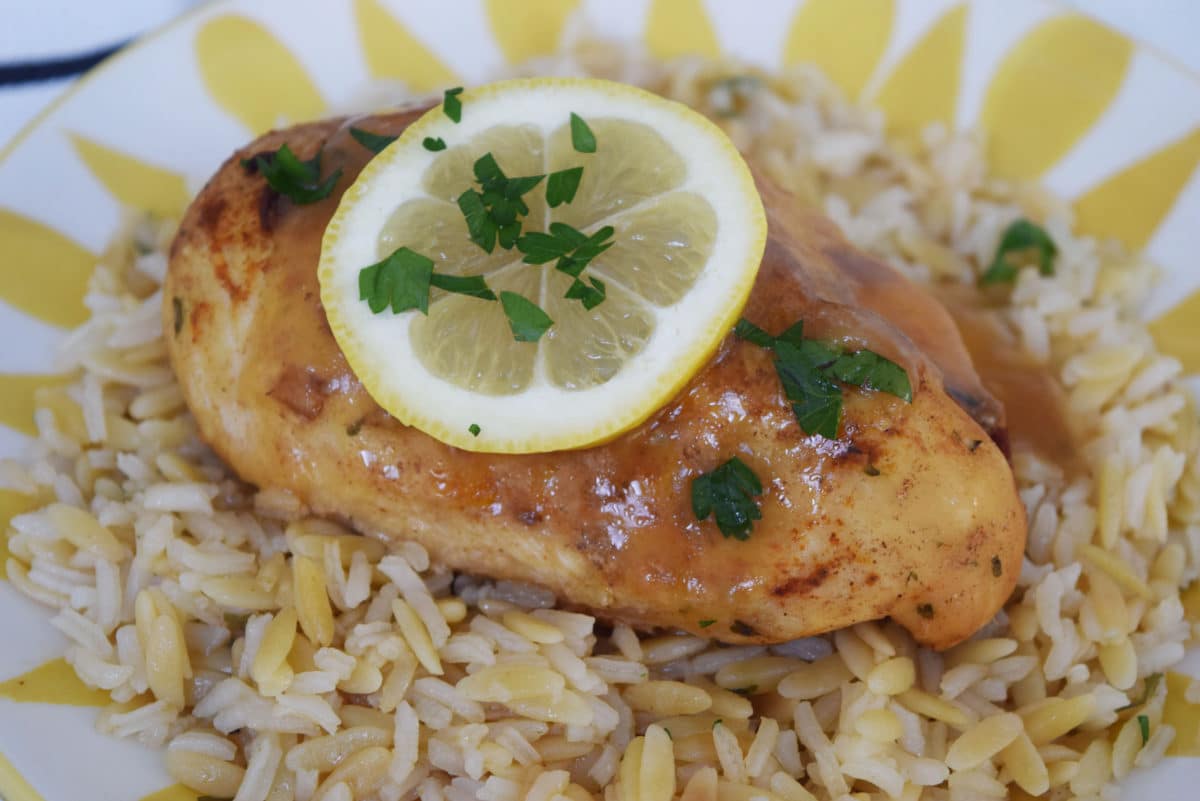 *Soulfully Made is a participant in the Amazon Services LLC Associates Program, an affiliate advertising program. Please note: This post may contain affiliate links to products I use and love. I earn a small commission, at no extra cost to you, to help with blog expenses when you make a purchase through an affiliate link. Thank you for your support!
About a week ago I decided it was time to bring this wonderful Instant Pot into my life. It has me reminiscing of being in my grandmother's kitchen. Can't you just hear that whistling sound her pressure cooker used to make and the smell of her famous Swiss steak? Takes me right back to sitting at her table in their row home in Baltimore and watching her moving around the kitchen preparing us a meal.
One of the things I love most about food is the memories associated with each meal we enjoy. Aside from all the new dishes that will be created with this Instant Pot; I am thankful that each time I cook in it, these beautiful thoughts of my grandmother and our times together in her home come flooding back.
Okay, back from my walk down memory lane..... Now about this Lemon and Garlic Glazed Chicken and cooking it in the Instant Pot. To say the least I was a little skeptical of the texture. But I am glad that did not stop me from giving it a go - because that fear is now gone!! It came out so tender and the texture was perfect!
Don't you just love lemon and garlic with chicken? The acidity in lemon brings such brightness to the dish. Then there is garlic!! Glorious garlic!! Is there any other choice in life but to add garlic? NOT! Not sure there are many days that go by that cooking doesn't have this wonderfulness included! Garlic is healthy right! That is a great excuse!
How to make Instant Pot Lemon and Garlic Chicken Breast
First get organized and gather all your ingredients.
Season the chicken on both sides with the salt, paprika, parsley and garlic.
Next turn the Instant Pot on to saute and add the butter, and onion. Get them nice and translucent. Add in the chicken two at a time and brown on each side. Once they are browned, remove to a plate.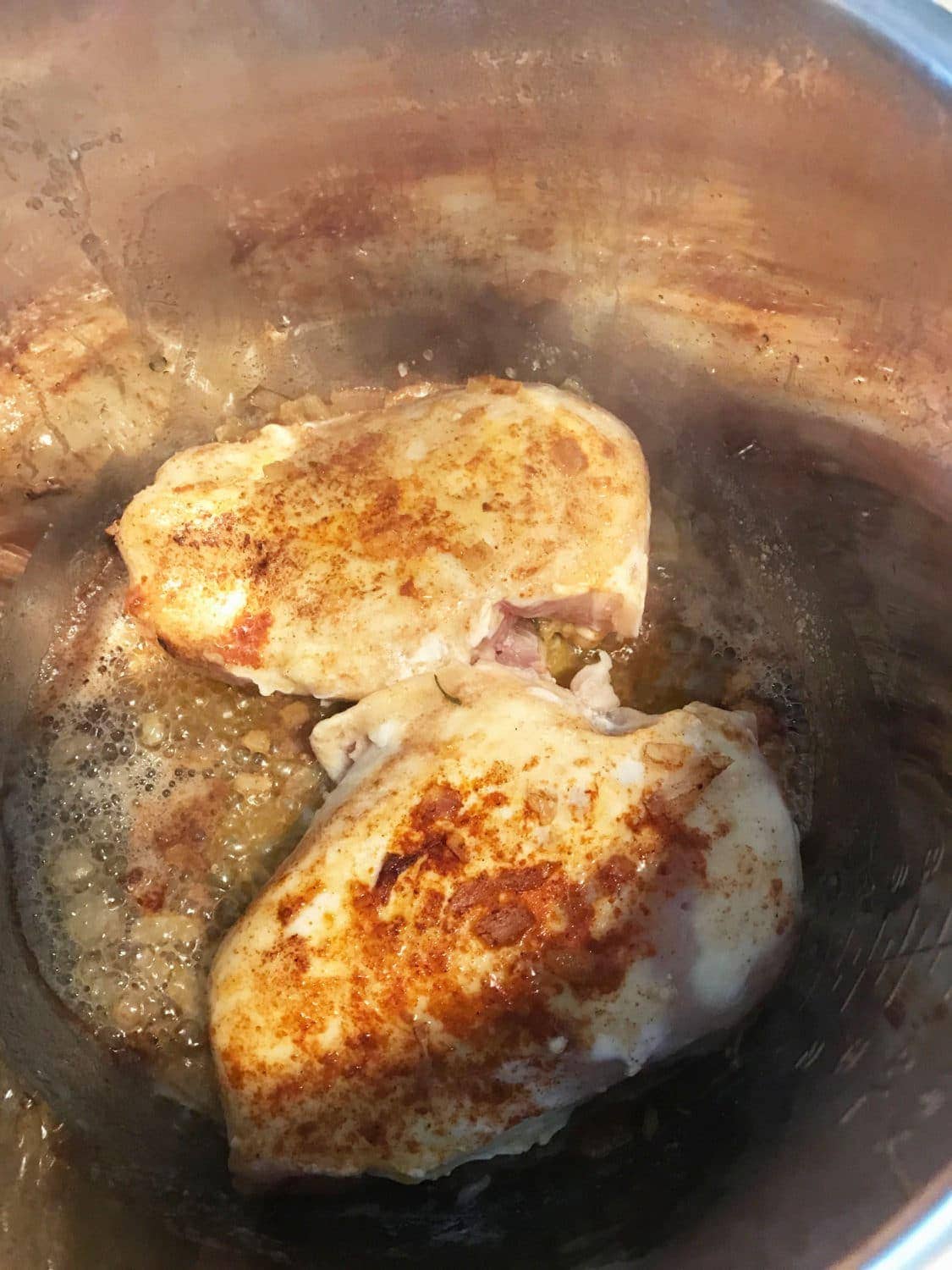 Add all of the rest of the ingredients, except the cornstarch, and give a little stir.
Put chicken breast back in the. Put the lid on and lock it. Make sure the steam valve is shut. Press the poultry button and wait 15 minutes for perfection.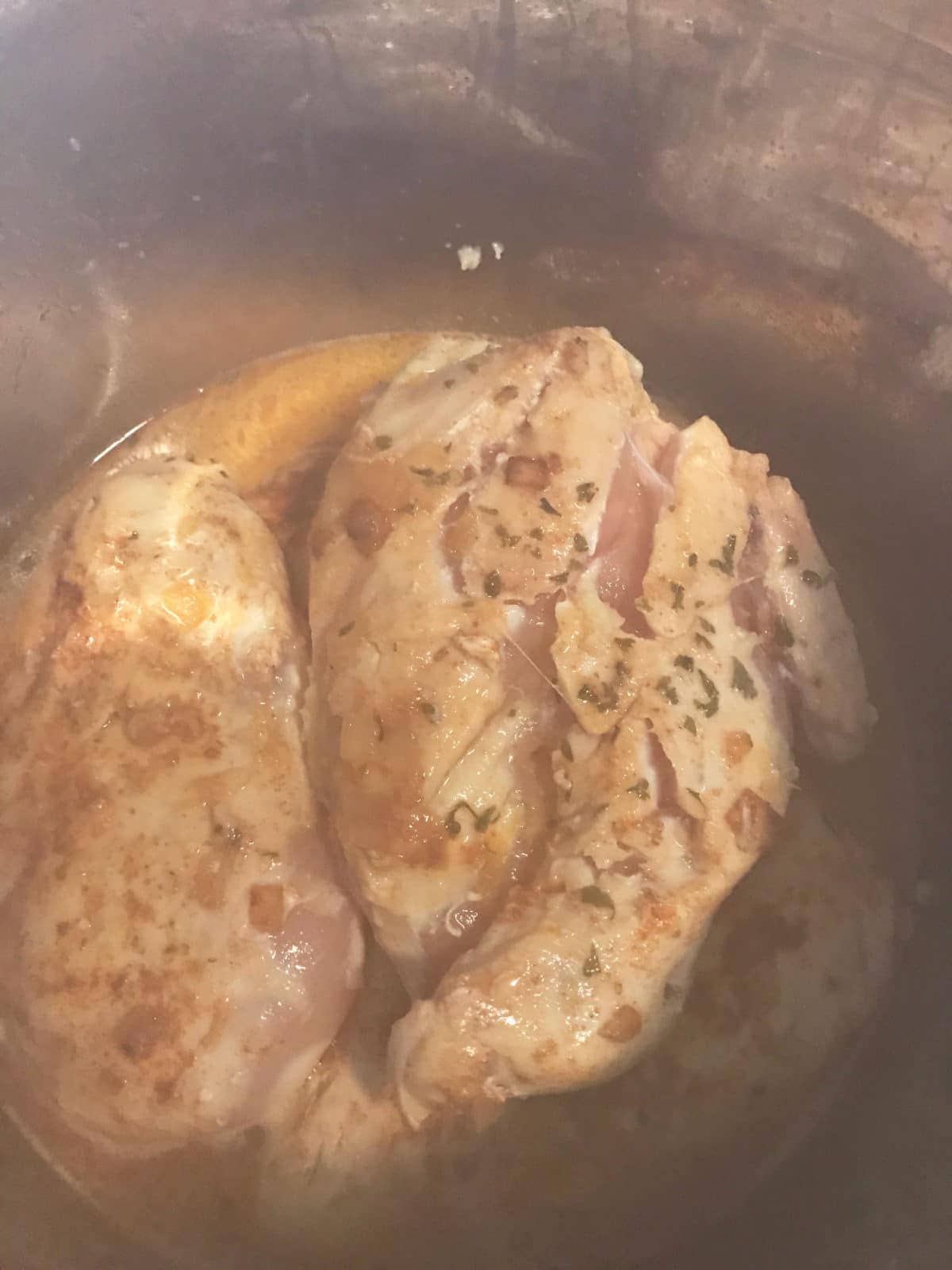 Once it is done. Put the chicken on a sheet pan and put under the broiler a minute or few. Just keep an eye out. You can skip this step. I like mine to be browned just a tad.
Meanwhile with your other eye. Turn Instant Pot to saute. Scoop out 1 to 1 ½ cups of the drippings (with a measuring cup) and slowly add the cornstarch and stir like crazy to get a slurry, well really a little thicker than a slurry. Don't fear, if it seems thick there are a lot of juices in that pot and you want it thick enough for a glaze. Once it's smooth, pour back into instant pot with the rest of the drippings and stir until combined! This is a magic sauce – YUMMO!
By now the chicken has been removed from the oven, time to plate and drizzle with all the beautiful glaze.
The hubby was working late so back into the Instant Pot the chicken goes. Set it to warm and it is ready to get all cozy in all that glaze. And man, that was good too. Either way you cannot go wrong. If you are not keeping warm make sure to turn off your Instant Pot.
Serve with rice pilaf and a garden salad and you have a perfect meal!
Chicken Breast Dish done in 30 minutes from start to finish! Yes - Score! Easy meals that are quick and tasty are always a BIG WIN !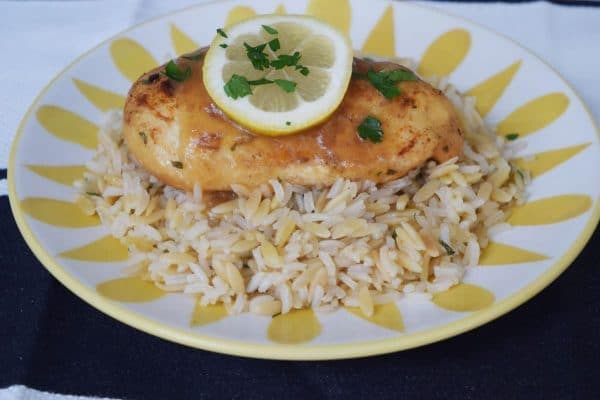 A few things you may use when making Lemon and Garlic Chicken Breast in the Instant Pot
Please Pin for later

Recipes you may also love!
Instant Pot Garlic Glazed Lemon Chicken
Related Posts
You can also find this on one of my favorite link ups - Weekend Potluck and Meal Plan Monday!