Being from the south you can find a produce stand in almost every town that sells these wonderfully delicious and simple treats! I cannot imagine my childhood without remembering a boiled peanut or two or a hundred 😉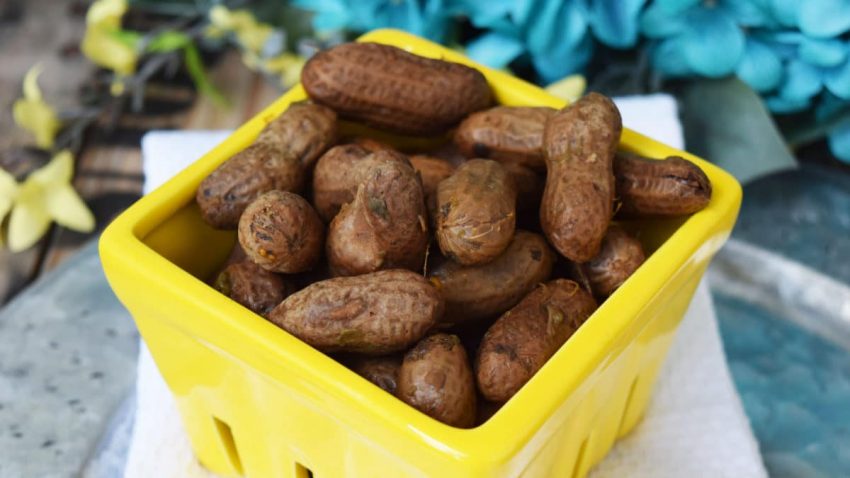 Baseball season is here! So, I thought it was time to bring this easy and very tasty treat from my home to yours! Honestly when you think baseball, many people think peanuts or maybe even cracker jacks, but for me a Rays Game isn't complete until I have had my boiled peanuts!
Whether it's a baseball game or driving by a roadside stand I always get a craving this time a year. Boiled Peanuts just proclaim Southern Tradition. They are great to serve at a party too! You certainly don't have to be from the south to ENJOY them! Just give them a try, you may want to eat a hundred too! This salty snack is full of juicy soft peanuts and such unique flavors!
Making Crock Pot Boiled Peanuts at home is an easy way to get this delicious snack with no effort and a result you will love!
Start off with raw green peanuts. You can find them in your produce section in the grocery store. Rinse them well and then into the crock pot they go.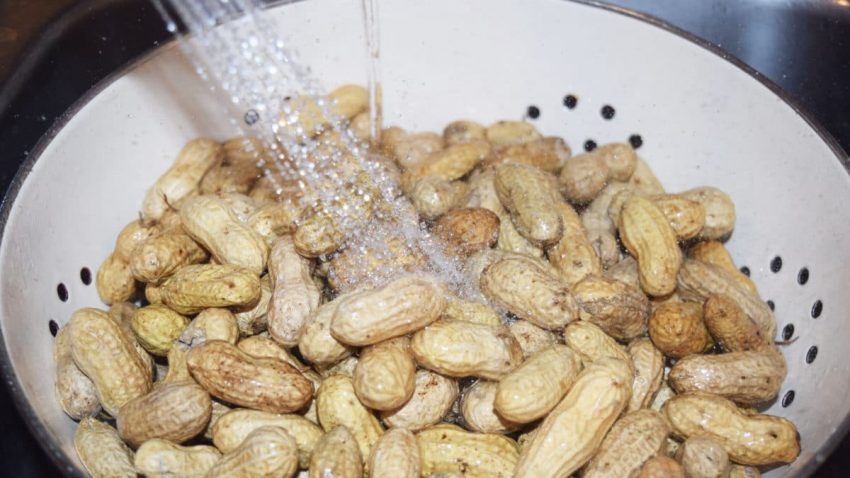 I use a 12 ounce can of pickled jalapenos with carrots and onions. I know this may sound weird but it gives them the most delicious flavor. Just a touch of spice, but not too hot. I have found if you use the whole jalapenos it turns out a little less spicy than the sliced jalapenos. If you want a "SPICIER" version add a larger can of the Pickled Jalapeno Blend!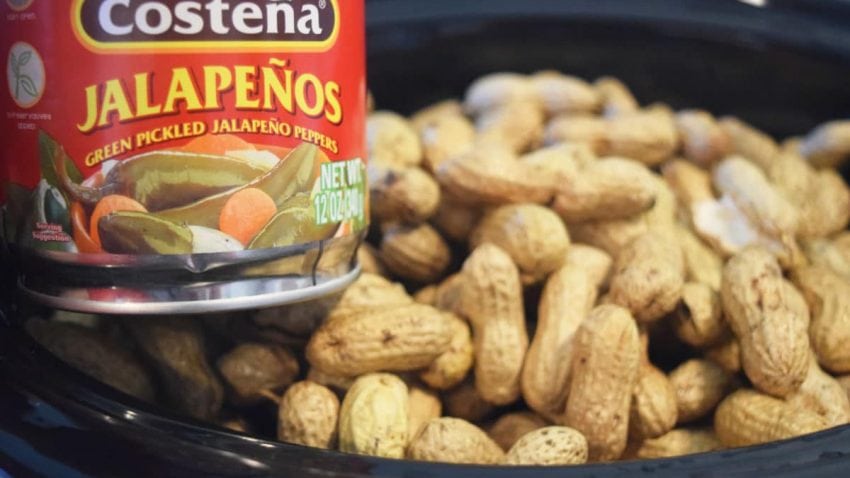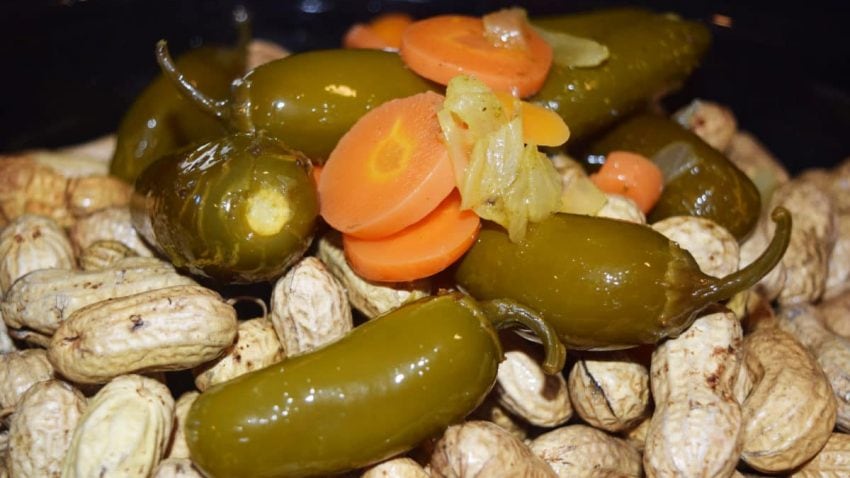 Stir it all up! Add in 2 tablespoons of Coarse Sea Salt (you can reduce this to your taste) and then cover with water. You can always try one about halfway through cooking and add more if you like. Set on high for about 6 hours and then turn down to low for 12 hours or so. You can also cook these on low for 22 to 24 hours. Or on high for about 12 hours.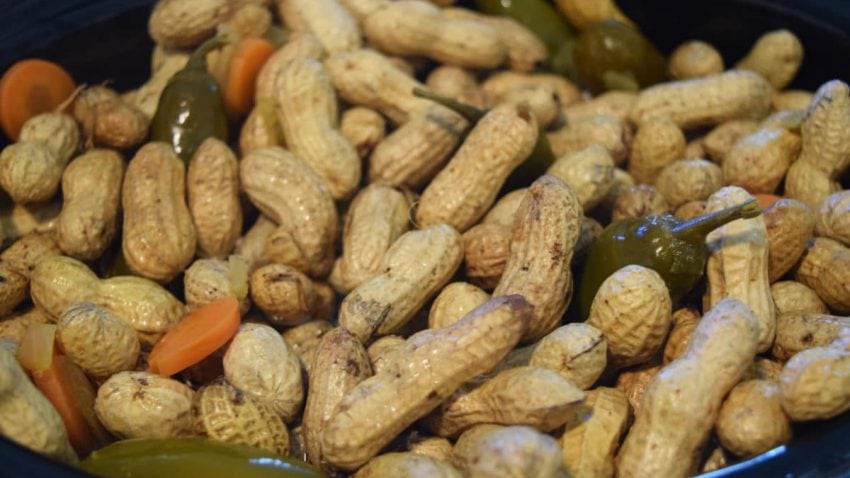 I know, I know such an exact science here! But really to me the longer they cook the better. I like to start on high later in the day and then before I go to bed I check to see if I need to add water. Then turn to low. When I get up I check the water maybe add a little and then off to work. They are ready when I come home!
Drain and serve. Or leave in crock pot for party with a slotted spoon to keep warm.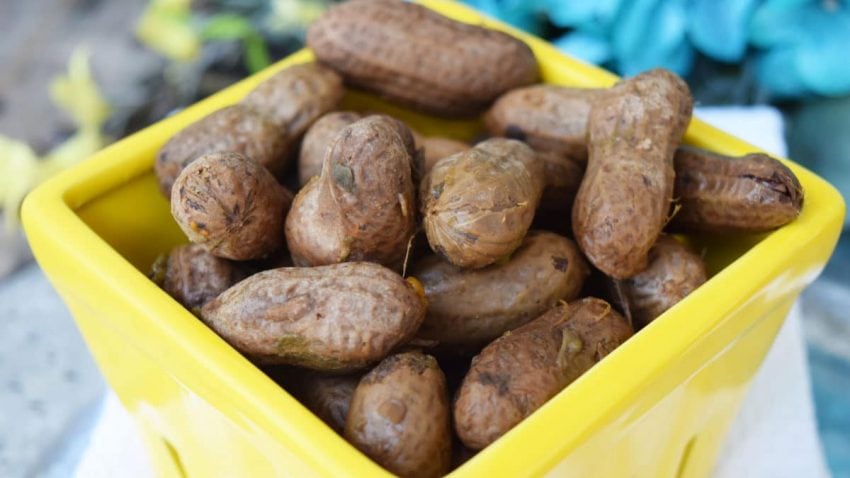 NOTES: You can serve these warm or cold! They also freeze well. Just put in freezer bags and store in freezer. That is if you have any left.
Don't miss out on any delicious recipes! I'd love for you to join along each week CLICK HERE and start receiving the Soulfully Made Newsletter! I promise I won't overload your inbox!
Head on over and find this and other great recipes at my favorite link up on Weekend PotLuck!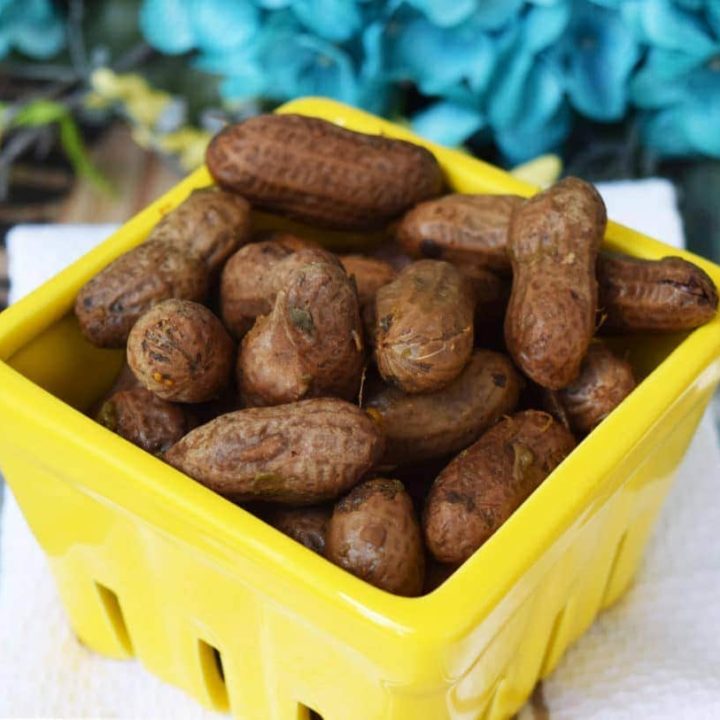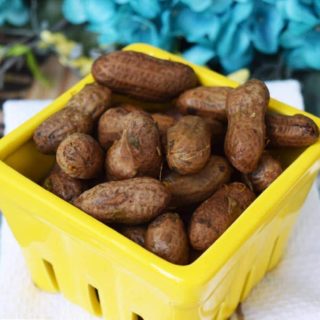 Crock Pot Boiled Peanuts
A Southern favorite for sporting events are boiled peanuts. This crock pot version makes a tender, juicy and delicious snack. Make a pot full and enjoy!
Ingredients
2

pounds

green raw peanuts

1-12

ounce

can of Pickled Jalapenos with carrots & onions

1 to 2

tablespoons

coarse sea salt

water to cover

,

about 10 cups
Instructions
Rinse peanuts well.

Add to crockpot, with can of pickled jalapenos and salt.

Cover with water.

Cook on High for 6 hours then reduce to low to 12 to 16 hours. Or Cook on low for 22 to 24 hours. Or cook on high 12 hours.

Drain and Serve or Serve in Crockpot with Slotted Spoon
Nutrition
Serving:
0
1 serving
Calories:
2589
kcal
Carbohydrates:
72
g
Protein:
119
g
Fat:
225
g
Saturated Fat:
35
g
Polyunsaturated Fat:
78
g
Monounsaturated Fat:
101
g
Sodium:
3825
mg
Potassium:
3403
mg
Fiber:
43
g
Sugar:
1
g
Vitamin A:
241
IU
Vitamin C:
1
mg
Calcium:
486
mg
Iron:
18
mg