Take jars of marinara sauce and fancy them up a bit with tons of flavor! By adding in a few simple ingredients you get Kicked Up Spaghetti Sauce Out of Jar that is rich, hearty, and absolutely delicious!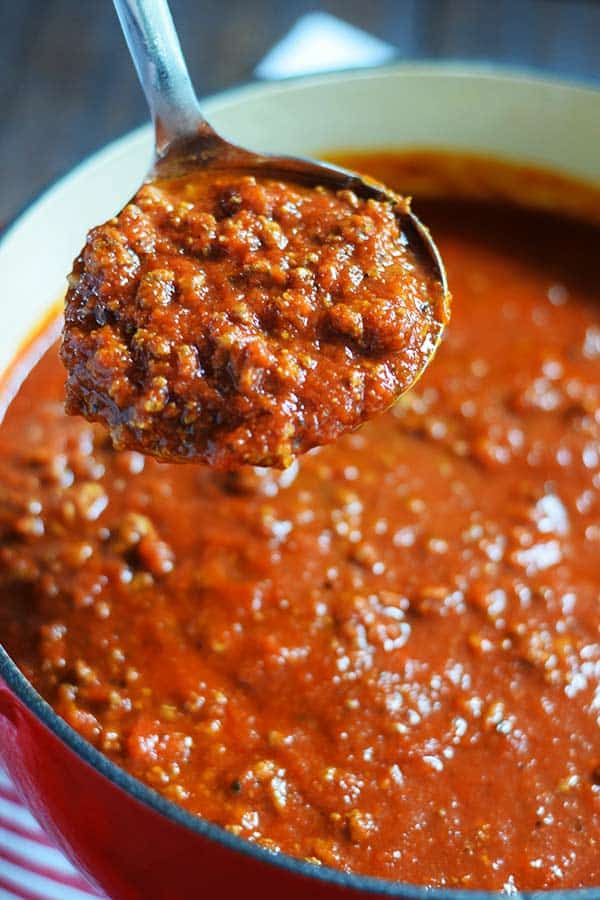 Who loves a great sauce? Well this one really kicks up the flavors of typical jarred spaghetti sauce.
I have made a many a meals with just some jarred sauce and ground beef, but this sauce just makes my mouth water. It always gets rave reviews from my family and the guests I feed this one to!
Typically, I start this in the crock pot before I head out to work or to start my day. That slow cooker lets these ingredients work their magic and I come home and sneak a dip with a nice chunk of bread! Put on my pot of noodles or put together Homemade Lasagna or Easy Baked Stuffed Shells.
When the family get a whiff of this cooking they bug me until it's on the table.
I have a little secret ingredient (or two) that does something wonderful to this meat sauce.
What gives this Kicked Up Spaghetti Sauce from a Jar it's Kick??
Lean Ground Beef
Mild Italian Sausage
Jar Prego Mushroom Sauce
Jar Spicy Red Pepper Sauce
Jar Cabernet Marinara Sauce
Jar Pizza Sauce
Garlic
Sugar
Reg Wine

Pepperoncinis

Salt & Pepper to taste
How to make Kicked Up Spaghetti Sauce Out of a Jar
In a multi cooker on high (or skillet or pot if cooking on stove top - over medium high heat), sprinkle on garlic salt or salt and pepper to taste. Crumble ground beef and Italian sausage and cook until no longer pink. Drain fat from meat.
Return to slow cooker or pot. Add in jarred sauces, pizza sauce (secret ingredient alert), garlic, red wine, sugar and stir. Add salt & pepper (or red pepper flakes, if desired) to taste.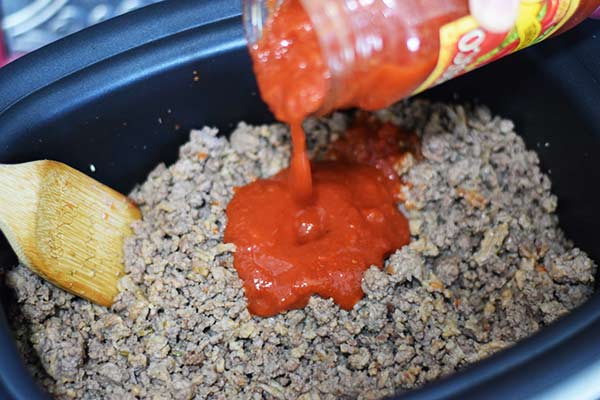 Top with 4 to 5 pepperoncinis. *Secret Ingredient Alert 🙂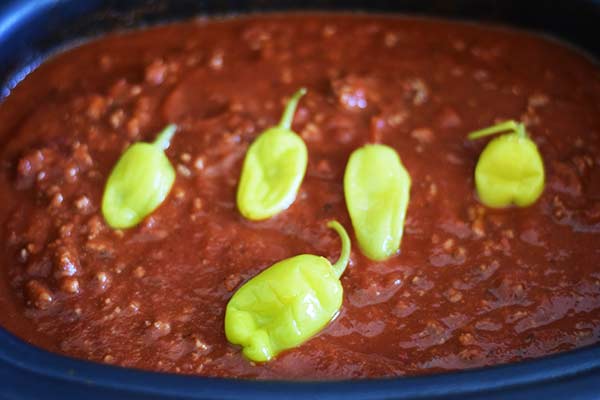 Cover with lid and cook in slow cooker for 8 hours on low or 4 to 5 hours on high.
If cooking on stovetop, Bring to a boil. Reduce heat to medium low and cook until warm. I like to cook at least 1 hour to develop flavor a little more. (My Momma did this, so it's just the way I do it) 🙂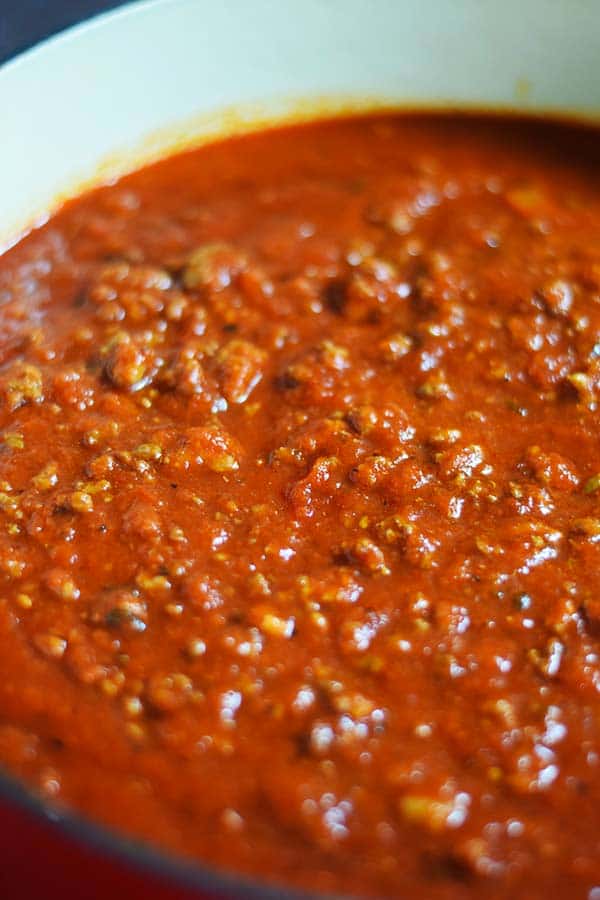 Great ways to serve this Kicked Up Spaghetti Meat Sauce
Now this makes a whole lot of sauce. I typically use this to make several layers of delicious Homemade Lasagna, Or Stuffed Shells, or we use it for spaghetti, baked ziti, or any pasta you like.
To me the sauce is even better the next day if that is possible ;)!
AND It freezes well. Once cooled, place leftovers in a ziplock freezer bag or air tight container and freeze for up to 6 months, until ready to use.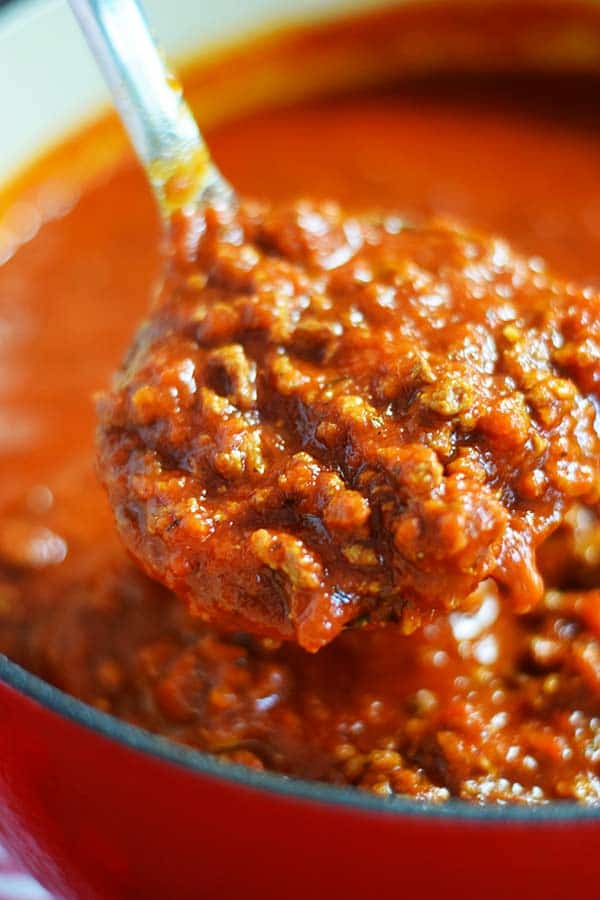 Things you may want to use to make this recipe
*Soulfully Made is a participant in the Amazon Services LLC Associates Program, an affiliate advertising program. Please note: This post may contain affiliate links to products I use and love. I earn a small commission, at no extra cost to you, to help with blog expenses when you make a purchase through an affiliate link. Thank you for your support!


Other Recipes you May Enjoy
**Pin this - Kicked Up Spaghetti Sauce - for Later**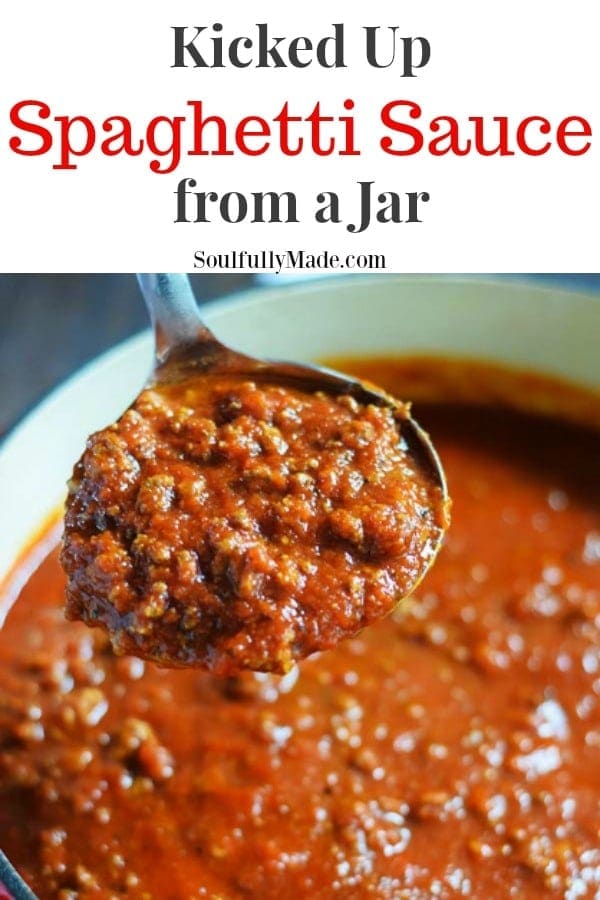 You can also find this at Meal Plan Monday and Weekend Potluck.