School has started back and families are returning to a more "normal" routine. I seem to be back in the kitchen more and less out by the BBQ already. We usually start off the school year with what my family thinks is the Best Homemade Lasagna ever!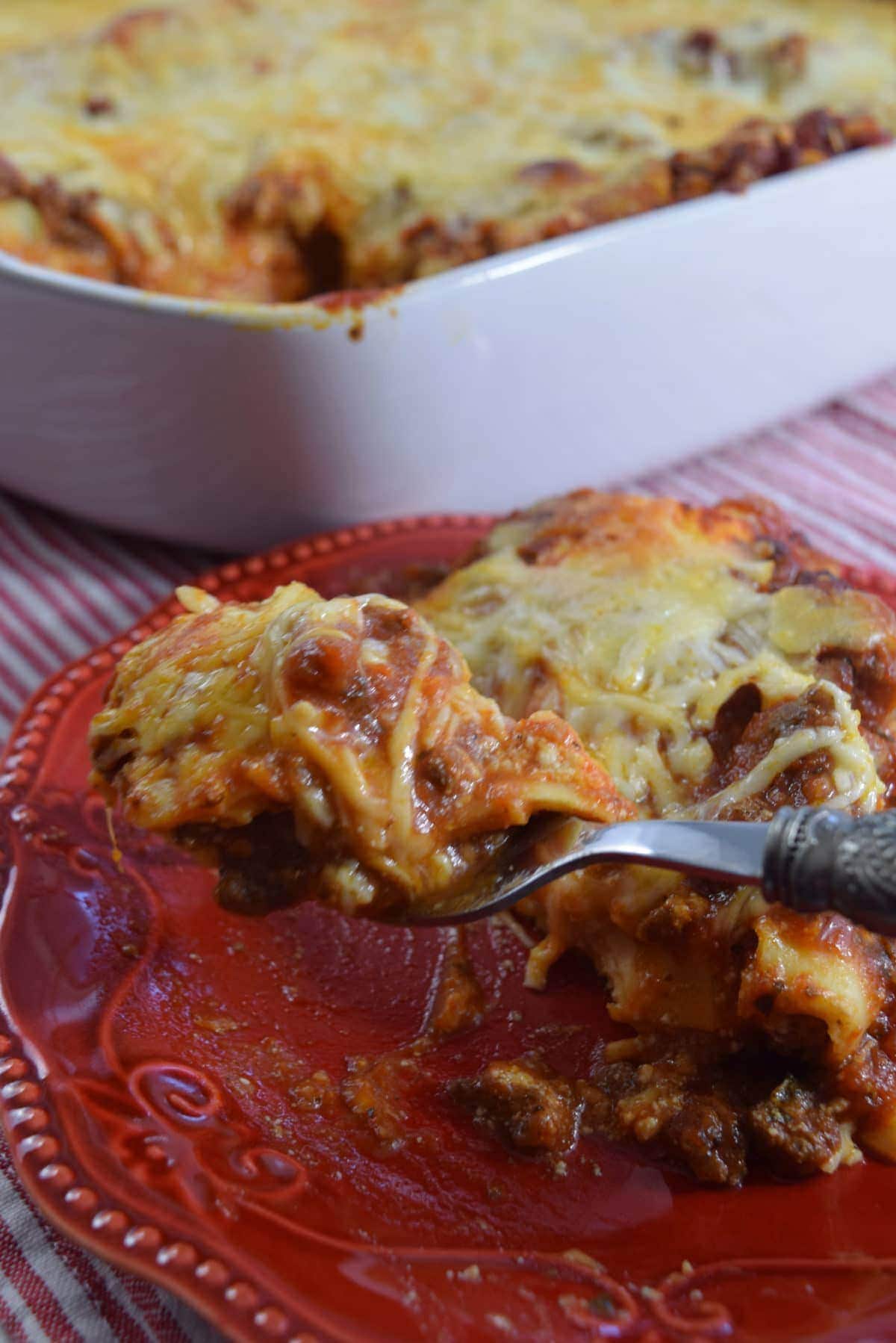 Homemade Lasagna is a pan of lovin'. It's rich, warm, comforting and cheesy! Ooey Gooey Cheese is a win any day in our house. This comfort food is a perfect way to start the school year off right. Gotta get all those brain cells kicked back in ya know!
It all starts by simmering a pot Homemade Meat Sauce, nice and low and slow!! You are designing greatness here friends. Can't you smell that aroma? Every once in a while you just take a piece of bread and give it a dunk to make sure (Ya know someone has to be the taste tester)!
This sauce speaks my love language ya'll (I am sure you can't tell- wink wink)!! Italian Food is my Fav!! What about you?? Can you live without it?
So let's kick off this school year with a dish that speaks love to our families. And if you don't have kids in school or in the house, ya know everyone needs some lovin'!! My friends from Sunday Supper are here sharing some great back to school dinners. Make sure you check them out!
Lean Ground Beef
Italian sausage or ground pork
yellow onion, diced
garlic cloves, minced
basil
oregano
crushed red pepper
red wine
crushed tomatoes
petite diced tomatoes
tomato paste
white sugar
salt & black pepper to taste
The filling and topping Ingredients
large egg
ricotta cheese
mozzarella cheese
Italian cheese blend
heavy cream (optional)
salt
pepper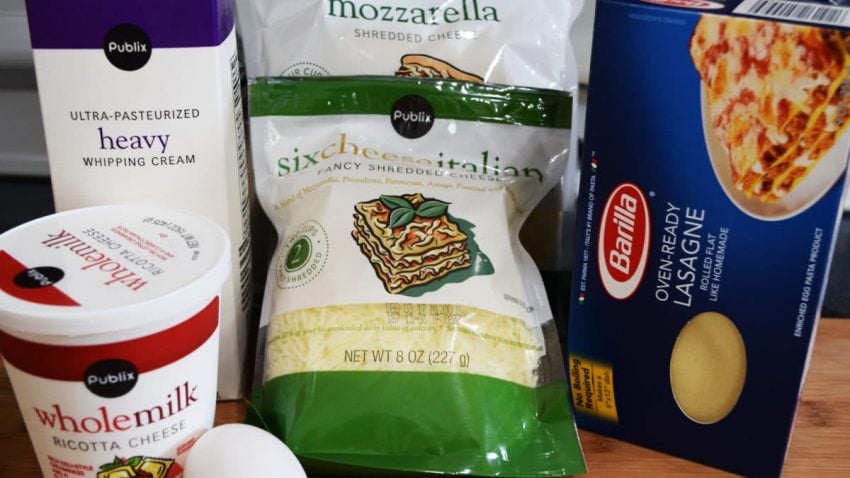 Now let's build these layers!
In a bowl mix together ricotta cheese, egg, cream, salt & pepper for filling.
Then mix 1 cup of mozzarella and 2 cups of the Italian cheese blend.
Layer a thin layer of sauce on the bottom of a 9 X 13 deep dish or I used a 10 X 12. Then line a layer of no bake noodles, spread on the filling and sprinkle on ⅓ of the cheese. Next a layer of sauce. Repeat for three layers. Cover with foil and bake for 25 minutes at 350°.
Remove foil and sprinkle on remaining 3 cups of mozzarella cheese.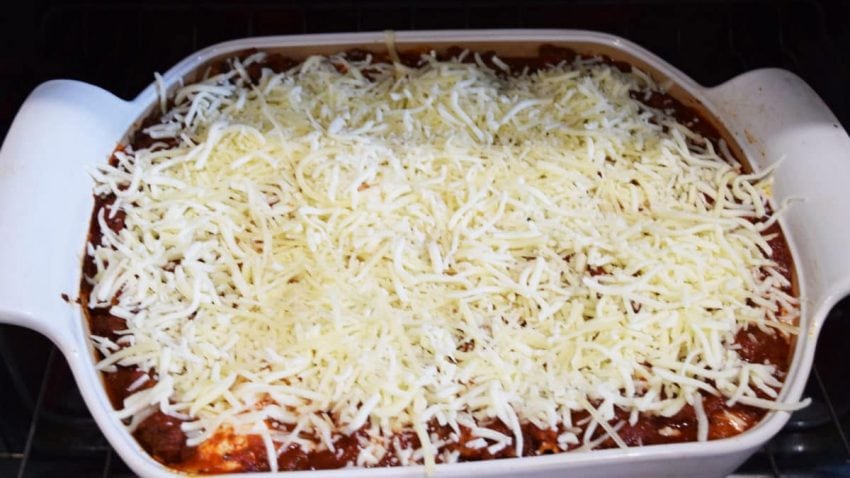 Return to the oven and bake another 20 minutes or until cheese is melted and golden. I kept just a touch of the Italian cheese for the top today. Usually I put in all in the layers. That's why you see a little difference on the top! It tastes magical but it looks a little better to stick with the mozzarella on top!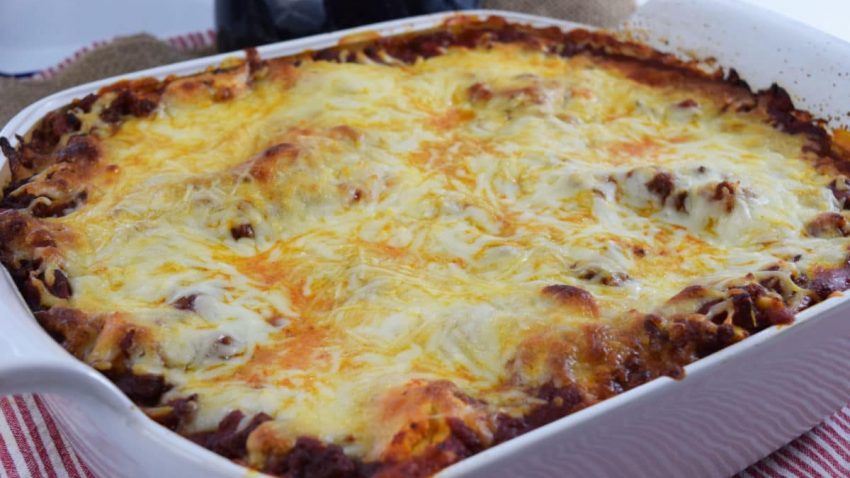 Once baked remove from the oven and let it sit for about 15 minutes to set.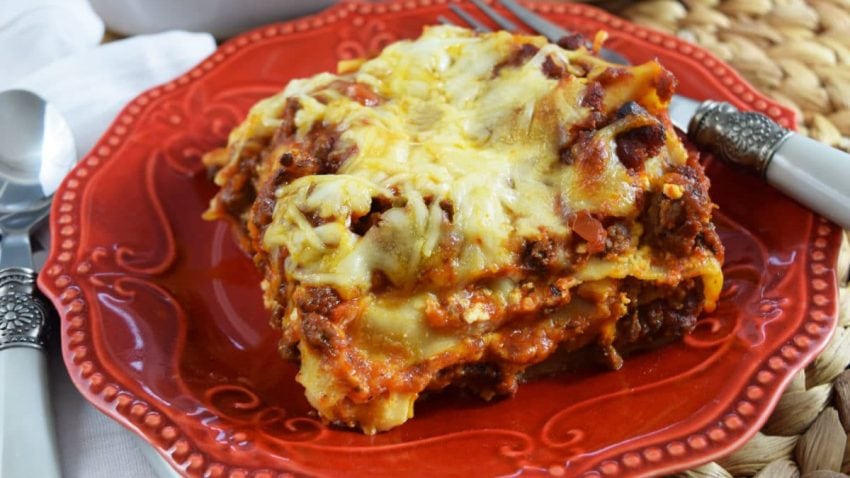 I hope your family has time to sit down and enjoy this! It's enough for a large family or lots of leftovers. It freezes well too. I like to freeze extras in individual serving sizes for nights when I'm out and the guys can warm up a "homemade tv dinner".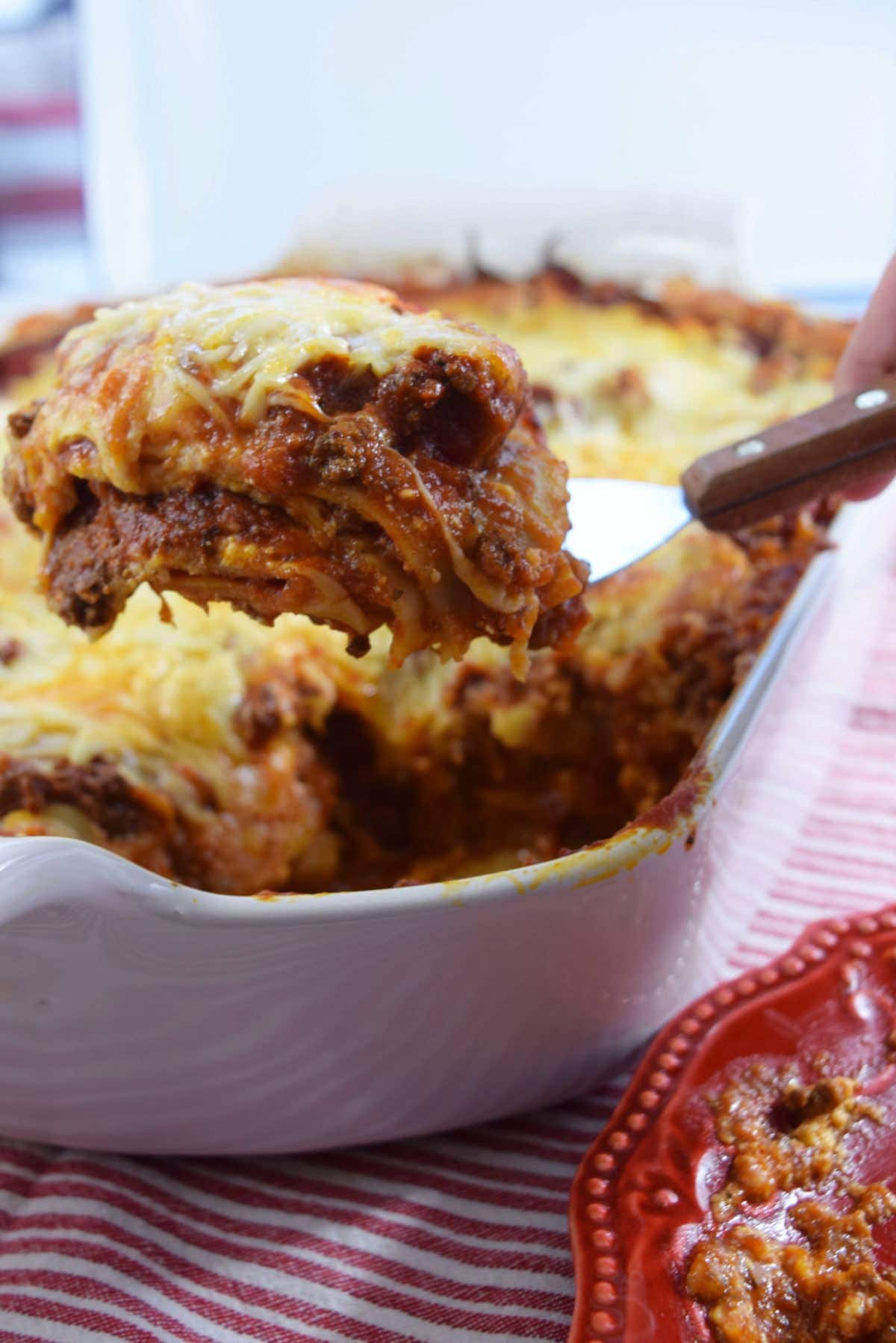 Or pop a serving in the microwave in the morning and warm up to put in a thermos for lunch. Another great option is to make two in a smaller casserole dish and take a meal to friend that needs some loving or freeze the entire other pan to make later.
What's your go to meal to take to someone?  It's such a blessing to take a meal to someone who may have had surgery, had a baby, lost a loved one or just may need a smiling friend to lift their spirits.