Fried Green Apples are a simple and tasty treat. Apple slices dipped in batter, deep fried, and sprinkled with cinnamon sugar. Think Fried Green Tomatoes but a sweet version.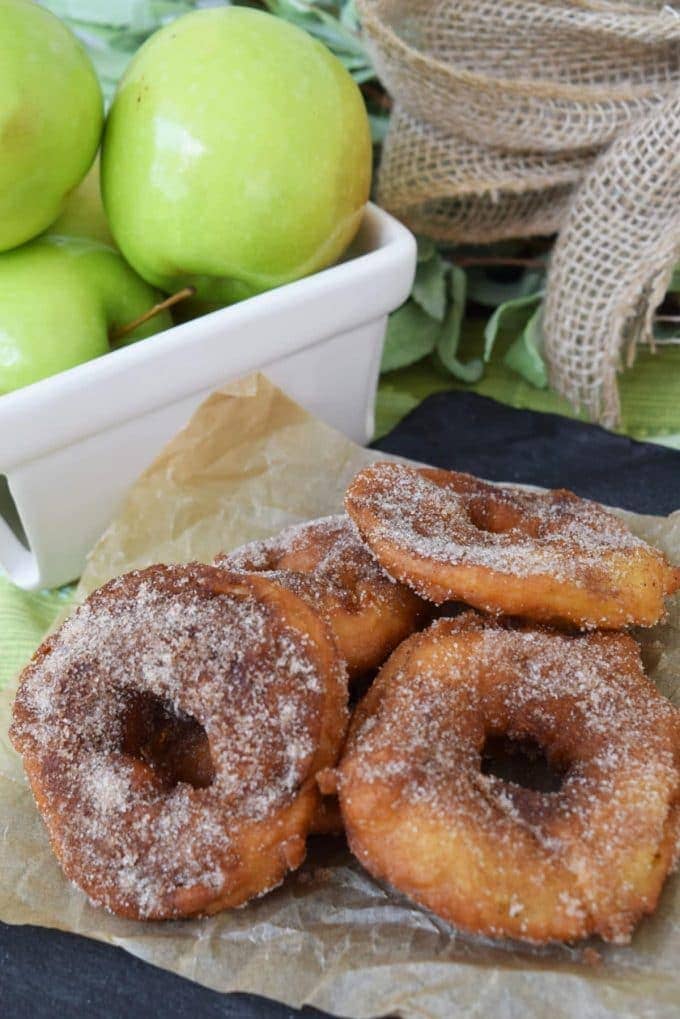 *Soulfully Made is a participant in the Amazon Services LLC Associates Program, an affiliate advertising program. Please note: This post may contain affiliate links to products I use and love. I earn a small commission, at no extra cost to you, to help with blog expenses when you make a purchase through an affiliate link. Thank you for your support!
This recipe is so easy y'all and you can make it in a flash!  Fried Green Apples make the best after school snack, a wonderful dessert or (since they are fruit) go ahead an enjoy them for breakfast! You have my permission -ha ha!
You will only need 2 medium sized granny smith apples to make about 10 to 12 slices. I would say this serves 3 to 4 people for a snack. They are pretty tasty so if ya want more than 3 or 4 go ahead and double this recipe! It is really easy to adjust for a crowd too!
Tip - Did you know you can use the slider on the recipe to adjust serving sizes. Click on the number of servings and the slider will pop up. This will adjust ingredients needed! Give it a try and let me know what you think!
Now lets get right to it!!
Batter
In a medium sized bowl, mix flour, milk, vanilla extract, egg , and sugar until you get a smooth batter.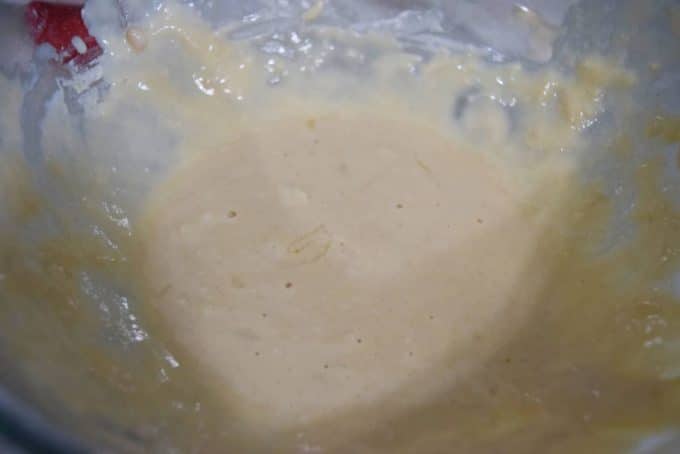 Peel, Slice & Core Apples
Using a potato peeler or knife peel skin off apples, then slice into 5 or 6 slices. If you have a corer, core the apples. If not use a small cookie cutter to cut a hole in the center.
Frying the Apple Rings
Dip each ring in the batter, insert your fork inside the hole and let it drip a bit before putting it in hot oil. I use a cast iron skillet for deep-frying these as they are thin. This way I don't waste too much oil. Any kind of frying pan will work.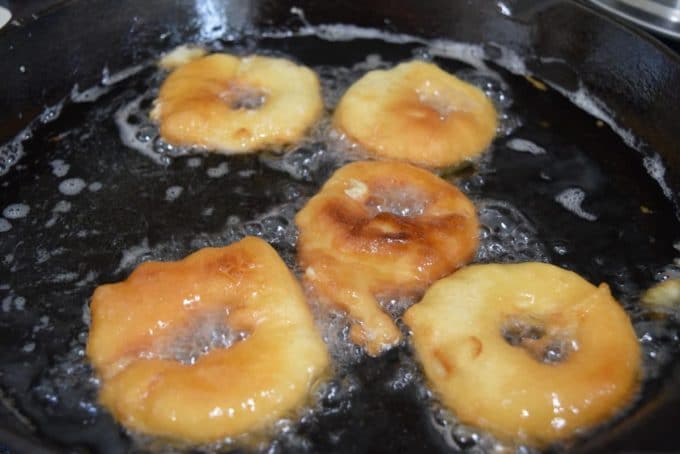 Coating in Cinnamon Sugar
Remove apples from the oil and immediately sprinkle the cinnamon sugar mixture on. This will allow it to stick to the batter. Remove excess grease by placing on a plate lined with paper towels.
This batter is not real sweet. If you find you want them a little sweeter, dust them with powdered sugar as well.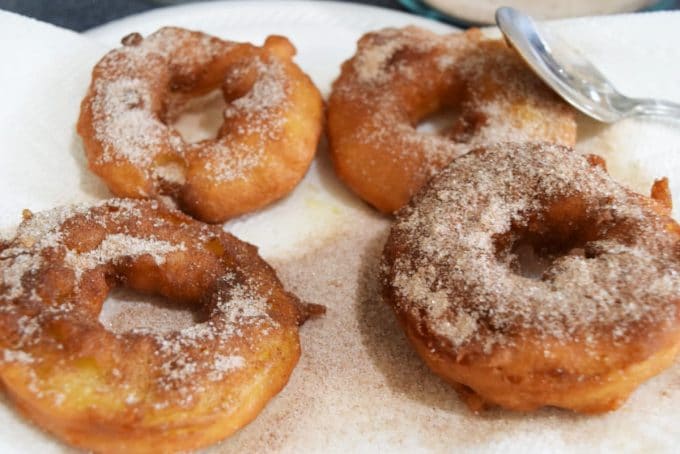 The apples tend to soften up so don't think they are getting soggy! They aren't they are supposed to do this.
You ready to enjoy this special treat? Just grab one and take a bite. Let me know what ya think!
---
Come on Over and Join in all the Fun!
Facebook | Instagram | Pinterest | Twitter | Google +
Get Free Recipes from Soulfully Made delivered right to your inbox!
Click Here to Subscribe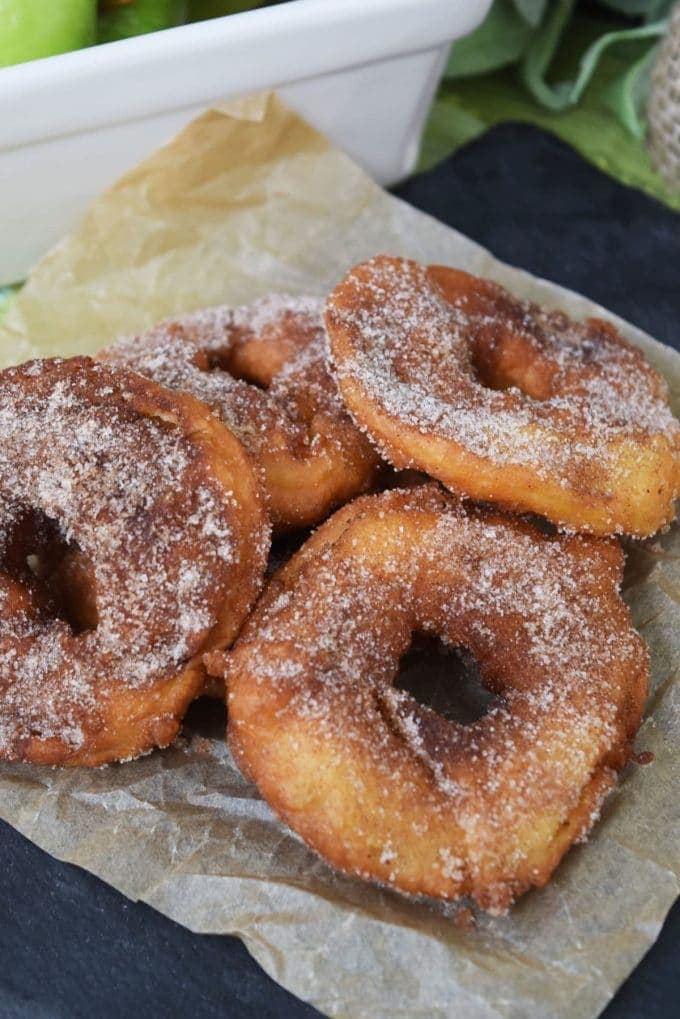 Looking for more after school snack ideas?? Make sure to see what my friends from Sunday Supper are making below!


Other Recipes Ya'll May Love