Spanish Bean Soup (Garbanzo Bean Soup) takes you on a trip to Tampa Bay, where Cuban heritage is so alive & full of flavor. This simple soup is made with garbanzo beans, potatoes & savory sausage and is just bursting with deliciousness!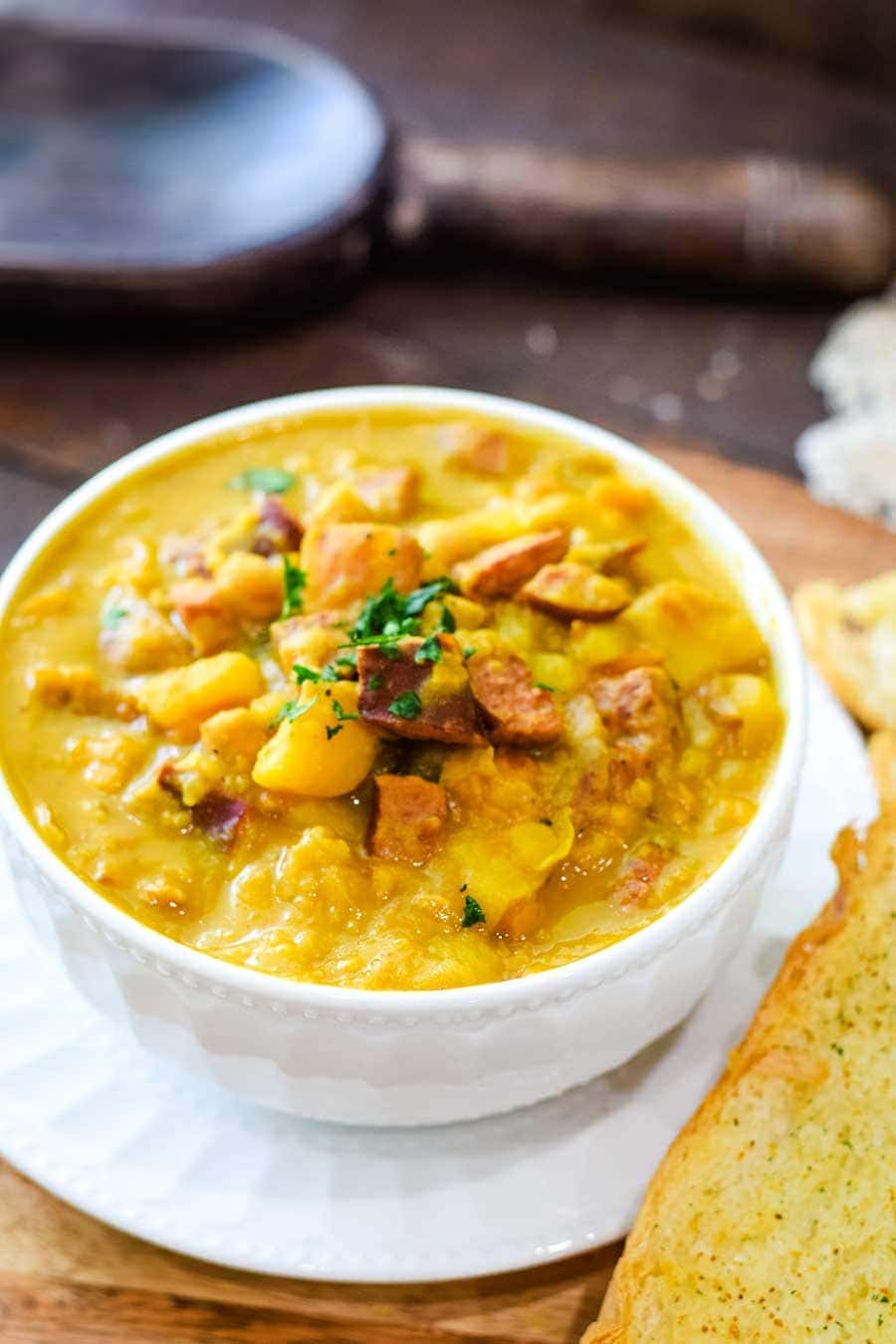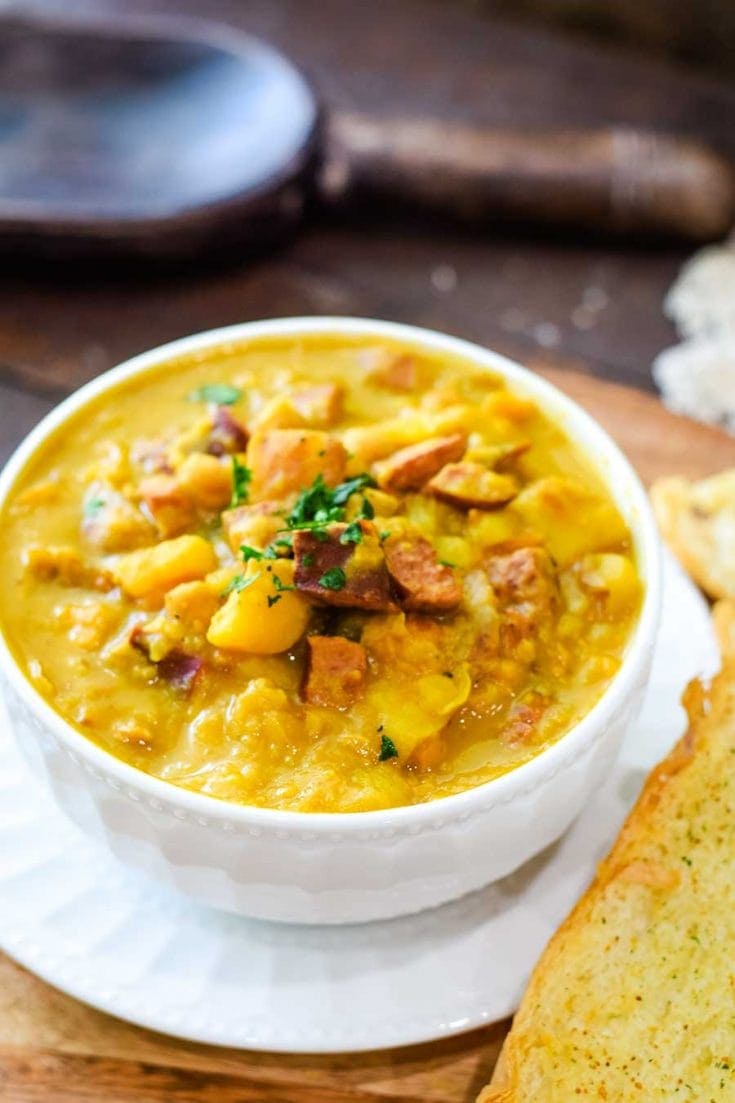 This soup is a staple in the Tampa Bay Area. The Cuban heritage here brings with it such wonderful food. I am a very lucky girl to live here. We have such diverse cuisine and I get to enjoy and share it all with you!
Now let me say y'all this is my version of this soup. (This is my disclaimer for all the die hards -lol) Some people use Chorizo and ham and it is wonderful like that, but this a little spin on it I came up with. Actually, I should give my mom some of the credit. She made it similar to this, I just adapted it a bit. I let this cook in the Crock Pot all day, mom made hers on the stove top. It can totally be done that way as well. My family and friends just love it and request it often. So, I hope you will too!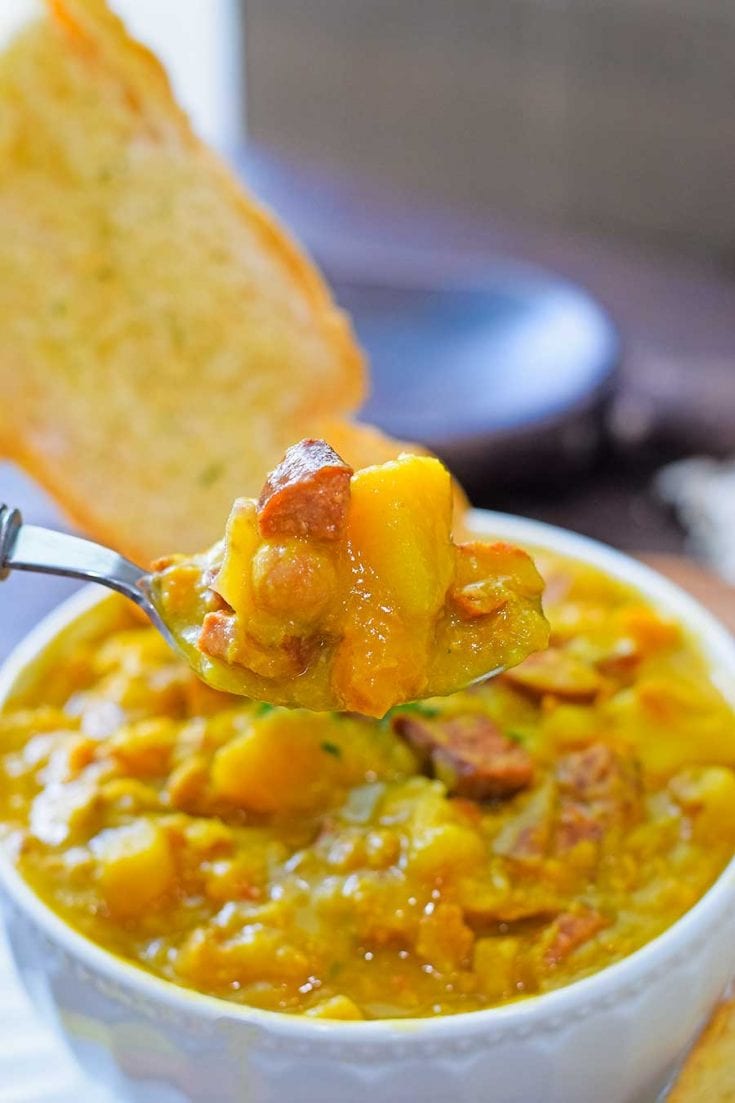 A little background on my Version of Spanish Bean Soup recipe
We started out making this soup from a Dixie Lilly bag mix (shhh, don't tell anyone), but found it hard to find at one time and came up with my own recipe. I must say I am so glad I did! This recipe is so much better. It's such a savory, heartwarming bowl of Cuban vivaciousness! Are you dancing yet!!
Oh you mustn't forget some warm Cuban bread to dip in it! Or an Authentic Cuban Sandwich is perfect with this! Um Ummm UMMMMMM!!! Just completes it!
Items you need to make Spanish Bean Soup
dried garbanzo beans
salt
black pepper
Minced garlic, garlic powder or garlic salt
Vigo spanish seasoning
chicken stock
red potatoes
beef smoked sausage (or any smoked sausage) - chorizo is traditionally used
Water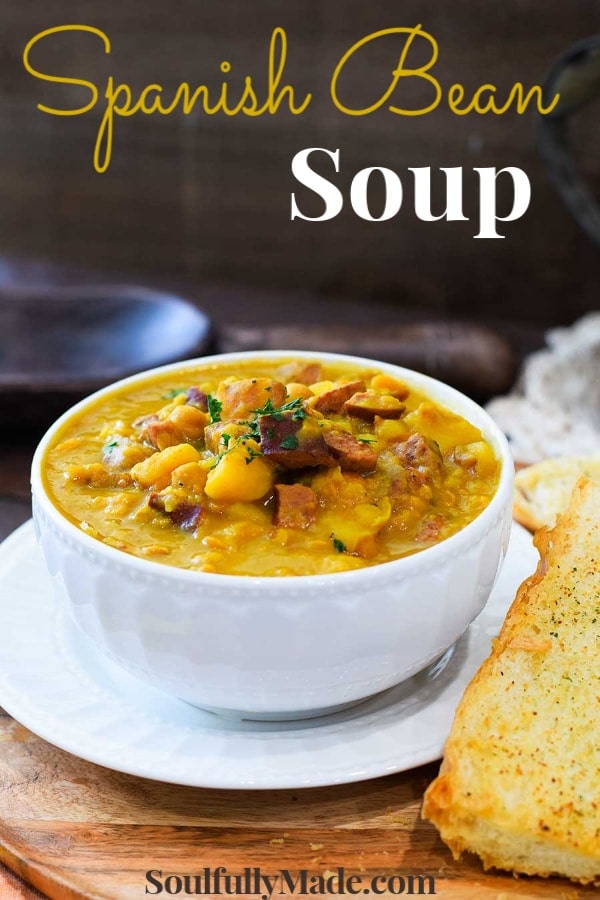 How to make Spanish Bean Soup (Garbanzo Bean Soup)
Step 1.   Rinse beans, cover with water and add 1 tablespoon salt. Soak overnight.  If you forget this step, just boil on stove top for ½ hour. 
Step 2.   Add beans with water to crock pot or soup pot. (If watching sodium: You can drain water and add beans to pot. Then add water as needed after all other items are added). Next add chicken stock or broth, cubed potatoes, cut up sausage, minced garlic, pepper and Vigo seasoning. I do the seasoning last so not to splash it out.  You will see what I mean - lots of color 🙂
Step 3. Cook on low for 8 to 10 hours in CrockPot or bring to boil on stove top then reduce to med low for 2 to 3 hours (or more).
TIP: I always taste soup (a few hours before done) and add any additional salt, pepper, garlic (or garlic powder) as needed to taste.
More Cuban inspired Recipes you May Enjoy