This super moist triple chocolate mousse cake recipe combines unsweetened cocoa, dark cocoa, and semi sweet chocolate for a rich luscious flavor. Filled with fluffy chocolate mousse and covered with chocolate ganache this cake is a decadent trifecta in each bite.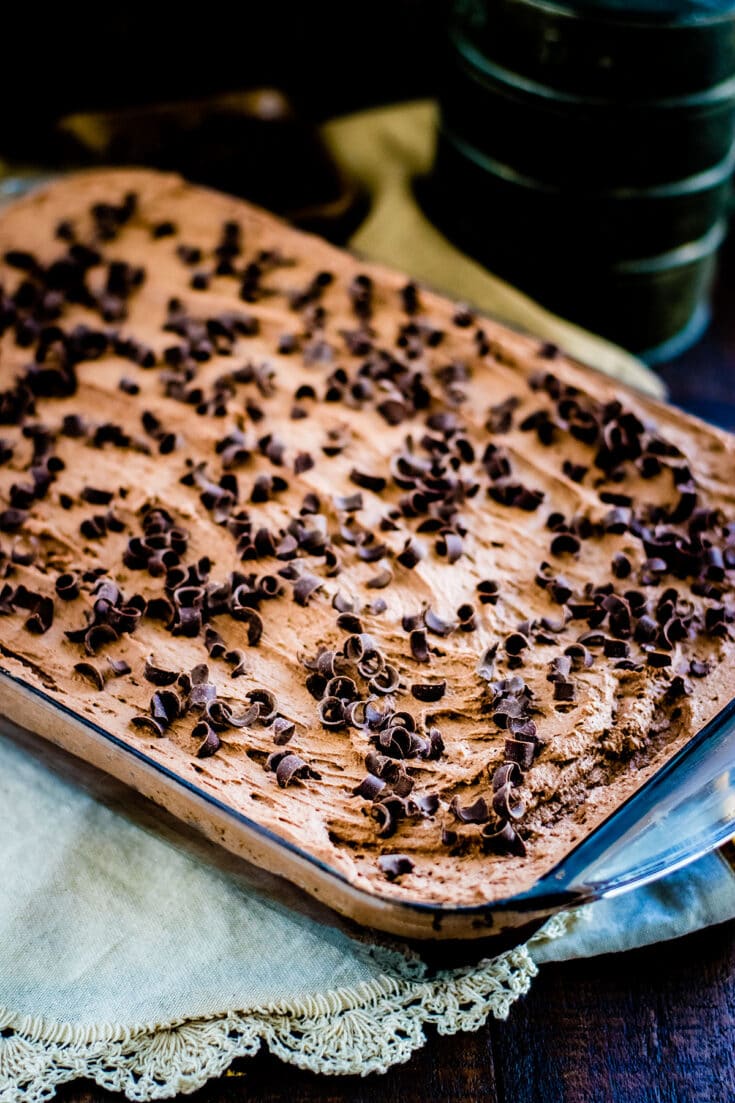 There is something about chocolate that gets me so excited I can hardly contain myself. If I am going to choose something for dessert I tend to gravitate towards chocolate (how about you) or maybe a cheesecake?? Chocolate always takes top pick!
What can be more perfect than triple chocolate cake? Right! This cake is packed will all the right stuff. It's a moist cake that practically melts in your mouth. All light, fluffy and perfectly baked chocolate mousse cake. The two combined make magic like nothing else.
Add in the ganache and you just about think you have died and gone to heaven. Rich beautiful chocolate! Yes certain heaven will be filled with lots of chocolate. (Have I said chocolate enough?) Let's get to the recipe and tips for making something magical y'all!
3 parts to a triple chocolate mousse cake recipe
This insanely rich and decadent cake can be made in two ways, a simple sheet cake version or a beautifully decorated layer cake. Either way there are 3 components to the chocolate mousse cake.
Chocolate Cake: A blend unsweetened cocoa powder and dark cocoa powder give this cake just the right amount of chocolatey deliciousness. Using a combination of buttermilk and sour cream make the cake ultra moist. And using hot coffee add a layer of flavor to put this cake over the top.
Chocolate Mousse: The combination of a good quality semi sweet chocolate folded into a homemade whipped cream gives that fluffy and airy texture to the mousse that you want. This version doesn't require raw eggs and that eliminates that component to mousse that some people worry about.
Chocolate Ganache: Another semi sweet chocolate element in this cake that gives decadence. Top of the layer cake version for wow factor or place in the middle of the sheet cake for a little surprise that will keep everyone requesting this cake again and again.
2 ways to make a baked chocolate mousse cake
This cake can be made into a simple yet beautifully decadent sheet cake or an elegant round layer cake. Both instructions and cook times are included in the recipe card below. Either cake will WOW your guest with the same chocolate flavor!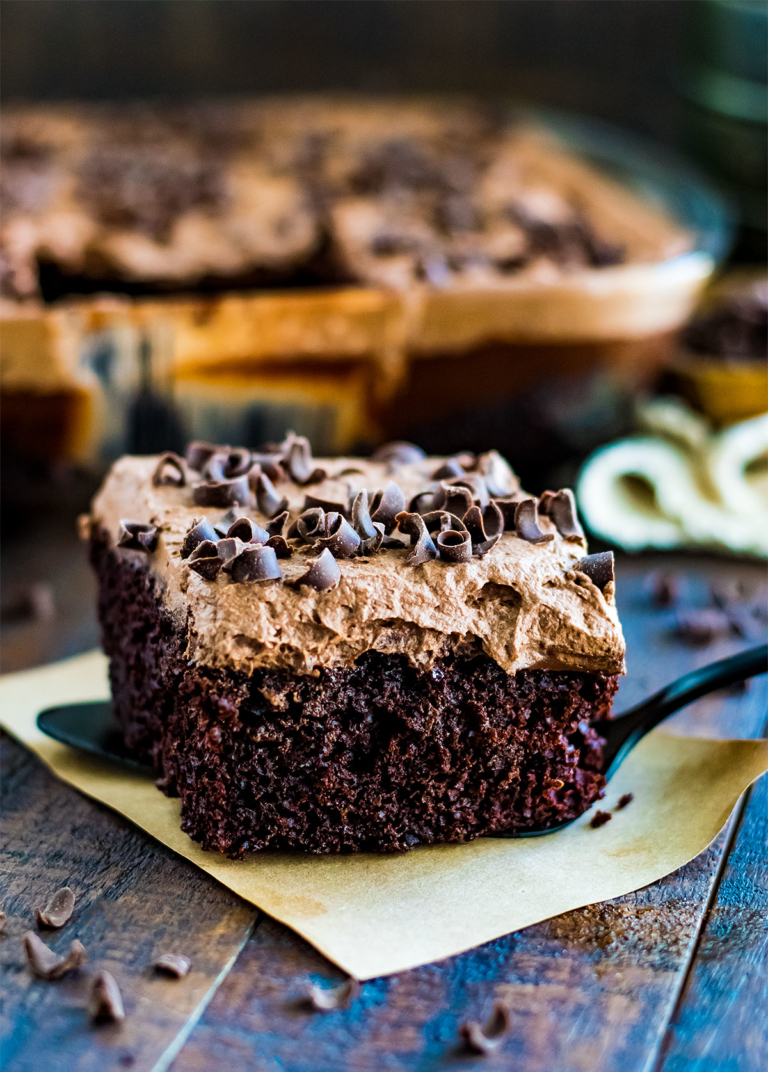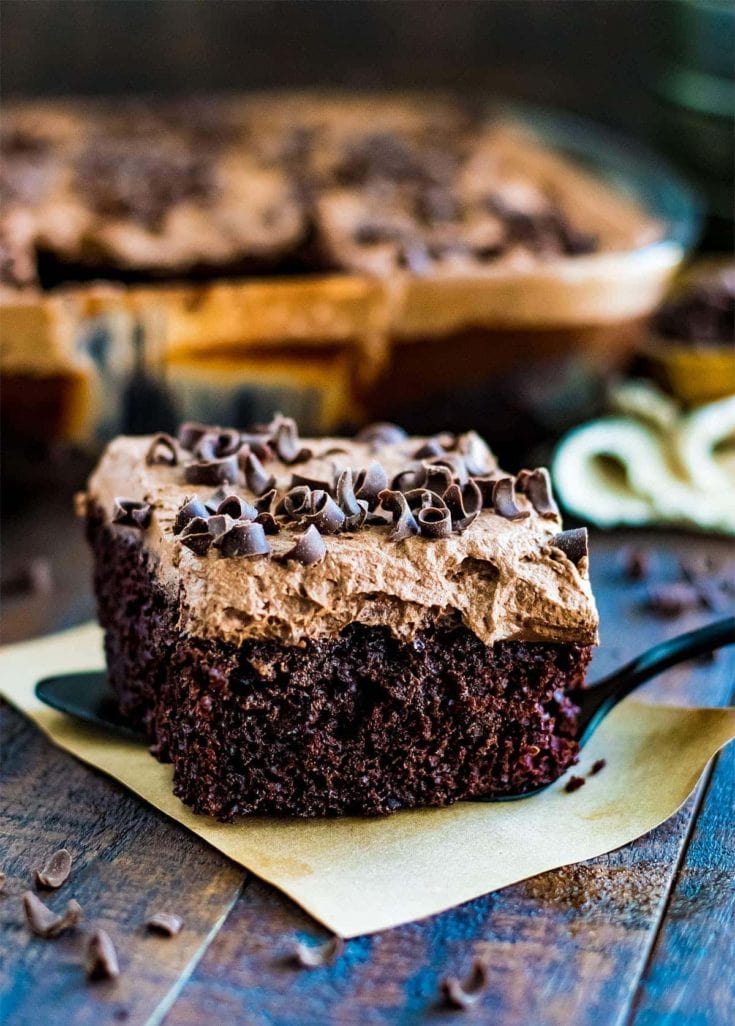 Easy Chocolate Mousse Ingredients (no egg required)
Hot Water
Cocoa Powder: natural unsweetened
Melted Chocolate - 2 - 4 ounce premium quality semi sweet chocolate bars. The can be found in the baking aisle at your grocery store.
Heavy Cream
Powdered (or Confectioners) Sugar
Vanilla Extract
TIP: Chocolate mousse needs to be well chilled. Make sure to allow time to put in the refrigerator before putting on the cake. You can make this up to 2 days ahead of time or make it while the cake is baking and cooling. Mousse tastes so much better cold. This cake will assemble and serve much easier when chilled.
Also if you prefer to use milk chocolate that is perfectly fine. Use the flavors you love. Just remember to get good quality chocolate.
Chocolate ganache
Chocolate ganache is so simple to make. It is super decadent and delicious, but it is only as good as the chocolate you use. Make sure you are using premium quality baking bars. Also make sure to allow time for the ganache to cool for 20 minutes before pouring over the cake.
If making a sheet cake and you want the ganache in the center layer, pour over cooled cake and then refrigerate for an hour to set up. Then add the chocolate mousse for your top layer. Top with curled chocolate shavings for a stunning presentation.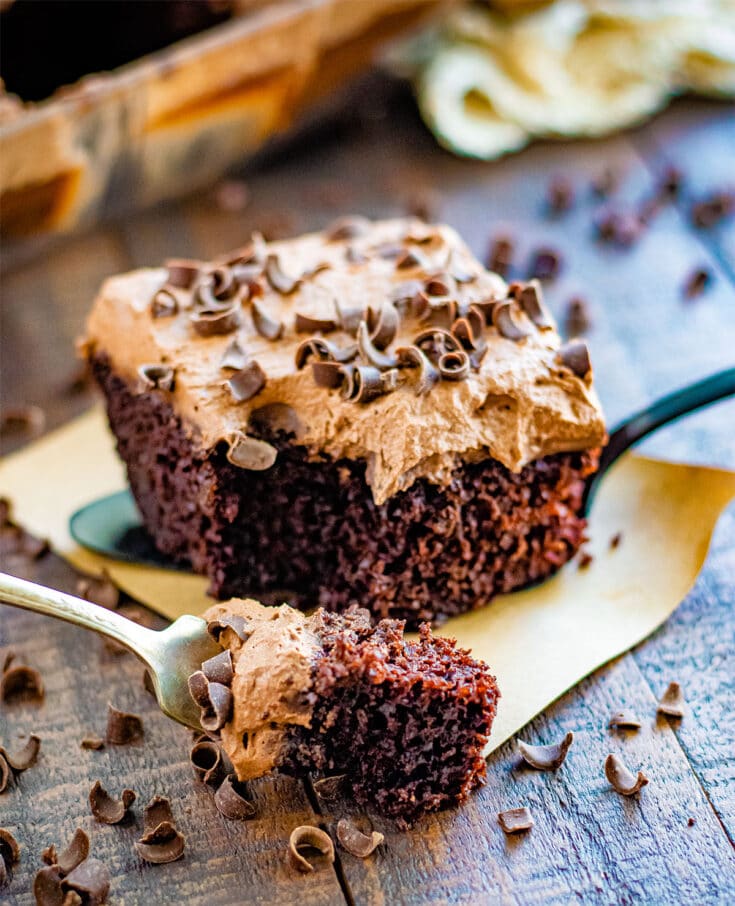 Other Delicious Cake Recipes you will Love!