Chocolate Cake with Whipped Oreo Icing is a deliciously soft, moist pudding filled cake topped or layered with pillowy whipped Oreo Cookie icing! This can be made as a layer, bundt, or sheet cake - anyway you make it is sensational!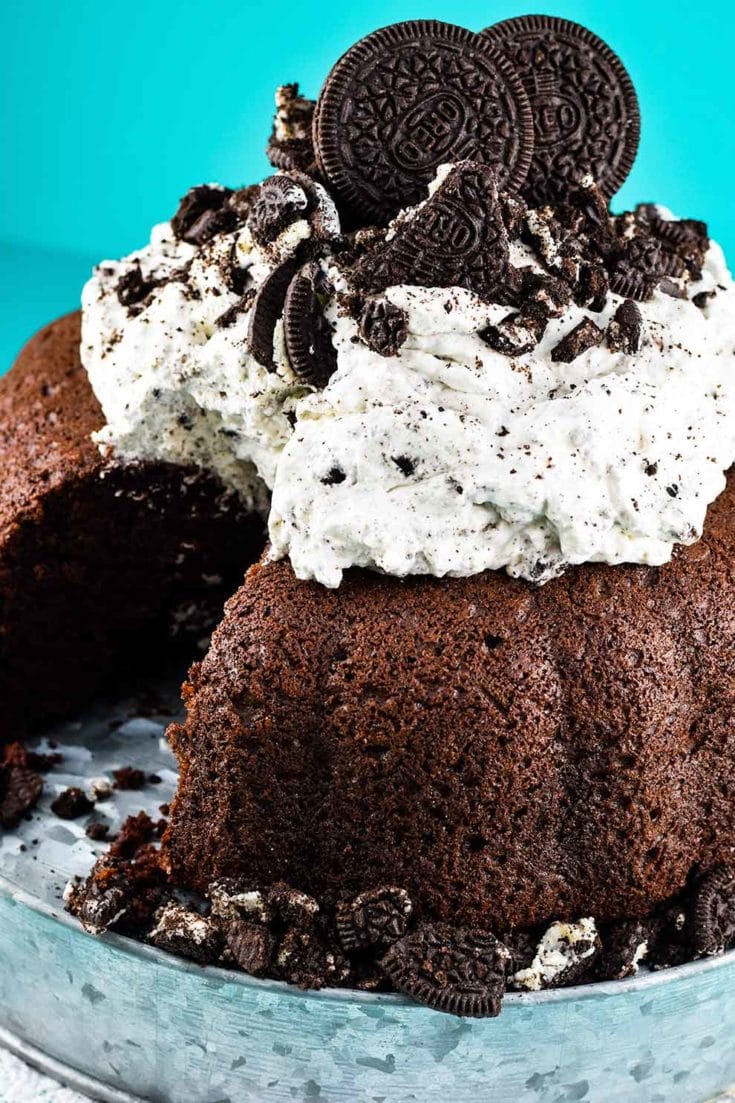 As February draws near, my son Drew and my Momma start dreaming of this family favorite! This is their requested cake for BIRTHDAY CELEBRATIONS. And I bet once you try this you will be dreaming of chocolate and lusciously whipped OREO ICING too!
You know me and simple so this cake is made with a cake mix. I know all you GASPers out there! I add in some really decadent ingredients that make this one THE BOMB!! My kids are cringing at me saying that I know!
But don't knock it till ya try it! I don't think you will be disappointed. It's so YUMMY in spite of this shortcut! You will never know it's not from scratch!
Now let me tell ya, you are going to have to risk temptation from licking that spoon on this AMAZINGLY creamy and dreamy icing! Honestly the recipe calls for enough to have some left over, because my bunch always want a little extra! So you go ahead and take a lick 😉
Sometimes I ice the entire cake to keep those Oreo lovers happy, but I think it is pretty leaving some of the cake NAKED! So if you like it this way too, just give the icing lovers in your life an extra dollop on the side! Y'all just keep in mind my cake decorating skill are not MAD! But is sure tastes delish!
Ingredients needed for Decadent Chocolate Cake with Whipped Oreo Icing

How to make Chocolate Cake with Oreo Whipped Cream
Step 1. Blend together 1 devil's food cake mix, 1 small box of instant chocolate pudding, 1 cup of vegetable oil, 1 cup of sour cream, ½ cup of milk, 4 eggs and 1 teaspoon of vanilla.
You can also add in 1 to 2 cups of mini chocolate chips (depending on how much chocolate you LOVE). My mom likes the chips in the cake and my son doesn't as much. Both ways are delicious.
Step 2. Pour evenly into 2 - 9 inch round greased cake pans or a bundt cake pan.
Step 3. Bake at at 350 degrees for glass or metal pans and 325 degrees for dark or coated pans - in 9 inch pans for 24 to 34 minutes or 39 to 50 minutes in bundt pan. Please check as ovens vary and I have found this to change each time I cook! Let cool in pan for 10 to 15 minutes and then turn over onto baking rack to finish cooling completely.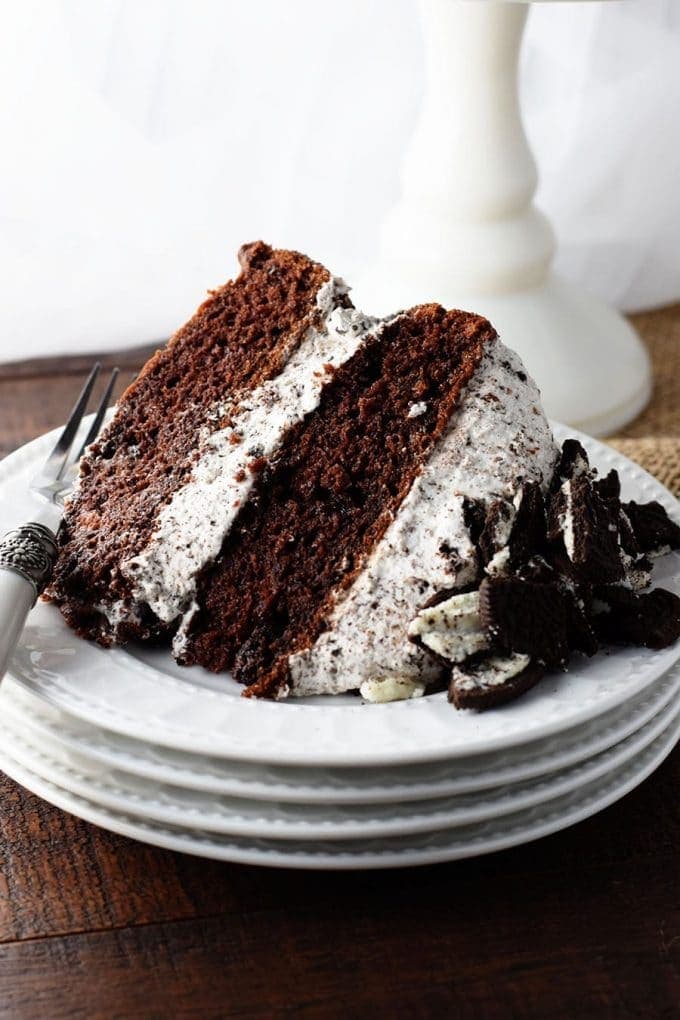 Step 4. For the icing pulse 1 sleeve of Oreo (12) cookies until they are pretty fine. If you do not have a food processor or blender put in a ziplock bag and beat with a can or rolling pin! Then beat heavy whipping cream with powdered sugar and a teaspoon of vanilla with a mixer. Whip until medium peaks form. Then fold in crushed cookies.
Step 5. Ice cooled cake and serve!
This cake must be stored in the refrigerator because of the whipped cream icing! It stores well for 3 to 4 days.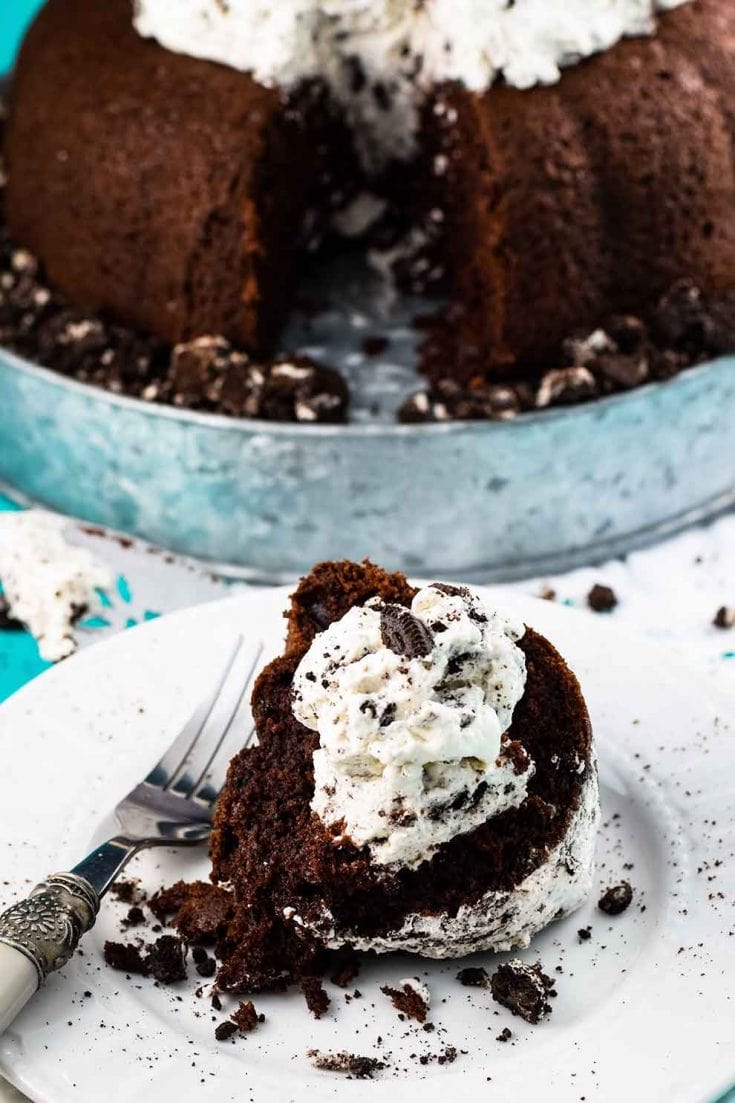 Pin Chocolate Cake with Oreo Whipped Cream to Save and Share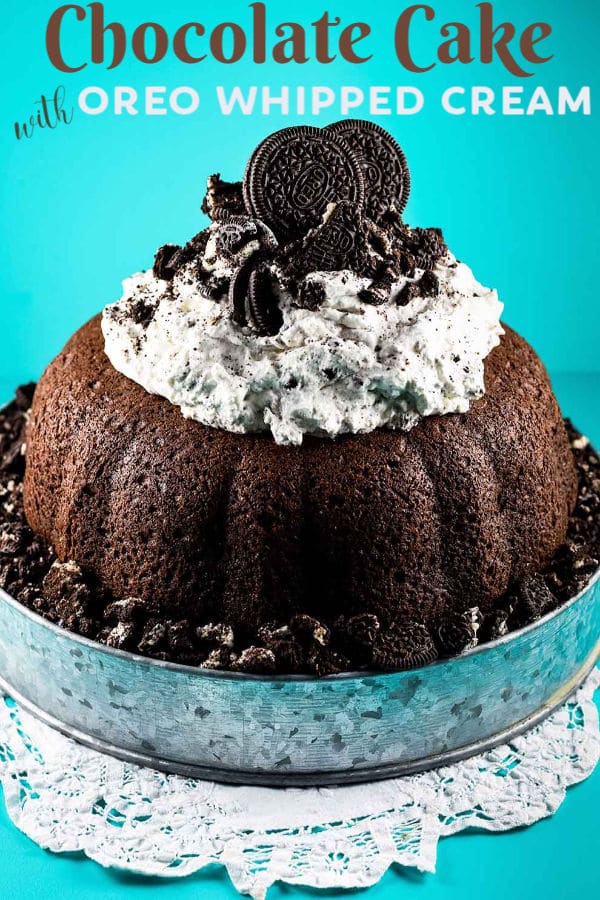 Family Friendly Recipes