Shelly's Spaghetti Pasta Salad is a light and vibrant pasta salad made with thin spaghetti noodles, olive oil, seasoned salt, lemon juice, and fresh crunchy garden veggies. It's always a hit for when entertaining and perfect for a crowd!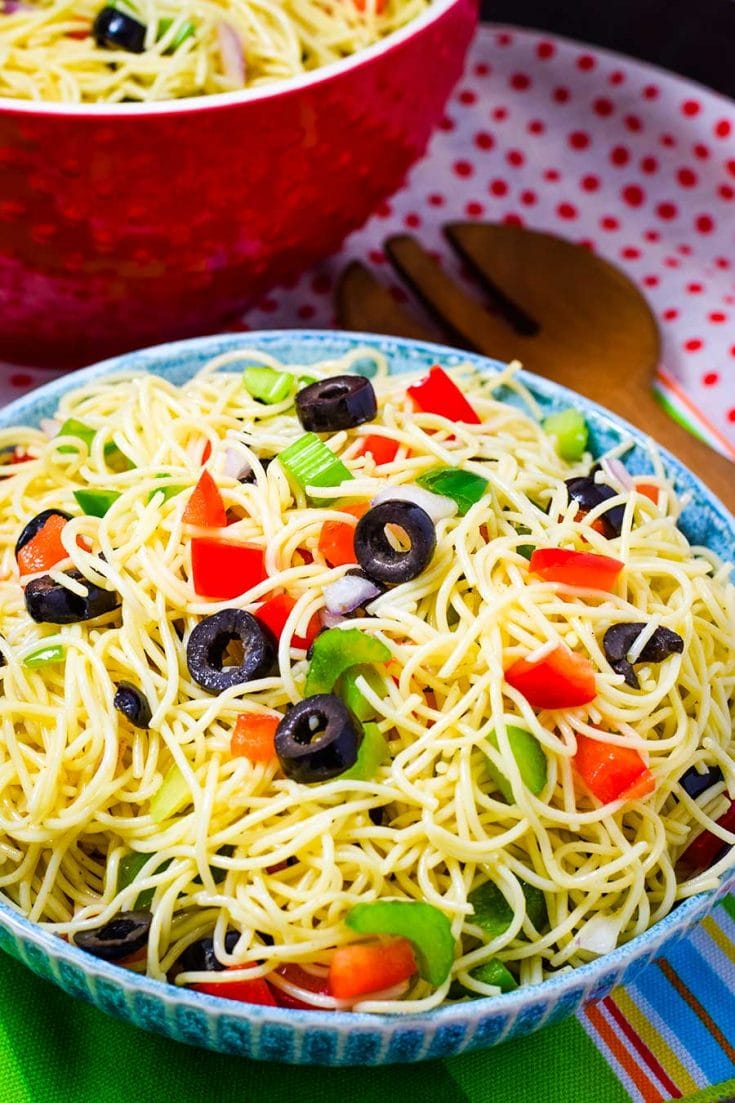 Shelly's Pasta Salad is a delicious & simple angel hair pasta with a light marinade (dressing) and bright fresh veggies.
First, I must tell you all who Shelly is. Shelly is my sister Lauren's mother in law. So that makes her family. Us southerner's kind of just do that, whether ya like it or not! I have to say I always felt I had the best in law's in the entire world. But my sister got lucky too! Being blessed with family that loves us beyond measure is so wonderful.
Now we feel Shelly's Pasta Salad is a one of her best qualities! Ha Ha - not really, she is the greatest and oh so sweet, but we really like it a lot (In my best Jim Carey accent).
Everyone loves this and it is gobbled up! Even Drew (my son) eats this and he doesn't like green peppers, olives, or onions. Yes, it is that good!! This on is a hit all summer long when we get together around the pool, on a picnic or just a spontaneous Sunday family dinner.
It really is easy to make, but oh so tasty. According to her strict instructions this is a 3-day process (That's the secret). Since I was making this in "Blog time", I cheated and made it all in one day. It turned out "almost" as good as Shelly's, but the second day it tasted just like hers - shhhh don't tell her I cheated - wink wink.
What ingredients are needed for Spaghetti Pasta Salad?
Thin Spaghetti Noodles or Angel Hair Pasta
Lawry's Seasoned Salt
Olive Oil
Lemon Juice
Red & Green Bell Pepper
Red Onion
Black Olives
Celery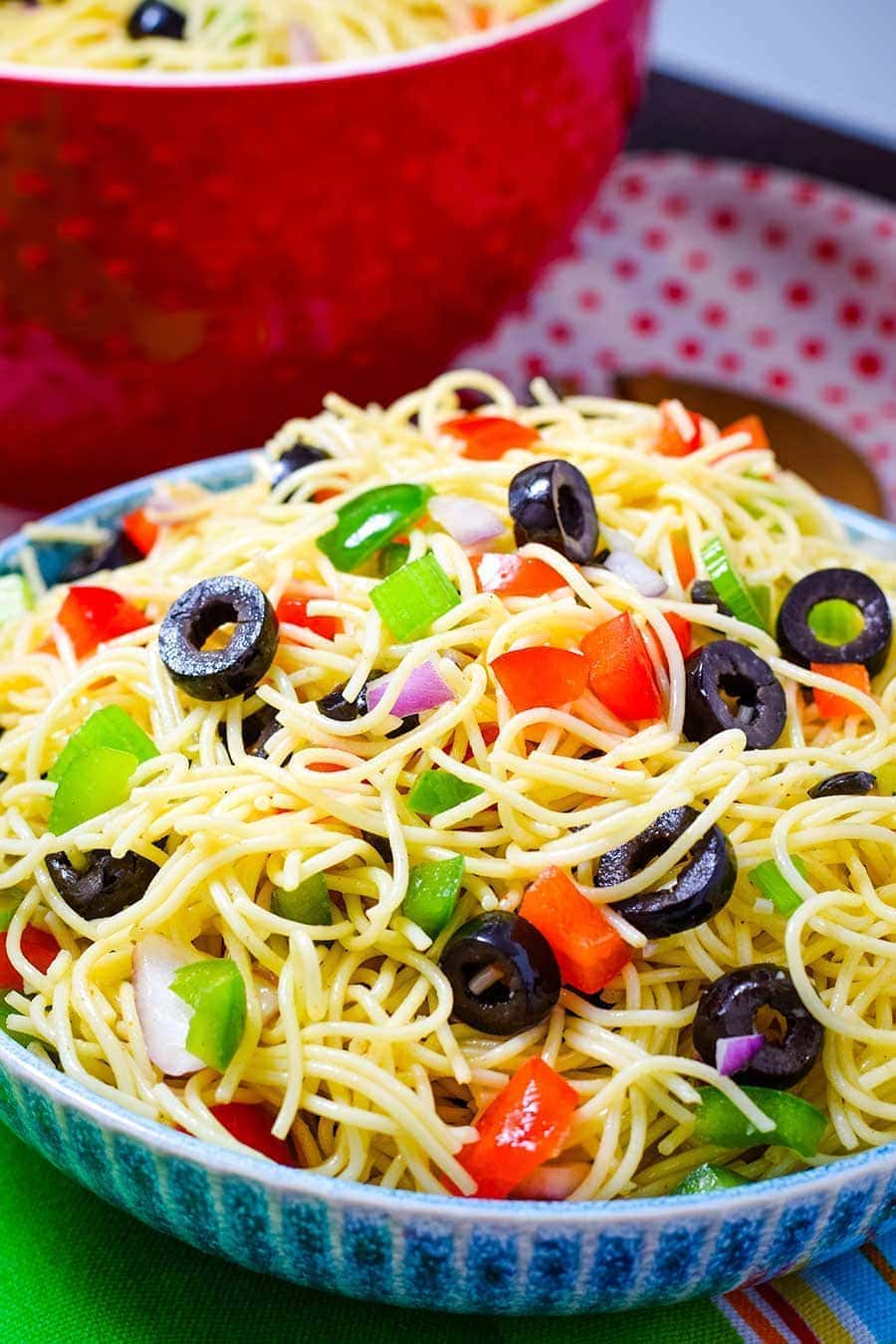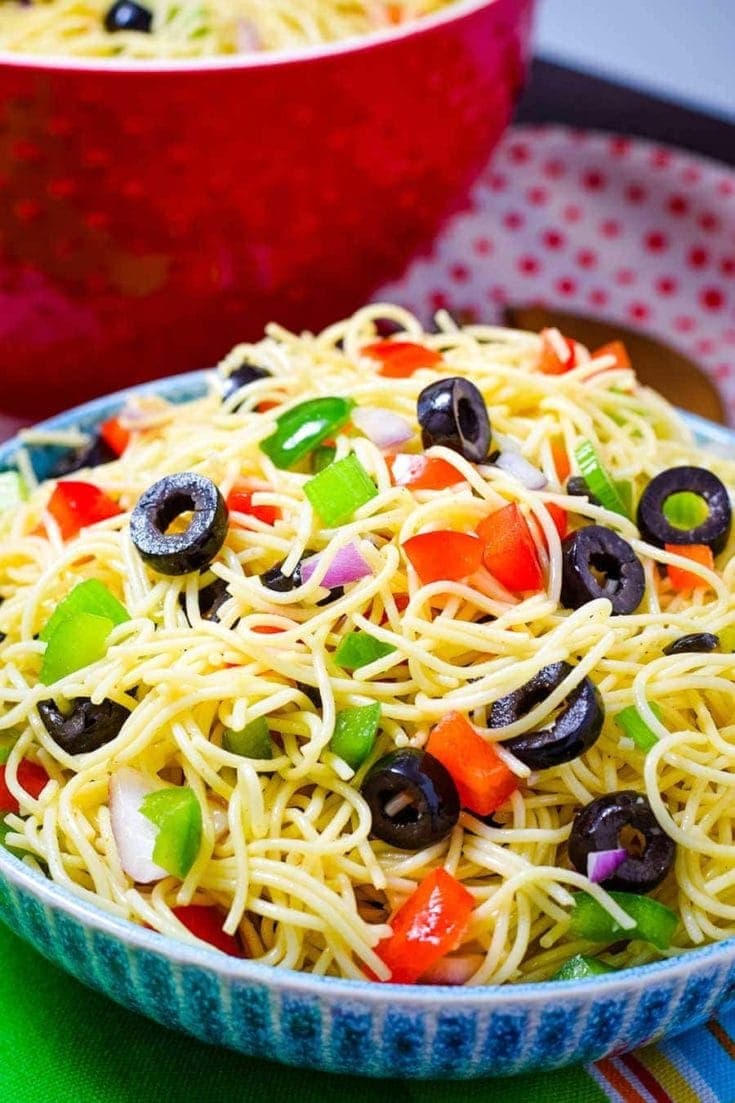 First step to Making Shelly's Spaghetti Pasta Salad
(Shelly's Recipe call to make this on DAY 1)
Mix the Marinade (Dressing)
Boil Pasta to al dente & Drain Water from the Pasta
Put Pasta in large airtight container with lid. Pour on marinade and shake.
Refrigerate
Every once in a while, shake it again
Second Step to Cold Spaghetti Pasta Salad
(Shelly's Recipe call to make this on DAY 2)
Cut and add all the veggies
Place lid back on container and shake
Then Shake every once in a while for good measure and taste
Marinate overnight
Shelly says don't forget the shaking 😉
Third Step to Perfect Pasta salad with Veggies
(Shelly's Recipe call to make this on DAY 3)
Eat it all up
Shelly waits an extra day and does this on day 3. I did this at blog speed and added my veggies in the early morning and served later in the day and it was delicious. - I do this on the 2nd day.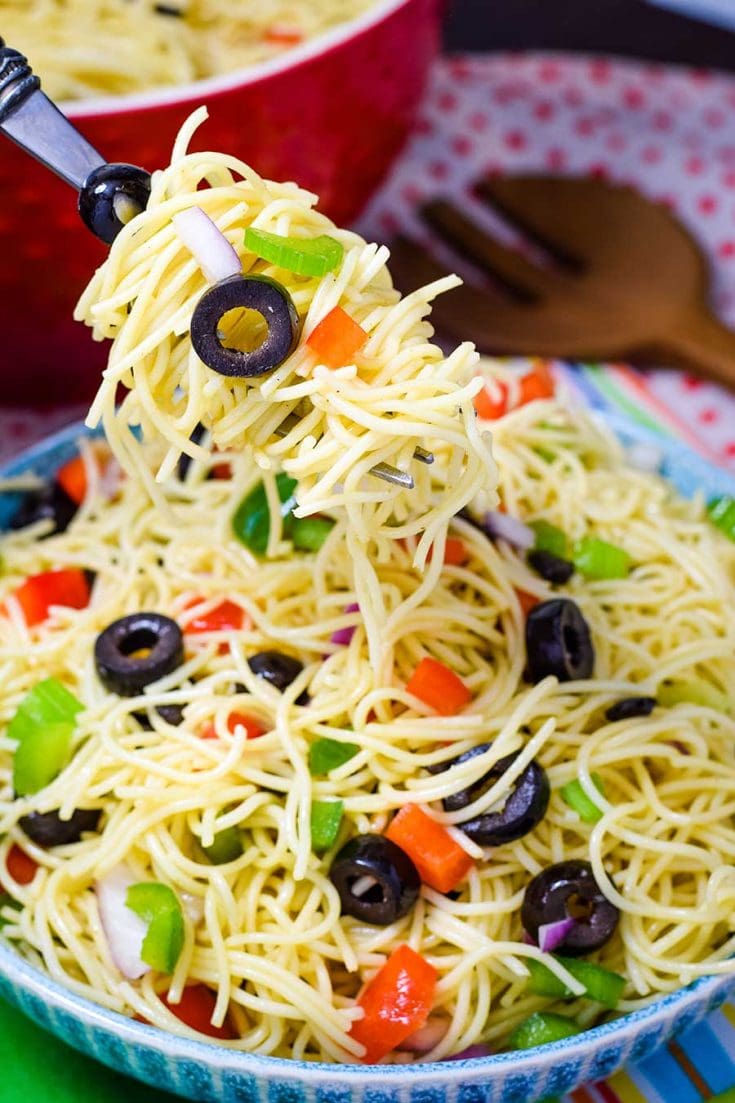 This pasta is so versatile and is perfect with a variety of menus, YA GOTTA LOVE THAT. You may just find it debuting on many of your menus too!
Perfect Additions to your Summer Menu
You can also find this at Weekend Potluck and Meal Plan Monday.