Easy Ground Beef and Sausage Rice Casserole is simple to make with tons of flavor. Lean ground beef, spicy sausage, celery, and onions bake in a creamy sauce and results in a delicious dish that brings the family to the table.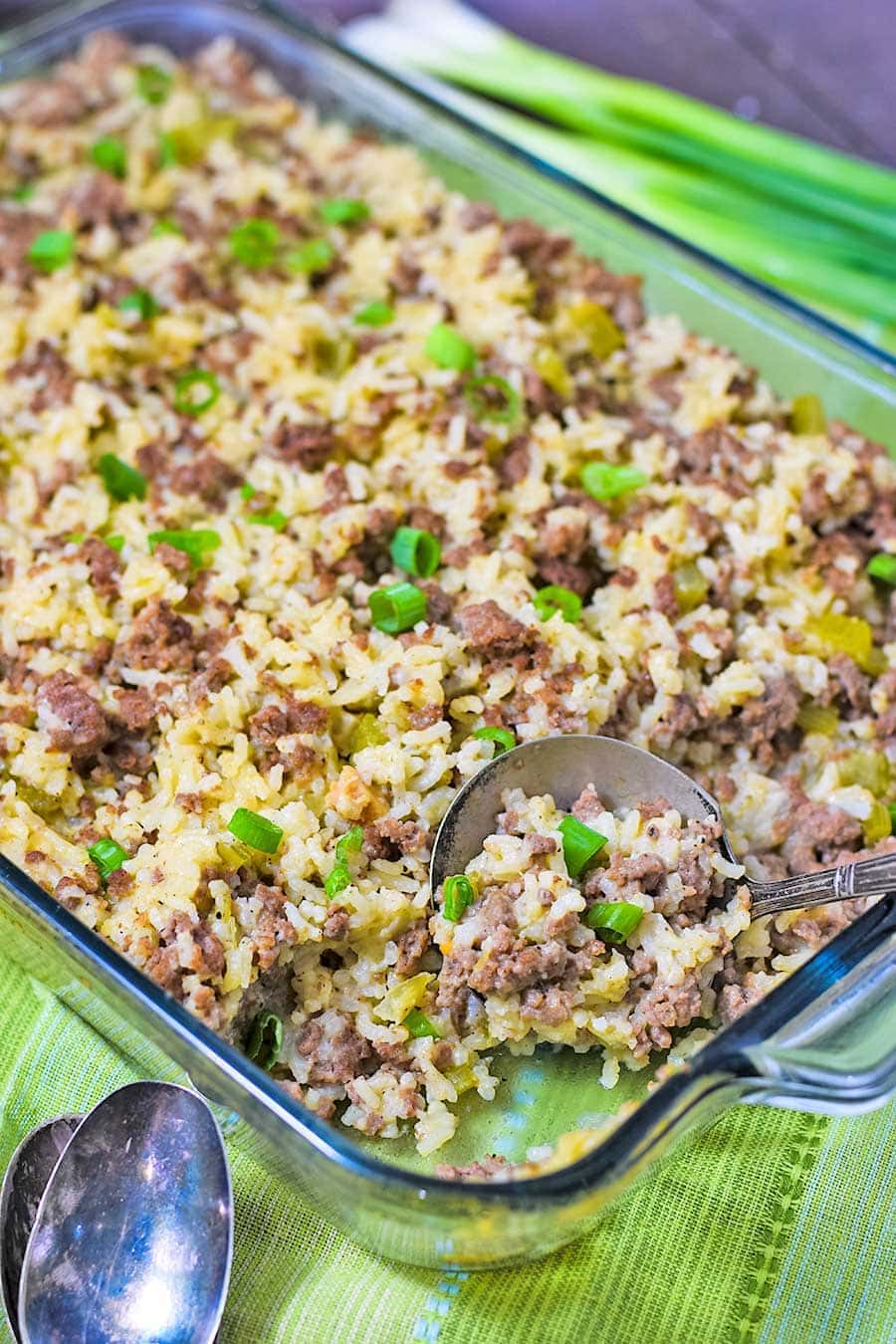 I am not sure why I waited so long to make this casserole for the blog. Casseroles seem to always be a hit here and with my family.
The term casserole simply means a dish, often a mixture, that is baked and served. I find that casseroles are so delicious and such comfort food. And this is just that!
People love this easy dish and it's perfect for a weeknight dinner. You can simply serve it with a green salad, a roll if desired and you have a wonderful meal. You could even top it with cheese after cooking and pop it back in the oven if you want it a little cheesy!
Ingredients
The ingredients you will need are ground beef, bulk sausage ( I like to use a hot one, but you can use a mild or regular heat), onion, celery, some spices, cream of celery and cream of chicken soups, and long grain white rice.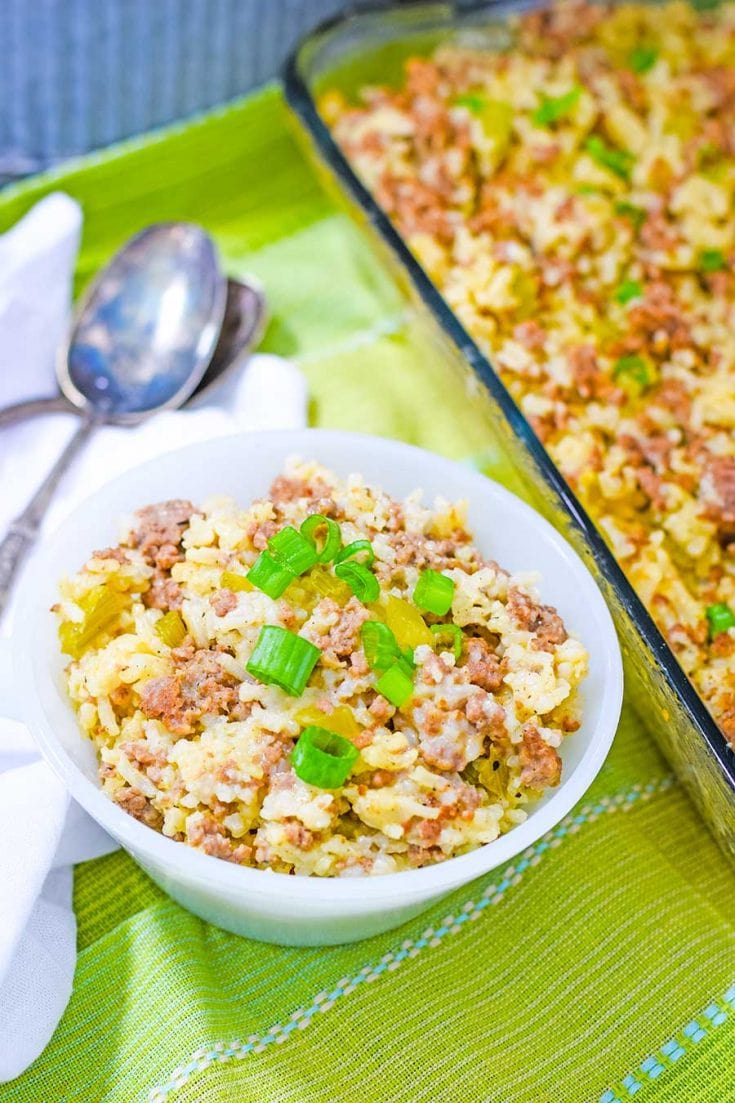 How to make Ground Beef & Sausage Rice Casserole
Preheat oven to 350 degrees and spray a 9 x 13 baking dish with cooking spray.
Place ground beef and sausage to a large skillet, crumble and brown on medium high heat until about half cooked. Add in celery and onion and cook until soft.
Add in cream of celery and chicken soups, chicken stock and stir until combined. Then pour in rice and mix until completely blended.
Pour into 9 x 13 baking dish and cover tightly with foil. Bake for 1 hour and 15 minutes. Remove from oven when done and fluff with a fork.
Do I really need to cover with foil while I bake this casserole?
Yes this will allow the rice to cook and get tender. If you would like to add cheese to the casserole, pull the dish out fluff the rice and then add cheese, place it back in the oven to cook until cheese melts (about 10 to 15 minutes).
Why didn't my rice cook?
If the casserole finishes cooking and you find the rice isn't done, it is possible you used the wrong rice or your oven did not cook consistently or at the correct temperature. There is plenty of moisture in this dish and enough time for the dish to bake perfectly.
What rice to use in casseroles?
Long grain, white rice is best to use in casseroles. It doesn't get sticky or mushy. You cannot use quick or instant rice in this casserole unless you adjust the liquid and time according the the package instructions.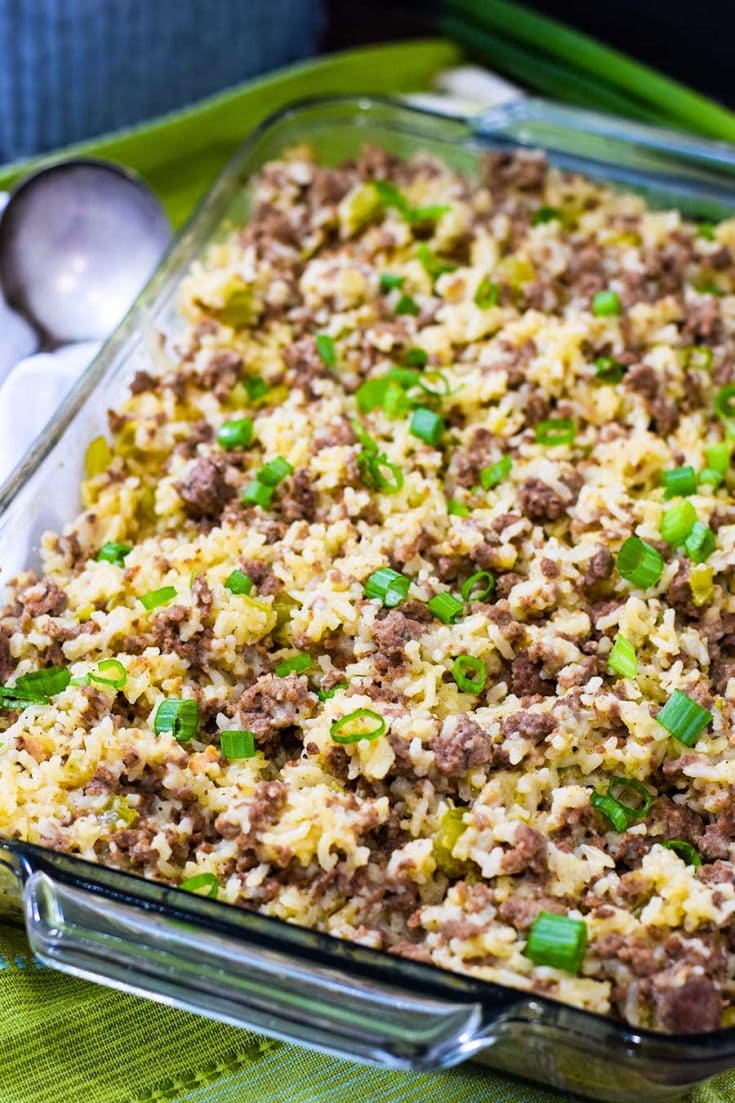 More Casserole recipes you are sure to love
Can I freeze this ground beef sausage rice casserole?
This is a wonderful casserole to freeze. Just place in a freezer safe container and wrap with plastic wrap and then cover that with foil and freeze. You can also put it in individual servings and freeze for later.
This is a great casserole to take to a potluck or to someone needing a meal.