Baked spaghetti pasta, taco flavored ground beef, a diced tomato and chili sauce and gooey layers of Mexican cheese brought together to create this delicious family pleasing TACO SPAGHETTI BAKE. All the flavors of a taco baked into a pasta casserole dish!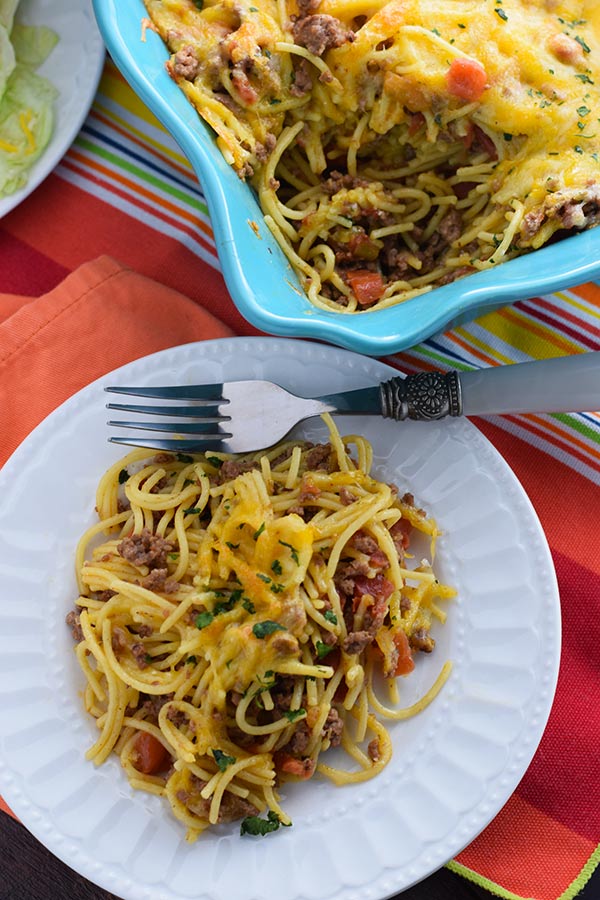 This isn't the prettiest dish in the world, but it sure has the family begging for me to make it over and over again. So simple and easy to make. My kind of meal!
Did your kids go through the ICarly phase of wanting Spaghetti Taco's? Well this isn't exactly that version, but to this day we laugh over the fact that they wanted me to make taco shells when I made spaghetti. This one is a delicious compromise.
I sure miss the days of my kids being little. The seasons in life sure are a changing. And I am slowly getting adjusted. Sometimes kicking and screaming and others (shhh don't tell the kids) I am growing to like this phase a bit!
My daughter Bri and some of her friends were home from college. Their days were filled with the beach, the mall, and hanging by the pool. I was still working and needed a conveniently quick meal. Taco Spaghetti Bake is a go to on nights like that. It literally comes together in minutes and baked until the cheese melts and get's all delicious. Throw together a salad and garlic bread. Dinner is done in under 4o minutes.
What you need for Taco Spaghetti Bake
Spaghetti Pasta
Ground Beef
Onion
Garlic
Taco Seasoning
2 cans of Rotel
Butter
Mexican or Taco Blend Shredded Cheese
How to make Taco Spaghetti Casserole
Step 1. Cook spaghetti pasta in salted water according to package instructions to al dente. Then drain in colander.
Step 2. Meanwhile, in a skillet saute onion and garlic until begins to become translucent.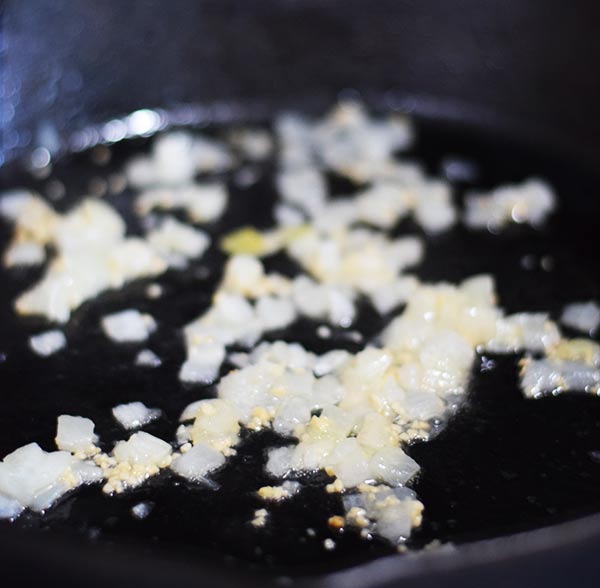 Then add ground beef and season with salt (garlic salt) to taste. Add in taco seasoning and stir well.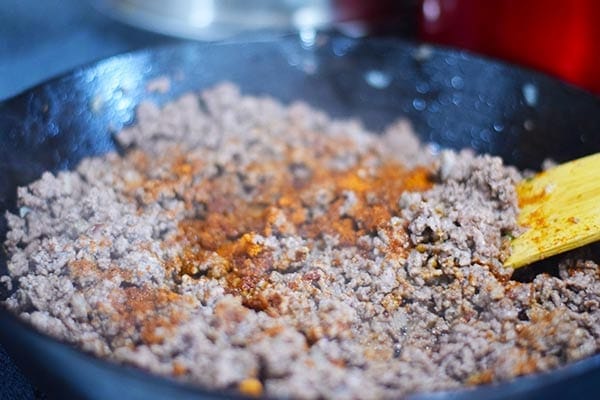 Pour in two cans of Rotel.
TIP: To adjust the HEAT - Change up the type of Rotel you use. They have mild, original and hot. We like original at my house. I once bought HOT by mistake. Our mouths were on fire lol!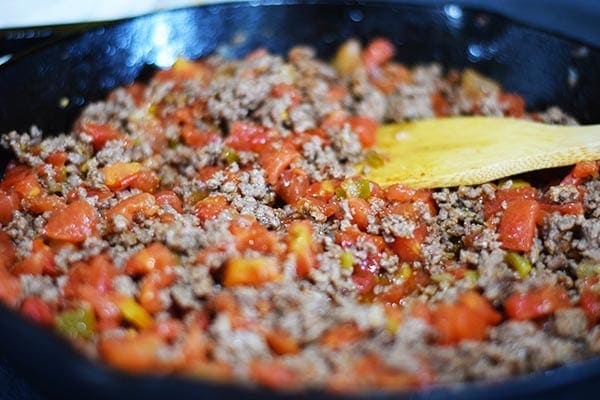 Step 3. Pour drained pasta into meat sauce, add in butter and combine.
Tip: For a creamier texture add ½ to 1 cup of cream to the pasta and it adds an extra creamy richness! Oh so delicious!!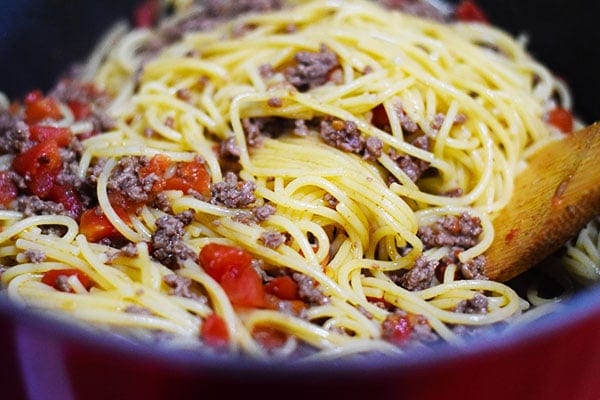 Step 4. Spray 9 x 13 casserole dish. Add in 1 /2 of spaghetti mixture top with half of cheese, top with rest of spaghetti mixture and then top with remaining cheese.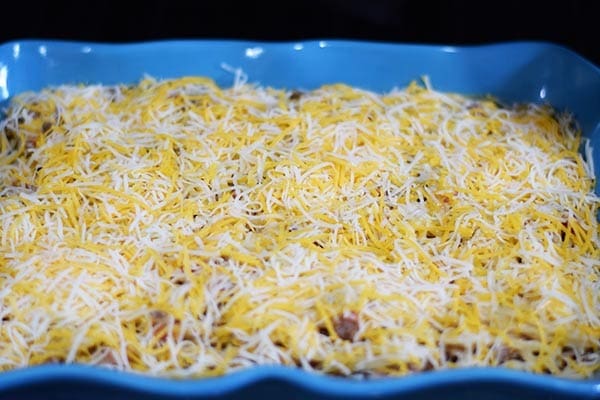 Step 5. Bake at 350° for 20 minutes or until cheese is melted.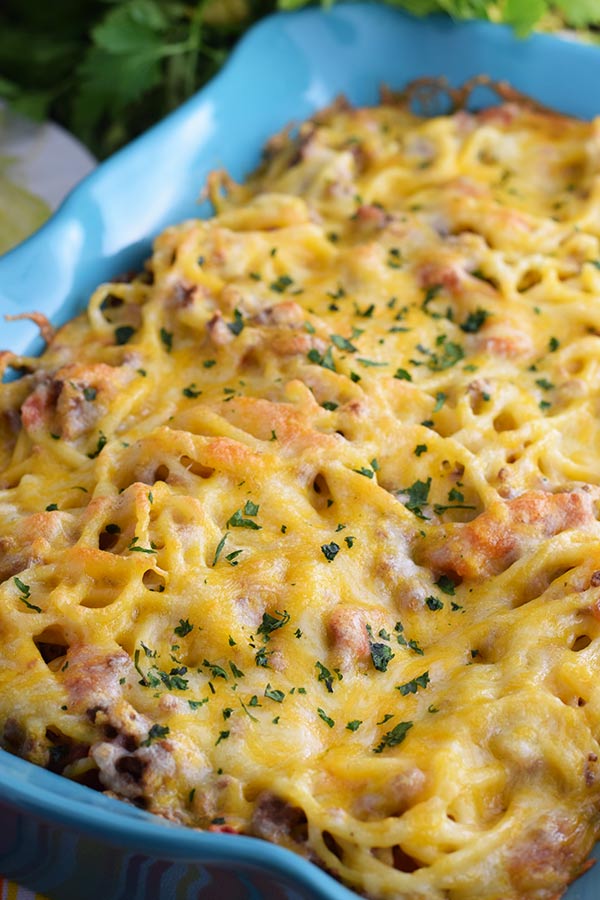 Y'all go ahead and dig on in! It's really good just like it is. Or you may want to add a little more taco flavor, you can add a dollop of sour cream, some cilantro, or any taco topping you enjoy! We were starving and just dove right in!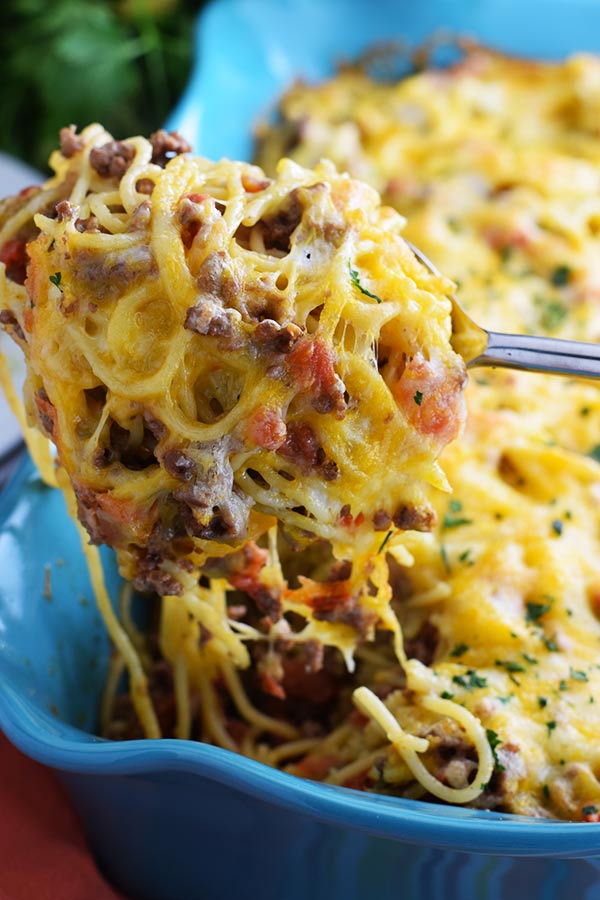 Other Recipes you May Enjoy
Please Pin Taco Spaghetti Bake and Share