Ultimate Baked Chicken Spaghetti Casserole is easy, cheesy and packed full of comfort. It's tender chicken combined with pasta and a cheese sauce baked until bubbling hot and delicious.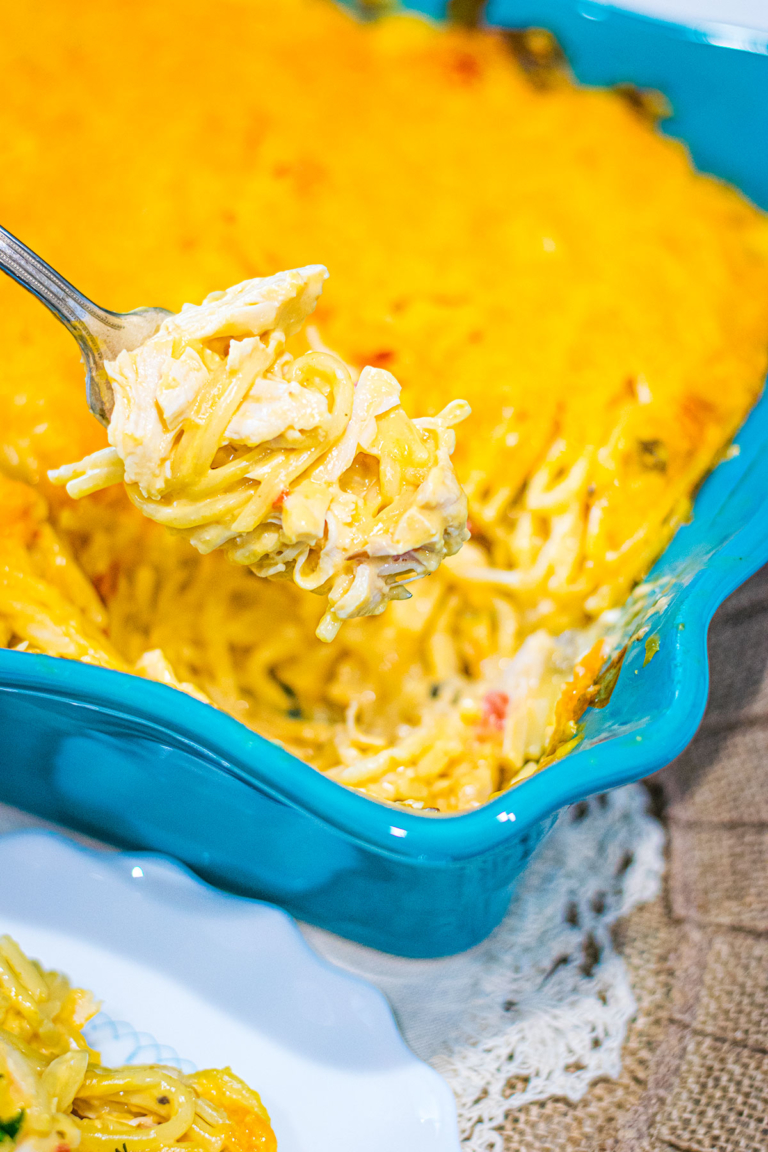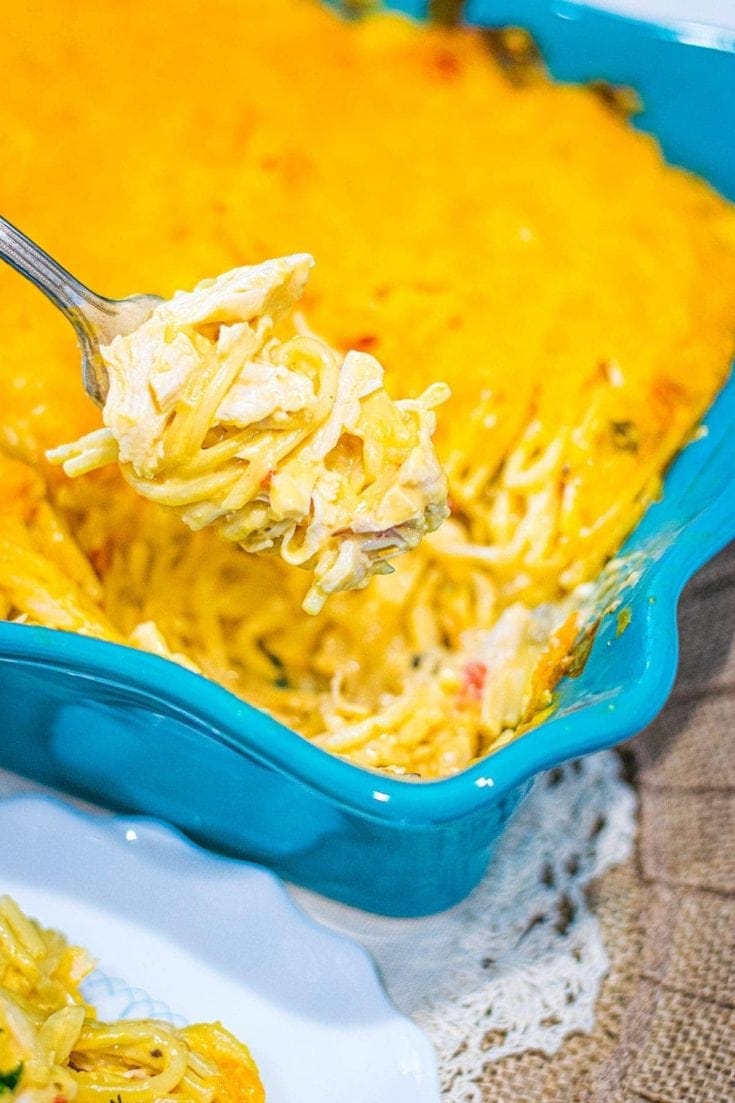 I am not really sure where this recipe first originated, but I remember having a version of this that was made by a local catering company at an event at a friends house a hundred years ago. I knew it would be a hit with my family so I asked what was in it from one of the staff.
They said Rotel and Velveeta. Duh - thus why it was a hit! The ingredients are the startings of our favorite queso and add in chicken and spaghetti and BOOM = yumminess. I knew there must be a few add ins. So home I went to figure out the rest.
I tested the chicken spaghetti casserole recipe out on the family and they loved it. It now finds its way into our meal rotation on a normal basis along with my Ultimate Baked Spaghetti and Taco Spaghetti Bake. Y'all give those a try I think you will love them too!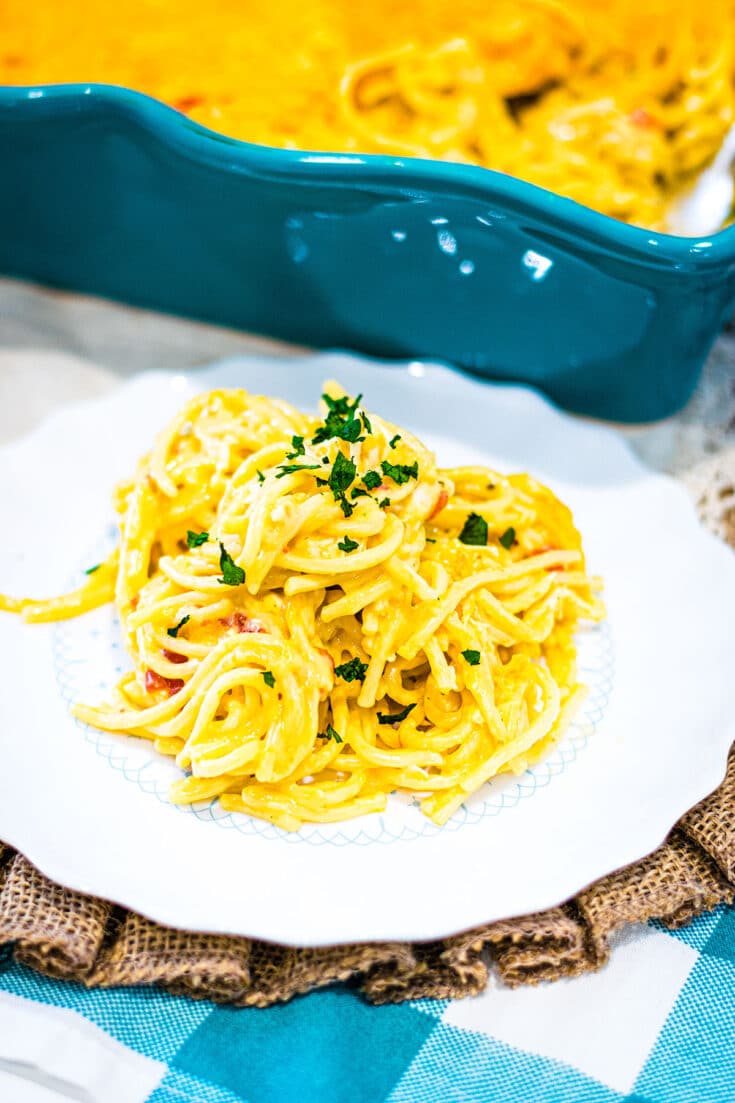 What you need to Rotel Chicken Spaghetti Pasta
Chicken, shredded or chopped
Spaghetti Pasta
Rotel Diced Tomatoes and Chiles
Velveeta Cheese
Cream of Mushroom Soup
Cream of Chicken Soup
Sour Cream
Onion Powder
Garlic Powder
Pepper
Salt to taste
Shredded Cheddar or favorite cheese
How to make Chicken Spaghetti Pasta Bake
Cook your chicken or buy a rotisserie chicken: I often use leftover baked chicken, Instant Pot chicken, poached chicken, but I most often you a rotisserie chicken to keep this super quick and easy.
Cook the Spaghetti: Cook the pasta according to package instructions to al dente then drain. Make sure to salt the noodles while cooking to taste. This is really essential to getting a good flavor to the pasta.
Make the sauce: In a large pot add in Rotel, cubed up Velveeta, pour in the cream of mushroom, cream of chicken and sour cream. Add in the onion powder and garlic powder. Keep stirring the mixture until it is smooth and melted.
Combine the chicken and spaghetti to the sauce: Add in the shredded or chopped chicken and noodles to the pot and stir it until combined.
Bake in casserole dish: Pour into sprayed baking dish and top with shredded cheese and bake at 350 degrees for 30 minutes or until golden and bubbly.
Delicious Pasta Recipes to try