Broccoli Cheddar Chicken Casserole - Juicy chicken with broccoli and a cheesy sauce topped with buttery Ritz crackers. This family favorite is an easy to make casserole much like the one at Cracker Barrel.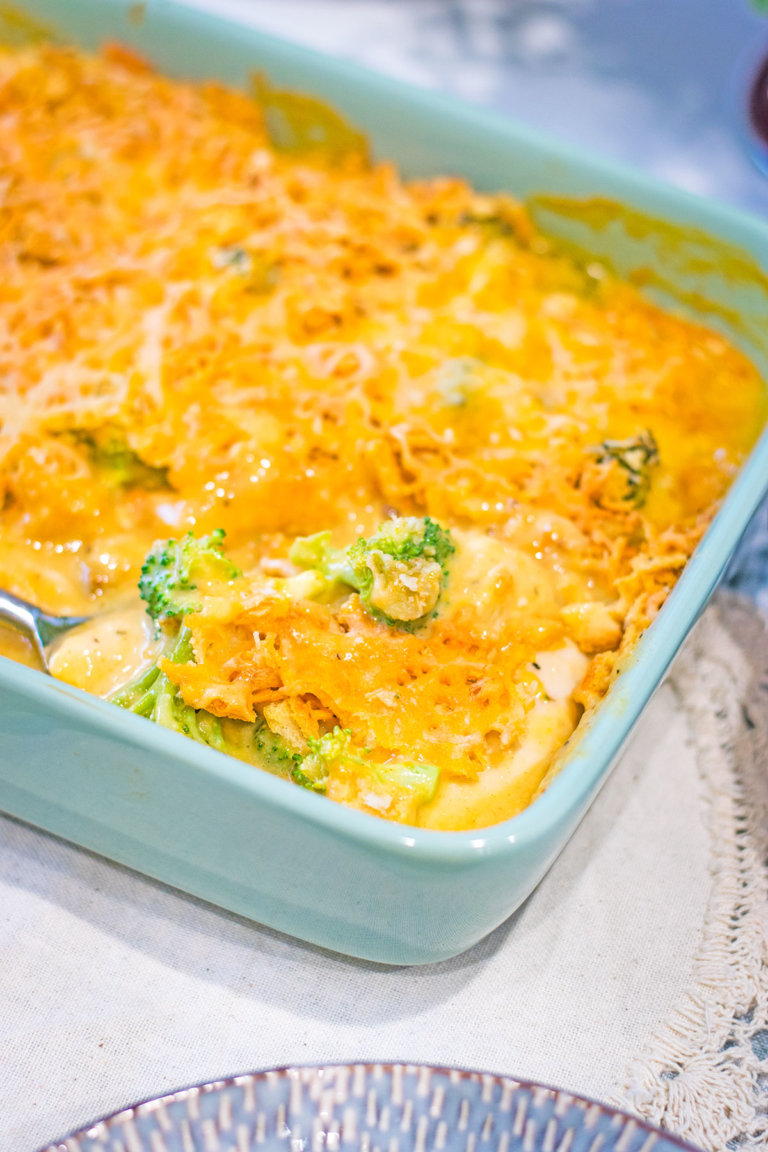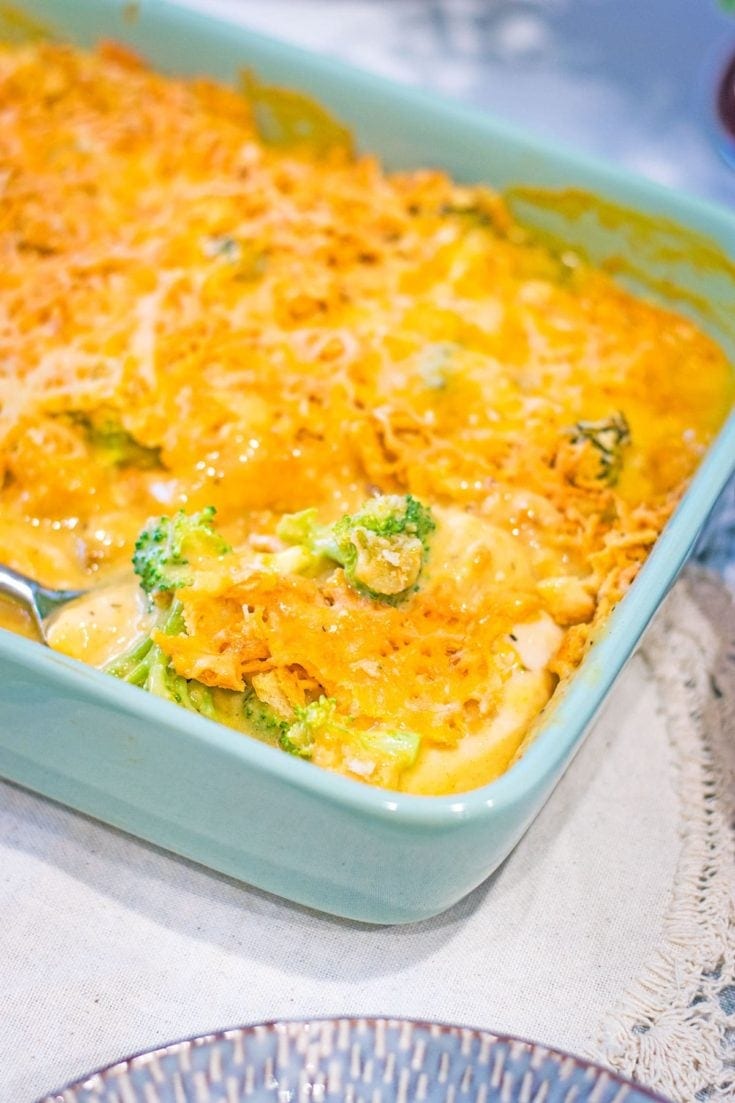 I always get excited when I happen to be at Cracker Barrel and they have this chicken and broccoli casserole on the menu. Well this and their lima beans just make this girl happy.
I figured why not make it at home so I can enjoy it any time. Oh and I have a lima bean recipe that is drool worthy too y'all!
This Cheesy Broccoli Chicken Casserole is a nice wholesome comfort food meal made with chicken and a few other simple ingredients to create a to die for sauce. It's all oven baked in a casserole dish to make a complete family friendly meal.
I most often serve it with rice (because that is what my family loves with it) and a salad (you know healthy greens to round it off right). If I am feeling really fancy I might make some rolls.
But this can be somewhat lower carb friendly keep scrolling and I will show you how to swap out some ingredients for that. But no dinner roll for you then ?!
How to make Cheddar Chicken and Broccoli Casserole
Start with boneless skinless chicken breast tenderloins. I like using these they are nice and tender, just the right size. You can certainly use the breasts you have at home and cut them in half or into thirds depending on the size. Sprinkle them with salt and pepper.
Cheesy Mixture - In a bowl combine cheddar cheese soup, a cheddar colby blend of cheese, milk, paprika, garlic powder and some of the crushed crackers. Pour half of the mixture on the chicken.
Top with the broccoli florets.
Then pour the half other cheese mixture on top.
Top it off with the remaining crushed Ritz crackers and cheese. The pour the melted butter on top (you can omit the butter if you like and it is still delish).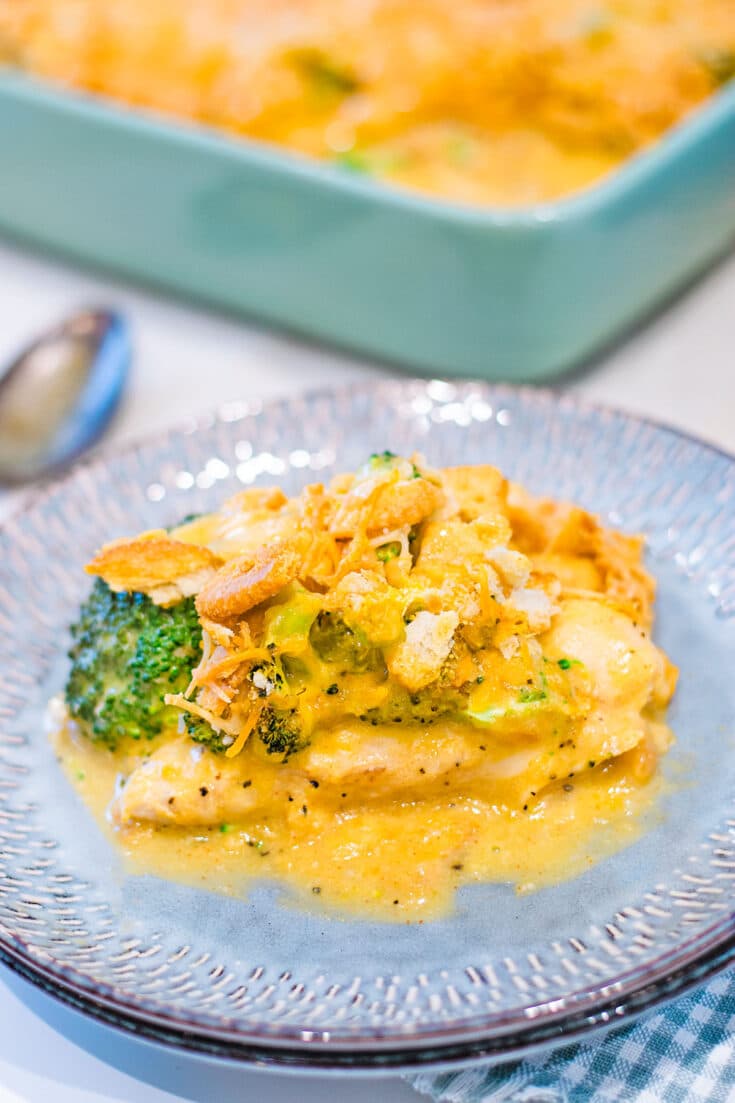 How Can I make this Broccoli Cheddar Chicken Casserole recipe keto or low carb friendly?
Substitute heavy cream for the milk.
Leave the crackers out of the mixture.
Leave the crackers off the top and use a little extra shredded cheese.
You can replace the crackers on top with crushed pork rinds to give it a crunch.
You can also add in a ½ cup of sour cream or 4 ounces softened cream cheese to the cheesy mixture. It will change the flavor a bit and give it more tang, but is delicious.
Other Casserole Recipes you May Enjoy!