Penne pasta baked with mozzarella cheese, buttery chicken and delicious asparagus topped with an Italian panko crust and just a little more cheese for extra good measure. This delicious Cheesy Chicken Asparagus Pasta Bake makes the most wonderful family meal!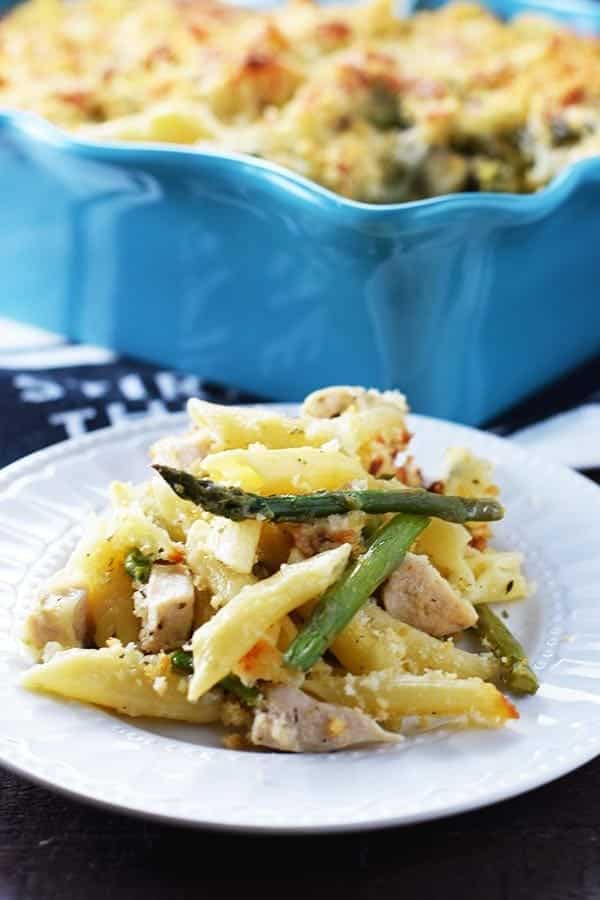 Who's coming for dinner? If you are like my family they cannot get enough of pasta! I need to look back into my roots a little more to see if we have any Italian heritage because honestly we all could eat some type of pasta every day of our lives. I know, I know, for all those carb haters out there y'all are a cringin'! But I have to speak the truth!
You also know how I love an easy meal and this is another one! And if you are truly opposed to carbs you can sub out those noodles for something more Keto friendly and this will still be delicious.
My daughter loves asparagus so she will be whipping this one up time and time again for her college roomies! She calls home quite often to ask me how to make something. I will say print it out Bribug it's on the blog. She replies, "but mom I really would rather you just tell me how to do it". Then I usually get a call or two or three along the way of her preparing the meal.
Y'all know it took me almost two years to adjust to her being so far away. Thank goodness I had the company of all you faithful friends and this blog I cherish so much to keep my mind and heart busy! And now, I still get to cook with her 800 miles away! I kind of love it - a whole lot!
What you need for Cheesy Chicken Asparagus Bake
Chicken Breast
Asparagus
Penne Pasta
Butter
Garlic Salt
Mozzarella Cheese
Italian Seasoning
Olive Oil
Panko Crumbs
How to prepare Baked Cheesy Chicken Asparagus Pasta
Step 1. Cook pasta according to box instructions and drain.
Step 2. Add 2 tablespoons of butter to a skillet on medium high heat. Add in chicken breasts or tenderloins for about 10 minutes. Then add in asparagus and cook until done, about 5 to 10 minutes more depending on chicken size. (I love using tenderloins for this recipe)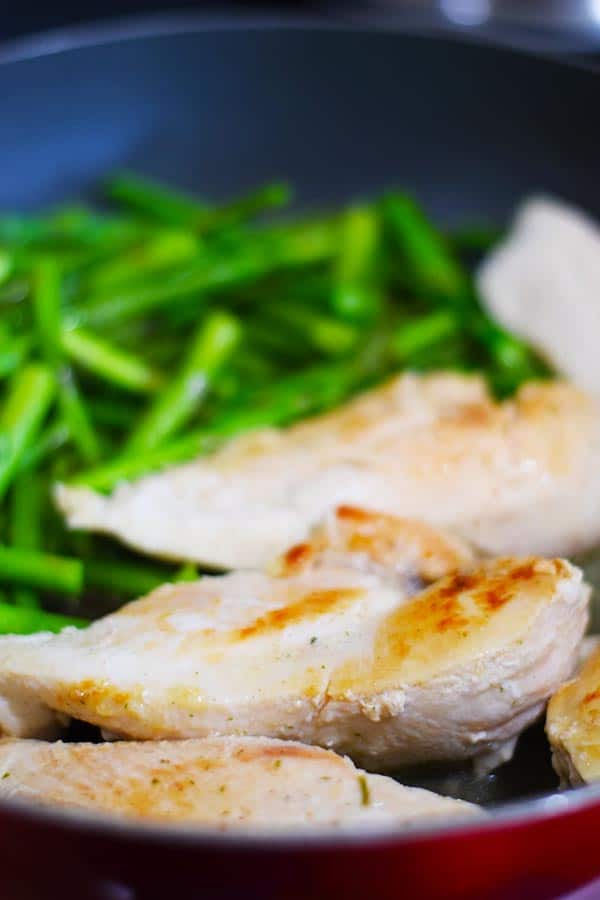 Step 3. Turn off heat and remove chicken and cut into bite sized pieces.
Step 4. Return chicken to the skillet (No need to dirty up another dish) and add olive oil, pasta, Italian seasonings, and 1 ½ cups of the cheese. Mix until combined. Here is where is starts getting cheesy!! You know cheese makes everything better!
Step 5. Spray a 9 X 13 casserole dish and pour mixture into dish.
Step 6. Mix panko crumbs and 2 tablespoons of melted butter with Italian Seasonings.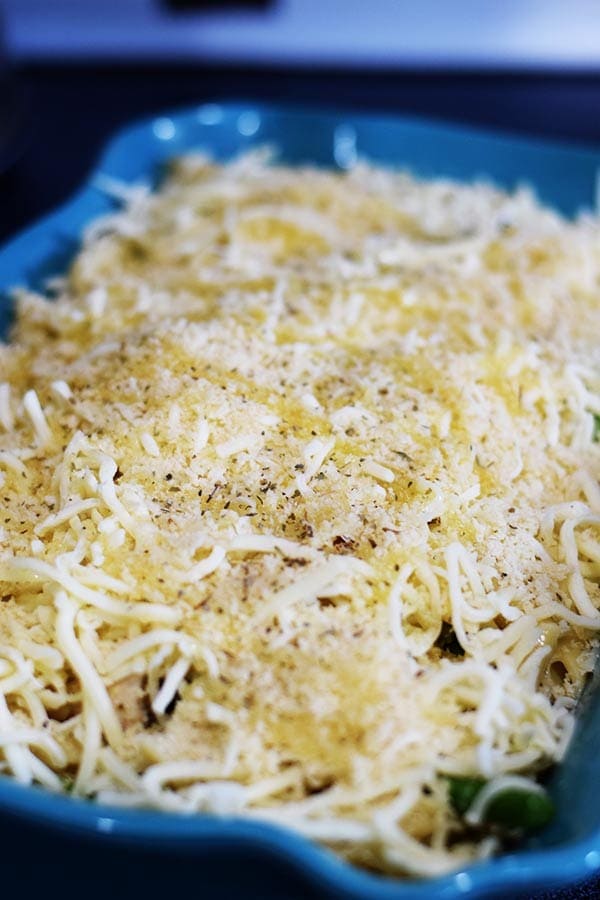 Step 7. Sprinkle other half of cheese (1 ½ cups) on top of pasta mixture. (Did I mention there is some cheese in this thang??). Top it off with panko mixture (I also sprinkle a tad bit more Italian seasoning on top) and bake in a 350° oven for 30 minutes or until bubbly and golden delicious.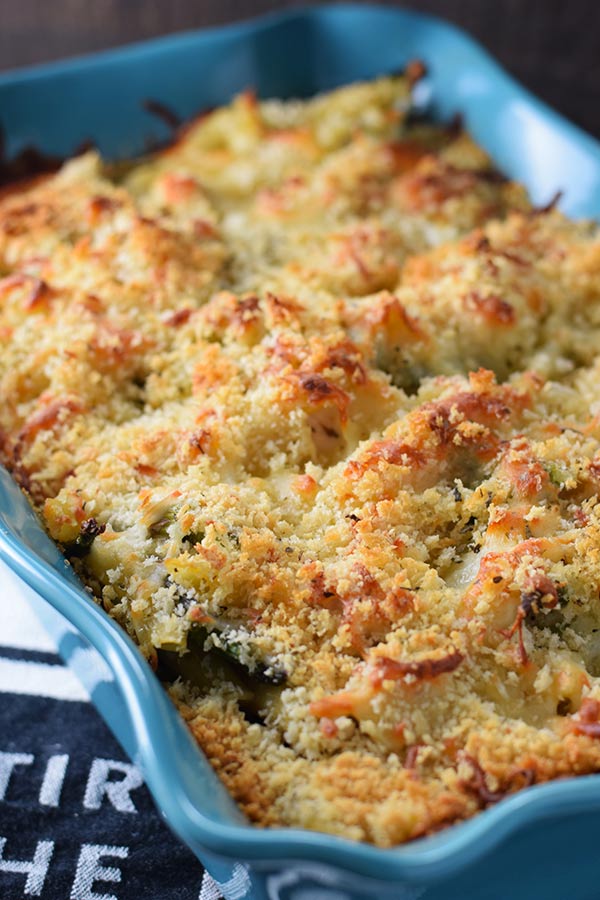 This dish is a family pleaser and good enough to serve to company. It's also one that transports well, so it's great to take along to a potluck or a friend in need.
TIP: If you aren't crazy about asparagus you can replace it with broccoli or green beans and it is just as yummy y'all!
I hope you enjoy and share this meal with someone you love!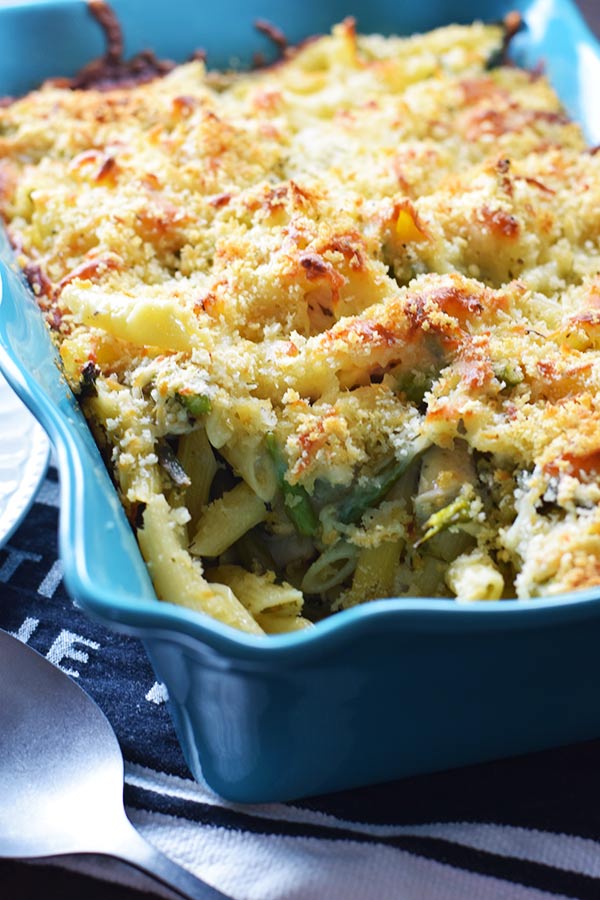 A few Dishes you may also love
Please Pin - Cheesy Chicken Asparagus Pasta Bake - for later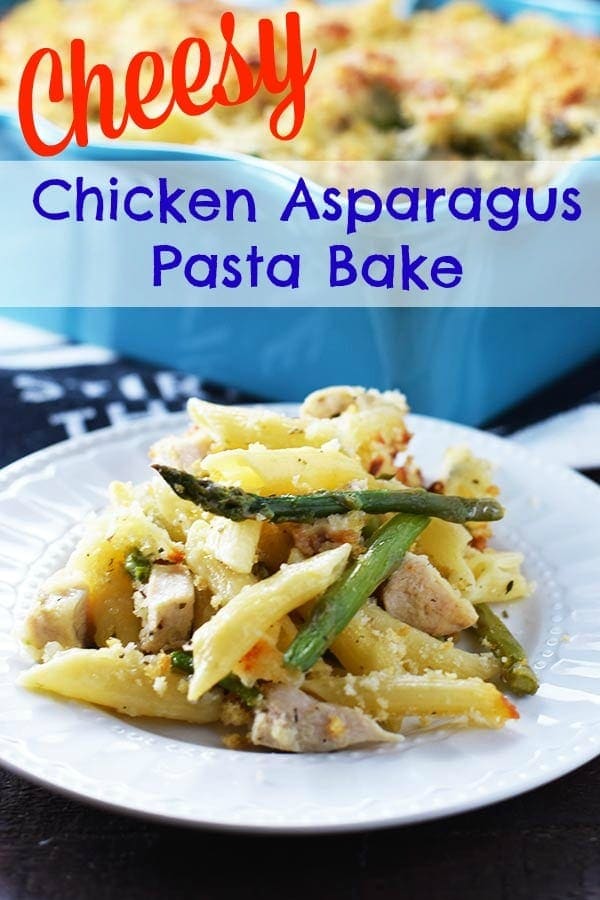 Cheesy Chicken Asparagus Pasta Bake
Love Southern Inspired Recipes Come Follow along!
Facebook | Instagram | Pinterest | Twitter | Google +
Get Free Recipes from Soulfully Made delivered right to your inbox!
You can also find this at Weekend Potluck and Meal Plan Monday.