Instant Pot Goulash is a pressure cooked American style beef goulash. Made in an instant with Italian spices, elbow macaroni noodles, a tomato sauce and ground beef. This classic comfort food is a quick, delicious, and inexpensive home cooked meal!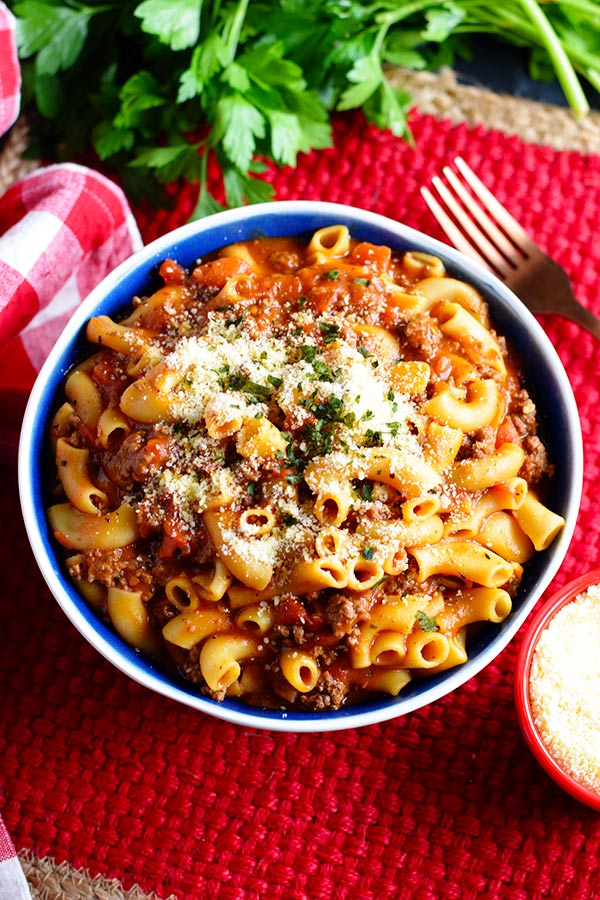 This week has started out a little bit rough. We had an air conditioning leak and it made it's way into our laundry, kitchen, and dining room. So our house is currently under construction as they say. I think I may lose my hearing with all these drying contraptions they have running.
So cooking has been a little derailed while they have been in and out and working around the house. It seems this may go on for a while. The process of waiting for the next step or person to come, well let's just say they are not in as big of a hurry as I am to get this finished.
Enough of my whining about that, I promise. But one thing I am so thankful for is my Instant Pot! It really is a miracle pot!!
Pressure cooking this classic comfort food is just what I needed tonight. No matter what reason for needing a quick one pot meal or what day of the week it is, this meal is fast, flavorful, and done in minutes in your Instant Pot!
Stove Top Instructions in Recipe Notes!
What you need for Pressure Cooked Goulash made in an Instant Pot
Ground Beef
Onion
Garlic
Beef Broth
Water
Tomato Sauce
Diced Tomatoes
Italian Spices
Large Elbow Noodles
How to make Home Cooked Goulash in a Pressure Cooker
Step 1.  Set your Instant Pot  (I use a 6 qt Pot) to saute. Once hot, add in ground beef, onion, garlic and salt and pepper (to taste). Cook until meat is browned. Drain off fat on papers towels or your favorite way. I use a trusty paper plate with paper towels on top.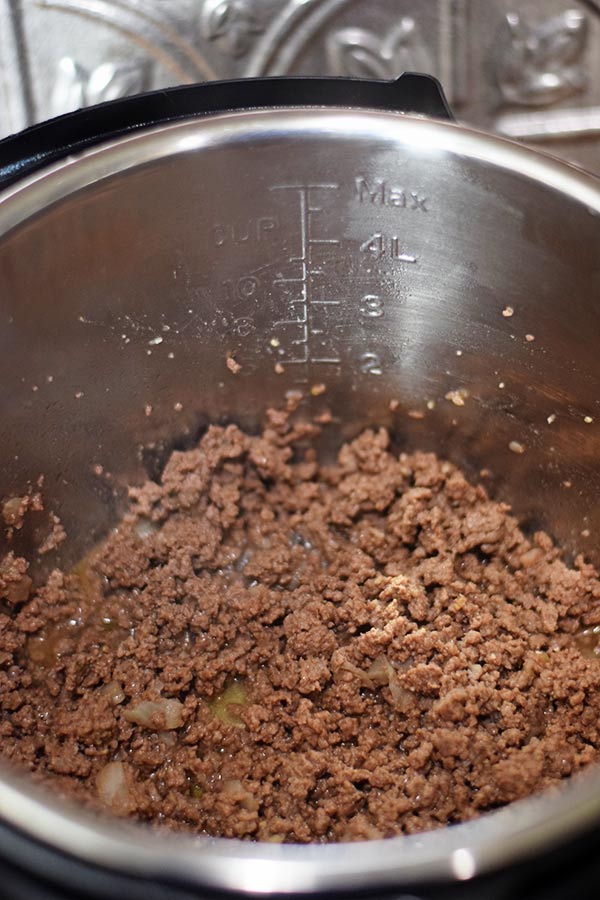 Step 2.  Add meat back in to Instant Pot and add tomato sauces, diced tomatoes, beef broth, water, soy sauce, Italian seasoning, salt & pepper (if desired) and noodles. Give it a good stir. Throw in bay leaves.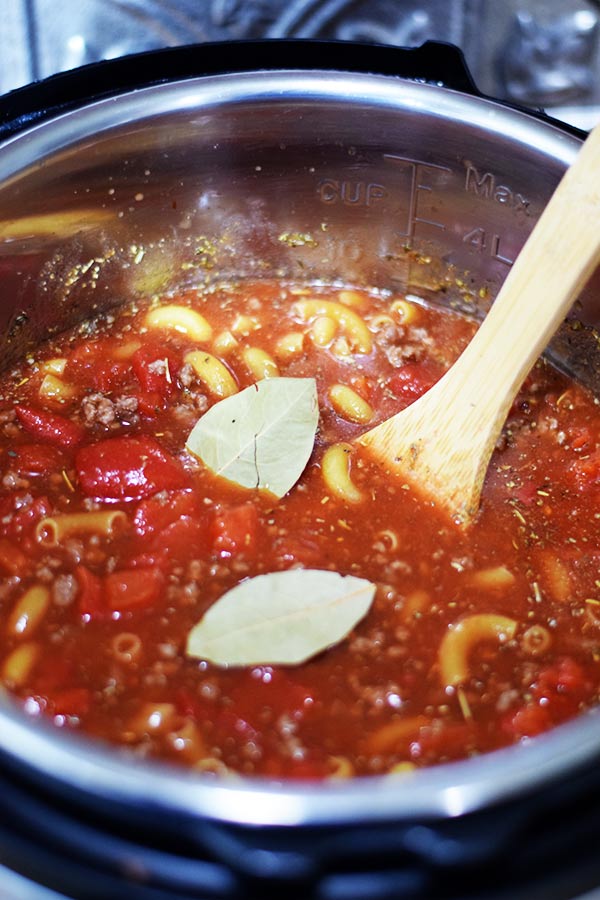 Step 3.  Put lid on Instant Pot. Turn pressure valve to closed. Set on High Pressure for 4 minutes.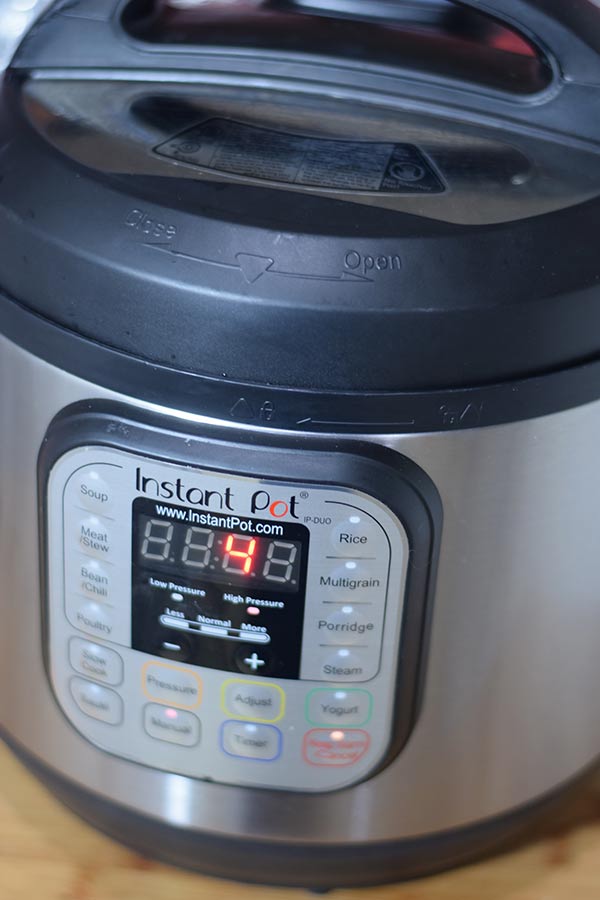 Step 4.  Once time is up turn valve to release (this is called manual or quick release). Remove lid and take out bay leaves. Mix and add additional salt and pepper to taste as needed (if you didn't salt before cooking)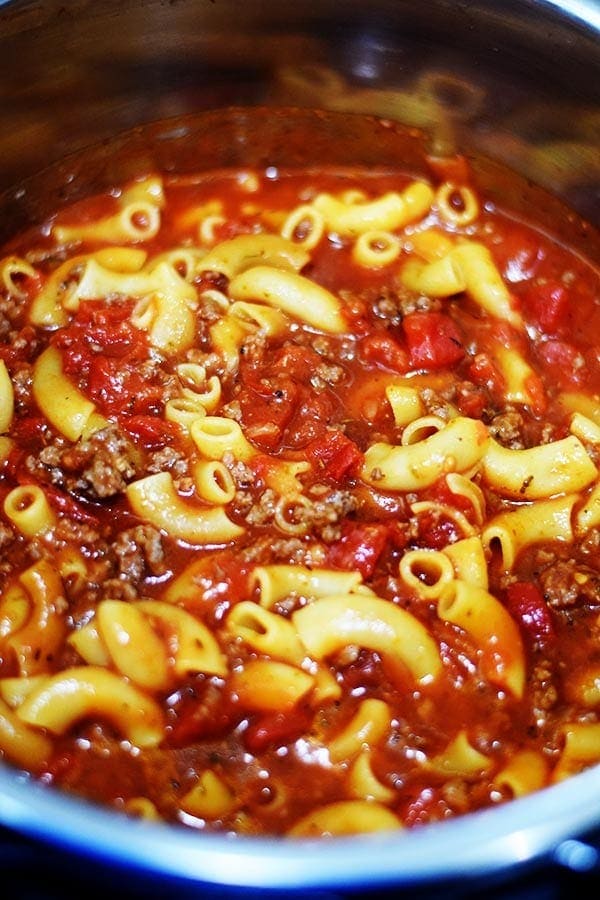 Step 5.  Top with parmesan or your favorite cheese and parsley!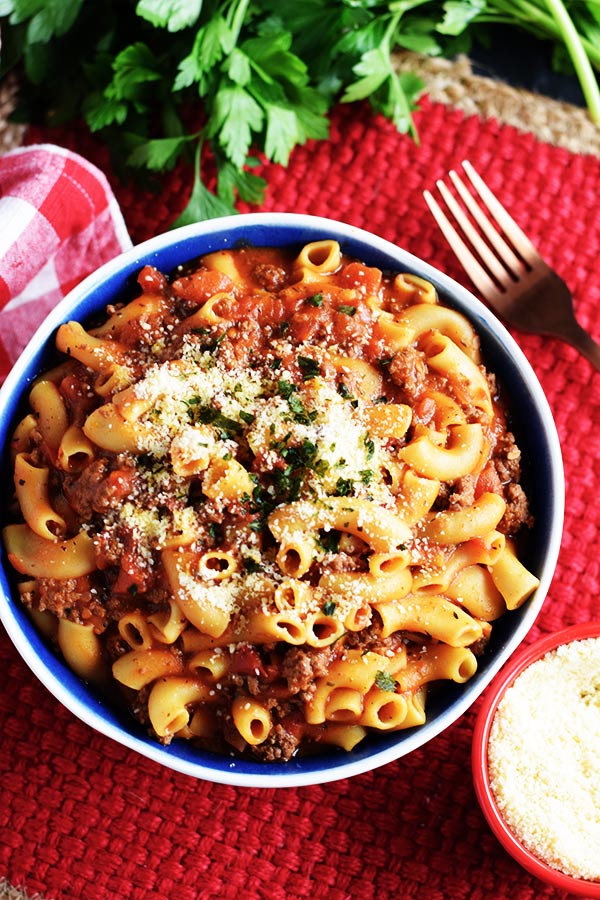 How American Goulash Began
I always find a little history behind a dish interesting. In doing a little research, aka wikipedia, tells me that is started showing up in cookbooks as early as 1914. The dish contains some form of meat, spices, and often noodles and cheese. Well doesn't that just make the best dish! What more do you need??
Goulash was Hungarian in its origins and came from very humble beginnings. Where cowherds would pull together their food items to create a stew like meal that they would cook for themselves over an open fire.
American Goulash is also a very humble, simple, and budget friendly dish! I believe every family needs inexpensive comfort food  recipe in their recipe box to whip up at one time or another!
I hope you enjoy this Instant Pot version, as this delicious money saving meal is made in minutes! And that equals a BIG WIN in my kitchen!

Here are a few Simple Family Meals to add to your menu!
A few things you might find useful when making Pressure Cooker Goulash
*Soulfully Made is a participant in the Amazon Services LLC Associates Program, an affiliate advertising program. Please note: This post may contain affiliate links to products I use and love. I earn a small commission, at no extra cost to you, to help with blog expenses when you make a purchase through an affiliate link. Thank you for your support!
Please Pin Instant Pot Goulash and Save for Later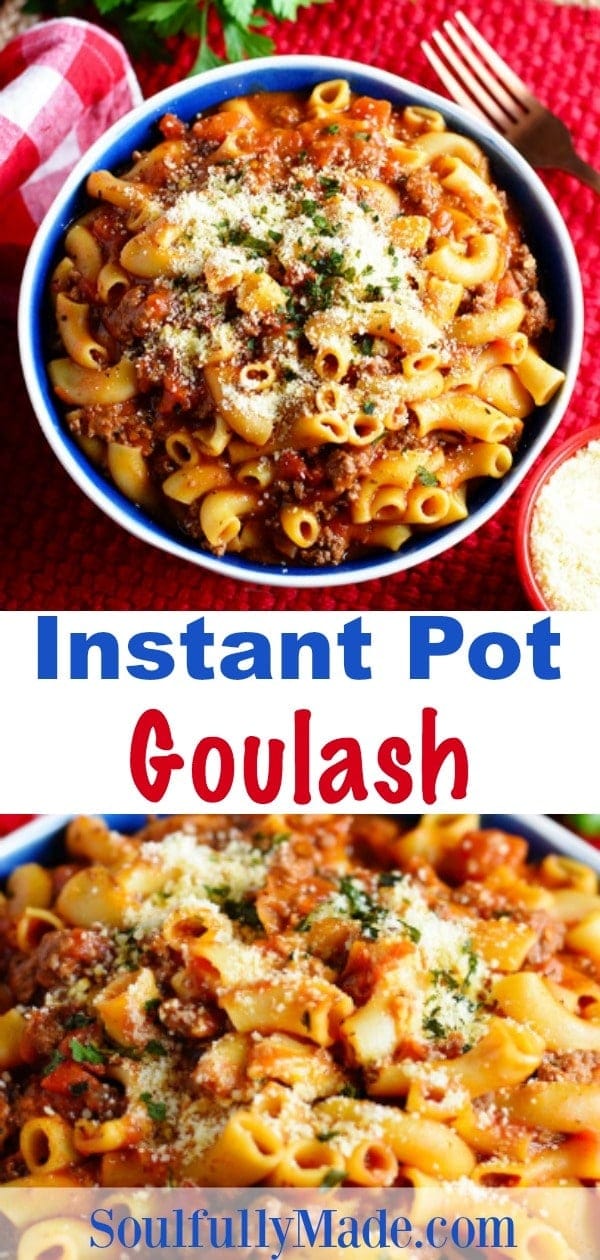 And I will leave y'all with a few Desserts you may enjoy!
Instant Pot Goulash - American Style Goulash Made in a Pressure Cooker
Love Southern Inspired Recipes Come Follow along!
Facebook | Instagram | Pinterest | Twitter | Google +
Get Free Recipes from Soulfully Made delivered right to your inbox!
---
You can also find this on Meal Plan Monday and Weekend Potluck!