Cast Iron Skillet Cornbread Recipe - Crispy golden edges made with buttermilk and a buttery crumb filled center. The ultimate southern comfort food is simple to make and simply delicious.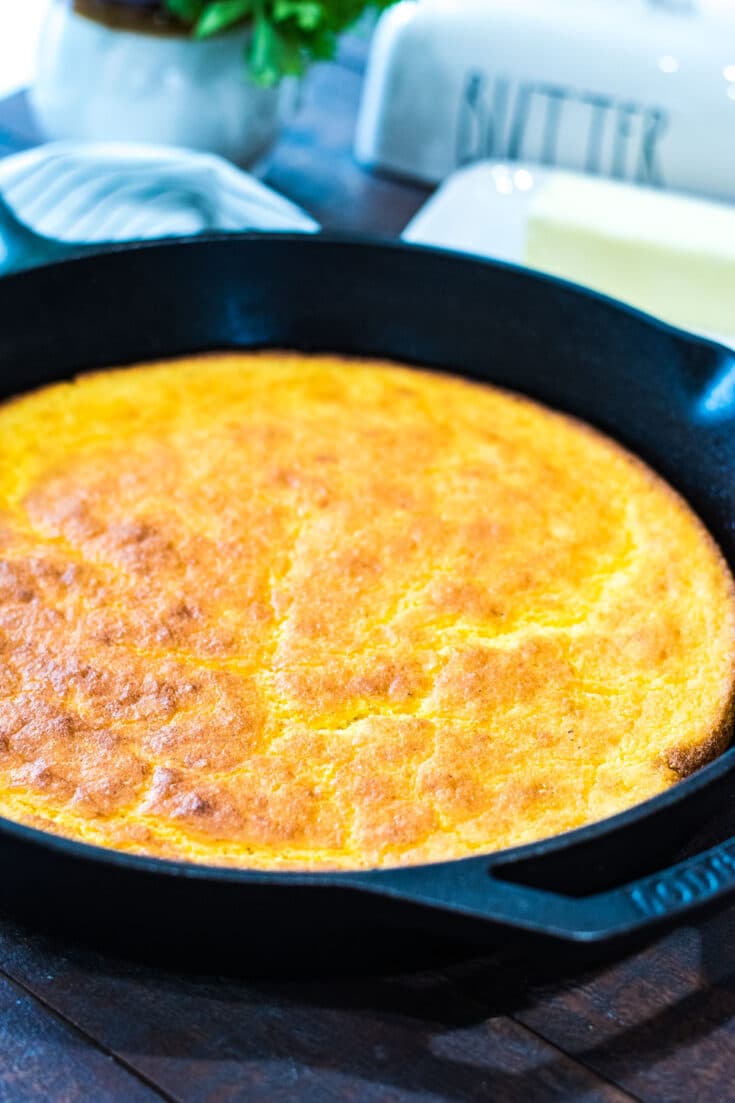 For as long as I can remember we have eaten cornbread in my family. I think some of my first memories are from being gathered around my granny's table in her tiny house house filled with family.
We would sit on her front porch swing and shell peas while we rocked back and forth on that swing. She often made fried hot water cornbread to go with those peas. I can almost taste those memories right now.
But when I don't want to spend time frying those bites of heaven, I always turned to this cast iron skillet recipe. It is just as delicious. It comes out with the most amazing crunchy edges while the center has the most tender crumbly buttery goodness you ever bit into. It is one that found its way into my kitchen time and time again
In the south cornbread really is a staple food. And most of these times can be easily pulled from staple items in the fridge and pantry. The one exception may be buttermilk, but there is a trick if you don't have it in your fridge. I use it often in baking and cooking so most of the time I have some around. It's easy to create your own if not.
Ingredients needed for skillet Cornbread recipe
yellow cornmeal
all purpose flour
salt
baking powder
baking soda
buttermilk
whole milk
butter
vegetable shortening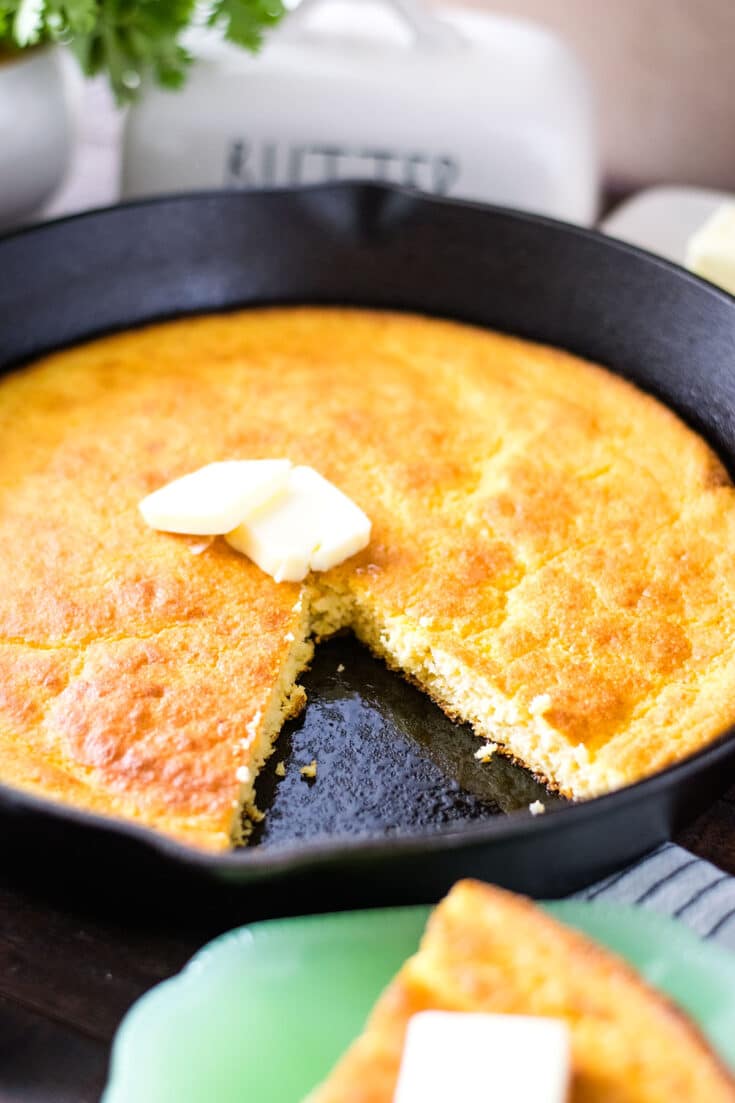 How to make a quick and easy buttermilk substitute
1 scant cup of whole milk
1 tablespoon of distilled white vinegar or fresh squeezed lemon juice
Give them a stir and let them stand at room temperature for 5 to 10 minutes.
The Key to delicious Southern cornbread
Don't over stir your batter. Just blend it until it is just combined. A few lumps are A OK in this recipe. This keeps it light and fluffy and gives it a crumbly texture that you want in cornbread!
Do you Like Thin and Crispy or Thick & Fluffy Cornbread?
To make you cornbread nice and thin and crispy just use a larger cast iron skillet. You will see in the below picture mine is rather thin. We love ours this way. I use a 12 inch cast iron skillet.
In order to get a standard thickness I recommend a 10 inch skillet. It comes as just right like mamma bear would say.
For a fluffier or thicker cornbread go for a 9 or 8 inch skillet.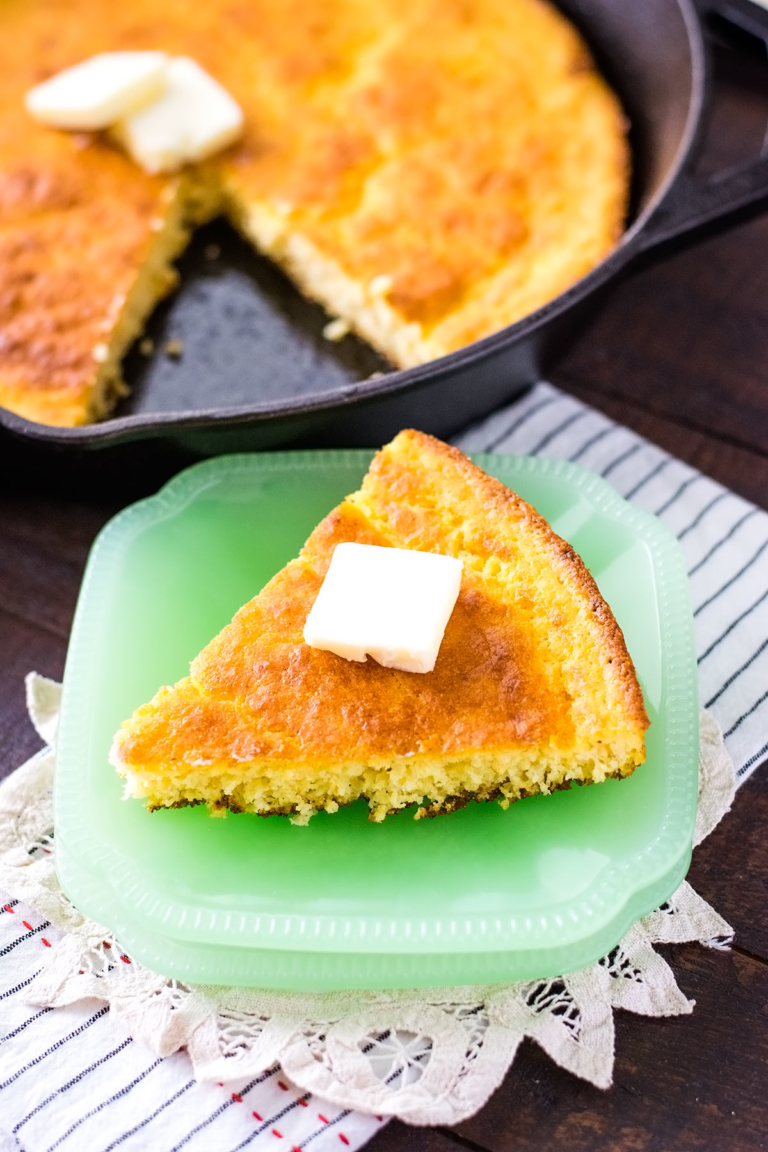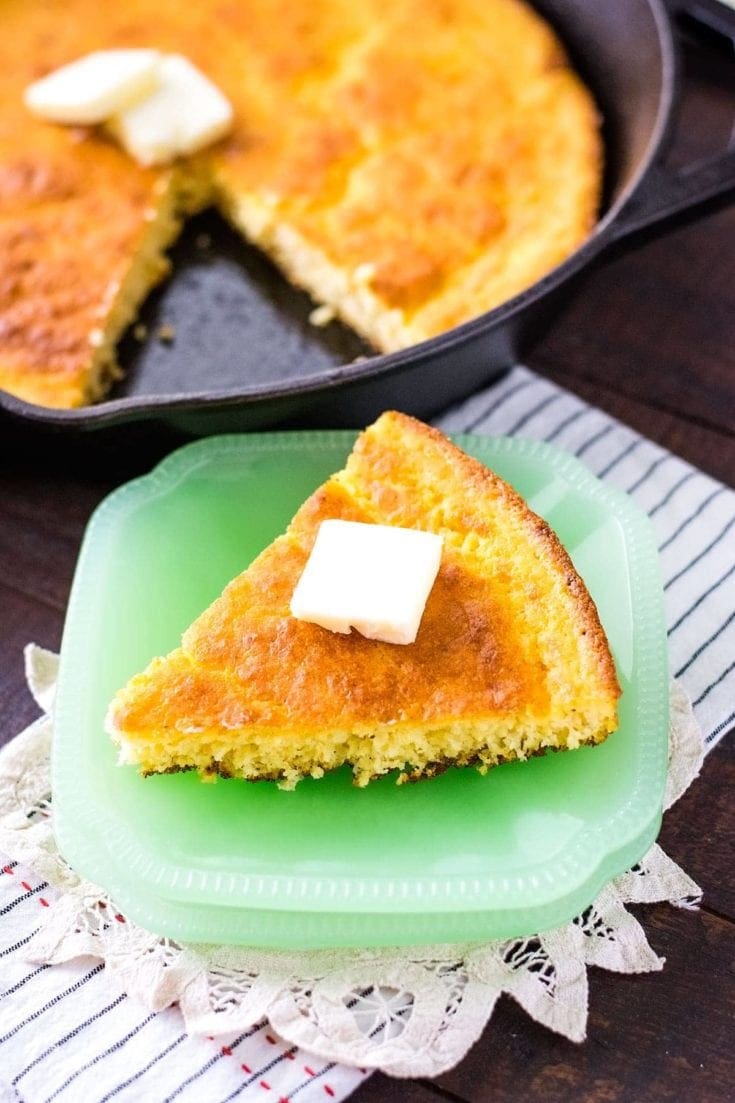 Southern Recipes You May Enjoy