Easy Ground Beef and Potatoes Skillet is a delicious yet simple meal made from staple pantry ingredients. This cheesy homemade dinner is quick enough for a weeknight meal and packed full of amazing flavors your family will request time and time again.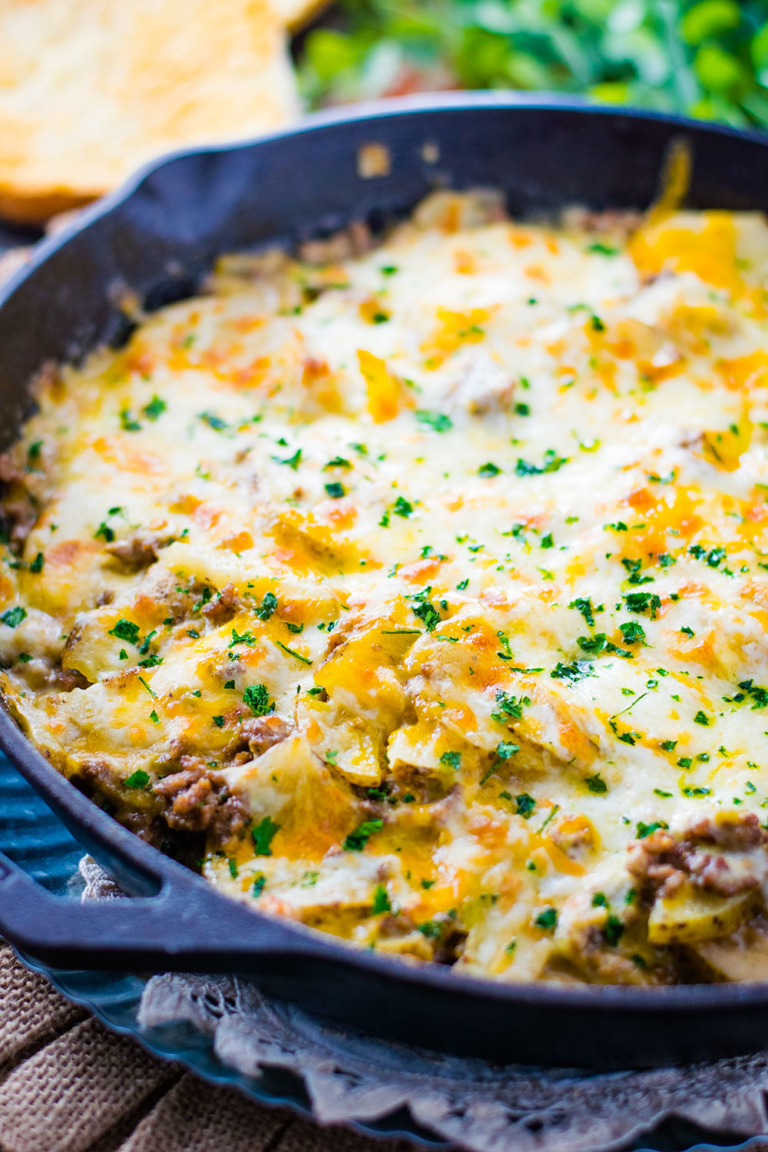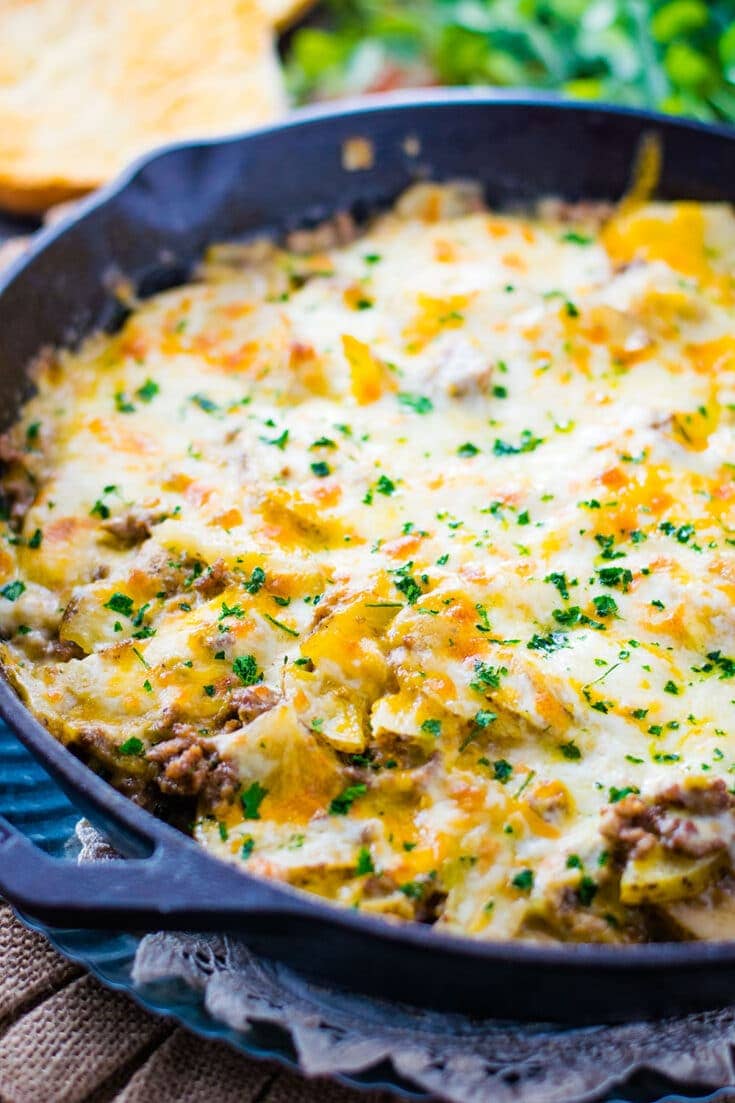 Simple Ground Beef Skillet Recipe
Easy skillet meals are always such a hit with my family. This is one they particularly love. It's such a simple ground beef recipe with ingredients you probably have at home.
My mother-in-law used to make something similar to this. It was beef patties and sliced onions. I simplified it and added cheese to the mix.
Such humble ingredients combine together for a delicious meal your family will ask for this ground beef and potatoes skillet again and again.
Ingredients
Ground Beef
Onions
Garlic
Potatoes
Heavy Cream or Milk
Salt & Pepper
Cheese (of course)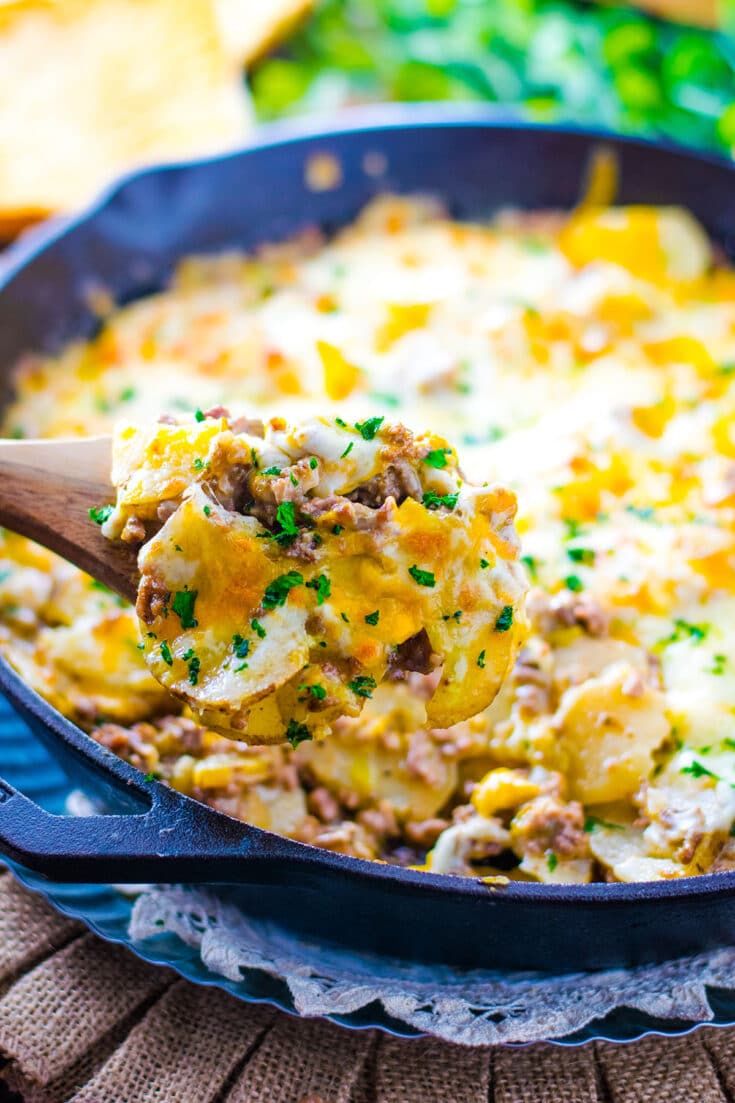 How to make Cheesy Hamburger and Potatoes Skillet Recipe
First dice your onions or use some from the frozen or produce sections of the grocery store.
Next slice potatoes really thin. We like to leave the peel on, but you can certainly peel them first. I use a mandoline to get a really nice thin cut.
Get a nice seasoned cast iron skillet or your use your favorite skillet that has a lid. I use a 12 inch seasoned cast iron skillet. Cook hamburger meat along with salt and pepper until nicely browned and done. Do not drain the grease for this recipe. It helps cook the potatoes and gives the dish tons of flavor.
Add in fresh garlic and onions. You can also use jarred minced garlic or garlic powder if you don't have fresh.
Place sliced potatoes and cream in and stir it all really well.
Put on the lid and cook for 20 minutes. Then give it a good stir and mix everything up and move those on the bottom up and give the others time to cook and brown up a bit on the bottom.
Place on the lid and cook for 15 more minutes. Check to potatoes to be sure they are done (fork tender). If not, cook another 10 minutes or until potatoes are completely cooked.
Once the potatoes are done, sprinkle the cheese on top and put the lid back on. Cook for 5 minutes or until the cheese is melted.
Sprinkle with parsley and serve!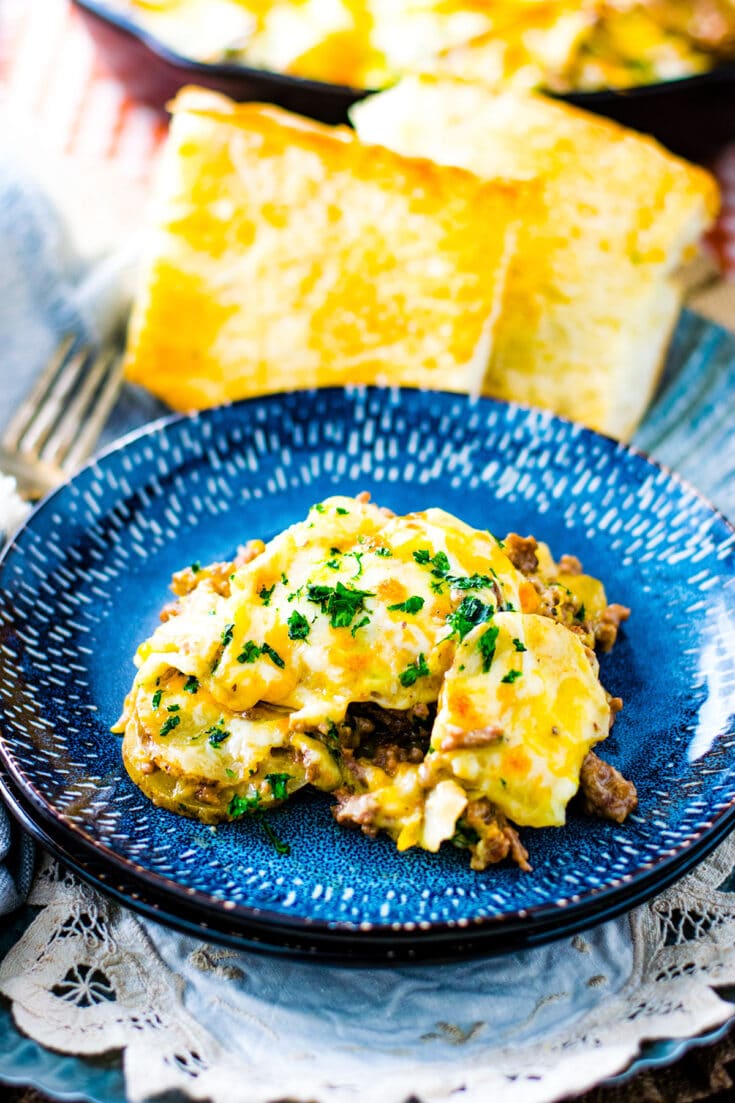 Tips for Beef and Potatoes Success
Tips
Make sure not to drain your drippings. You need to grease to cook and season the potatoes.
I like to use Russet potatoes, you can also use Yukon gold or a Red potato if that is what you have on hand. Keep it simple and use items you have.
Slice the potatoes really thin so they will cook nicely in this short amount of time.
If things start to stick badly when simmering, add a little beef or chicken stock or even water. You will notice them sticking a touch and that is okay. I don't usually do not need to add any liquid. There is enough moisture oil from the hamburger meat and the cream.
More Easy Family Friendly Meals