Skillet Lemon Chicken and Potatoes - pan roasted chicken breast and potatoes marinated in a lemon vinaigrette to create a one skillet chicken meal full of flavor! Perfect for a quick and easy weeknight meal!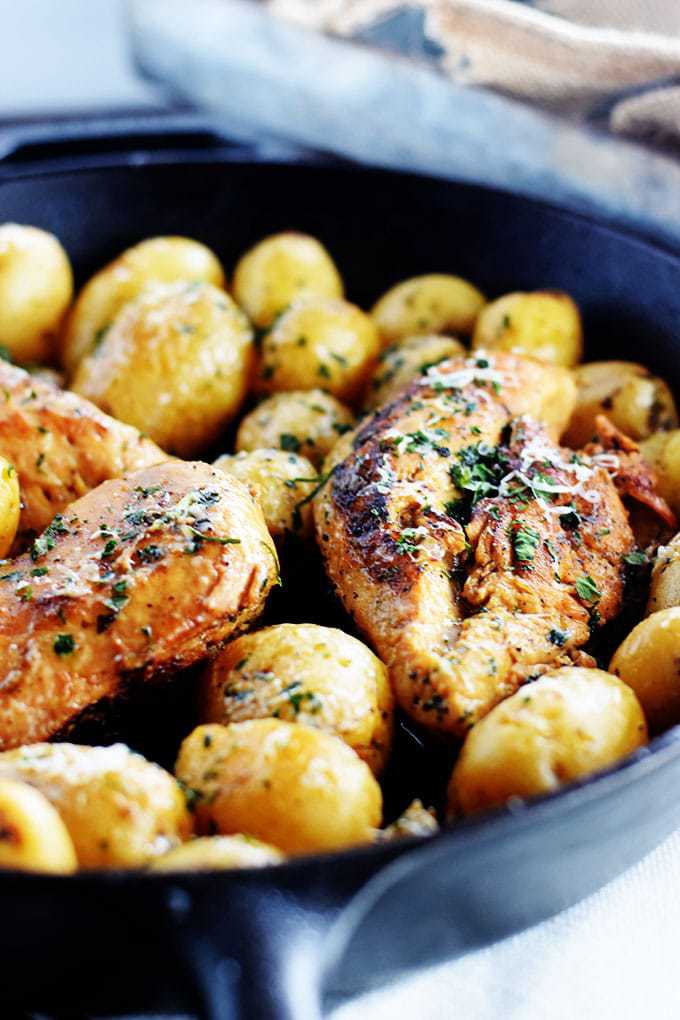 Chicken Breast Meals are often a go to on weeknights. They are quick and easy and one skillet is always a plus - less clean up! But this doesn't mean it has to be boring, fry or lacking in flavor.
I am telling you this lemon dressing makes the perfect quick marinade! Well I am using the term marinade lightly cause it's really more like a baptism at my church on Sunday morning. Dunk 'em under and twirl them around a little to be sure they get good and coated and then back up again! Well, really my pastor honestly doesn't hold them under long and he certainly doesn't twirl them around!
Whew, wouldn't that be fun to see! Ya know, gotta be sure they really got baptized and all 😉
But in all serious, the flavor of this chicken skillet is amazing and you don't have to leave it soaking!
What you will need for Skillet Lemon Chicken and Potatoes
Ready for it? Wait... Well if you don't count the garnish it's only 5 items. But I just have to add cheese and parsley. Any who counts the salt & pepper even?
Boneless, Skinless Chicken Breast
Potatoes
Marzetti Simply Dressed Lemon Vinaigrette Dressing
Butter
Chicken Stock
Salt (or Garlic Salt) & Pepper to Tastee
Parmesan Cheese and Parsley to Garnish
How to make Lemon Chicken and Potatoes in the Skillet
Step 1. Sprinkle chicken breasts with garlic salt or salt and pepper to taste. In a bowl, place chicken breasts and pour in salad dressing. Toss chicken to cover completely.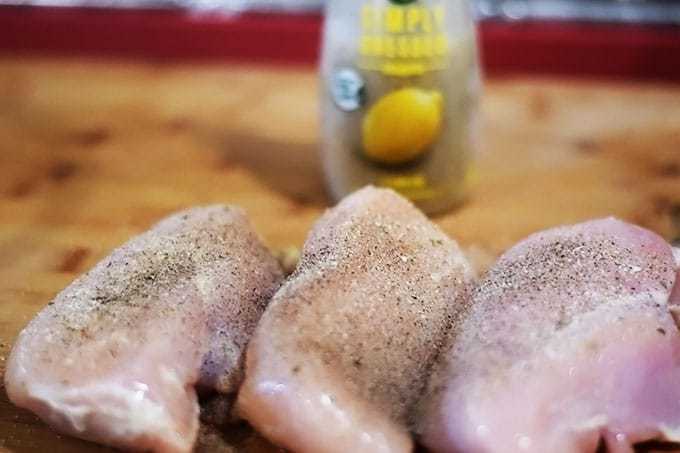 Step 2. In a cast iron (or heavy) skillet, over medium high heat, place butter in skillet to melt. Add in chicken and brown on each side.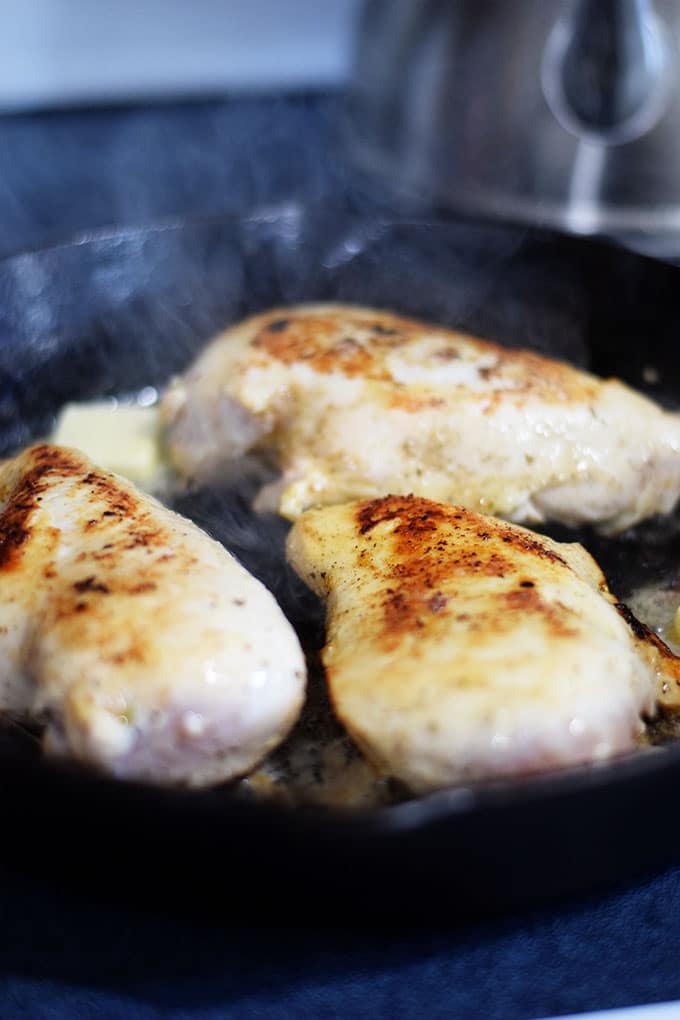 Step 3. In same bowl used to marinate chicken, pour in potatoes and toss to coat in remaining dressing. (Salt and pepper to taste). Transfer potatoes to skillet, pour in stock and cook with chicken. Cover with lid and cook chicken about 6 to 8 minutes per side or until juices run clear. This will depend on thickness of chicken breast.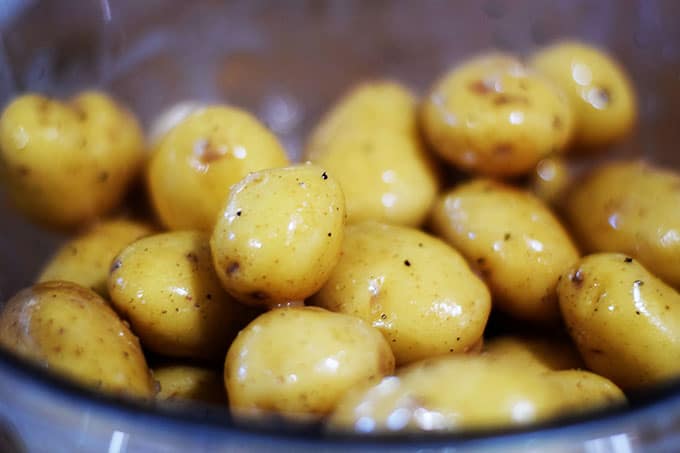 Step 4. If chicken is done before potatoes. Remove to plate and cover with foil to keep warm. Once potatoes are done place chicken back in skillet and top with Parmesan cheese and fresh parsley, if desired.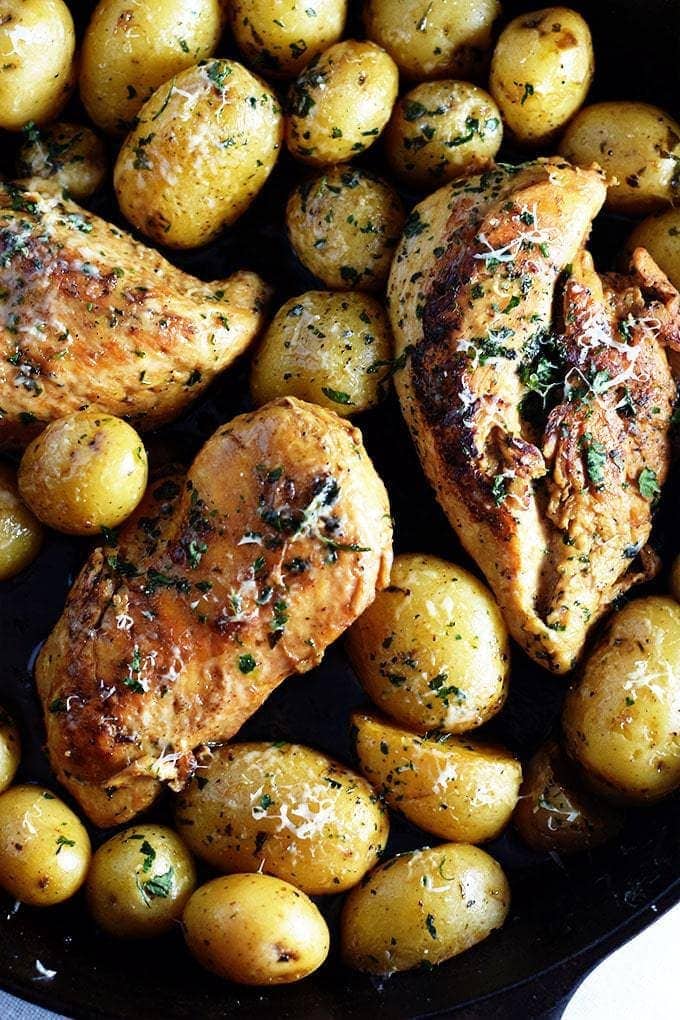 This one is sure to be gobbled up and just think only one pan to clean! I serve with a bagged salad to make life easy and put some greens on the plate.
Want more skillet recipe suggestions?
Please Pin - Skillet Lemon Chicken and Potatoes - for later!

Skillet Lemon Chicken and Potatoes
Dessert Recipes to Share
Love Southern Inspired Recipes Come Follow along!
Facebook | Instagram | Pinterest | Twitter | Google +
Get Free Recipes from Soulfully Made delivered right to your inbox!
You will also find this on Meal Plan Monday and Weekend Potluck!