St. Patrick's Day Puppy Chow. It's puppy chow lucky style! Candy melts, peanut butter, and powdered sugar tossed with fun green candies and lucky charms shamrock marshmallows.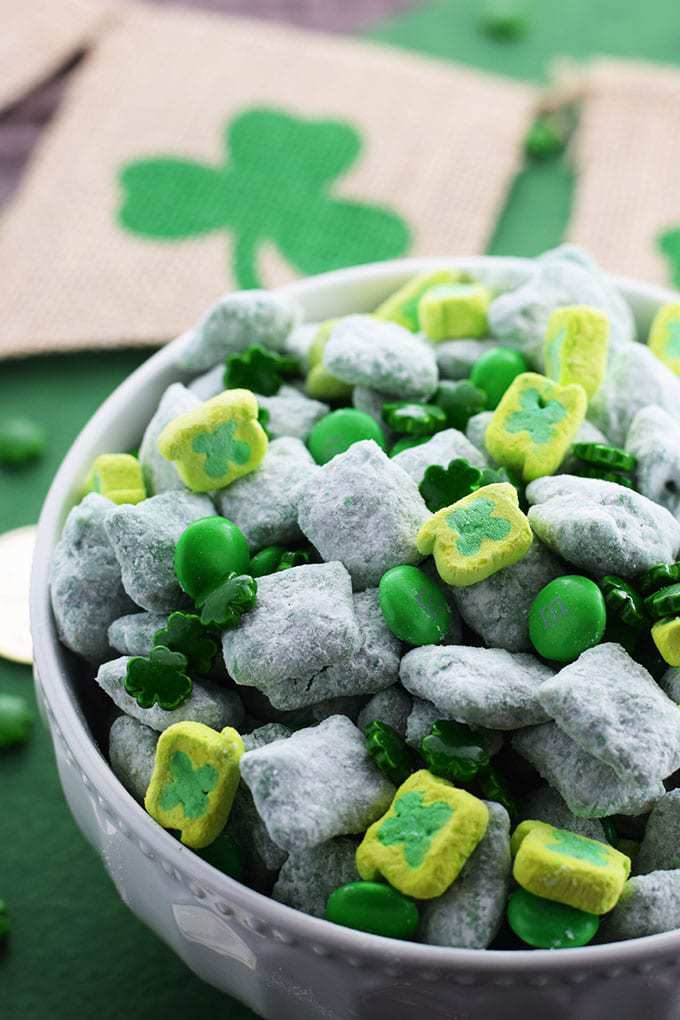 This super festive and so delicious treat is fun for the whole family! Puppy (Lucky Chow), aka muddy buddies, is the kind of snack you just want to keep diving in for more. I warned you this stuff is addictive!
As I prepared to make this all green treat, I headed out to my local market on the hunt for the St. Paddy's Day Lucky Charms cereal. My goal to score all those lucky green shamrock marshmallows in on box of cereal. Yay when I can get them it makes this an easy task.
If there's not a one in the store (it happens some years), just grab a regular box and pick all the shamrock ones out of the cereal box!
I just pretended I am hunting for some buried treasure in the midst of all those rainbows in there. Do ya think I found my pot of gold??? I'm not tellin'!
Why you'll love this recipe:
Super easy: Just like most of the recipes I make around here, this on is easy to make. I love an easy recipe you can make in a pinch for parties or perfect for whatever you are doing for your Saint Patrick's Day festivities. You can even get the kids to help make this one.
It's delicious: This is simply one of those things you cannot stop eating. It checks off that chocolate craving box with a bit of peanut butter to make it extra yum!
It's perfect for kids and adults alike! Honestly I haven't met anyone yet that hasn't love this treat! It really is that good!
Ingredients
Chex Rice Cereal
Peanut Butter
Vegetable or Canola Oil
Green Candy Melts
Powdered Sugar
Fun Toppings - Green M&M's, Wilton Shamrock Sprinkles, & Lucky Charm Shamrocks
How to make Puppy Chow for St. Patrick's Day
In the microwave melt candy melts, peanut butter and oil for 30 seconds on high. Stir, if needed microwave another 15 seconds and the mix until melted. Pour in Chex cereal.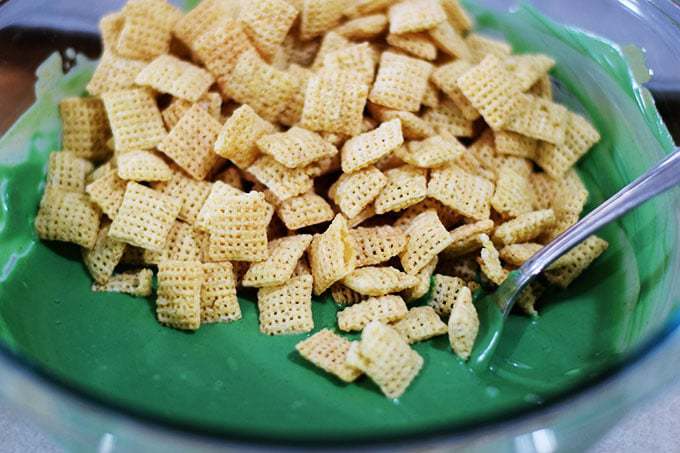 Place mixture in a gallon size zip lock bag and pour in powdered sugar and shake until coated.
Pour out onto a cookie sheet lined with wax paper until set. Then mix in candies and marshamallows.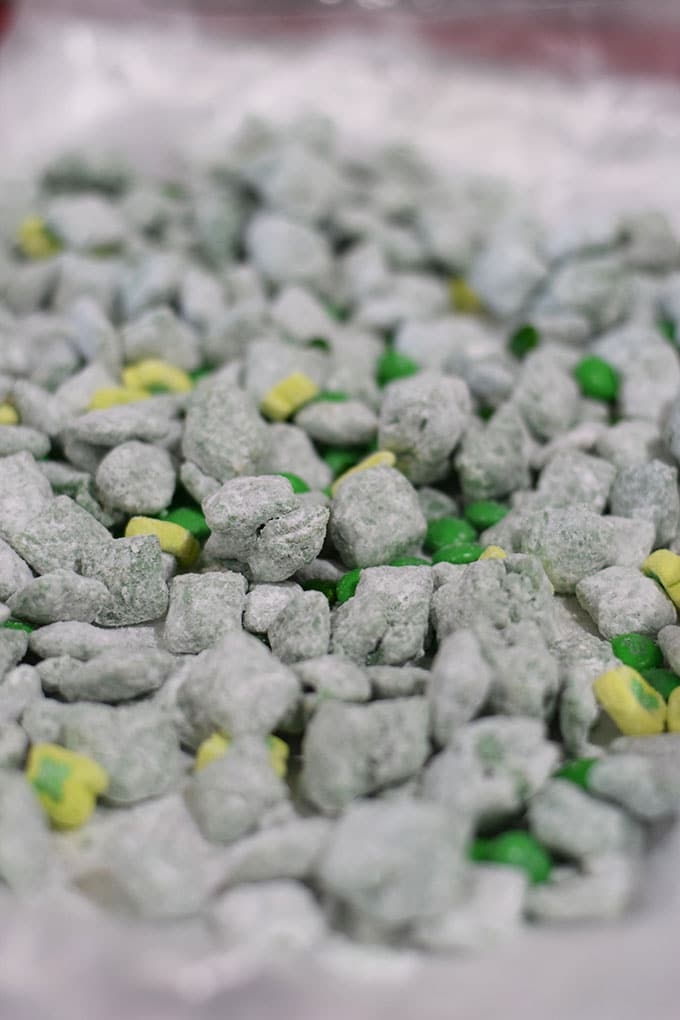 This is such a fun treat and you can be creative, use whatever types of candies or toppings you like.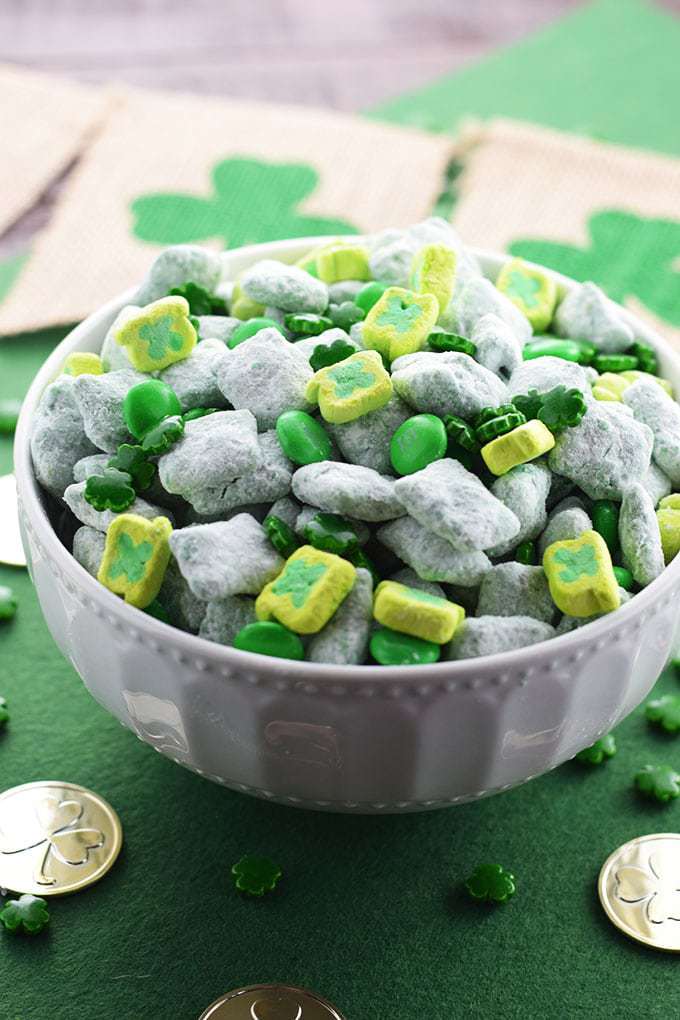 This is the perfect snack for the little bit (or lot) of Irish in all of us! I know this isn't really Irish at all, but it sure is a lot of fun!
If you love these St. Patrick's Day sweet treats give these Lucky Charms Cereal Treats a try too!