Southern Style Green Beans are made with fresh green beans cooked low and slow flavored with salty bacon. This traditional southern side is served on just about every table in the south!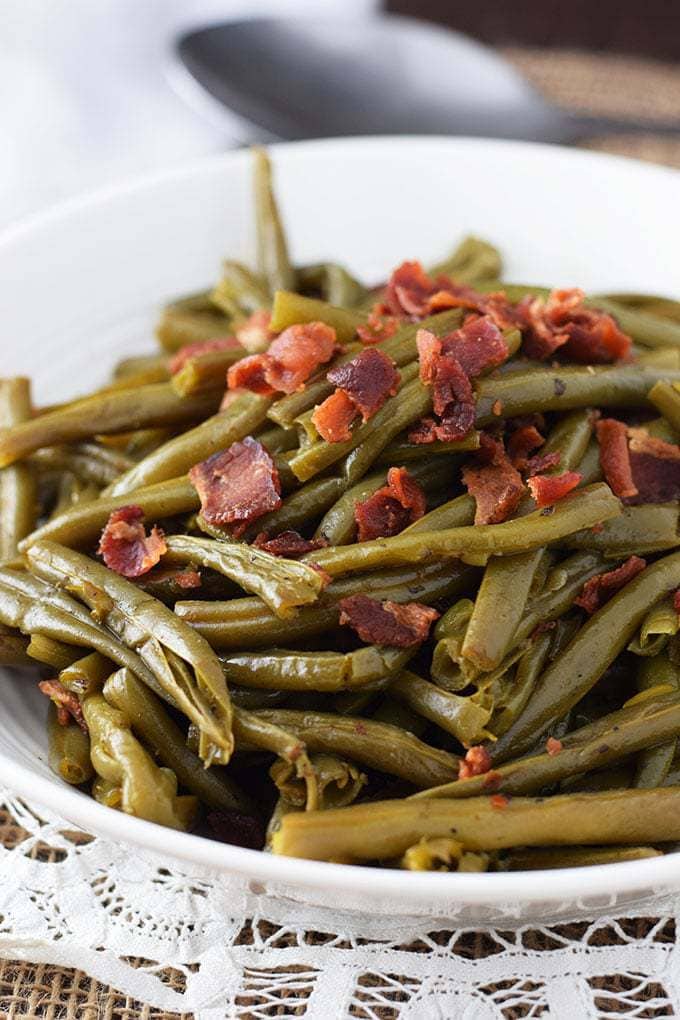 Home cooked vegetables are a staple in the south. They most always are cooked with some type of fat. It's either ham hocks, butter, or some type of pork! I grew up cooking green beans with bacon! I mean really is there any other way?
Well I know there are a thousand ways, like my Instant Pot Garlic Butter Green Beans (they are bacon free), but for these beans they just have to have bacon. Bacon glorious bacon!
There is much talk about how people like their green beans! Crisp, crunchy, soft, cooked to death, or just in the middle! They can get quite passionate over these little fellas! Personally, I like them cooked all kinds of ways, but this is one of my favorites. And I sure hope you enjoy them as well!
These are a traditional Southern Style Green Bean. Cooked until soft, infused with bacon, salty with a peppery note. I also add some red pepper that gives them a little extra kick. We like a little spice to ours. But if you don't like that spice, this can totally be omitted. After all, my momma never used red pepper!
How to make Southern Style Green Beans
Wash, drain, and snap ends off fresh green beans.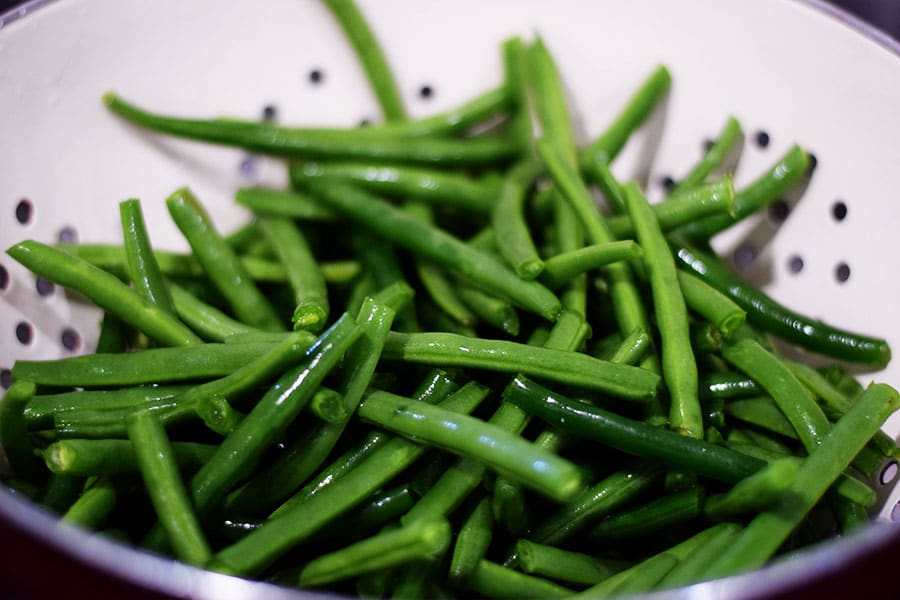 Cut bacon with kitchen scissors into bite size pieces. Saute in a heavy bottom pot until done.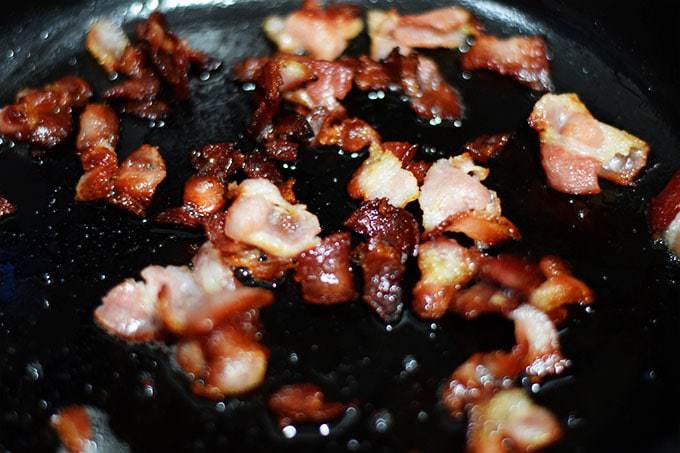 Add in green beans, chicken stock, salt, black pepper, garlic, red pepper (if desired) and give a big stir to mix up.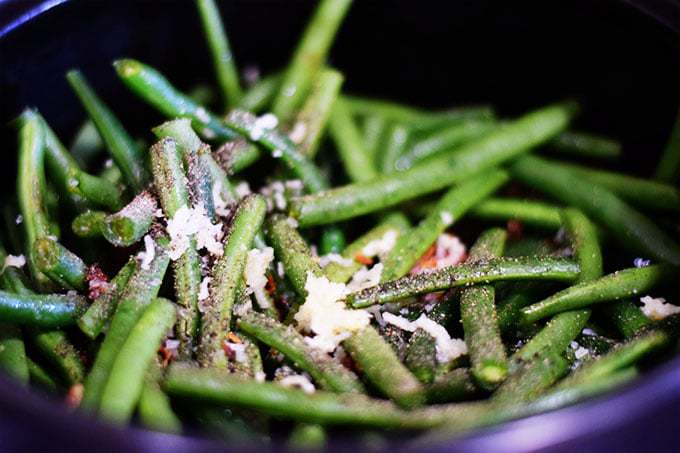 Bring to a boil, cover with lid, and then turn down to medium to medium low heat and cook for 1 to 2 hours. All stoves cook different, you know your settings but you want to cook these low and slow. I like them at about 1 to 1.5 hours for my preference.
Serve these with a little extra crumbled bacon on top to make them extra delish!
Remove from the pot and place in serving dish with a little extra crumbled bacon on top if you want to get a little fancy! Maybe when you have company coming! At home we just dish them out of the pot from the stove top most of the time!
These are also great for pot lucks, church suppers or taking a side to BBQ! Just put them in a covered dish and you are all set!
6 southern recipes that go great with green beans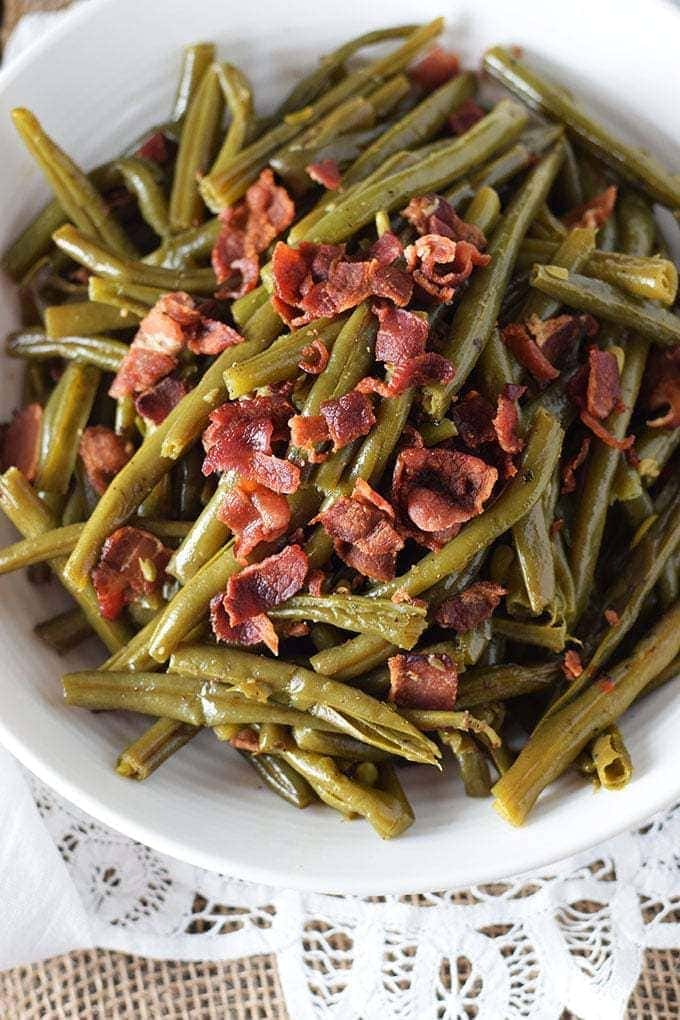 Sharing this over on Meal Plan Monday and Weekend Potluck.