Slow Cooker Beef Brisket is tender, juicy, infused with tons of flavor, and topped off with a homemade BBQ sauce! Quick and easy to prepare, put it in your slow cooker and finished off in the oven or on the grill to caramelize. Succulent and a little bit sticky, this is what BBQ is all about!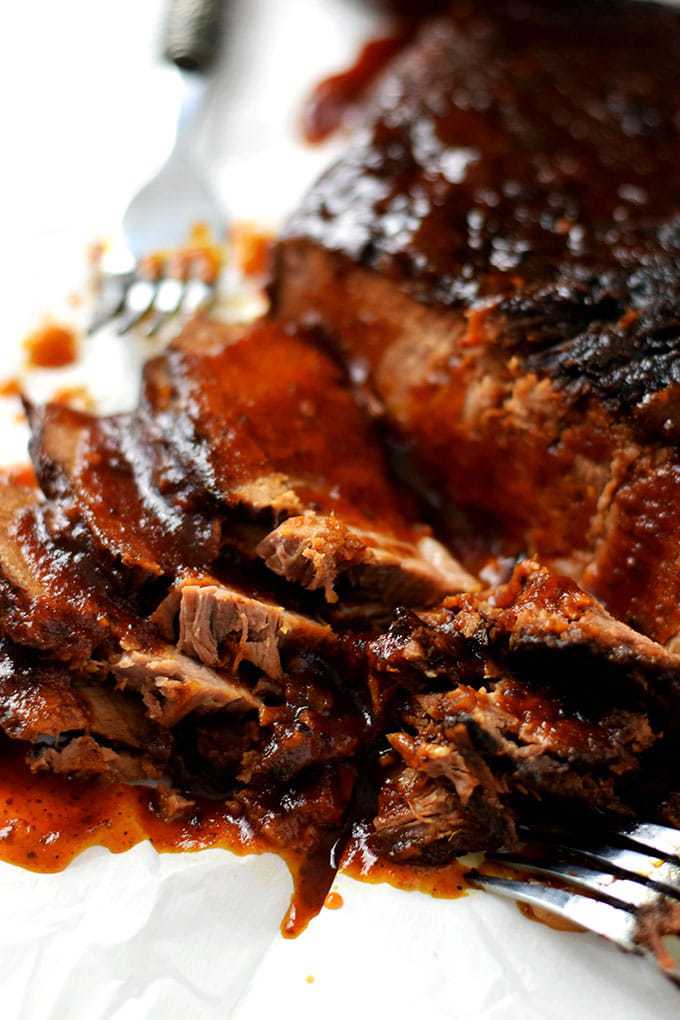 I know most people think about BBQ as a summer meal, but thanks to the slow cooker this is one you can enjoy all year long. The other day I just got a hankering for BBQ and I knew it wasn't a day the hubby could spend putting and nursing this in the smoker.
Sometimes you just get a craving and you gotta fill it - right y'all??? Nothing was going to stop me from making this one. Slow Cooker Beef Brisket is amazingly delicious. This hunk of meat is meant to be cooked nice and slow to gain its flavor and all that tenderness anyway.
I will warn you it's got a spicy, tangy bite thanks to a little cayenne and some apple cider vinegar. No worries - if you like a little less spice you can dial back that red (cayenne) pepper before you get started.
How to Make Beef Brisket in the Slow Cooker
Gather up your spices and rub them into the Brisket. Yes use those hands! It's the best way to get that flavor on the brisket!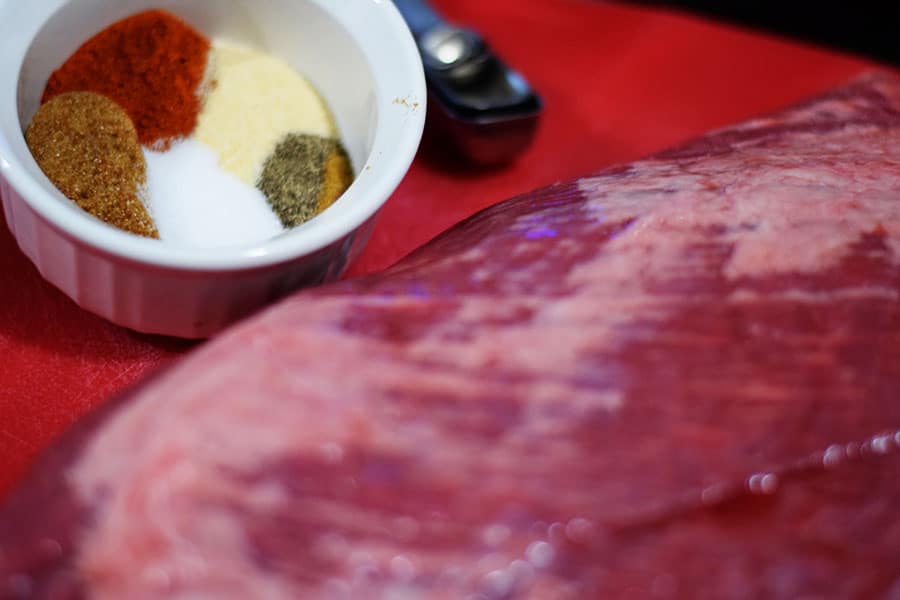 While those spices are soaking into the Brisket. Measure out your BBQ sauce spices, ketchup, mustard and apple cider vinegar so they are ready to go into the slow cooker and make this meat magical!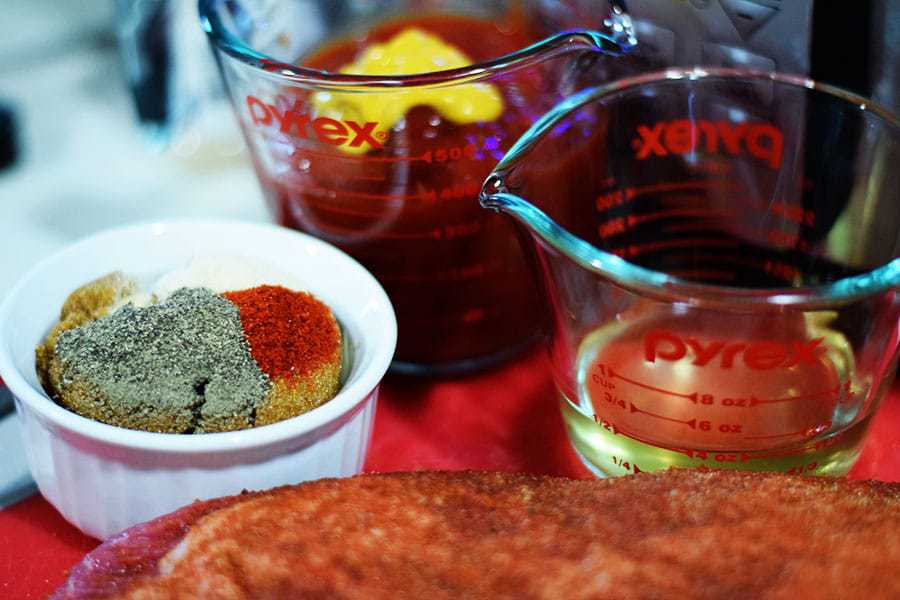 Pour all the sauce ingredients into the slow cooker and stir them up really good. Next place the brisket in and press it down a little to get into that sauce. Put on that lid and let this cook nice and slow all day!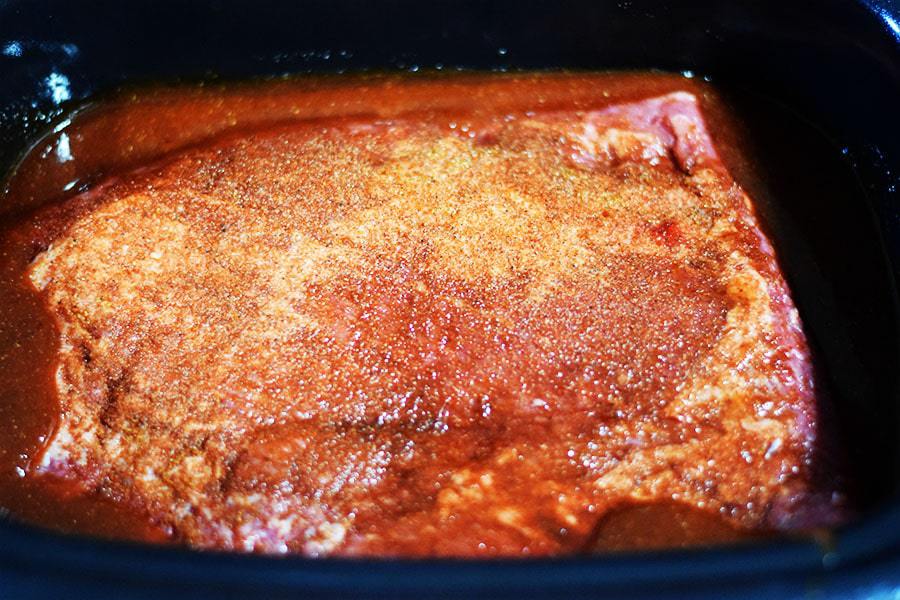 Once this gorgeous Brisket is done. If you would like brown it a bit in the oven at 400° for about 5 to 10 minutes or on the grill (just keep and eye on it). While it's in the oven, time to make the sauce!
Just pour the contents out of the crock pot and bring to a boil on the stove top! Some crock pots also have this feature on them now too! Bring it to a boil, then reduce and simmer. Once your sauce thickens a bit it is ready. It usually takes about 5 minutes.
You can mop some on the brisket and put it back in the oven to caramelize too! YUM!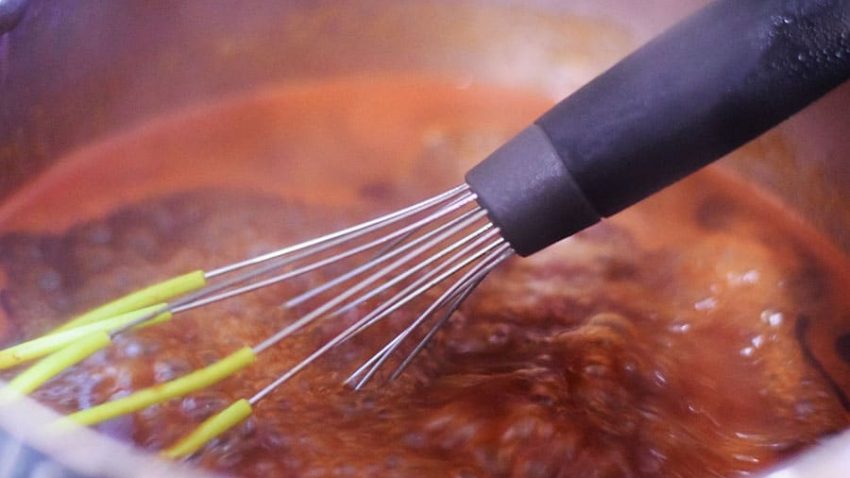 You will notice even after cooking all day this cut of meat will still hold together and can be sliced nicely, but it's tender enough to be shredded if you like it like that. Another thing I love is you can make two meals out of it too!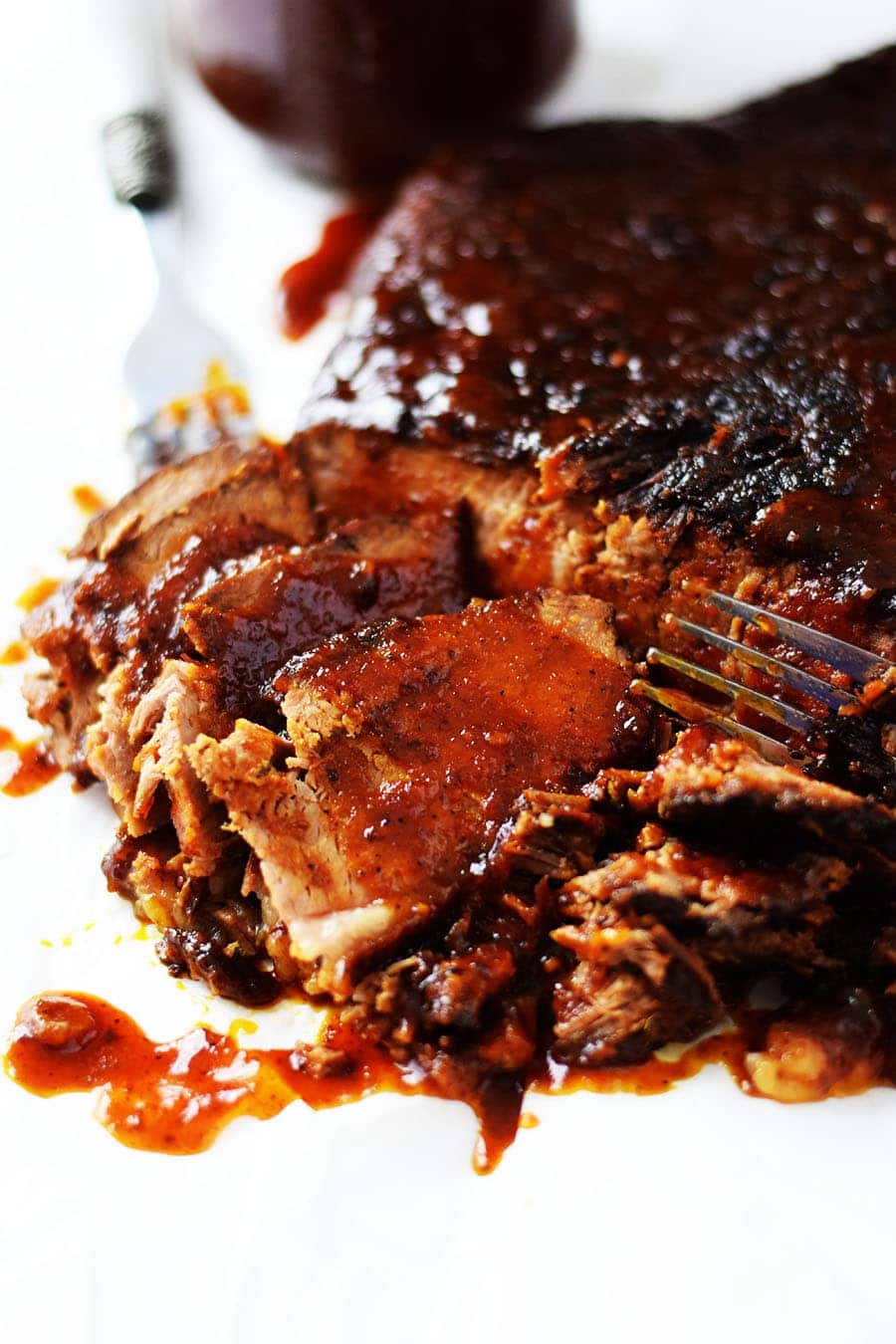 Slice it and enjoy over some mashed potatoes and with some green beans for one meal. Then make the leftovers into sandwiches or sliders with a nice creamy coleslaw and some baked beans.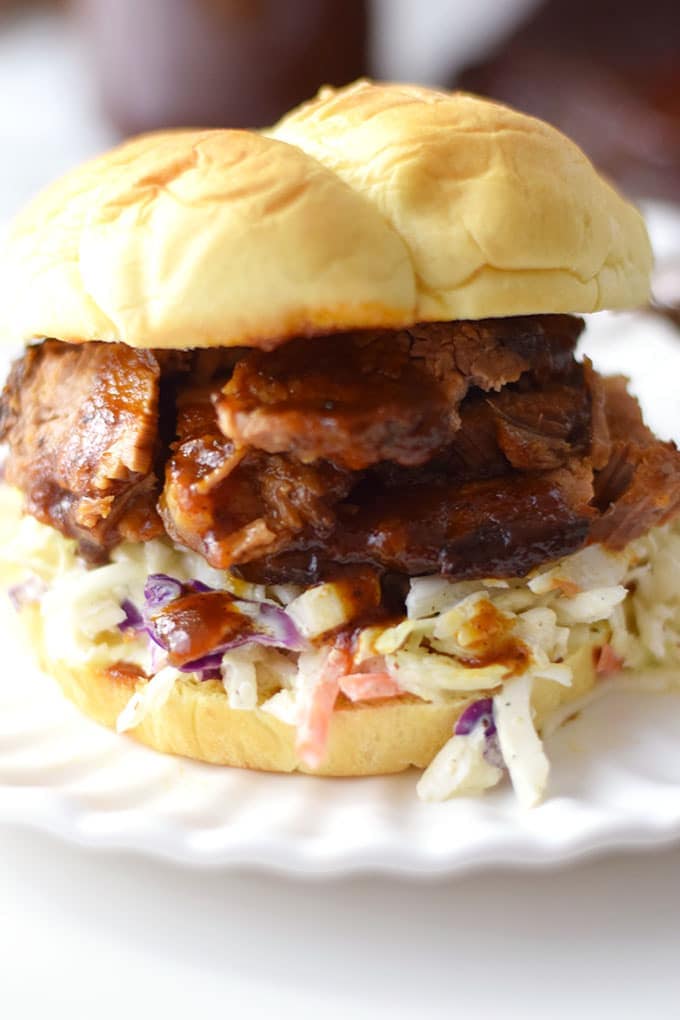 Just dig on in and enjoy!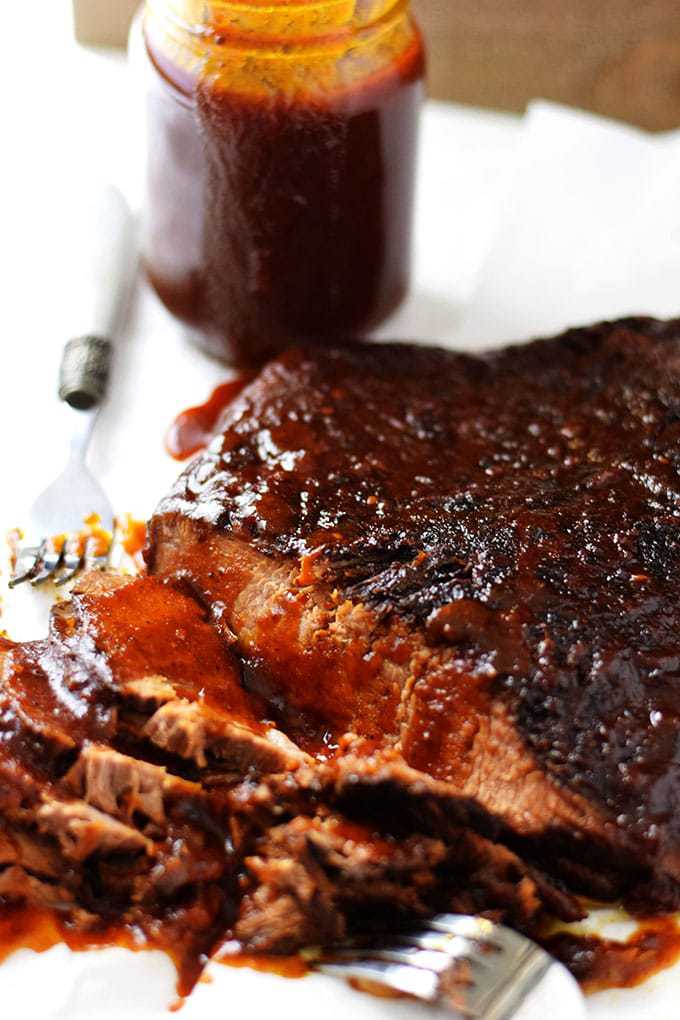 Delicious Slow Cooker Recipes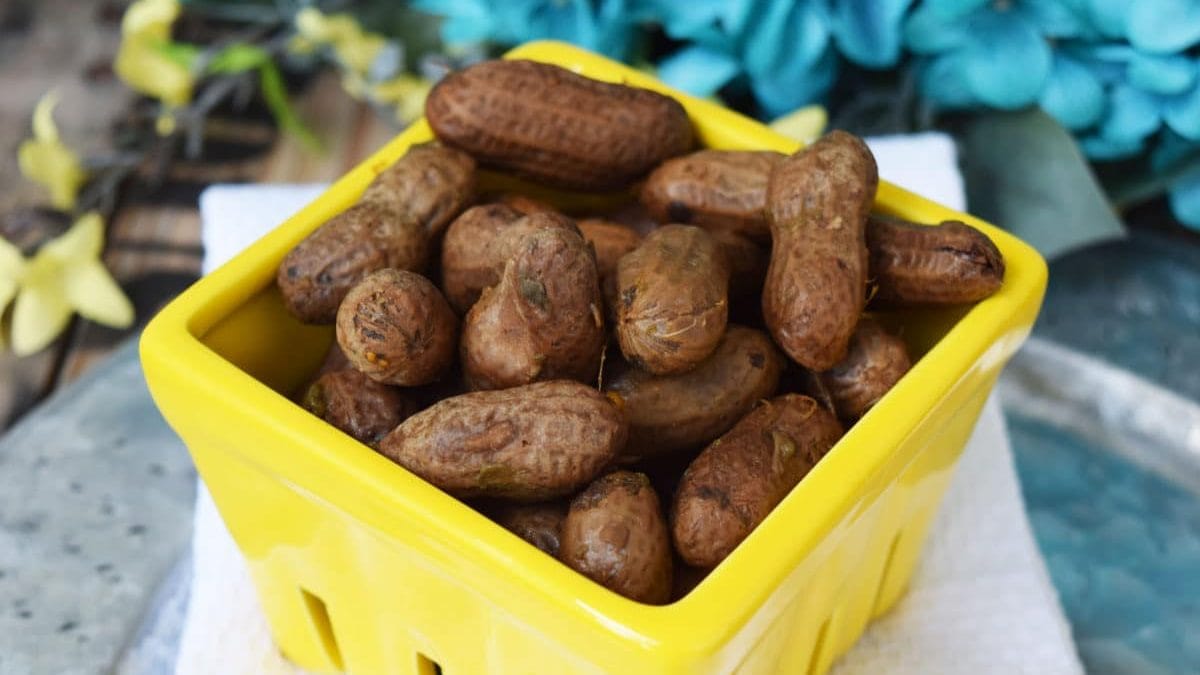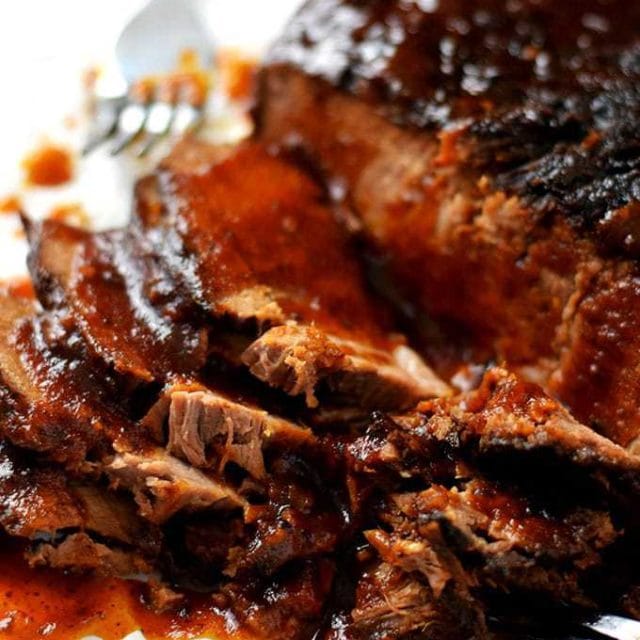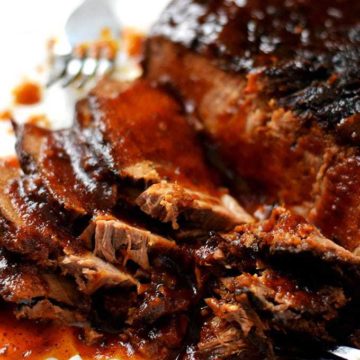 Slow Cooker Beef Brisket
Ingredients
3 to 4

pound

beef brisket
Rub
1

tablespoon

brown sugar

2

teaspoon

paprika

1

teaspoon

onion powder

1

teaspoon

garlic powder

½

teaspoon

cumin

1

teaspoon

salt

½

teaspoon

black pepper

⅛

teaspoon

cayenne pepper
BBQ Sauce
1 ½

cups

ketchup

1

tablespoon

yellow mustard

¼

cup

apple cider vinegar

2

cloves

garlic

,

minced

½

cup

brown sugar

2

teaspoon

onion powder

2

teaspoon

black pepper

1

teaspoon

cayenne pepper

1

tablespoon

Worcestershire sauce
Instructions
Place Rub ingredients in a bowl and mix to combine.

Rub all over brisket with your hands.

Pour BBQ Sauce ingredients in the slow cooker. Mix then add the brisket and press brisket into sauce.

Cook on low for 8 to 10 hours or high for 4 to 5 hours.

Remove brisket from slow cooker onto a baking tray. Drizzle a few tablespoons of pan drippings on the brisket.

Pour liquid from slow cooker into a sauce pan and simmer over medium high heat until it thickens to a sauce like consistency.

Oven Method: Meanwhile, cook Brisket in 400 degree oven for 5 to 10 minutes until it begins to brown a bit. Remove from oven and mop on BBQ sauce cook for 5 minutes turn over and repeat for 5 to 10 minutes or until caramelized. Or do this on the BBQ Grill on medium high heat. Cook time for caramelization may be shorter. Then remove.

Slice Brisket thinly across the grain and serve with BBQ Sauce.
✱ Nikki's Tips
*If you want to prepare meat ahead of time you can store with rub on in refrigerator for 24 hours before cooking. I usually just put on before cooking.
*If you want less spicy omit or cut back on cayenne pepper
Nutrition
Serving:
1
1 serving
Calories:
510
kcal
Carbohydrates:
19
g
Protein:
44
g
Fat:
28
g
Saturated Fat:
11
g
Polyunsaturated Fat:
13
g
Cholesterol:
160
mg
Sodium:
570
mg
Fiber:
1
g
Sugar:
15
g