There is just something comforting about coming home and walking in the door to that oh so delicious smell! You know the slow cooker has been working so hard for you all day! This Crock Pot Country Steak with Gravy just fills the air with that aroma that wraps around you like a big hug after a long day!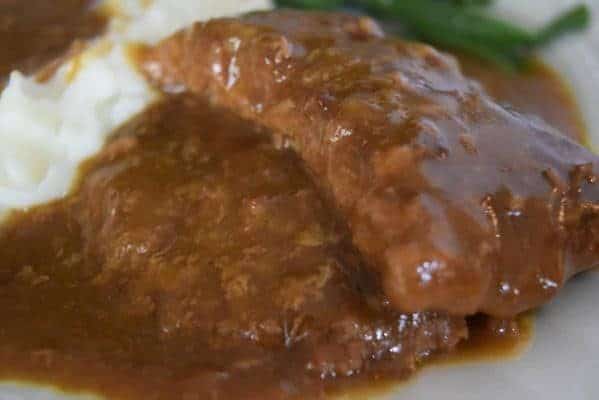 The Crock Pot is "one" of my favorite things in my kitchen! It makes my life so much easier! What about you? What is your favorite appliance in your kitchen? Truthfully, I can't pick just one, because I would be lying to ya, but this one is up there at the very top of the list!
Inquiring minds here at Soulfully Made want to know! What is your all time favorite thing to make in your slow cooker?? Go ahead, after you get this recipe of course, and stop by down in the comment section and give me a shout! I really would love to hear from you
So just what has this country "cubed" steak has been doing today? Why cooking away of course and while you were not home. Can you believe that? It's magically getting all nice and tender and you are away and doing none of the hard work.
But I tell you, it's just sitting there all patiently waiting for someone to come home to complete this meal. Perhaps with some delicious Instant Pot Mashed Potatoes and Instant Pot Garlic Butter Green Beans!
Whatever you decide to enjoy this with, there is tons of flavor packed in this easy to make meal!
What you need to make Country Steak and Gravy
Cubed Steak
Beefy Onion Soup Mix
Au Jus Packet
Cream of Chicken Soup
Water
Cornstarch (to thicken gravy)
Garlic Salt (to taste)
You may want to leave off the garlic salt! This is a very salty dish! But my family you know they are salt-a-holics! I am trying to get them help!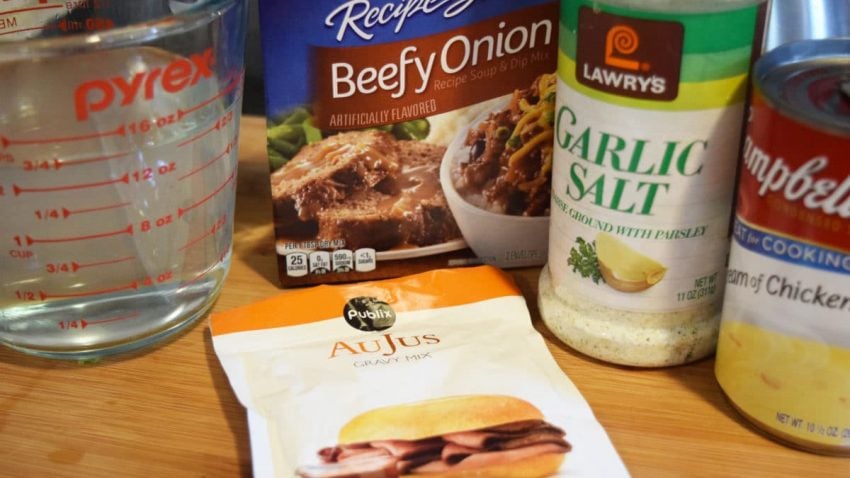 How to make Crock Pot Country Steak and Gravy
Get the crock pot sprayed with a little cooking spray, add in the meat.
Sprinkle on the au jus and the beefy French onion soup mixes.
Pour in 1 ½ cups water and the cream of chicken soup.
Set it to 8 hours on low and you are off. Now I know this doesn't look like it will be so magically good, but just trust me 🙂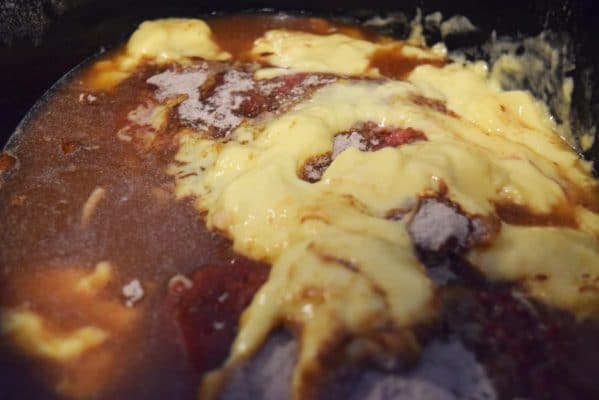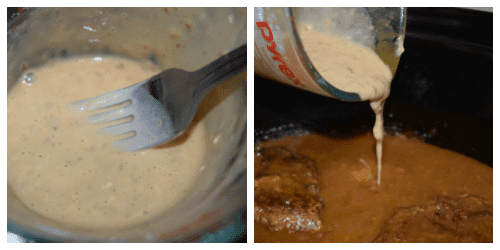 About 30 minutes before you want to serve take about ¼ cup of the juice out and add 3 tablespoons of corn starch and mix until smooth. Or just mix your cornstarch with water. Pour back into crock pot, stir it around, and cook 30 minutes on high. This will thicken the juices and make the most flavorful gravy.
Now get ready to take a bite!! What did ya think? MMMM... GOOD right???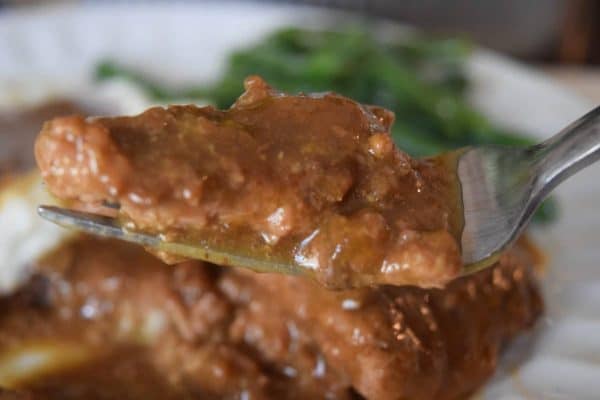 A few of my favorite kitchen (small) appliances you may love too!
*Soulfully Made is a participant in the Amazon Services LLC Associates Program, an affiliate advertising program. Please note: This post may contain affiliate links to products I use and love. I earn a small commission, at no extra cost to you, to help with blog expenses when you make a purchase through an affiliate link. Thank you for your support!
Ninja Multi Cooker - You can Saute (stove top cooking), Slow Cook, and it has an oven feature. Did I mention it's non stick!
Instant Pot - This is my fairly new found friend. This thing will sear, it's an electric pressure cooker, slow cooks, makes perfect rice and more. I love using the pressure cook feature. It's cooks in a fraction of time and gives the best flavor. I am always creating new Instant Pot recipes you can find HERE .
Kitchen Aid Stand Mixer - I use this to mix almost everything, especially when I bake. But it's fabulous to shred meat, mix bread dough, and mix really just about everything. I have a red one in my kitchen, but I am secretly eyeing this white one! Love, Love, Love it!
Crock Pot - The handy dandy standard crock pot. This slow cooks to perfection. I love this one with the locking lid. It's great for potlucks and traveling in the car with no spills.
5 Must Try Slow Cooker Recipes
Pin - Crock Pot Country Steak and Gravy - for later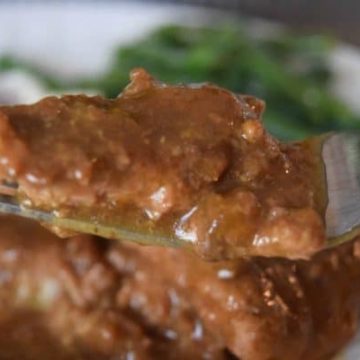 Crock Pot Country Steak with Gravy
This Crock Pot Country Steak with Gravy just fills the air with that aroma that wraps around you like a big hug after a long day!
Ingredients
1 ½-2

pounds

cubed steak

1

packet au jus gravy mix

1

can cream of chicken soup undiluted

1

packet Beefy French onion soup mix

1 ½

cup

of water
To Thicken Gravy
3

tablespoon

cornstarch

¼

cup

of juices from crock pot
Instructions
Spray the bottom of a 6-quart slow cooker. Put cubed steak in slow cooker.

Sprinkle with au jus packet and beefy French onion soup mix packet.

Pour in water and cream of chicken soup. Stir.

Cover slow cooker and cook steak on low for 8 hours.

Thirty Minutes before serving, in a small bowl, whisk together cornstarch and ¼ cup of juices. Stir mixture into crock pot. Turn the setting to high and cook for 30 minutes or until gravy is thickened.
Nutrition
Serving:
1
grams
Calories:
536
kcal
Carbohydrates:
18
g
Protein:
46
g
Fat:
30
g
Saturated Fat:
12
g
Polyunsaturated Fat:
14
g
Cholesterol:
152
mg
Sodium:
830
mg
Fiber:
1
g
Sugar:
3
g
Nutrition Disclaimer
Soulfully Made is not a dietician or nutritionist, and any nutritional information shared is only an estimate. We recommend running the ingredients through an online nutritional calculator if you need to verify any information.
Other Southern Recipes to Try