Learn how to make delicious Instant Pot Green Beans. Fresh green beans perfectly seasoned, made quick and easy in the pressure cooker each and every time.


Green beans are one of those side dishes that can be served with anything!
Like most Southerners I used to cook my beans to death, well not really, but I do remember days of canned beans in a pot on the stove for three hours.  Boy have times changed for me!
Don't get me wrong I still love Instant Pot Southern Style Green Beans with Bacon (these are not mushy by any means, just packed full of flavor), but there are times I also like them crunchy or steamed!  This particular recipe makes these are about middle of the road. They still have a little crunch, but they are soft enough too.
Below you will find cooking times for perfectly steamed beans to crisp with a touch of softness. And what is wonderful about making them in the Instant Pot is they are done in minutes and have a wonderful texture. Simple, Perfect, and EASY!
Don't have an IP - No worries! Check Recipe for stove top cooking instructions below!
How to Cook Instant Pot Green Beans (Pressure Cooker Green Beans)
STEP ONE:
Wash green beans and drain.

Snap or trim the ends off of the fresh green beans.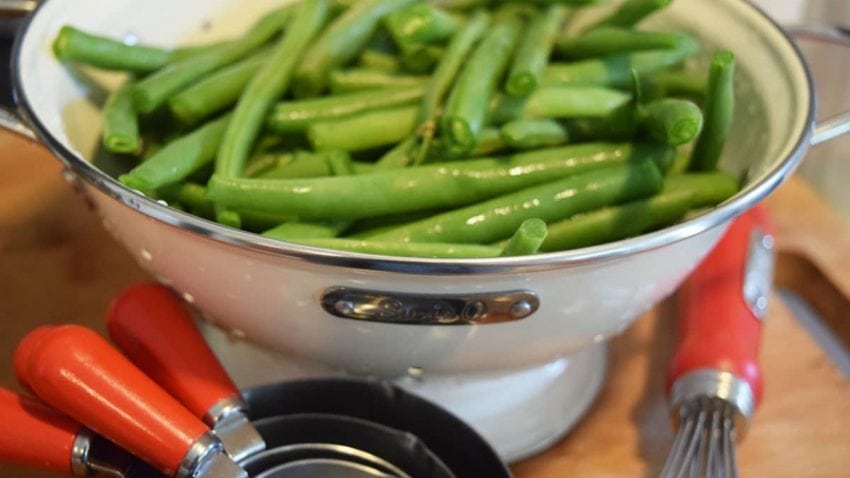 STEP TWO:
Pour water into inner pan of Instant Pot.

Place green beans in a steaming basket or directly into inner pot of pressure cooker.

Add in the butter, garlic, salt and pepper or desired seasonings.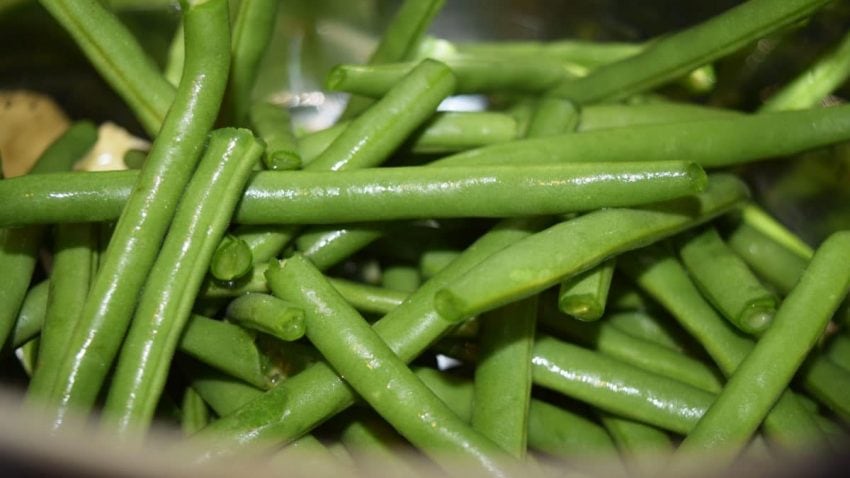 STEP THREE: 
Place lid on pressure cooker in locked position and make sure vent is in the sealed position.
HOW LONG DO YOU COOK GREEN BEANS in INSTANT POT?
Firm Crunchy Texture - Low Pressure 0 Minutes (Beans will steam while coming up to pressure)
For a little Softer Bean but still Firm - Low Pressure 2 minutes
For Soft Bean but not mushy - Low Pressure 5 Minutes 

 If using a steamer insert remove, place in serving bowl.

 When not using an insert, remove with tongs, place in serving bowl and serve.
A Few Reasons Instant Pot or Electric Pressure Cookers are so Fabulous!
When you forget to lay something out for dinner! It's okay you can cook it really fast in this!
It just tenderizes meat like nothing else! Try these BEEF TIPS - OM Goodness they are the bomb!
It makes the Creamiest Mac N Cheese in minutes!!
And Beans - Yummiest Beans in a fraction of the time! These Charro Beans are one example!
Rice Oh Glorious Rice - This Mexican Rice really does make your maracas shake ;)!
You can cook the Juiciest Turkey Breast that melts in your mouth!
Soups are done in warp speed - Black-Eyed Pea and Collard Green Soup!
Just a few reasons to love the IP!
A few things you may need for this recipe


PIN THIS - INSTANT POT GARLIC BUTTER GREEN BEANS - FOR LATER!


OTHER INSTANT POT RECIPES
Perfect Instant Pot Green Beans
I have also shared this over at one of my favorite linkups Weekend Potluck and Meal Plan Monday!