Instant Pot Creamy Macaroni and Cheese - This easy homemade mac and cheese is the creamiest cheesiest made all in the one pot and on the table in minutes. This go to family favorite comfort meal will find its way on your table over and over again.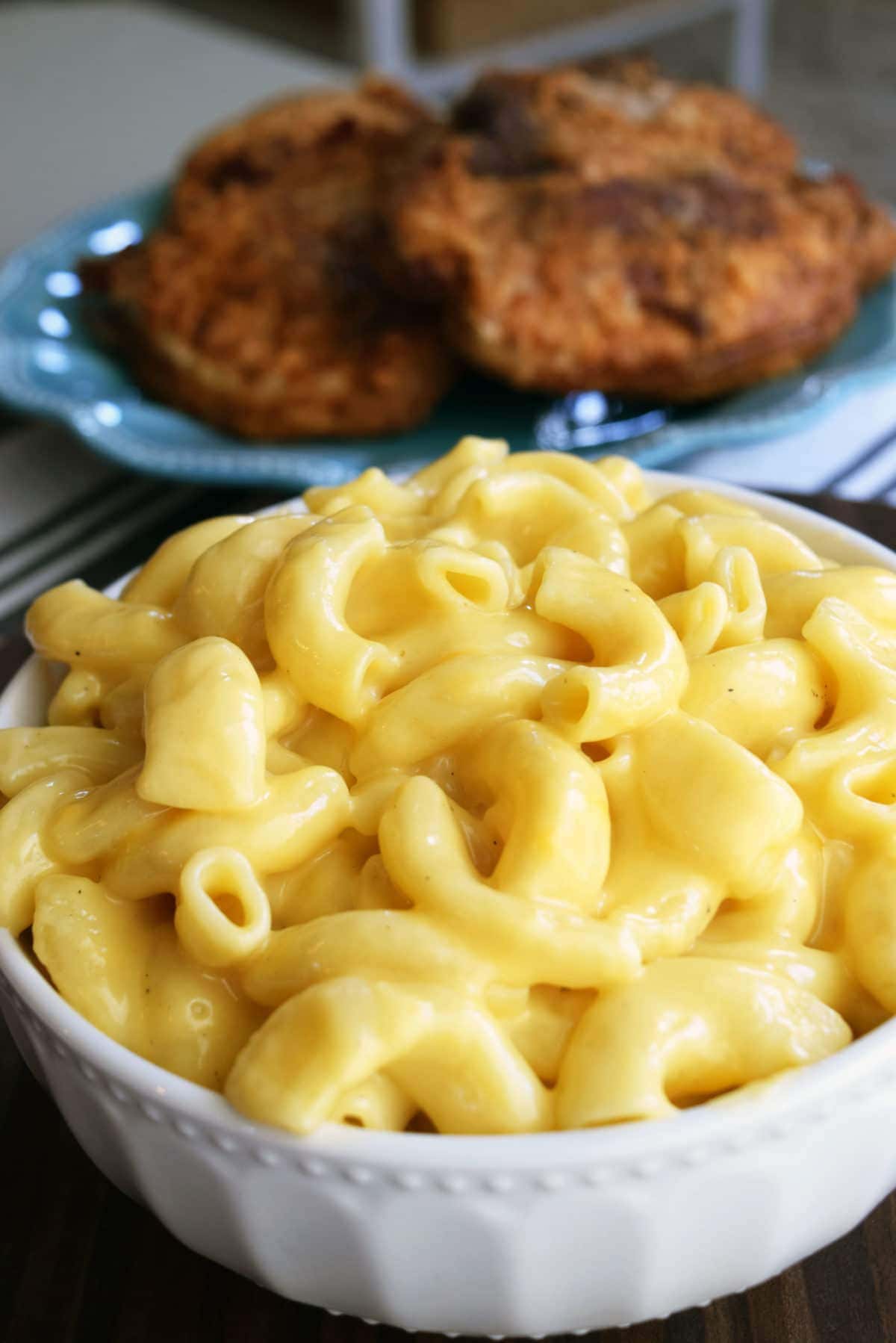 *Soulfully Made is a participant in the Amazon Services LLC Associates Program, an affiliate advertising program. Please note: This post may contain affiliate links to products I use and love. I earn a small commission, at no extra cost to you, to help with blog expenses when you make a purchase through an affiliate link. Thank you for your support!
This Instant Pot Creamy Macaroni and Cheese is pasta noodle greatness all nestled in velvety (not to be confused with Velveeta) cheese to create comfort food at its finest.
Now don't get me wrong I love a good baked mac n cheese. In fact, that is probably my family's favorite at the holidays. But this creamy version is now a go to for just about any meal, made simply and quick in the Instant Pot (pressure cooker). It takes no time to put together. I am saying this one takes 10 minutes, because it take just a few minutes for the IP to come to high pressure. It's really a tad faster than that!
Ready to make this marvelous and so easy cheesy masterpiece?
What you need to Make Instant Pot Macaroni and Cheese
Large Elbow Macaroni

Water

Butter

Kosher Salt

Black pepper

Heavy Cream

Sharp Cheddar

Mexican Blend or Colby Blend Cheese
How to make CreamY Macaroni in Cheese in a Pressure Cooker
STEP ONE: Into the Instant Pot or pressure cooker goes the pasta, water, butter, salt & pepper.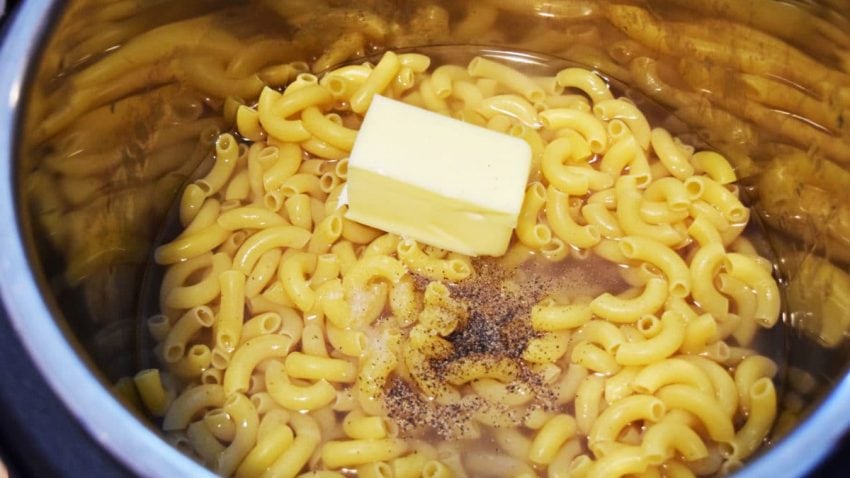 STEP TWO: On goes the lid, turn to lock, and set the IP to Manual, High Pressure for 4 minutes.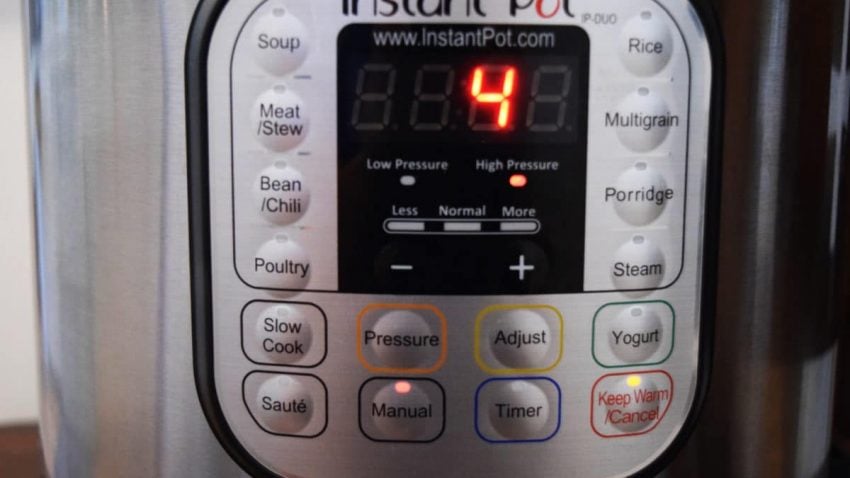 STEP THREE: Once cooking time is done, manually release pressure (this means open the release valve).
Tip: Foam from the starchy pasta will want to spew out so place a cloth loosely over the valve and you will have much less of a mess. Yes I have learned the hard way y'all!
STEP FOUR: Open the lid and pour in cheeses and cream. Stir them up! (There will be water in the pot, do not worry about it. It will all mix together and be delicious - I promise.) No flour is necessary in this macaroni and cheese recipe. It will thicken with the starchy water, cheese and cream or milk.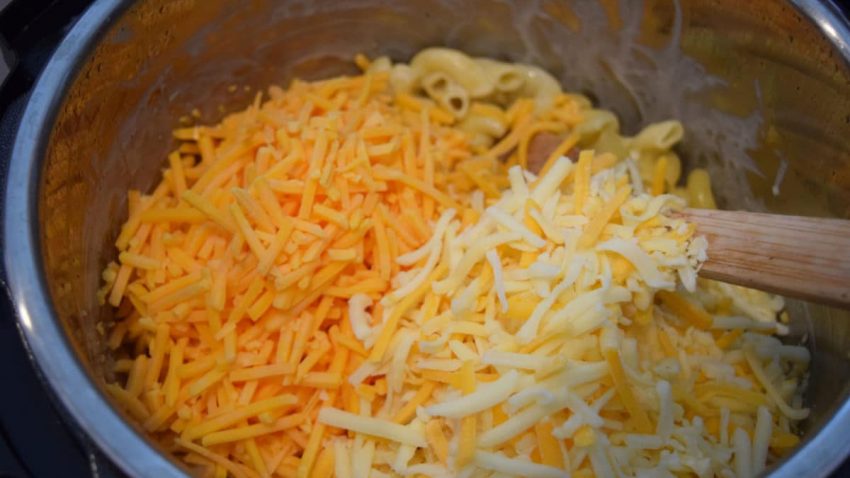 Tips for making delicious homemade macaroni and cheese in the instant pot
Use seasoning! I add salt, pepper and butter, to this before cooking. It makes such a difference.
Use a combination of cheeses for the best taste. I use a mixture of sharp cheddar, and either colby or a mexican blend cheese. When you add the cheese, make sure to stir continuously so that it all melts in really well and you aren't left with clumps.
For this to be extra creamy use heavy cream, but you can also use whole milk. Many of the recipes I saw for Instant Pot Mac and Cheese use evaporated milk which I think changes the flavor. Stick to the good stuff! This is an indulgent comfort food, so go ahead and use the cream 🙂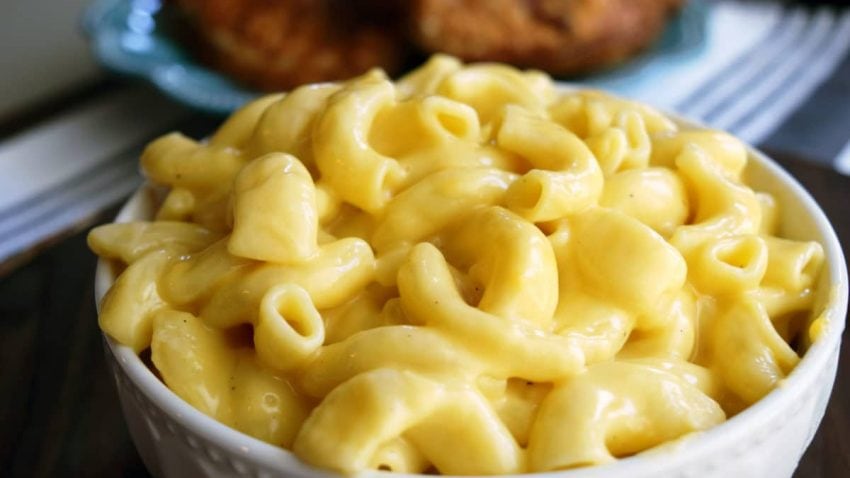 Items you may will love to use with your Instant Pot
5 Delicious Instant Pot Recipes you will Enjoy
Other Recipes you May Enjoy!