An easy keto low carb beef chili made in the Instant Pot pressure cooker or slow cooker. This no bean chili is rich and full of delicious flavor the whole family will love.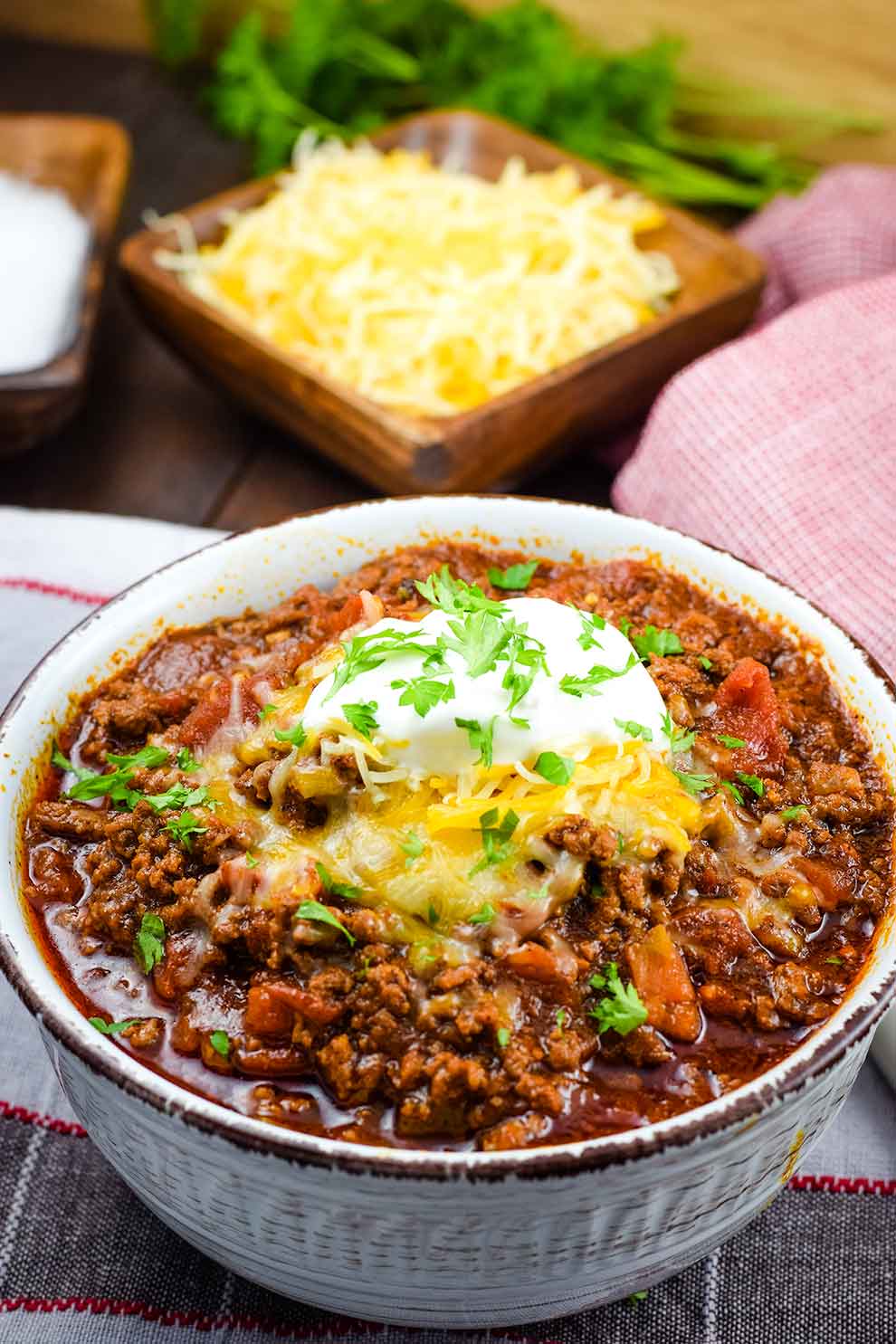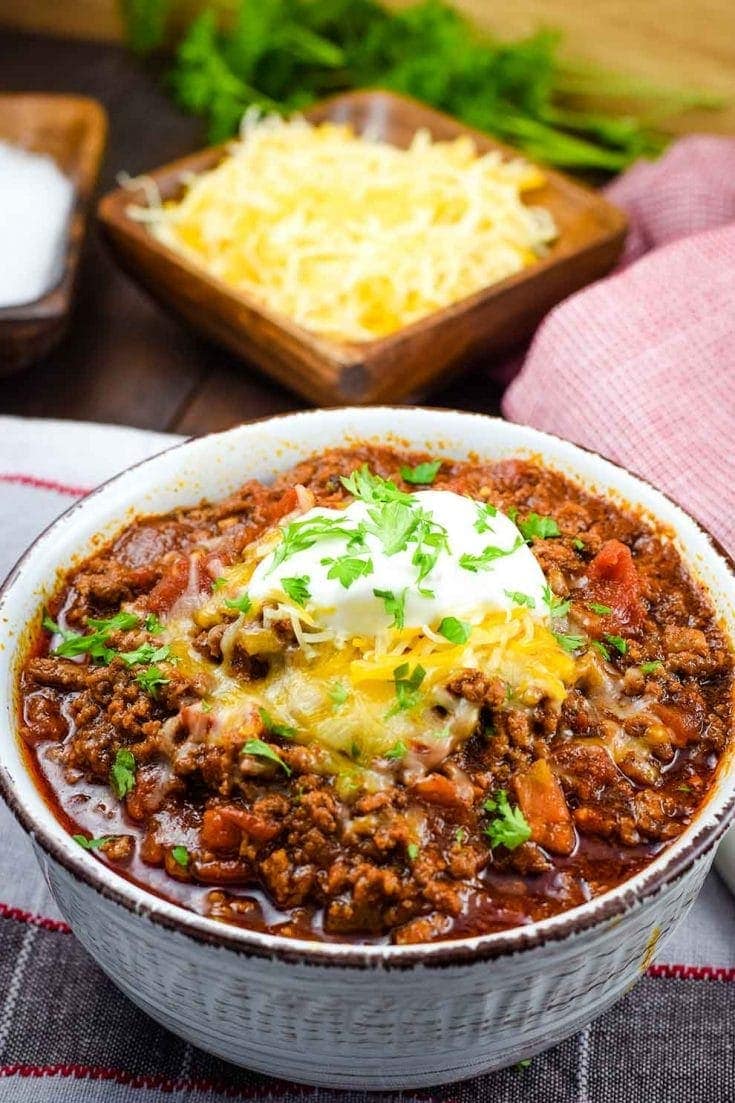 We have been eating more low carb meals at our house lately. Just trying to cut back a little. If you are here for great southern comfort food, don't worry I am not giving up on other delicious foods for good, but this is a way to keep extra pounds from piling on and cutting out some sugar.
Also some of my friends have been asking me to post more low carb or keto recipes. And this recipe is keeping in with my philosophy that food should taste amazing and be easy to make. It really is scrumptious!
How do you make Chili Low Carb and Keto friendly?
It's pretty simple - A NO BEAN CHILI - Cutting the beans out does it!
Some people ask how can it be chili without beans - I get that - but this recipe is so full of flavor. Adding in good amounts of spices that are rich and savory does the trick.
I don't think you will miss them too much! And FOR MY FAMILY this wasn't that big of issue. Some of them prefer it this was anyways!
Other ways to add in more YUM are with Toppings - you love.
Great ideas are sour cream, your favorite shredded cheeses, cilantro, jalapenos, and sliced avocado.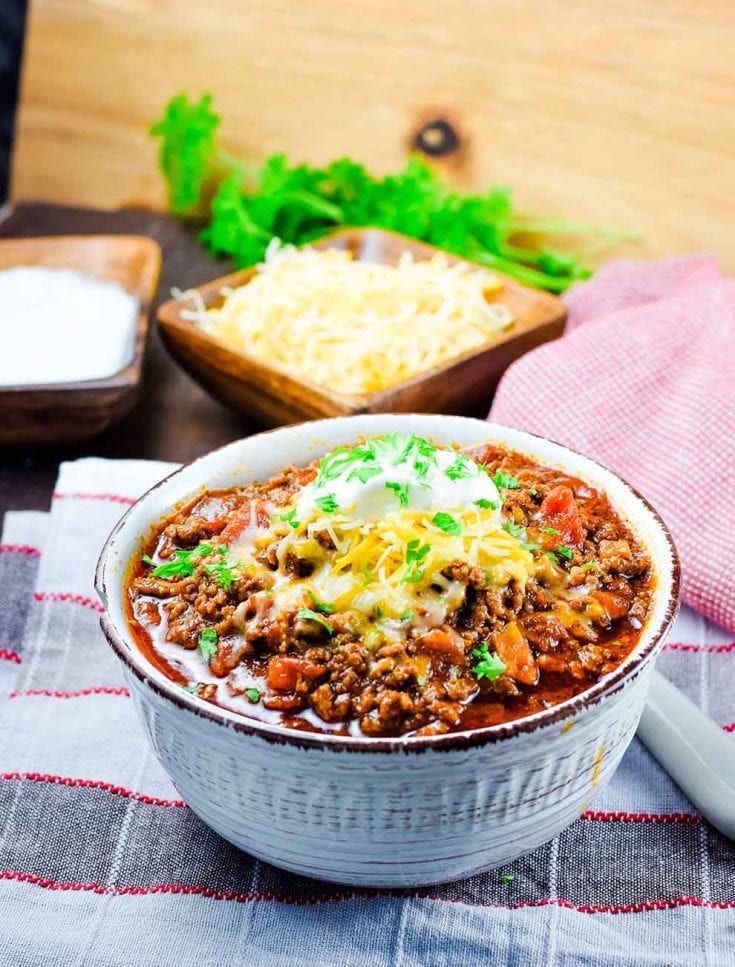 That brings me to two of my most favorite kitchen appliances that I use all the time! A Crock Pot and the Instant Pot. They make cooking so convenient and food taste delicious.
Making LOW CARB BEEF CHILI in the INSTANT POT and CROCK POT
Both of these options are fabulous ways to make this dish.
The Instant Pot offers a quick way to make this meal when you are short on time, but don't want to give up all that delicious flavor. I see why my grandmother used her pressure cooker so much! WOW you cannot beat the taste. And the TIME SAVINGS!
Ever come in from a long day and no one wants to wait very long for dinner? No to mention you don't want to spend a lot of time in the kitchen? IP the the rescue!
The Instant Pot does have both a slow cook and pressure cooking features on it. I have to admit I often forget this about this fabulous creation.
But if you are going to be busy on the go or at home, you can get this started in the morning and have it slow cook in the CROCK POT all day as well. Those flavors come together like magic while you are doing all the things.
I still have an affinity for my crock pot and use it weekly and this reminds me I need to get their MULTI COOKER VERSION to try out at home, since you can saute and everything right in one pot.
So either way you have great options for making your LOW CARB CHILI.
Thing you can use to make No Bean Chili
*Soulfully Made is a participant in the Amazon Services LLC Associates Program, an affiliate advertising program. Please note: This post may contain affiliate links to products I use and love. I earn a small commission, at no extra cost to you, to help with blog expenses when you make a purchase through an affiliate link. Thank you for your support!
More Lower Carb Recipes
PIN - Keto Low Carb Beef Chili - to Save and Share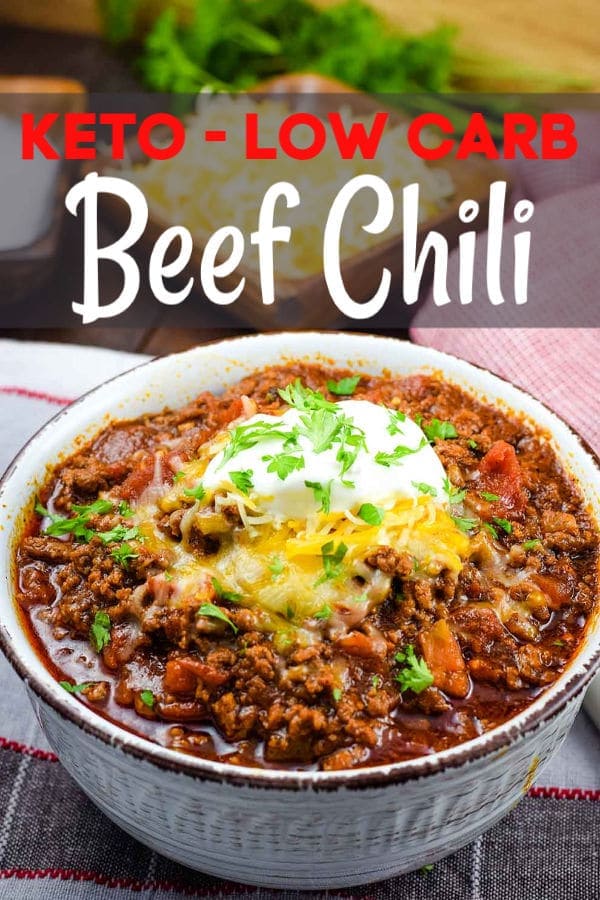 Adapted from Wholesome Yum
You can also find this at Meal Plan Monday and Weekend Potluck.