Caesar Salad with Homemade Croutons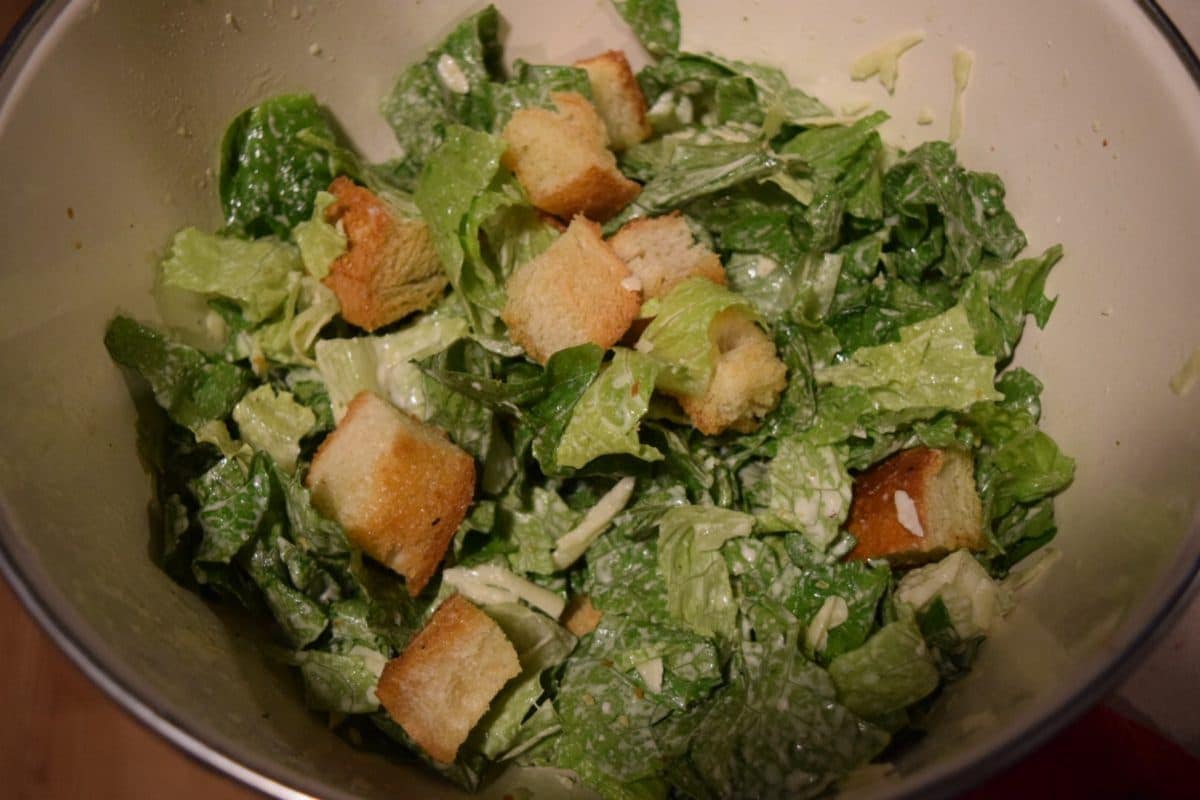 Caesar Salad is one of my families favorites. Minus the hubby. He does not partake ever (I think its the anchovies). NO ONE understands why he could possibly not like it. What is not to like with Garlic and Parmesan Cheese and all the yumminess that makes us all smile? Not to mention the croutons! But I must say we have convinced him to eat this recipe and he loves it. NO anchovies here!
I started with the croutons so they would have time to cool and be ready to make this salad perfection. There is just something about Olive Oil and Garlic. Who can resist? Not me 🙂
This may not be your traditional Caesar Dressing but it is quick and one we love. You can add other ingredients to it as you like or adjust the current ones to your tase! Also egg and anchovies are not in this recipe, but if you want them go right ahead. I may try that one day but for now this one my kids and hubby eat and love it. Thus I am sticking to it!
Chop up the Romaine Hearts with a knife.
Throw in them a bowl with your Parmesan Cheese and Croutons. Then just toss on about ½ of the dressing. Add as much as you would like! Now eat it all up!
Salad Ingredients
3 Heads of Romaine Lettuce Hearts
2 Cloves of Garlic
3 Tablespoons of Mayo
1 ½ to 2 Tablespoons of Olive Oil
½ of a Large Lemon - about 2 Tablespoons
¼ teaspoon Worcestershire
¼ teaspoon Salt
White or Black Pepper to taste
½ Freshly Shredded Parmesan Cheese (or more if you love it)
Crouton Ingredients
½ French Loaf or Baguette
¼ cup Olive Oil
2 whole cloves Garlic
Salt to taste
Crouton Instructions
Heat olive oil on stove top
Add whole cloves of garlic ( I like to crush the garlic before adding) and Stir for 5 minutes.
Slice and Cube Bread
Put Bread in bowl and toss with the Garlic Infused oil
Bake on sheet pan at 200° for 1 hour. Give the pan a shake occasionally to ensure even baking.
Turn up oven to 400° for just a few minutes at the end. Watch them until they are golden brown and delicious.
Salad Instructions
Wash and Dry Romaine Lettuce Hearts. Chop the lettuce with a knife.

Shred your Parmesan Cheese with a box grater.

Toss Salad with ½ of dressing and ½ of cheese. This will allow you to judge how much you would like to dress your salad. Add more to taste.

Add cooled croutons and toss!