Easy Grilled Steak and Chicken Kabobs - Perfect for Summer Time Fun
Summer, at our house, is all about family and easy entertaining. We spend so many days by the pool with my mom, my sister, and her family over. Kabobs rank pretty high on our summer party food list. They are easy to make, quick to cook and so much fun to eat! And boy are they versatile. You can come up with so many different creations that suit your taste.
Our Go To Kabobs
Our daughter did not like steak for years. She has gone off to college and says she likes it a little bit now. So when we cook kabobs we usually make both so that everyone in the family is happy campers.
Now, I know some critics may say that this really isn't a recipe! Oh, I could tell you some stories about critics. But hey, buyer beware here - all recipes aren't long lists and hard to make instructions. If you cook it and serve it to your family, I qualify that as a recipe 😉
I try to share flavorful, easy meals for those times when you don't want to have a big day in the kitchen.
Chop, Chop, Chop
The key to kabobs is to cut up your ingredients into about the same size bites. This allows them to cook evenly. So get to chopping those chicken breasts, steaks and veggies.
Let's Marinate
Chicken gets Italian Dressing poured over it! Yes that's it. Any brand works, what ever you have in your fridge!
Steak - Wait for how hard this is!!! Garlic Salt (you know me and my garlic salt) and a stick of melted butter poured over it. Don't mind that a little of that butter didn't melt! That grill out back will certainly take care of that. Oh, you can add a little pepper too if you fancy!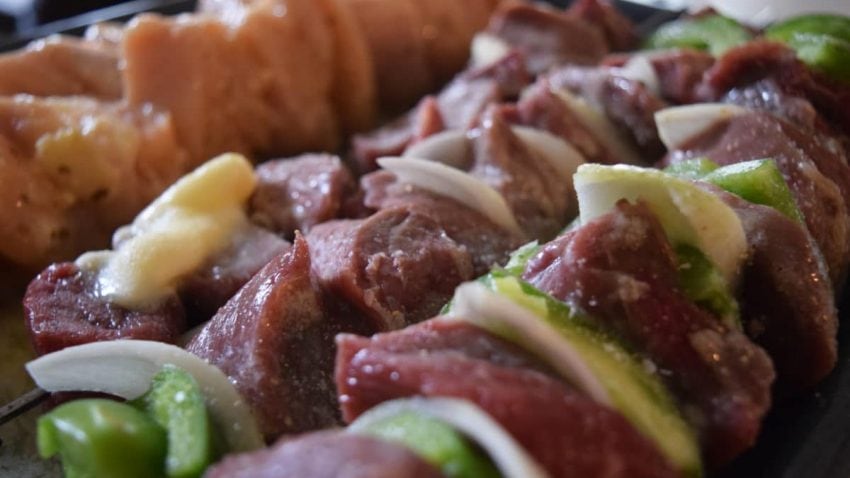 Really, you can add any seasonings you love. This is just our favorite. I think the less on the steak the more flavor of the meat comes out. And Italian dressing just works magic on that poultry!
Put 'Um on a Stick
I like to thread them on a skewer with onions and bell pepper. But you can pile on the veggies you love! We change it up from time to time! Now you will see I leave some without veggies. These are for that boring teenager in my life - ha not really, he just doesn't care for them. And when I made these the boys (he had friends over) wanted naked chicken skewers. They say YUCK to veggies!
Tip: If you use wooden skewers make sure to soak them in warm water for 10 to 30 minutes before threading them.
Grillin' Time
Heat the grill to 300° is what Hubby says (he's the one on grill duty)! Chicken takes a little longer, usually about 15 mintues and the steak cooks for 10 minutes.
Now ya'll this isn't an exact science. Depends on how thick you cut those pieces and your grill temperament. They are like ovens, no two cook exactly alike. Not to mention how you like your steak. We do medium at the Lee house! Chicken well done though - so NO pink in that chicken (I thought I might better clarify that one)!! Adjust time according to how you like your cow to moo 😉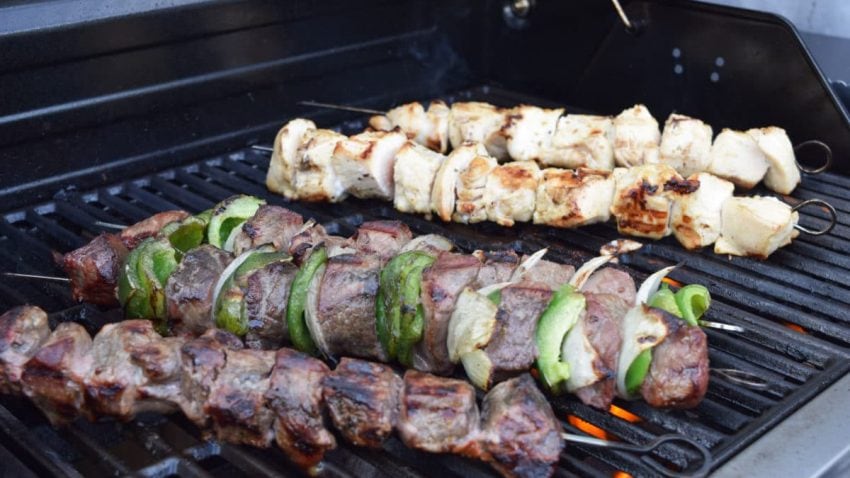 Time to Dig In
Many times when family comes we do potluck. Do you have potlucks at your house too? Do you have certain things you just have to make for someone?
My daughter and brother in law always request my Pasta Salad with Artichoke Hearts & Feta , so that one is a must! We usually have a green salad too. Mom either makes a family favorite or I will have a Chopped Greek Salad. Momma says you can never have too much food! But we usually always do 😉
For me those peppers and onions just call out for white rice! Pretty certain I am not hearing voices speaking to me, but we won't judge here right!!
Does your momma have a sayin' too? What is it? Dish in the comments (I promise I won't tell)!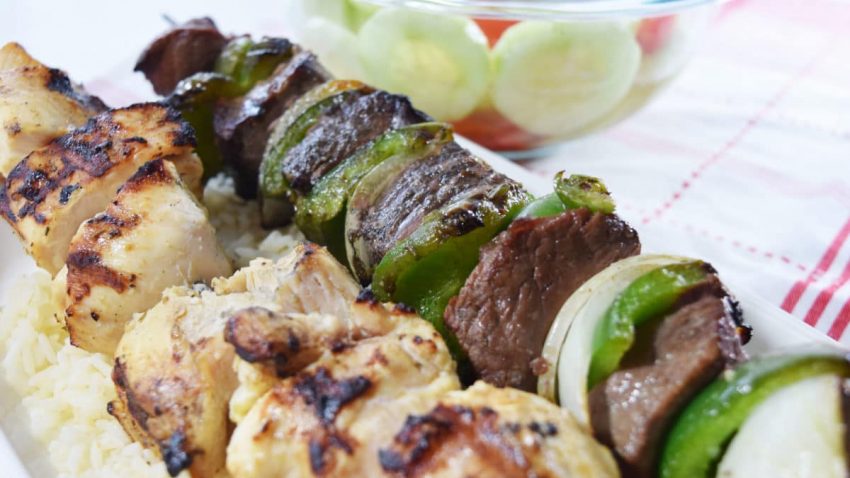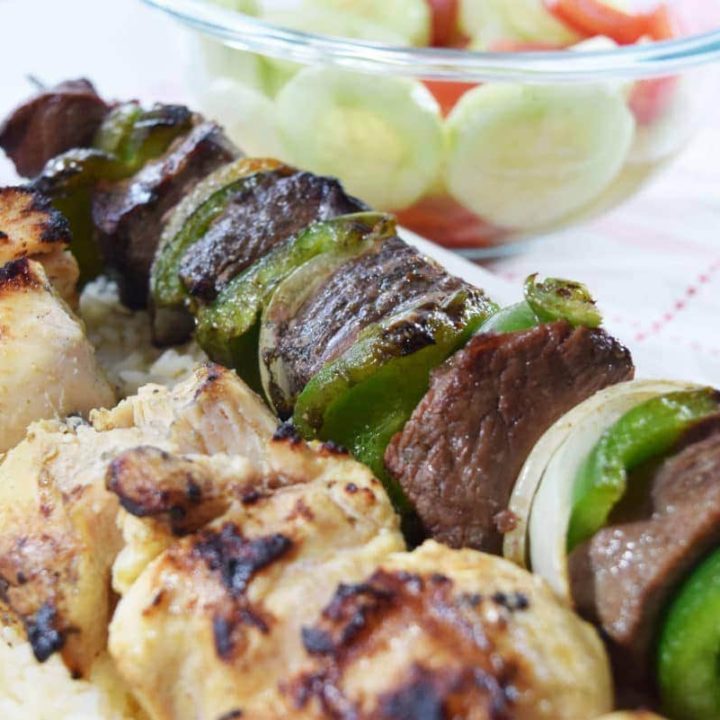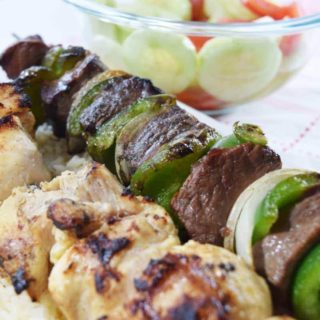 Easy Grilled Steak and Chicken Kabobs
Easy Grilled Steak and Chicken Kabobs are buttery and infused with garlic. These are super simple and just a few ingredients while resulting in delicious flavor.
Ingredients
3

chicken breast

,

cubed

2

lbs

sirloin steak

,

cubed

1 to 1 ½

cup

Italian Dressing

1

stick butter

,

melted

garlic salt to taste
Instructions
Cut chicken and steak into bite size cubes. About 1 to 1 ½ inch think. Slice veggies into uniform sized chunks.

Pour Italian Dressing over chicken skewers. Sprinkle garlic salt on both sides of steak. Pour melted butter over. Let marinate for 30 minutes or more.

Heat grill to 300 degrees. Place skewers on the grill and cook for 10 to 20 or minutes until done.
✱ Nikki's Tips
Cooking time varies depending on thickness of meat and grill.
Nutrition
Serving:
1
grams
Calories:
356
kcal
Carbohydrates:
5
g
Protein:
43
g
Fat:
17
g
Saturated Fat:
4
g
Polyunsaturated Fat:
5
g
Monounsaturated Fat:
5
g
Trans Fat:
1
g
Cholesterol:
123
mg
Sodium:
601
mg
Potassium:
738
mg
Sugar:
5
g
Vitamin A:
41
IU
Vitamin C:
1
mg
Calcium:
42
mg
Iron:
2
mg
Nutrition Disclaimer
Soulfully Made is not a dietician or nutritionist, and any nutritional information shared is only an estimate. We recommend running the ingredients through an online nutritional calculator if you need to verify any information.