Pasta Salad with Artichoke Hearts and Feta is going to be your new favorite! Bow tie pasta loaded with artichoke hearts, feta cheese, crunchy bell pepper, red onion, tomatoes and black olives all tossed in a delicious Greek vinaigrette!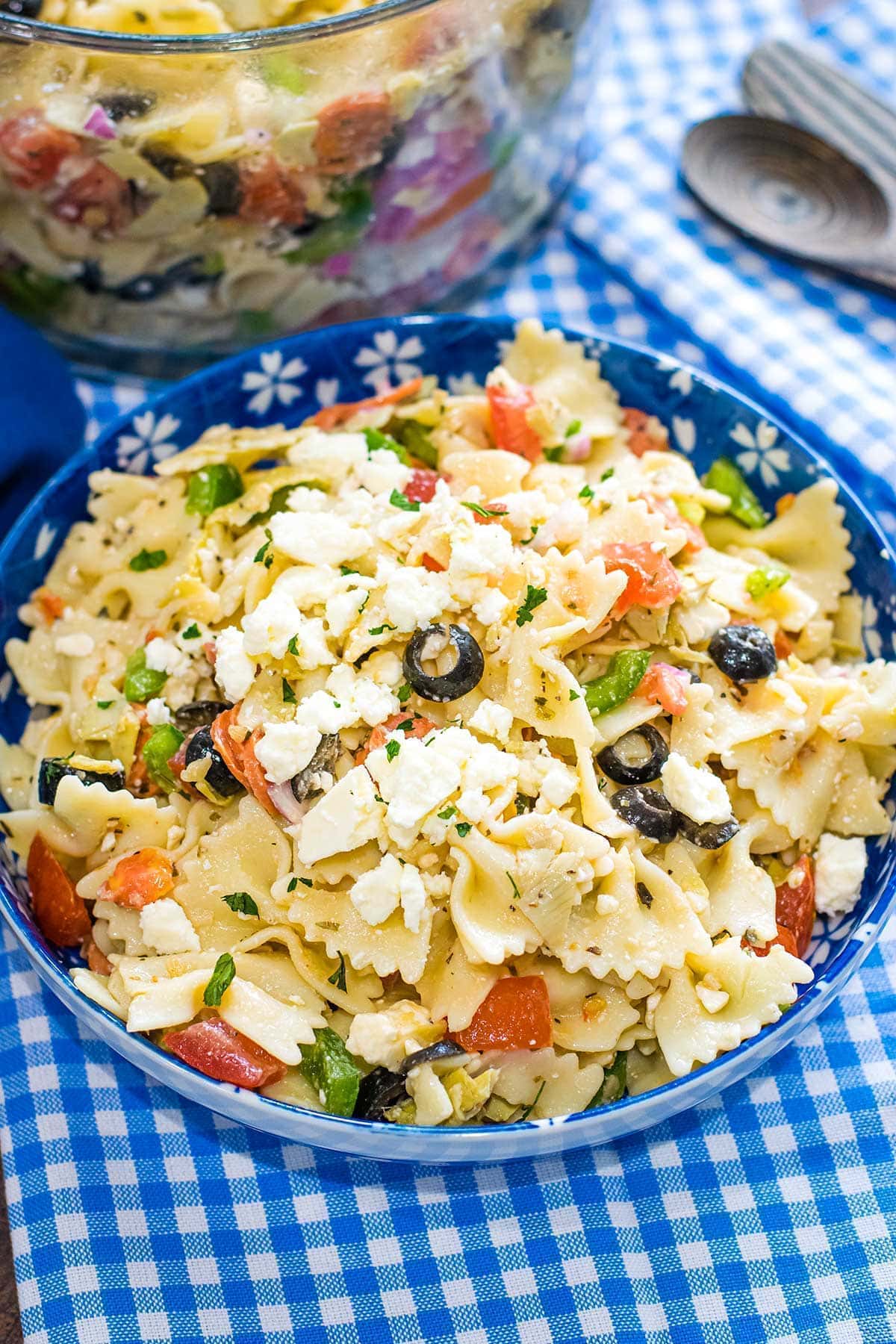 All the vibrant veggies make this Pasta Salad with Artichoke Hearts & Feta the shining star on the table. The blend of bowtie pasta with the color of tomatoes, black olives, onion and bell pepper along with the tender artichoke hearts make for a beautiful dish! It's the perfect mediterranean pasta salad.
Want a little meatiness to your salad add in pepperoni or salami! The addition also lends a bite of spice to the dish, while the feta adds some creaminess that put it over the top.
Warm weather gives us an abundance of flavors from herbs to so many delicious veggies, this makes any meal just burst with happiness! With all that happiness going on we find ourselves dining outdoors and spending time with family and friends as the days linger a little longer.
The birds are just singing now calling me outdoors! And with that, I don't know about you, but we start firing up our grill on so many occasions. I can smell the aroma in the air as the fresh breeze welcomes in this beautiful season. This Pasta Salad with Artichokes Hearts and Feta is perfect addition to your grilling or any picnic.
How to make Pasta Salad with Artichoke Hearts and Feta
While the pasta is cooking. Start preparing those beautiful veggies. Cut or Dice those tomatoes, artichoke hearts and bell pepper (you can use any colors you want to add or what you have on hand)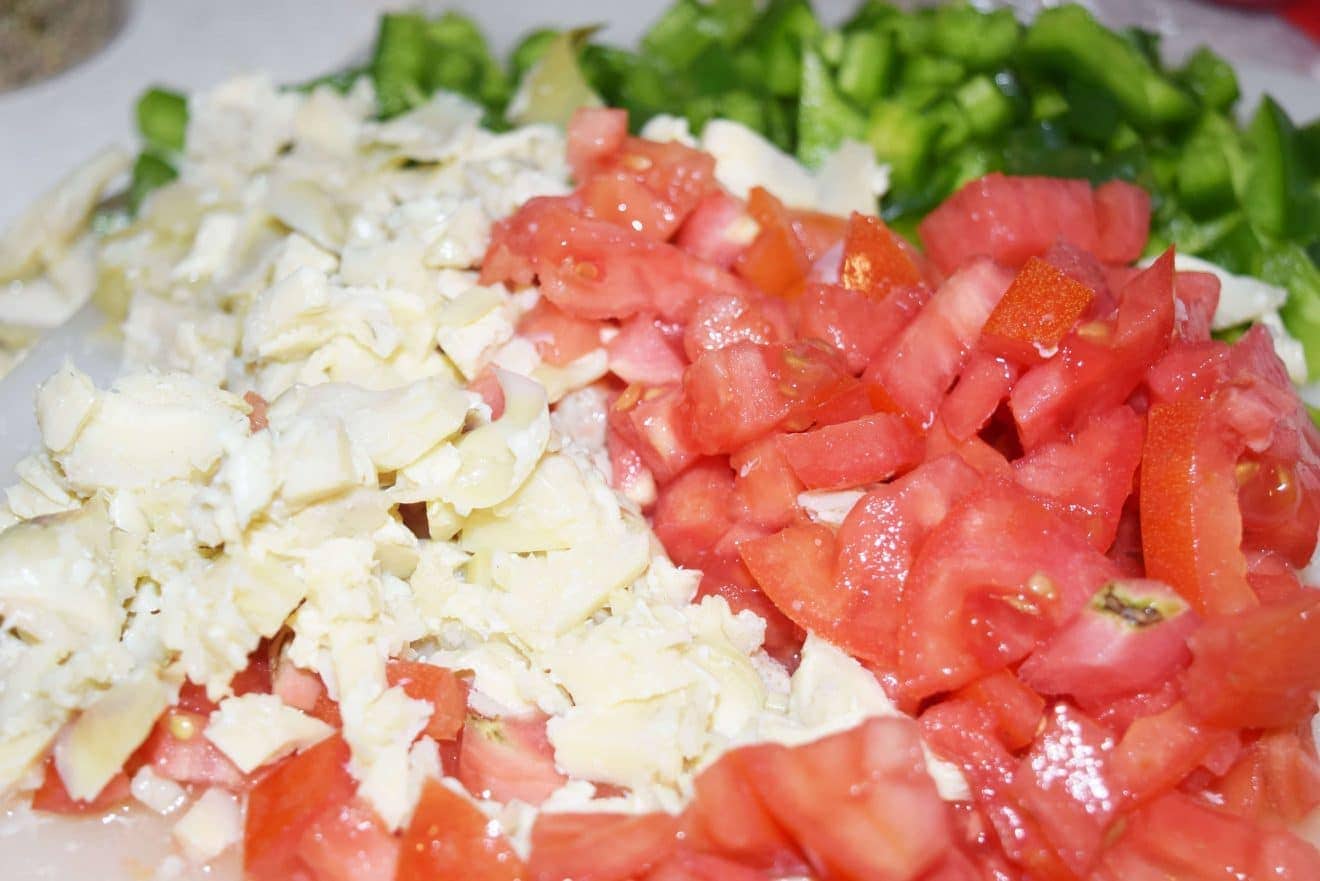 Whisk together your dressing. It's olive oil, white wine vinegar, garlic, parsley, basil, oregano, salt, and pepper.
Once your pasta is done rinse with cold water and drain. Then add all your chopped green bell pepper, tomatoes, olives. If you want pepperoni go ahead and add them in too. Sometimes I'll chop up thin pepperoni or I will add the little round ones you can purchase – Aren't they just so cute?) Toss it all together.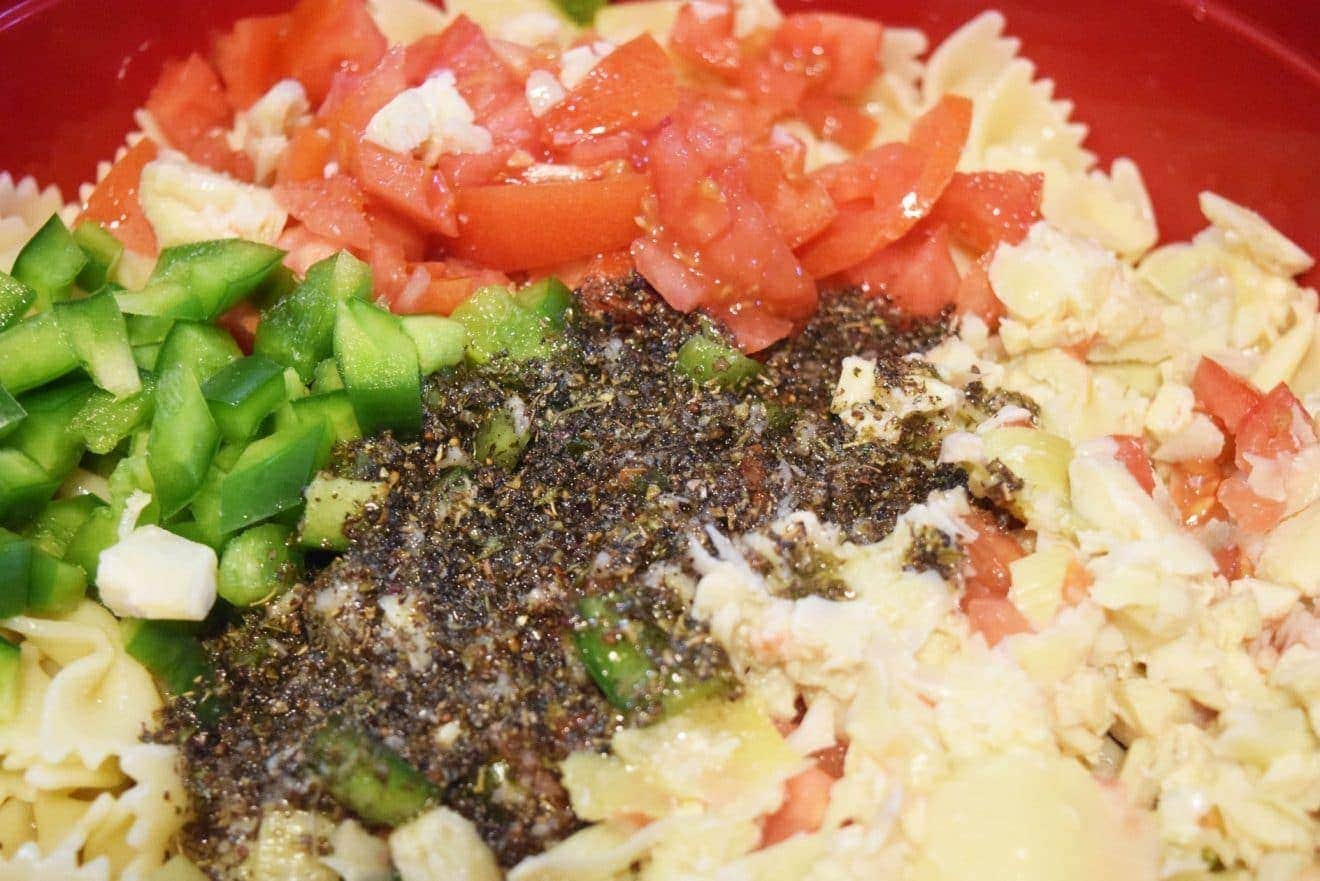 Then top with your feta cheese and refrigerate for at least two hours, so all those flavors can come together and make this a heavenly pasta salad!
After all that deliciousness sits a while in the fridge, toss in the feta and you are ready to plate or serve buffet style, whichever you prefer!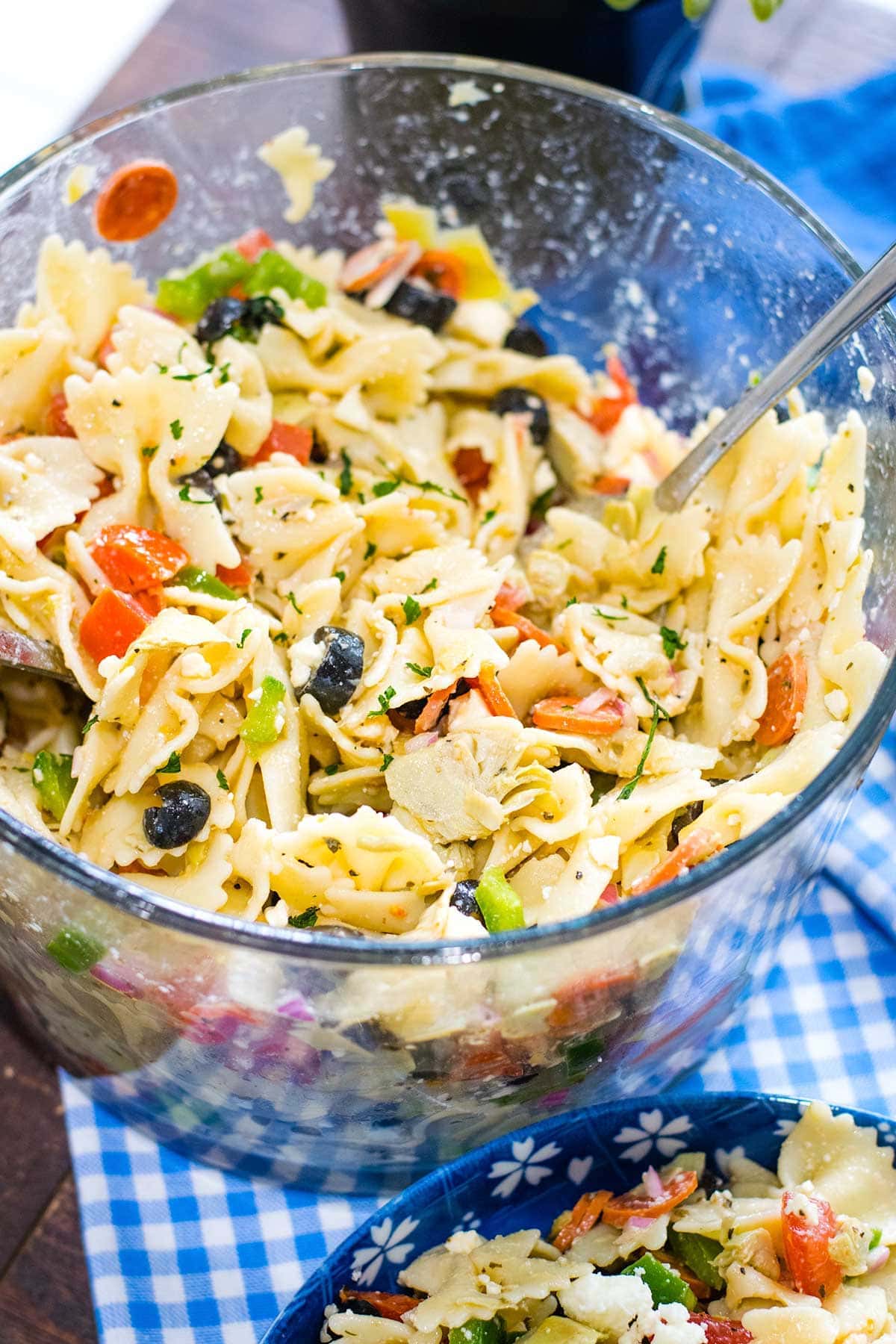 Easy and Delicious Dressing / Marinade
The dressing is a simple vinaigrette with dried herbs and S&P! That doesn't mean it lacks in flavor. It really gives this salad the most delicious zing!
It's key to get pasta salad cold and to let it sit in the refrigerator for at least 2 hours. I like to make evening ahead or first thing in the morning. This gives the acid in the the dressing time to breakdown the starches in the pasta time and loads of taste to build!
This dressing works as an amazing marinade for grilling chicken too!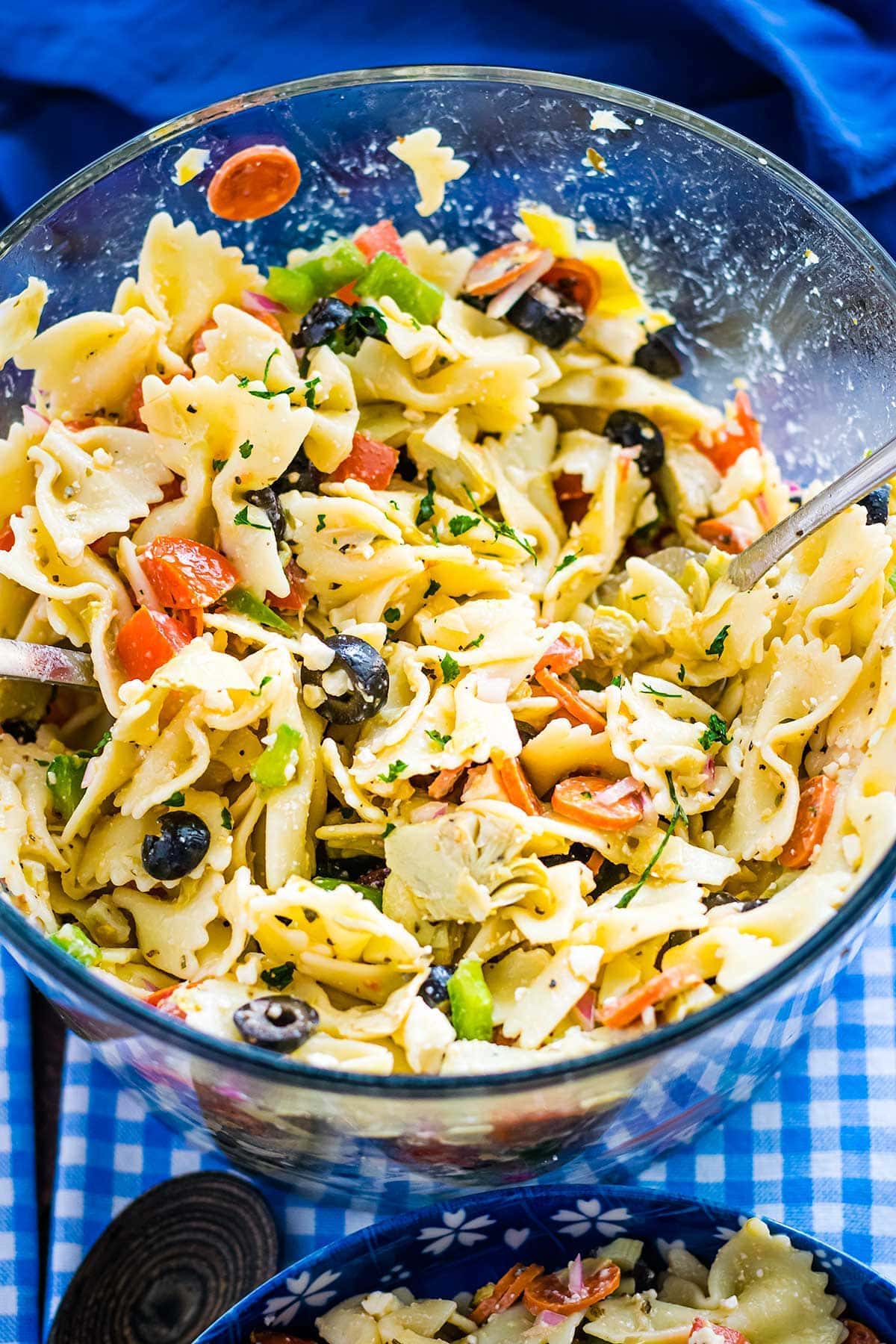 Best tips for pasta salad perfection
Cook pasta just past al dente point. You want you pasta to be completely cooked but not mushy. You are going to get the pasta cooled right away, so it won't be doing any additional cooking while it's hot.
Make sure the pasta is cooled completely. You don't want to make those veggies hot. You want crispy and fresh veggies - so don't make the mistake of hot pasta 😉
Top with the cheese and toss just before serving. The cheese adds creamy and delicious flavor but if you toss it in just before it will have some bite to it.
Taste and Adjust to your liking. I find this to be the perfect dressing for the artichoke and feta pasta salad. But if you want a little more vinegar or pepper go ahead and add it.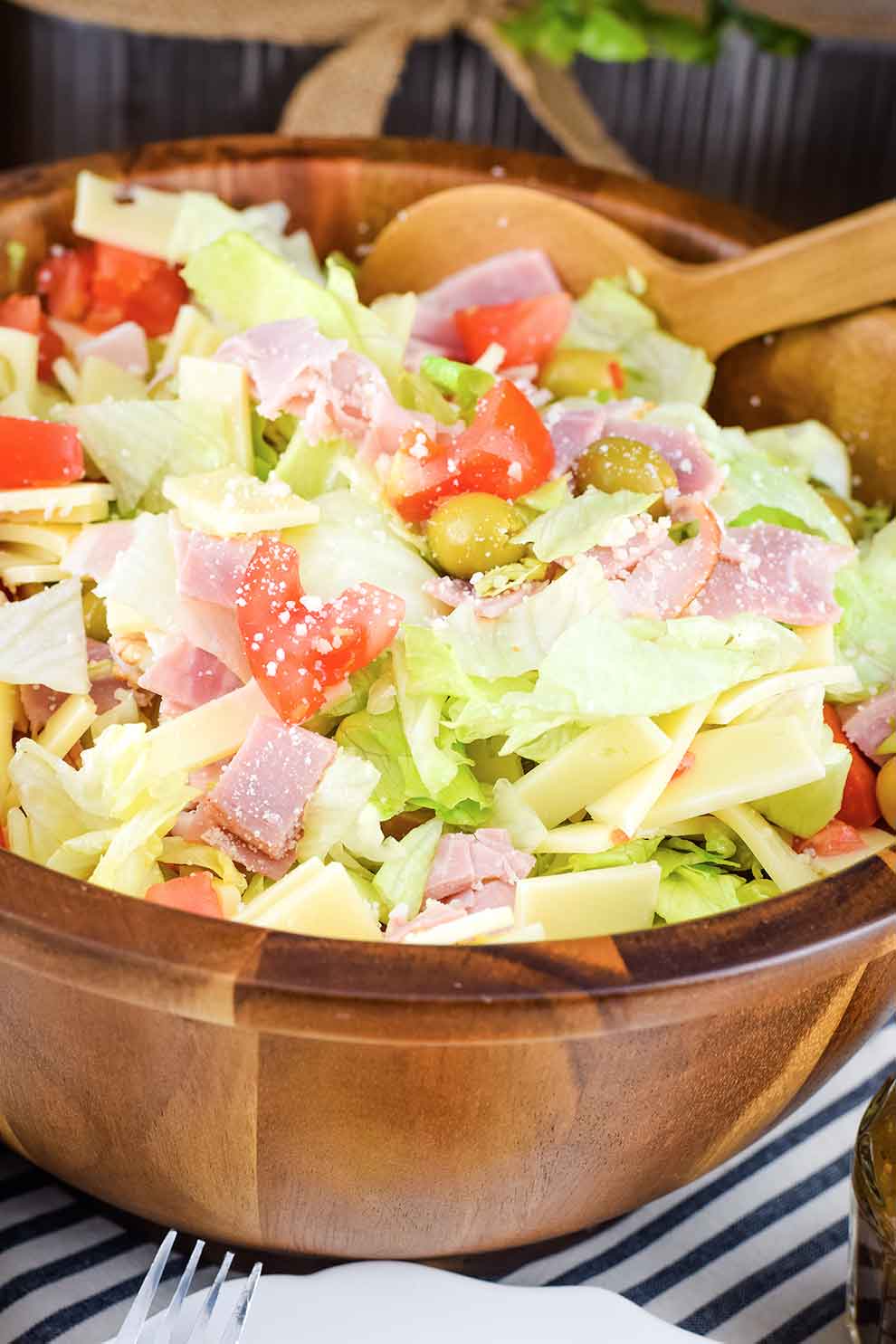 Columbia Restaurant's 1905 Salad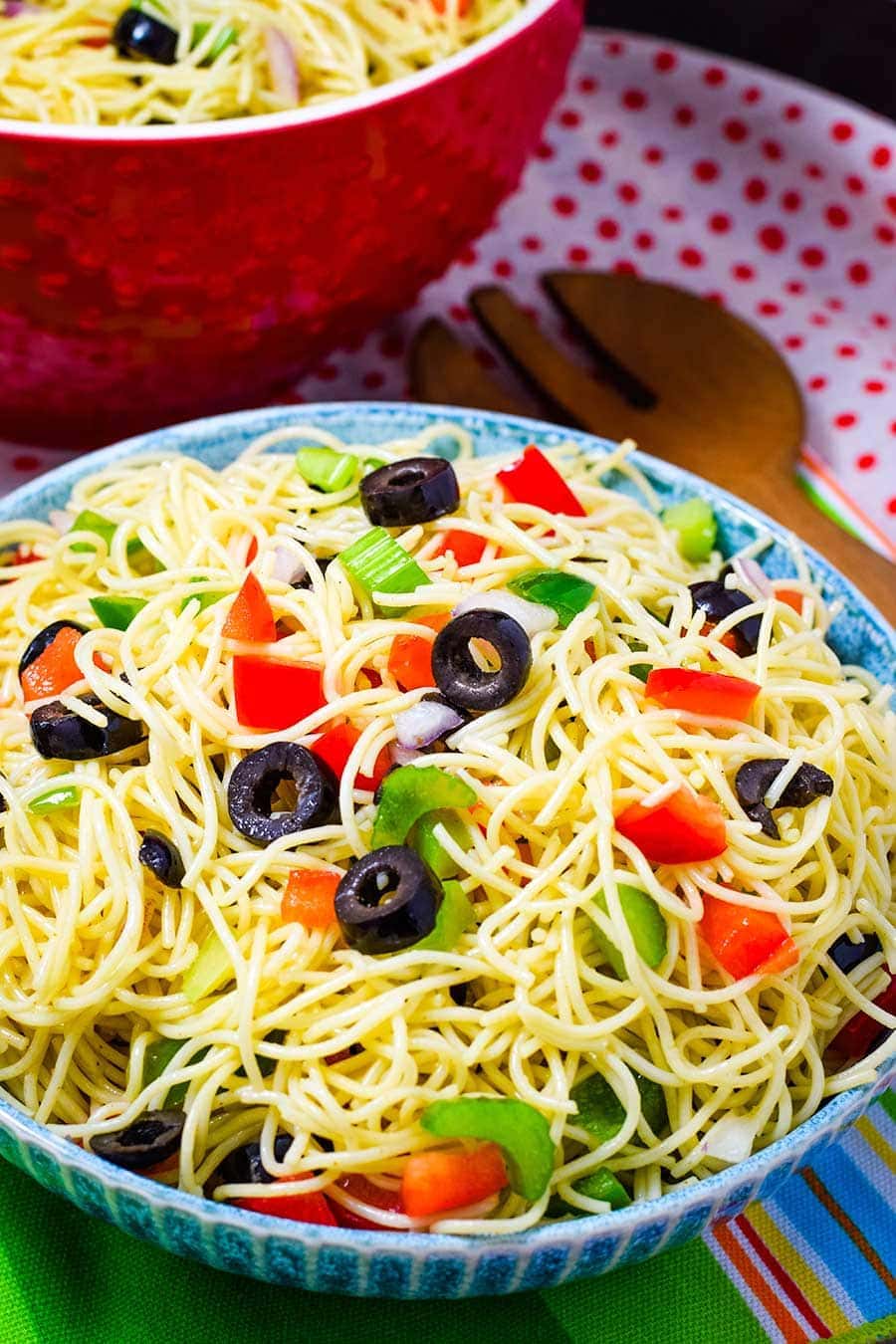 See our latest Posts