When you are craving that perfect slice of banana bread, but those bananas on the counter are just not ripe enough, what is one to do? No fear here's how to quickly ripen bananas so they will be overripe and sweet for all your baking recipes.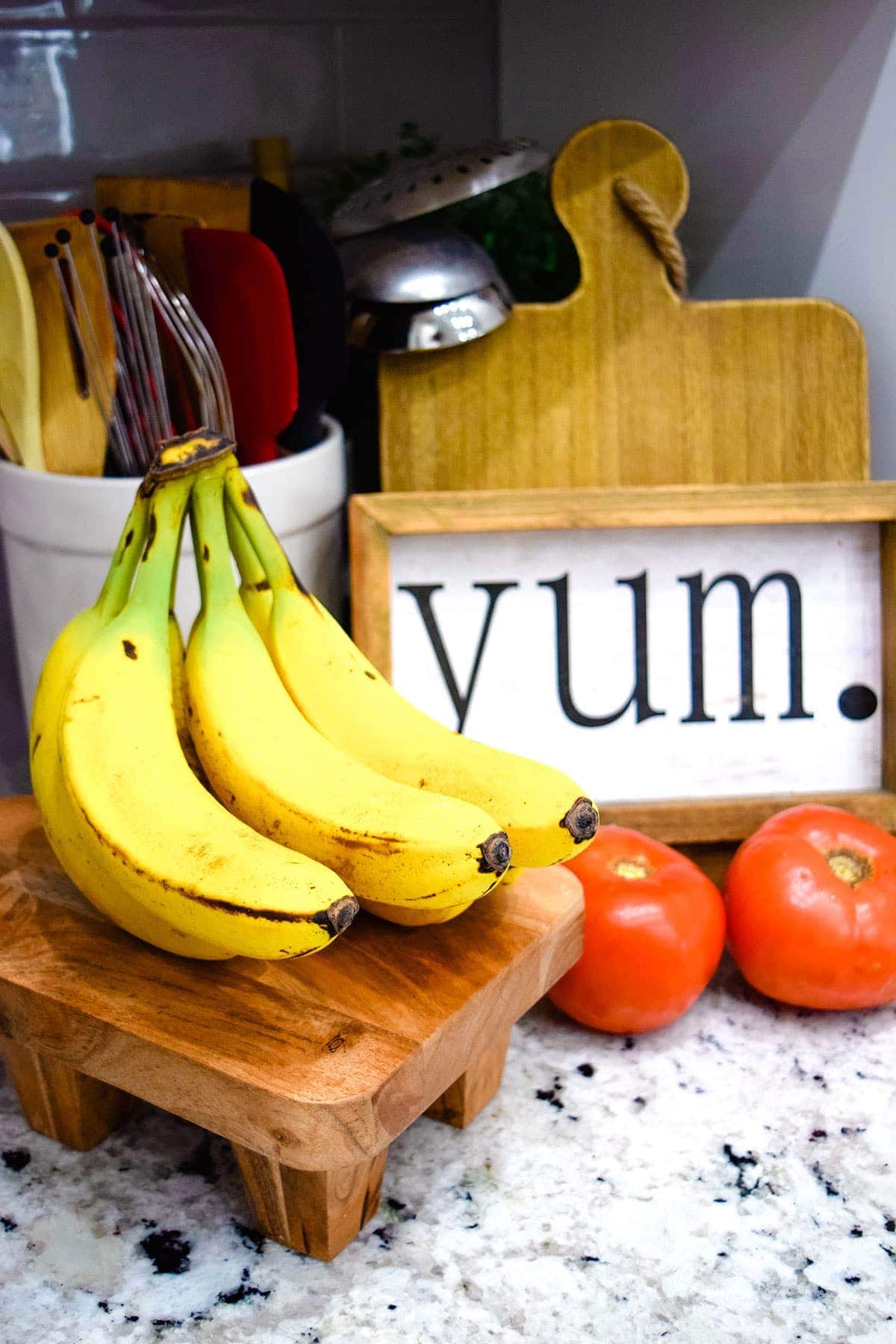 When your recipe calls for overripe bananas, that certainly means you are in for a deliciously sweet treat. Often timing the purchase of your bananas can be tricky. You never know when that hankering is going to hit you! RIGHT!
Growers intentionally ship under ripe bananas so they don't bruise and to extend their shelf life in the stores. So you are very likely to find green bananas in the store.
But don't let deter you from unleashing that baker within! You can speed that process right up with these helpful tips - all you need is a paper bag, oven or microwave! And whatever you don't use, you can freeze for later.
How to ripen bananas naturally:
Ideally a banana will ripen on its on out on the counter. Here are a few things you can do to help them along:
Place in a warm spot: Placing them in a sunny or warm place helps the process along. On top of the refrigerator or near the oven.
Place them near other fruits or keep them together: An avocado or apple helps promote the Ethylene process and they will ripen faster.
Depending on how green or the stage of ripeness they are when you bring them home they can take from 1 to 5 days to ripen.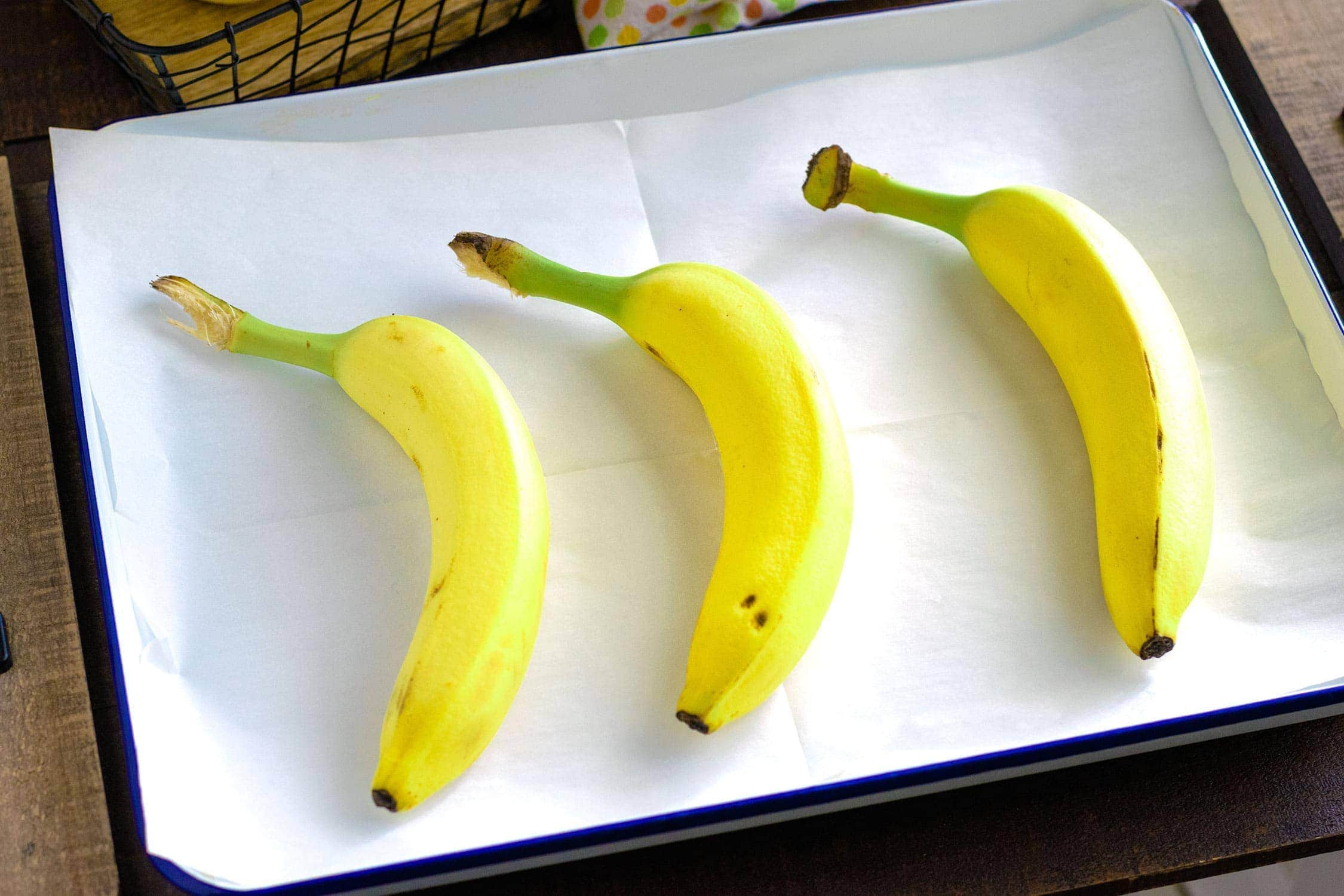 Keep in mind the humidity and temperature of your home also come into play. I live in FL so we have the right environment for fruit to ripen quickly. In colder less humid places or seasons this natural process may take a little longer.
This also depends on how you like to eat them! I tend to like mine on the greener side. Anyway you like them these are perfect tips for getting the banana to the right stage!
Ethylene - The Ripening Effect
Some fruits, like bananas, apples, pears, or apricots produce the gas (chemical) ethylene as they ripen. It's an invisible odorless gas that exists in nature. This allows fruits to be harvested before full ripeness for shipping or being sent to the market. Ethylene helps give fruit that sweet taste because it converts starch into sugar. With bananas you will see the peel turn from green to yellow and once overripe black spots on the flesh occur.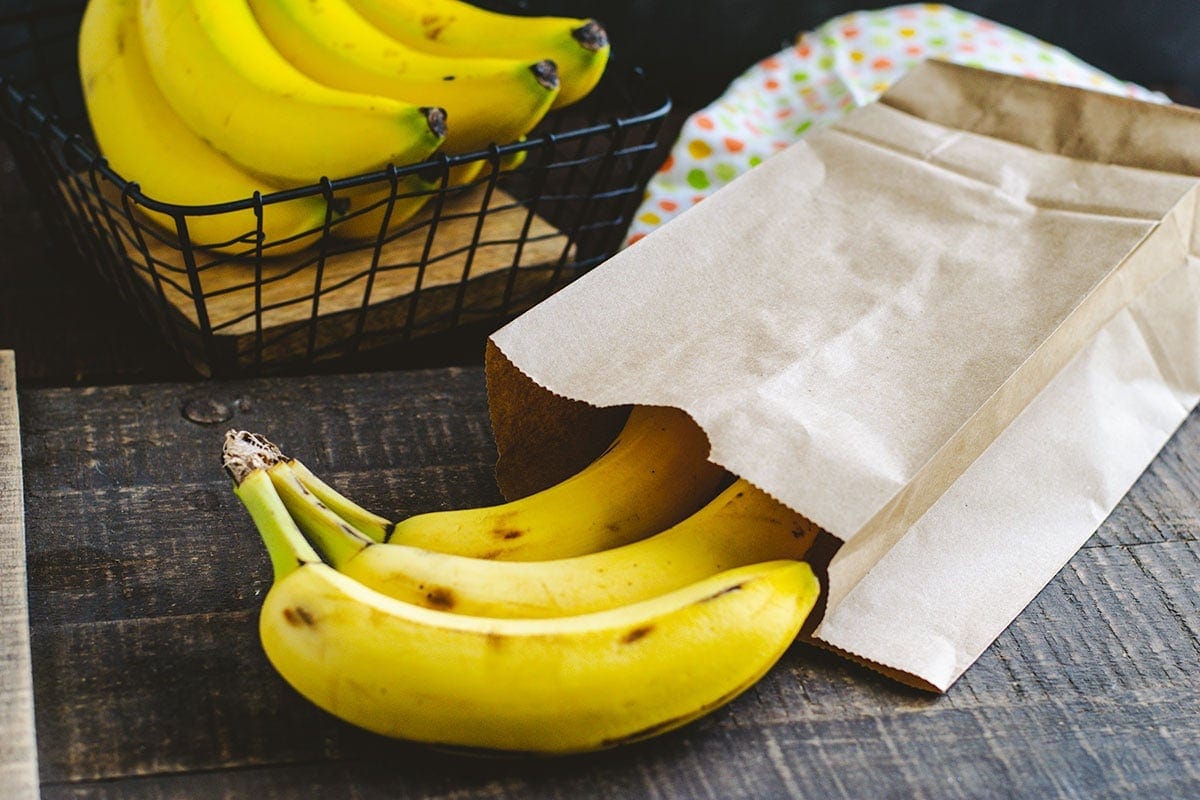 How to ripen bananas for baking
When baking you want a nice overripe sweetened banana to immediately ripen for use in cakes, breads or any recipe that calls for overripe banana; you can use the oven or microwave for a fast solution.
Ripen bananas in a paper bag:
This process is more gradual than being on the counter. It helps the circulation of the ethylene gas and it will ripen in a day or two. I use this more often for ripening a green banana to eat, but if you have already slightly ripened ones this will get them to that sweetness stage more quickly.
Place the bananas in a brown paper grocery or lunch bag.
Loosely fold down the top to close it. You can also place another fruit like an apple or an avocado in there to speed it up as well.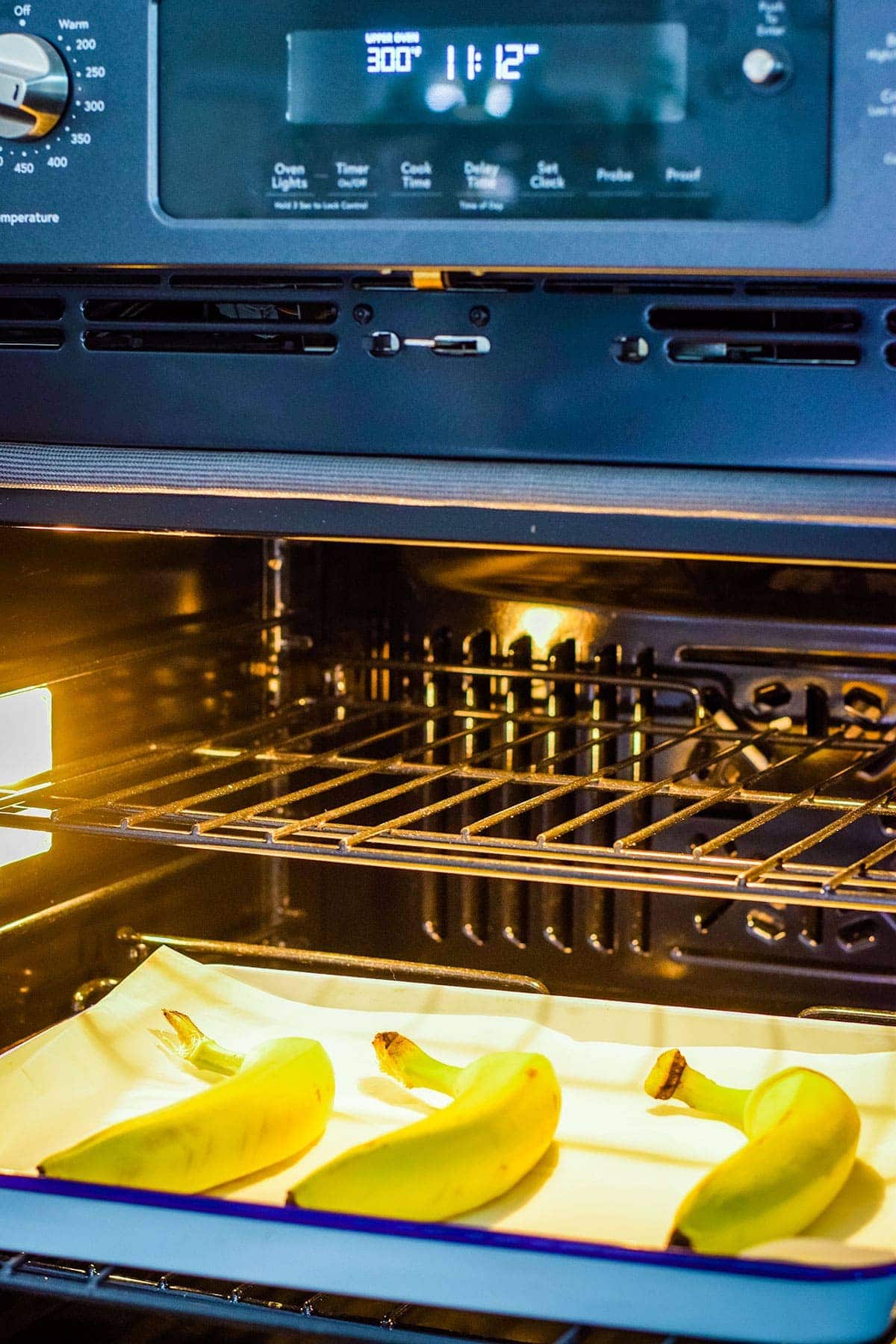 Ripen bananas in the oven:
The oven does a great job of sweetening the banana. If you need a super fast option (like right now). This option is your best for sweet, soft, overripe bananas in a flash!
Bake in a preheated 300°
Put the unpeeled banana on a foil or parchment lined baking sheet.
Bake in oven for 15 to 20 minutes. You can flip the banana about halfway through the process for a nice even ripening, but it's not totally necessary.
When done the banana will turn black all over. Don't worry it's not burned, just nice a sweet.
Let the bananas cool and then scoop it out of the peel with a spoon and mash it for your recipe.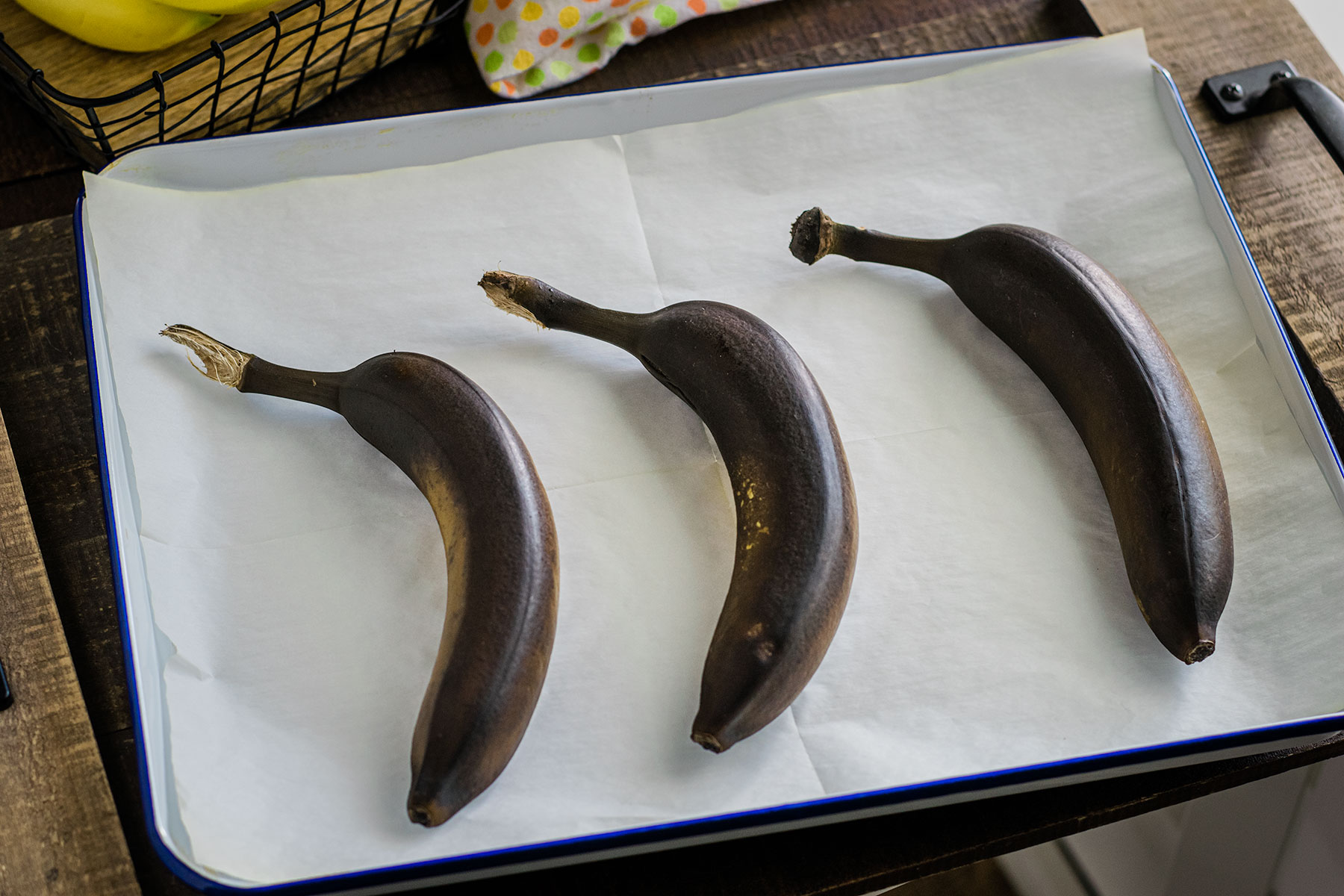 Ripen bananas in the microwave:
This method softens the banana but really does not increase the sweetness or flavor. This method actually works better for slightly ripened fruit rather than green bananas. So if you have green bananas, you might need to bump up the sugar slightly in the recipe to get the taste. I usually add a little to the bananas to desired taste and then proceed with recipe as instructed.
Peel the banana and place in a microwave safe dish
Cook on high for 30 seconds interval. This will depend on how many you a heating. You may need one addition interval. You will hear them that little sizzle and you know it's done.
Freezing Bananas to Store them for later:
If you have an abundance of overripe bananas or they have ripened and you don't need to bake right away . That's the perfect time to freeze bananas for future use.
You can freeze bananas in the peel, however they only last about 1 month and this will make them a little more difficult to use later.
Remove the bananas from the peel. They can be frozen whole or in the size needed for future recipes. Smaller chunks are good for frozen smoothies or whole is fine if mashing later.
Toss in a ziplock freezer bag. Label your bag with item and date and store in the freezer. They are best used within 6 months for optimal taste.
When ready to use, let bananas thaw before adding to the recipe for baking (mashing). If using for a frozen drink or smoothie you can use them frozen chunks - no need to thaw them.
Recipes made with Bananas
Our Most Recent Recipes
LOVE SOUTHERN INSPIRED DISHES COME FOLLOW ALONG!
Facebook | Instagram | Pinterest | Twitter
If you share a picture of something you make from our blog, tag it with #SoulfullyMade so we can see it. We might feature it on Instagram!
If you loved this recipe please make sure to give it 5 Stars!