Looking for the best banana cake recipe you will ever have? Look no further - this is the one! It's moist, sweet, loaded with bananas and topped with a whipped cream cheese icing that is to die for!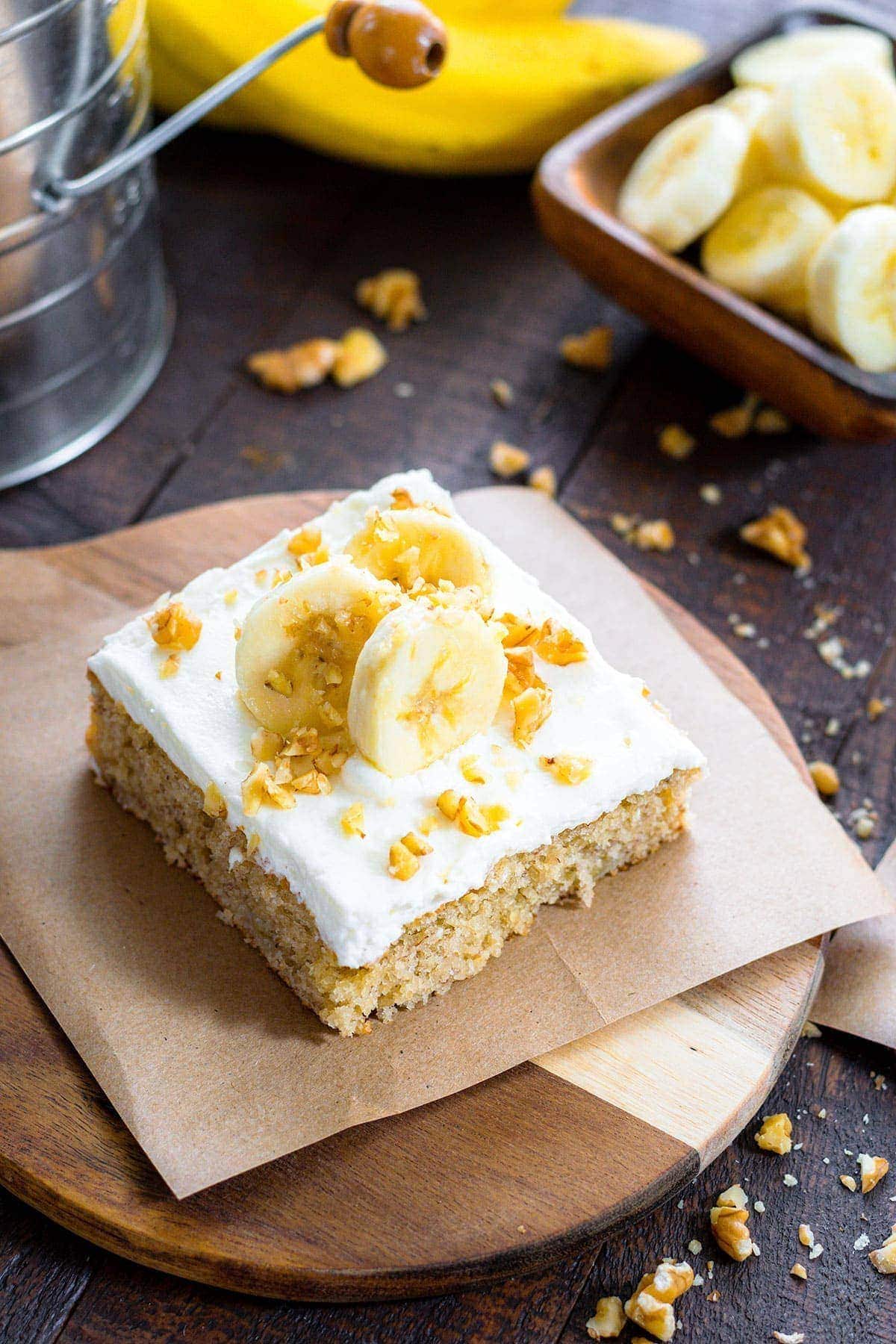 My family is crazy for all things banana! It's a fruit that you'll always find on my counter - ripe for the eating. We all love them! Except my son! I don't think I've ever seen him grab one to eat, but he sure does love them in baked goods.
Our favorites are the best most perfect banana bread you will eat and then to take that up a notch you add a little chocolate to the mix and get chocolate chip banana bread - OH MY!
But then there's this magical banana sheet cake. Well actually let's just say the best banana cake all around.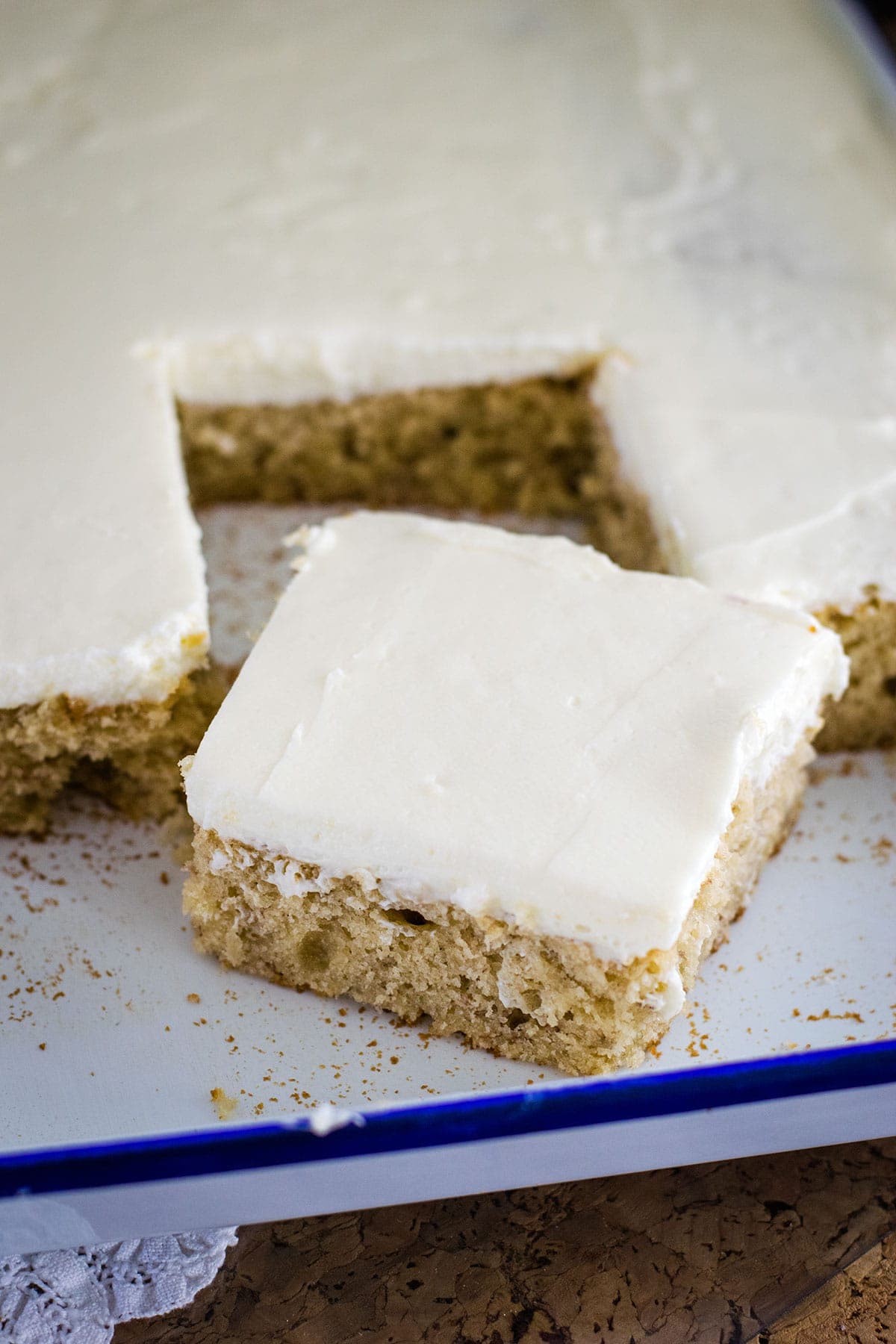 I love how versatile this cake is! It bakes well in just about any size pan from a jelly roll pan to a 9 x 13 or a round layer cake!
And don't get me started on the whipped cream cream cheese icing. Now that is a mouth full, a really delicious mouth full. Honesty this icing is so good, you'll be lucky if have any to put on this amazingly moist banana cake.
Picture me and whoever walks in the kitchen with fingers in bowl (I know that may just not be the most polite thing in the world). But you will see!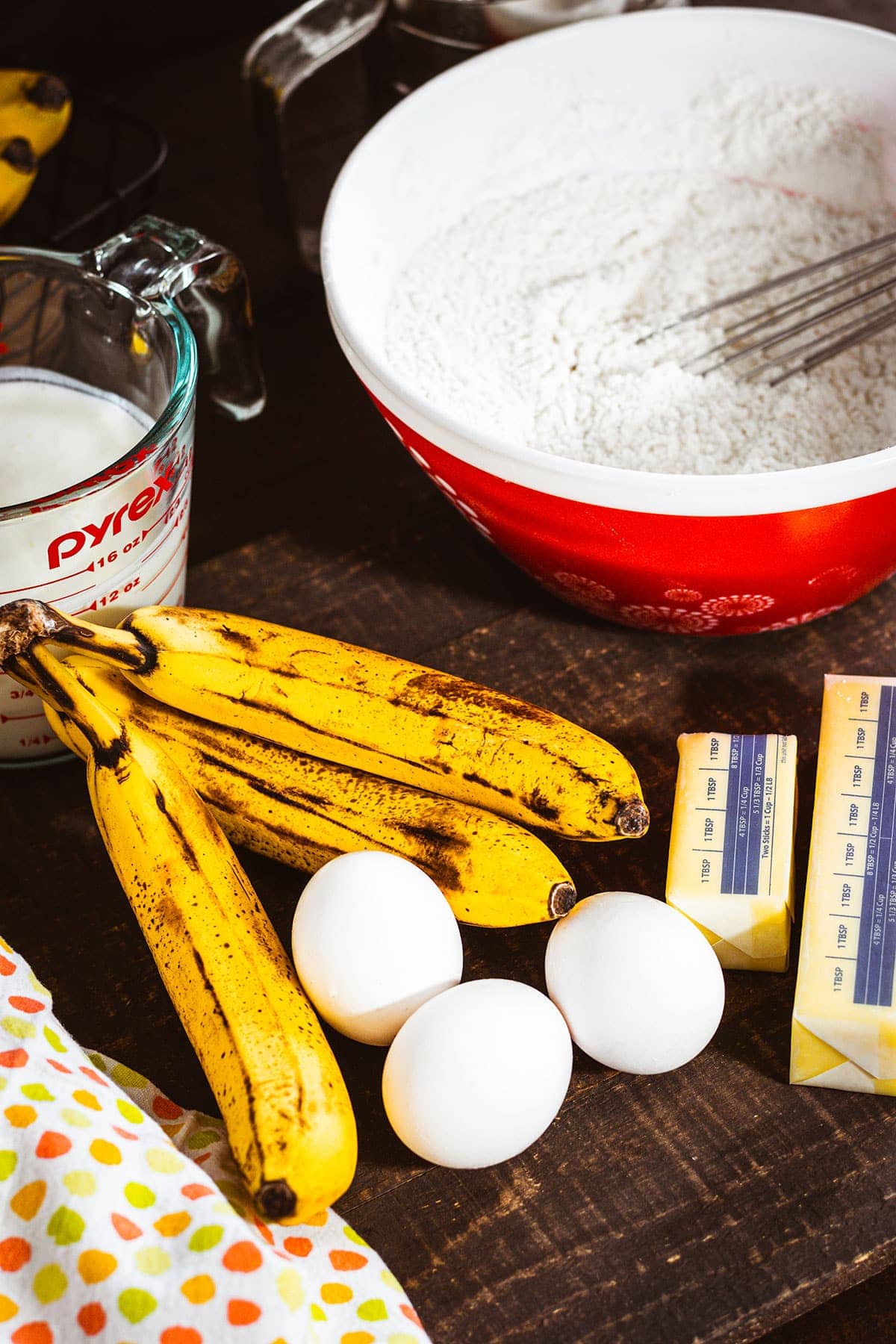 How to make a moist banana cake
The recipe is all about sweet overripe bananas! You want nice spotty bananas like pictured above. Now if you have bananas that are more on the green side, don't fear here's directions on How to Ripen Bananas Quickly so you don't have to wait! But sweet bananas are key to the cake!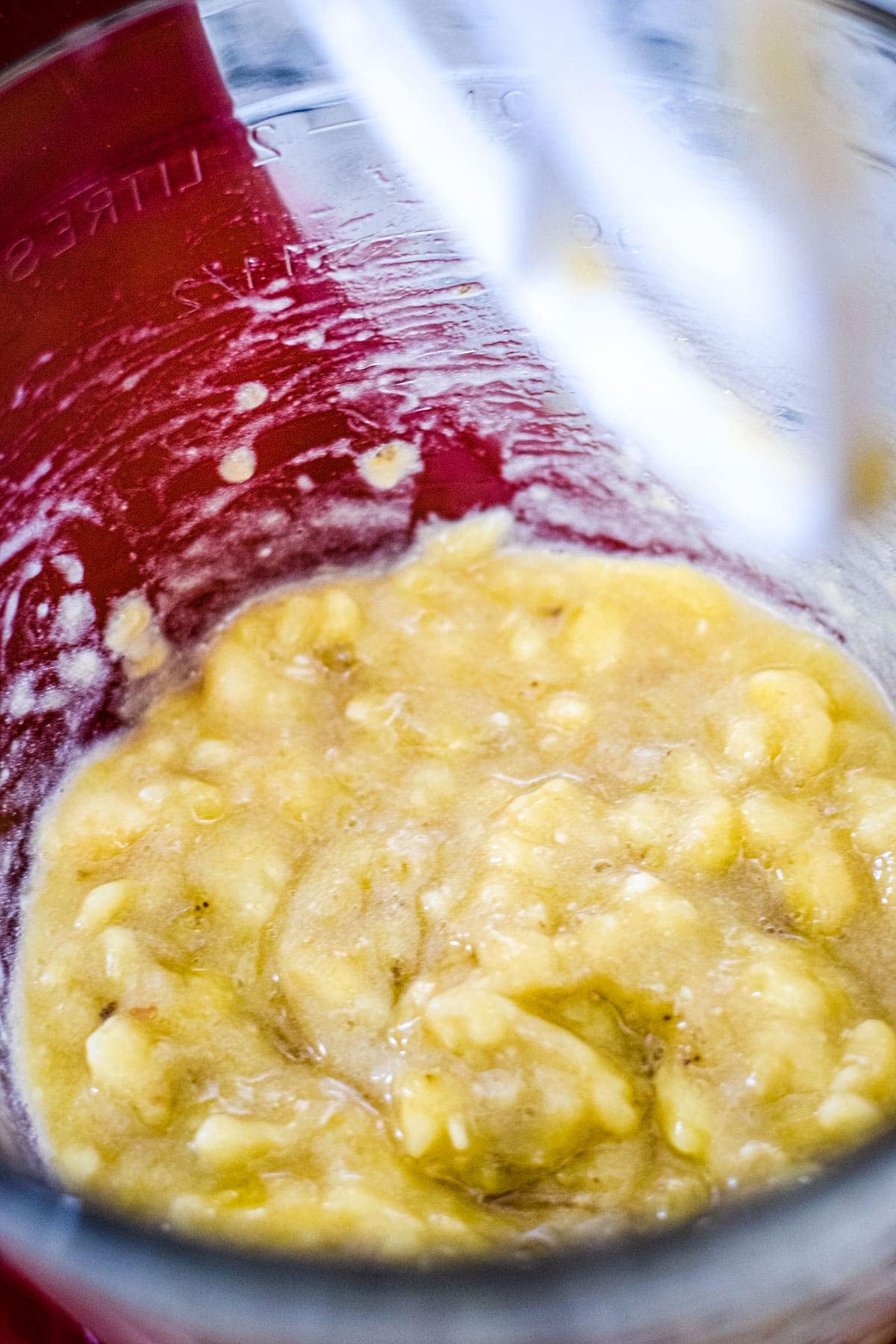 Mash Bananas - I usually just use my stand mixer. Give it a whirl a time or two and they are just the right consistency. You can also use a hand mixer or mash with a fork. If they are nice and ripe, they mash up so easily.
Start Creaming the butter - Make sure to start with room temperature butter. You will get a nice creamy and perfect texture.
Add in Sugars - I love the combination of brown and granulated white sugar. Brown sugar just compliments bananas with its rich caramel flavors and the white sugar adds the right amount of sweetness.
Batter - the batter is simple with flour, baking soda and powder. I pour them all in my sifter and run them through to combine and get any lumps out for a nice smooth batter.
Buttermilk - this is magical stuff! The acidity and moisture it adds to the mix puts the cake over the top! A banana cake recipe with buttermilk is the only kind you will ever want to make. And I usually keep buttermilk on hand, but if you don't have it just add a tablespoon of vinegar or lemon juice to a measuring cup and then pour whole milk in up to the 1 and ½ cup line. Give a stir and let it sit for 5 minutes and you have the sour milk you need.
Frosting - Let's get back to this whipped cream cheese frosting. The addition of heavy whipping cream add a lightness and another magical quality to this cake. Its creamy and tangy from the cream cheese. All around amazingness.
Add ins for the cake
If you like cinnamon pour in ½ teaspoon (or a little more if you really love it) into the batter. It does not overpower the cake and pairs well with the brown sugar and bananas.
You can also add nuts into the batter maybe ½ cup of chopped walnuts, pecans, or even macadamia nuts would be a nice addition. If you love macadamia nuts try this White Chocolate Macadamia Nut Pound Cake!
Add a splash of rum or rum extract would be nice in the batter and/or in the icing! Go a little wild and give it that bananas foster vibe! YUM!
How to store cake
Cover tightly with plastic wrap or an airtight lid and store in the refrigerator for up to 5 days.
If you want to make ahead and freeze, banana cakes are perfect for freezing! In fact it will help it maintain its moisture. I recommend making the cake, freeze it wrapped in plastic wrap and foil, and make and icing the cake after thawing, if possible.
If you want to freeze leftovers it will work. The icing won't quite be the same texture, but it is worth saving it for another time and is still very delicious. Wrap with plastic wrap and then wrap with a freezer wrap, foil or place in freezer ziplock bag and freeze.
The banana sheet cake freezes well for up to 3 months.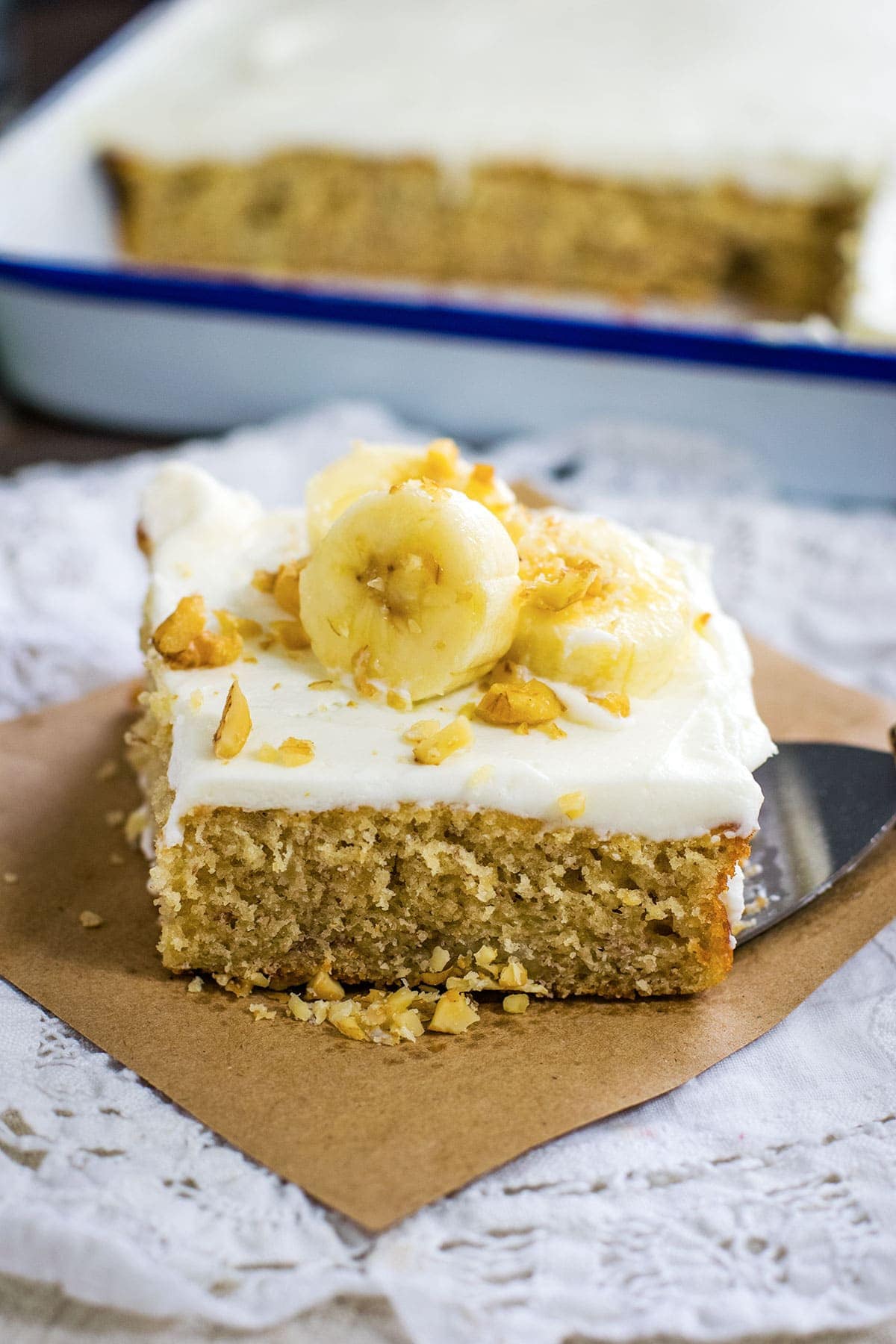 This cake has just the perfect ingredient combination to make the most moist banana cake recipe with buttermilk from scratch! Once you try it you will be a believer!
I love to serve with sliced bananas dipped in lemon juice (to keep them from browning) and some chopped walnuts.
I hope you enjoy this as much as my family does! It's a keeper!
More cake recipes to try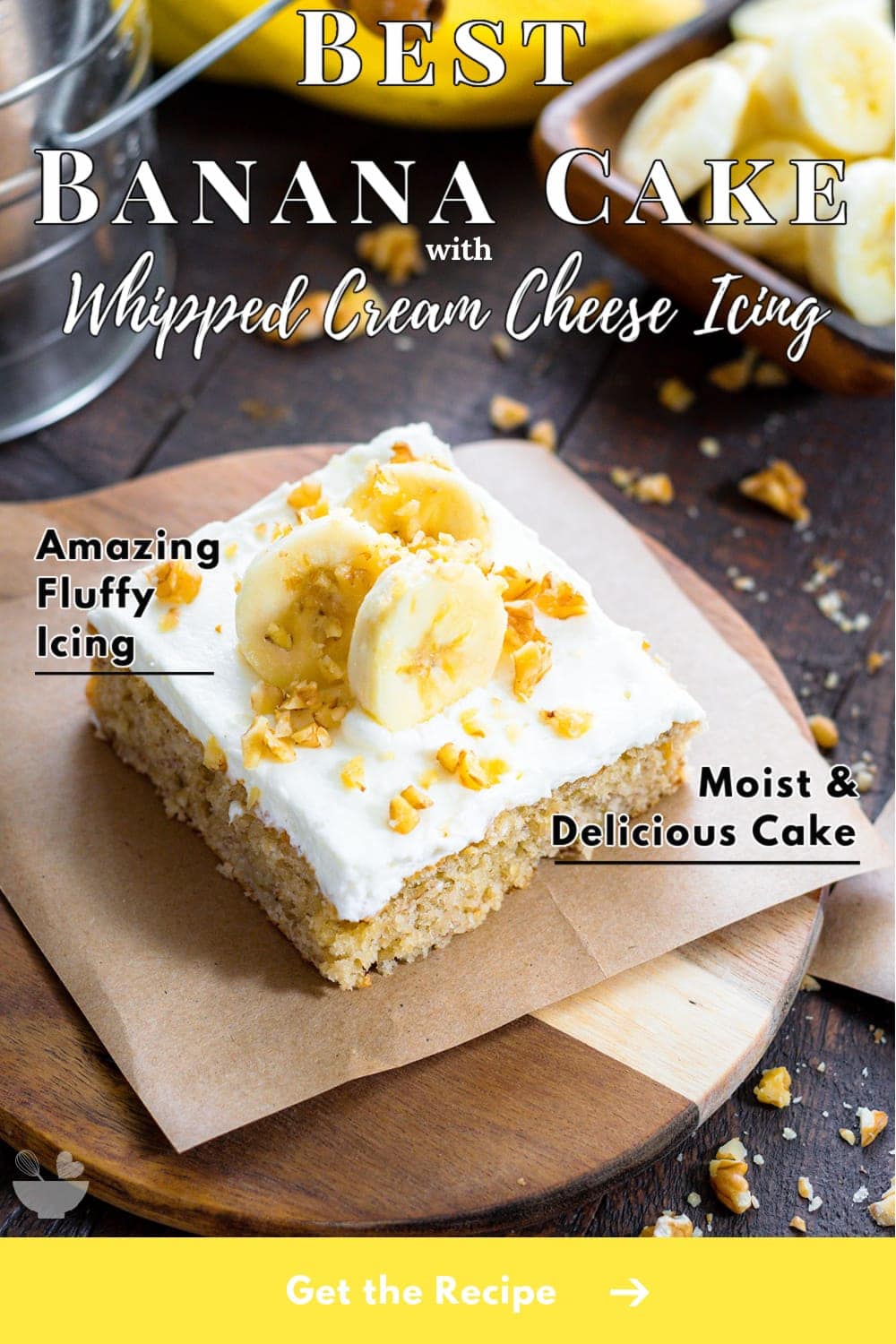 Delicious Dessert Ideas
LOVE SOUTHERN INSPIRED DISHES COME FOLLOW ALONG!
Facebook | Instagram | Pinterest | Twitter
If you share a picture of something you make from our blog, tag it with #SoulfullyMade so we can see it. We might feature it on Instagram!
If you loved this recipe please make sure to give it 5 Stars!