Lemon Pudding Poke Cake is delightfully light and refreshing! Made easy by starting with a box cake mix, adding creamy pudding, and topping with homemade whipped cream icing filled with lemon Oreo cookies. This is a lemon lover's dream!
It's the perfect cake for your special occasion, Mother's day gathering, a spring or summer BBQ, potluck, or just because you love cake!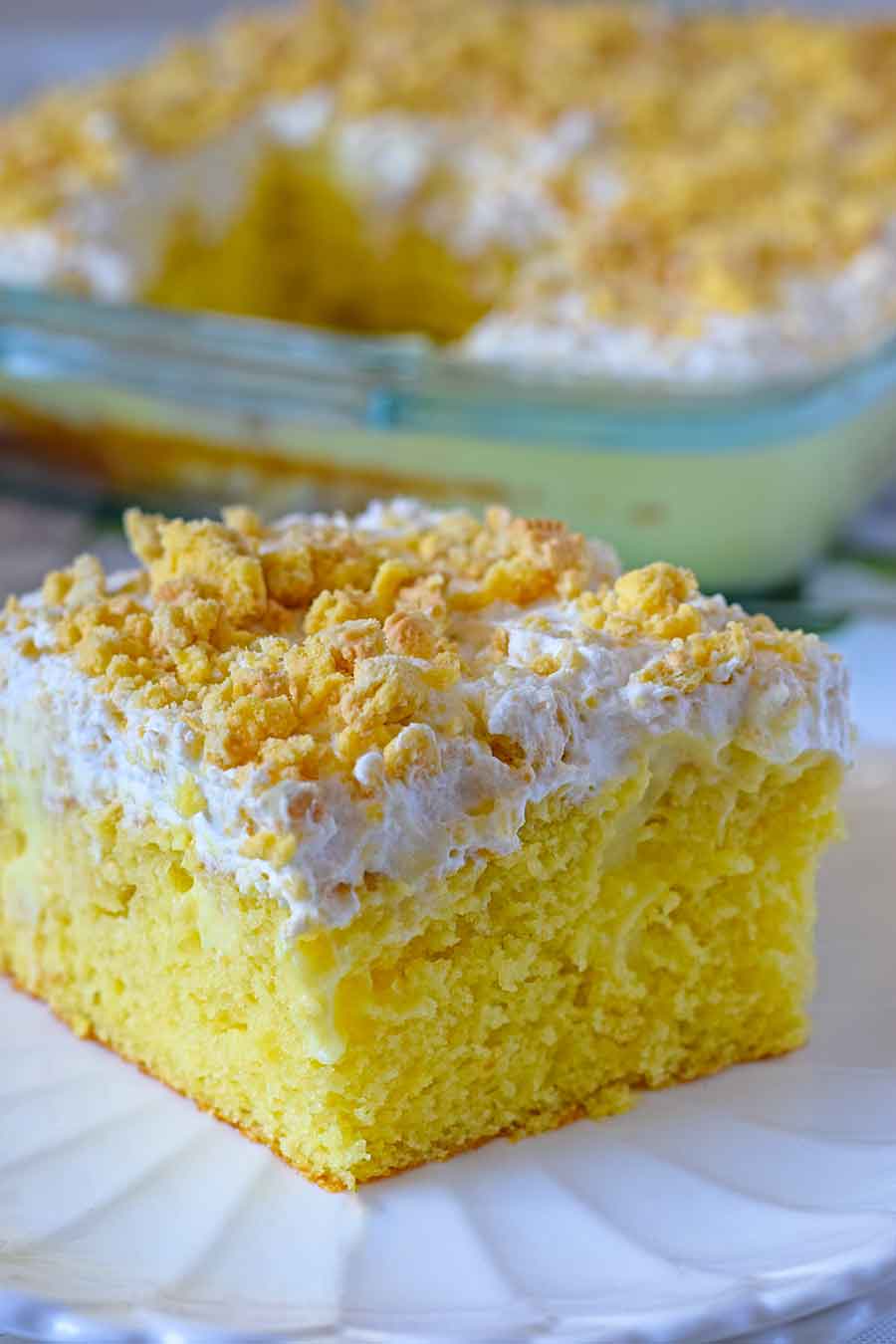 Why you'll love this recipe
Easy Recipe: By using a cake mix this recipe is semi-homemade and a cinch to make.
Delicious: The cake is super moist and delicious! It has a creamy topping with bits a crunch that you will go crazy over!
Crowd pleaser: I haven't served this to anyone that hasn't fallen in love with it! Lemon lovers go crazy over this one!
What is a Lemon Poke Cake?
Poke cakes are typically made in a 9 x 13 baking dish and most often made with a cake mix. While the cake is warm or in this case slightly cooled. You poke holes into the cake to allow one of these glorious "things" to make that cake moist and delicious!
sweetened condensed milk
a gelatin or jello mixture
or in this case a pudding mixture
I almost get giddy when I think about this cake. I don't know about you, but I am one of those lemon lover's I speak of!
This dessert packs an ever so slight punch of pucker power, while it is light, fluffy with beautiful bits of crunch on top! Hear those ANGELS SINGING HEAVENLY TUNES? I DO!
Because of all these things - Lemon Poke Cakes are the perfect dessert for spring and summer! Something Cool and Refreshing is just what you need on a warm day!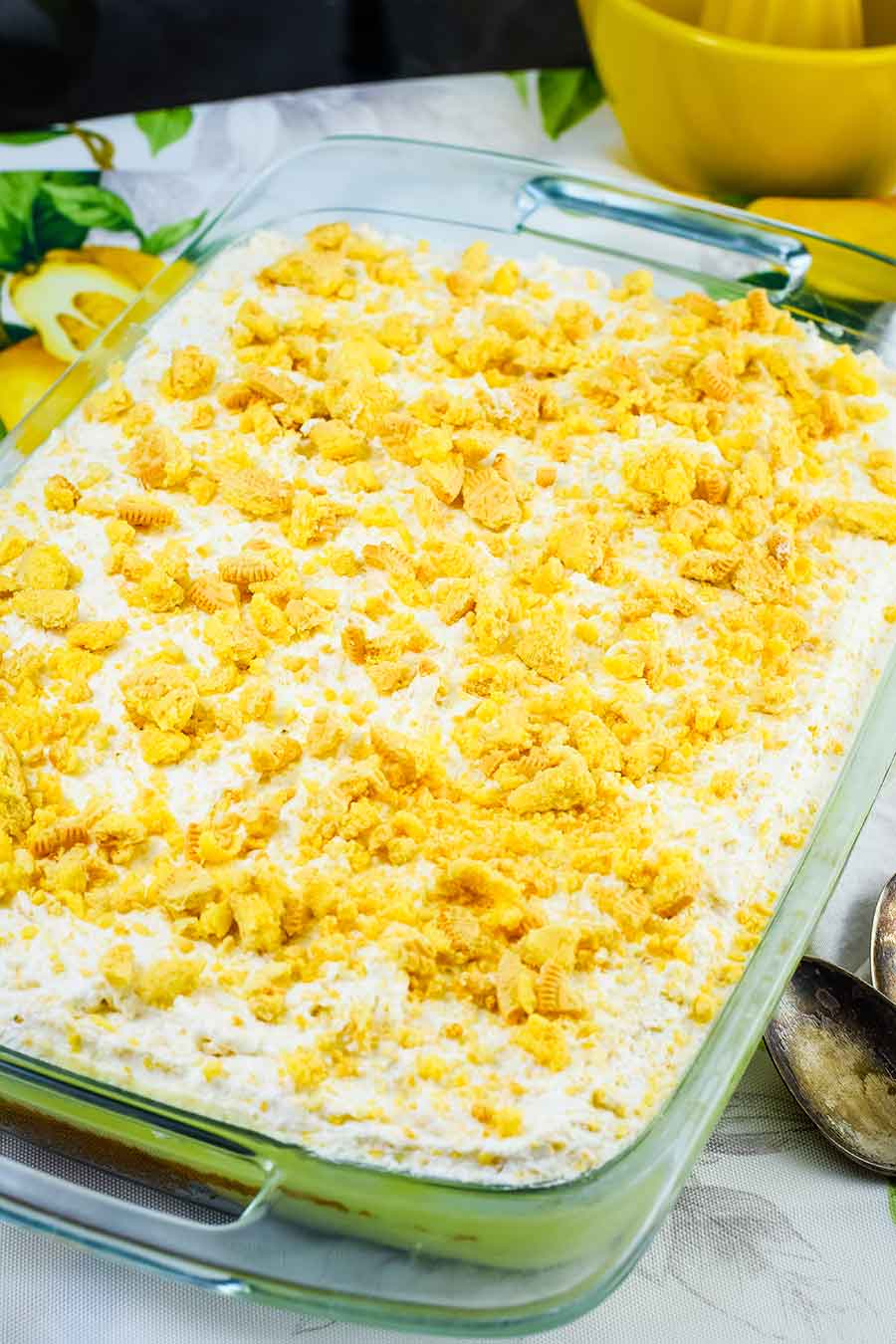 Ingredients
1 box lemon cake and ingredients required on the box (eggs, water, oil)
1 small instant lemon pudding mix
milk
heavy cream
powdered sugar
vanilla extract
lemon Oreo cookies or lemon sandwich cookies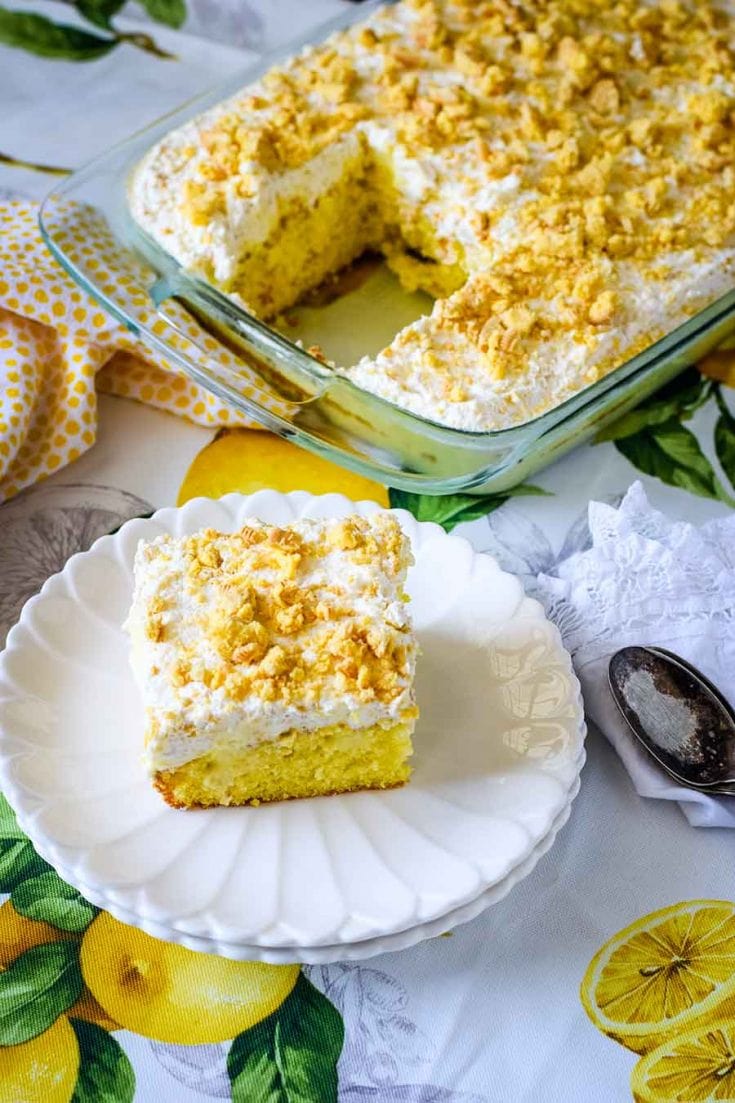 Simple Steps to Making Lemon Pudding Poke Cake
Step 1. | Prepare and bake the lemon cake mix according to box instructions. I prefer buying a cake mix with pudding in the mix and it usually requires eggs, vegetable oil, and water. Any cake mix that will fit in a 9 x 13 dish will work. You can also use a white or yellow mix in a pinch.
Step 2. Remove from oven when done and poke holes with the handle of a wooden spoon or a straw. Let cake cool slightly or almost cooled.
Step 3. Beat together the pudding mix and milk with whisk attachment or electric hand mixer for 2 minutes.
Step 4. Pour lemon pudding over cooled cake, making sure the pudding gets into the holes.
TIP: At this point you can refrigerate like this and prepare topping later or you may make the topping and refrigerate completely prepared. If I am serving the next day, I will prepare the topping before serving so that the cookies still have a little crunch. It is delicious either way.
Step 5. With stand or hand mixer, beat heavy cream, powdered sugar, and vanilla until medium peaks form.
TIP: Medium Peaks are somewhere between soft and firm or stiff. They will hold up but slightly curl at the top. It really isn't a precise science when it comes to this one. If you beat them to the firm stage it will still be good. The middle of the road holds up well but is still silky and smooth.
Step 6. Crush lemon Oreo cookies in a blender, food processor, or place in a Ziplock bag and crush with a rolling pin or can food item (anything heavy with work). Keep a few crumbs out to top if you like. Then fold the rest into the whipped cream.
Step 7. Spread the whipped cream on top of cake.
Step 8. Refrigerate for 1 hour or until serving.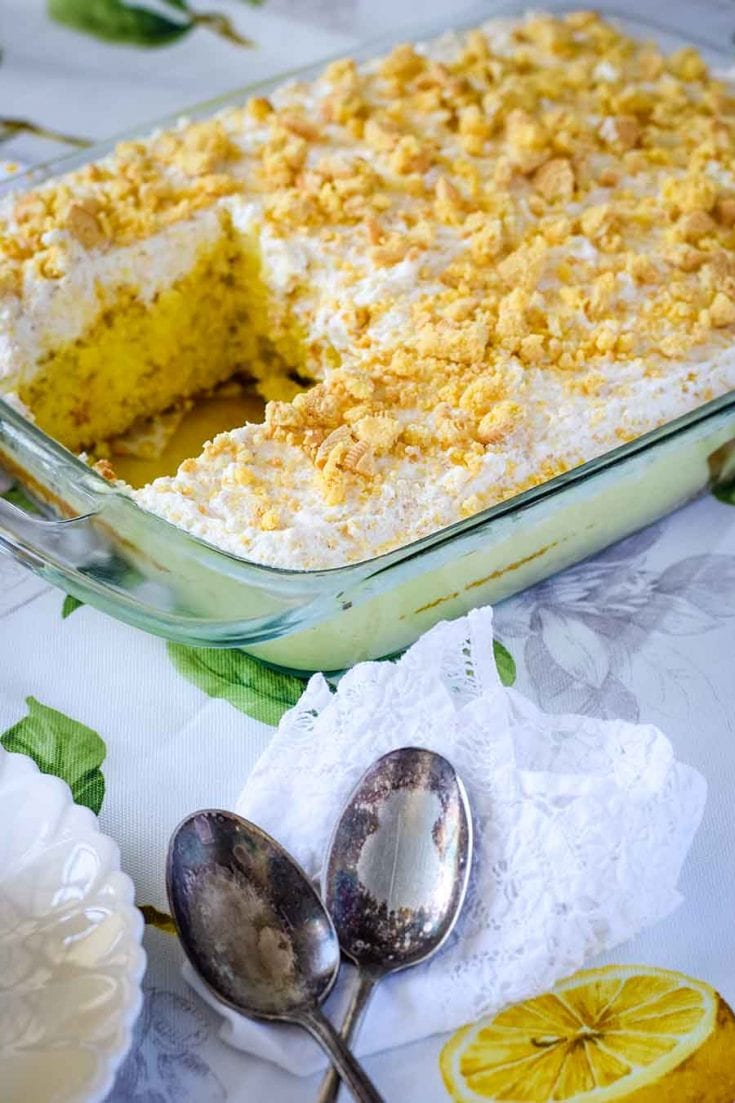 4 Delicious Poke Cake Recipes