This Easy Carrot Cake starts with a doctored up cake mix and is topped with light and fluffy carrot cake Oreo whipped cream icing. It's a little step away from the traditional cake with cream cheese icing, but is pure delight on a plate. I promise you are going to love this version!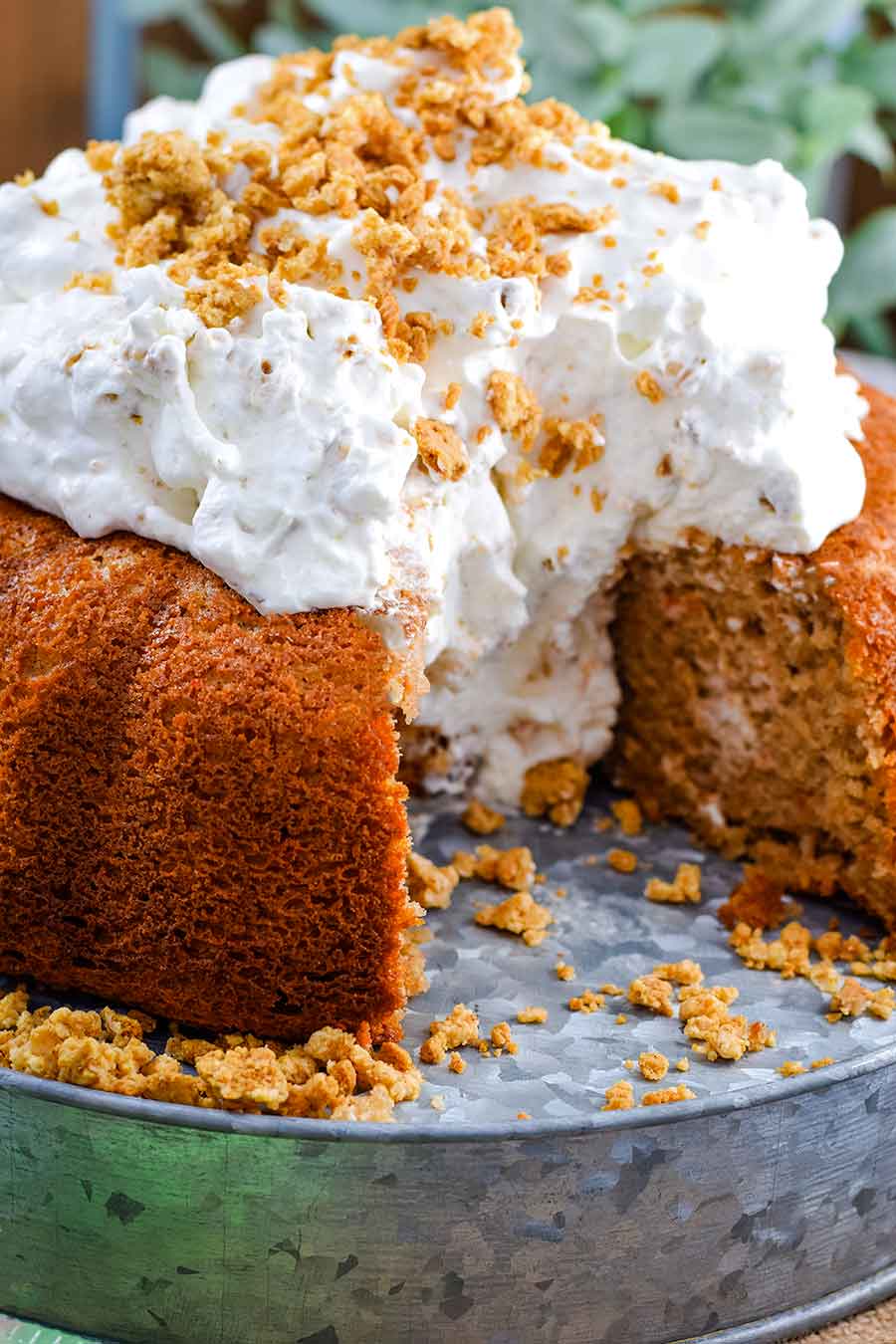 Traditional Carrot Cake is always a favorite amongst my family, however this year I was taking along a few desserts to our Easter family gathering and I wanted to switch it up a bit. My family requests my Chocolate Cake with Oreo Whipped Icing often, so that got me to thinking on this recipe and how I could adapt it.
Not to mention those carrot cake Oreos that kept calling my name when I passed them on the cookie aisle at the store. I have to admit they were in my pantry just waiting on this recipe.
This cake takes a box cake mix adds in a few decadent ingredients and you are left with something moist, light, and all around awesome.
And you have to remember carrot cake is NOT just for Easter. It's perfect for nearly any occasion .
What Ingredients Make this Easy Doctored up Carrot Cake From a Box so Amazing
Carrot Cake
Cheesecake Instant Pudding Mix
Vegetable or Canola Oil
Sour Cream
Milk
Eggs
Carrot Cake Oreos
Heavy Cream
Powdered Sugar
Vanilla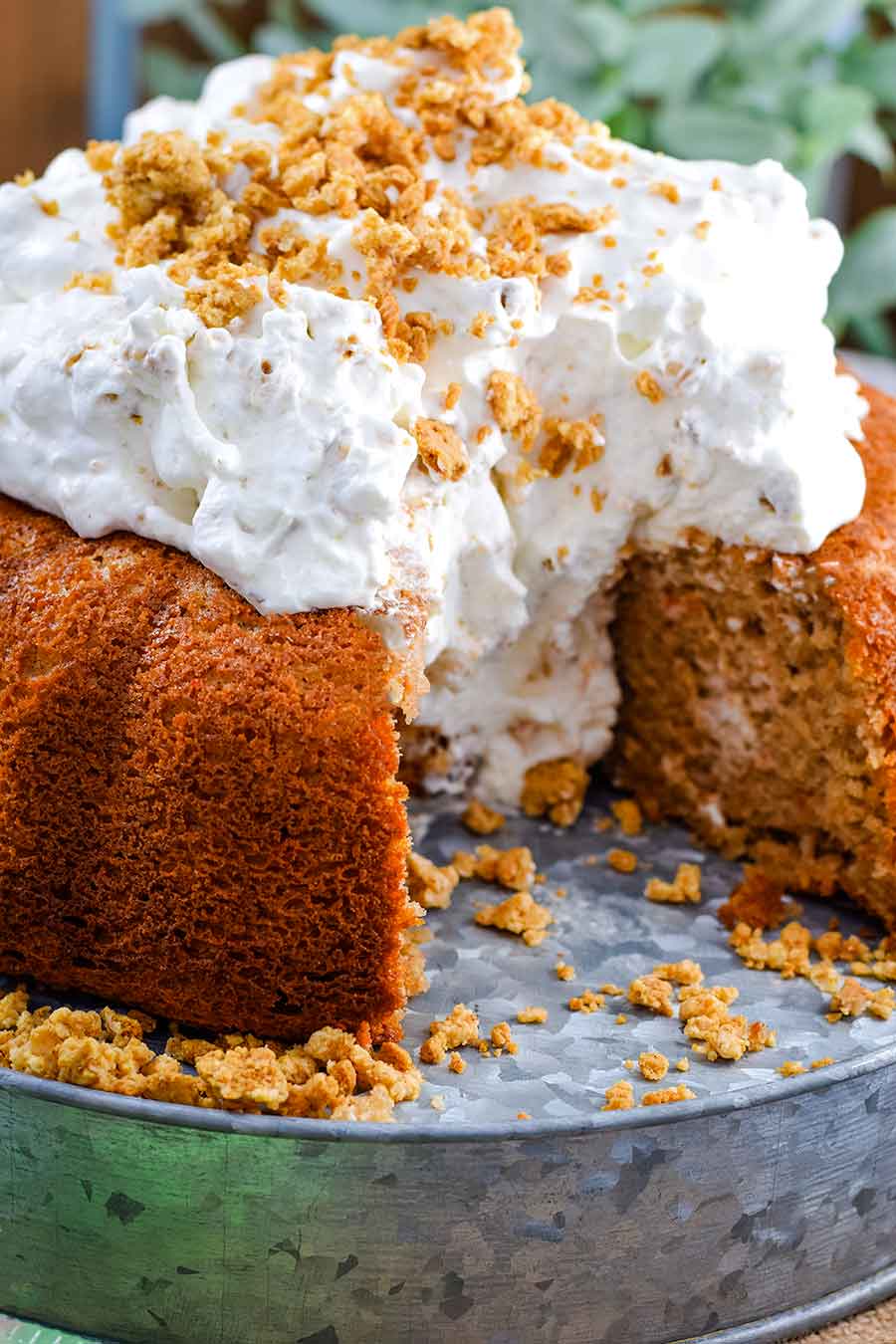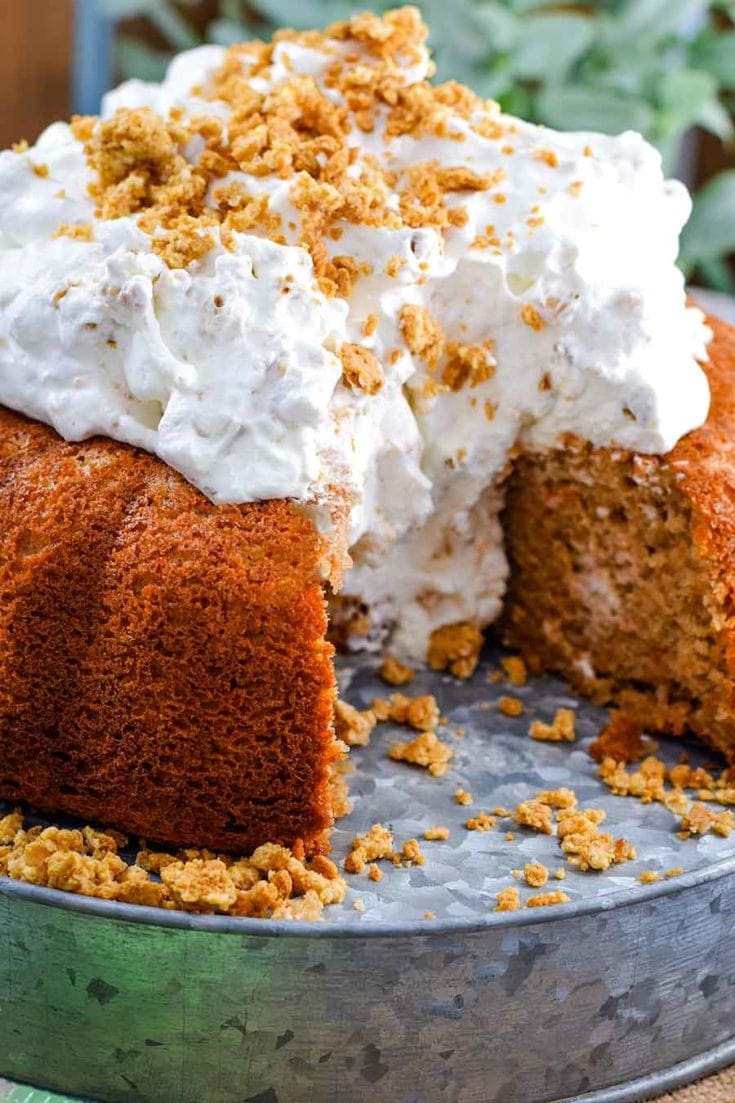 How to make Carrot Cake with Carrot Cake Oreo Whipped Cream Icing
Step 1. Blend together 1 carrot cake mix, 1 small box of instant cheesecake pudding, 1 cup of vegetable oil, 1 cup of sour cream, ½ cup of milk, 4 eggs and 1 teaspoon of vanilla.
Step 2. Pour evenly into 2 - 9 inch round greased cake pans or a bundt cake pan.
Step 3. Bake at at 350 degrees for glass or metal pans and 325 degrees for dark or coated pans - in 9 inch pans for 24 to 34 minutes or 39 to 50 minutes in bundt pan. Please check as ovens vary and I have found this to change each time I cook! Let cool in pan for 10 to 15 minutes and then turn over onto baking rack to finish cooling completely.
Step 4. For the icing pulse 1 sleeve of Oreo (12) cookies until they are pretty fine. If you do not have a food processor or blender put in a ziplock bag and beat with a can or rolling pin! Then beat heavy whipping cream with powdered sugar and a teaspoon of vanilla with a mixer. Whip until medium to stiff peaks form. Then fold in crushed cookies.
Step 5. Ice cooled cake and serve!
This cake must be stored in the refrigerator because of the whipped cream icing! It stores well for 3 to 4 days.
Please Pin to Save for Later and Share with Friends

I'd love it if you enjoy this recipe if you'd comment and rate the recipe in the recipe card. ⭐️⭐️⭐️⭐️⭐️
Hashtag any recipes you make from Soulfully Made #soulfullymade or tag me @soulfullymade_ on Instagram to be featured on our stories!
Five Desserts You Must Try
Easy Carrot Cake with Carrot Cake Oreo Whipped Cream Icing