Dreamy buttery cake drenched with pineapple juice and sweetened creamy coconut topped with whipped cream and coconut flakes make up this delightfully light and fluffy Pina Colada Poke Cake. A slice of this pineapple coconut cake and you will be transported to a tropical paradise.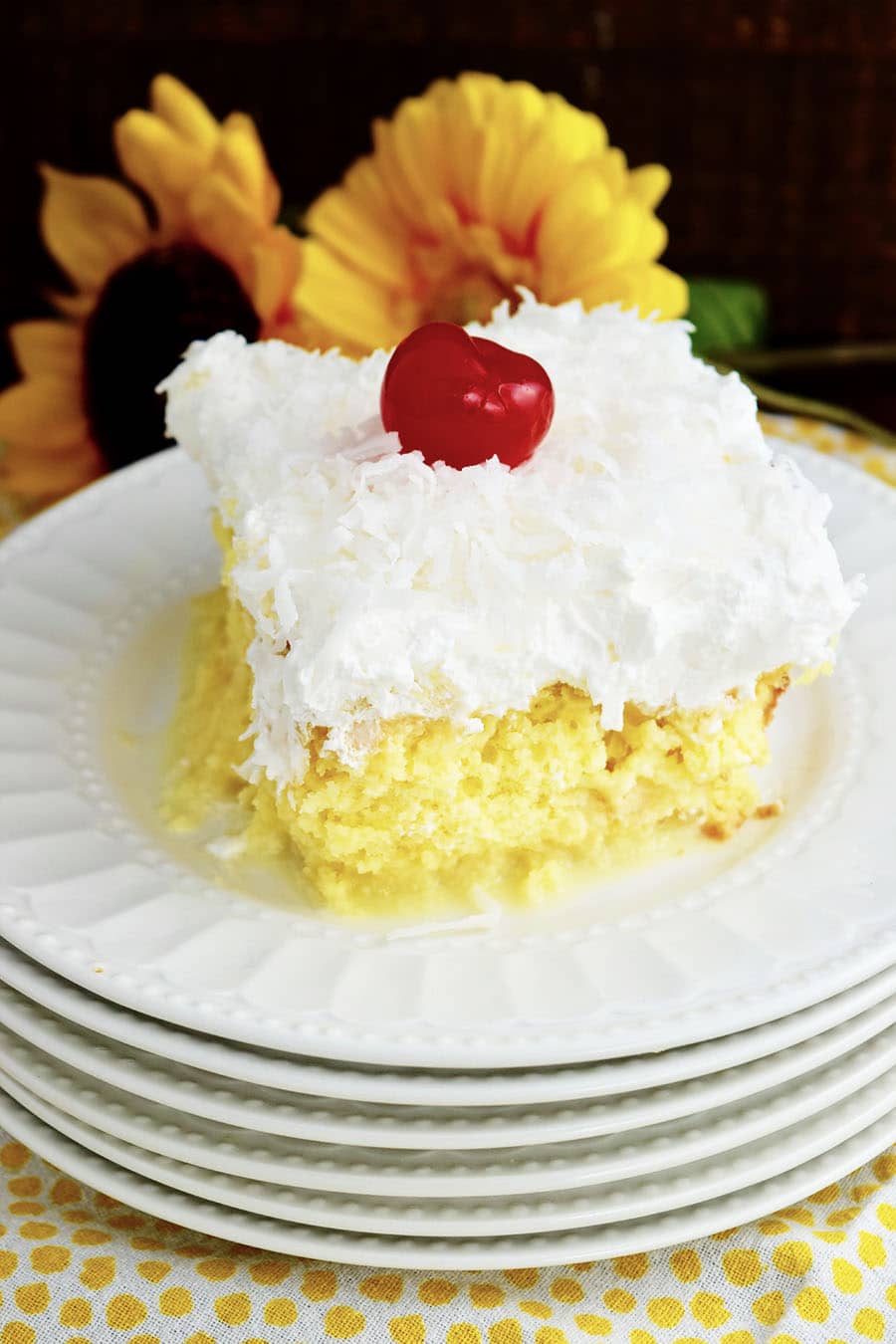 Spring is here, and it has me dreaming of all things pineapple, including floating in the pool with a fruity drink (with a little umbrella of course) on my pineapple raft! Or even better being by the ocean with a cool breeze, a fabulous read, and a fruity drink! And with a slice of this heavenly pineapple coconut cake!
But for now, I am knee deep in senior prom festivities and graduation planning for my most wonderful son. I cannot even begin to fathom that I am at this stage in life already (my last child graduating from high school). I mean I can still remember roaming the halls of my high school, which both of my children also attended. It's amazing each time I walk into the school it's a bit nostalgic. I can remember the activities, laughter, and all the fun we had so vividly.
This past weekend my son celebrated his last high school prom. WOW, if that doesn't bring tears to my eyes. He was so absolutely handsome if I do say so myself. He has grown into such a kind, sweet, and wonderful Christian young man. I really could not be prouder. Not because he is so handsome, but he is gentle, kind, and loves the Lord, his family and friends. And he has picked the most amazingly unique, funny, fun, God loving friends. Sorry for the bragging here, but then again isn't that what momma is supposed to do!
See this amazing bunch of kiddos! ↓↓↓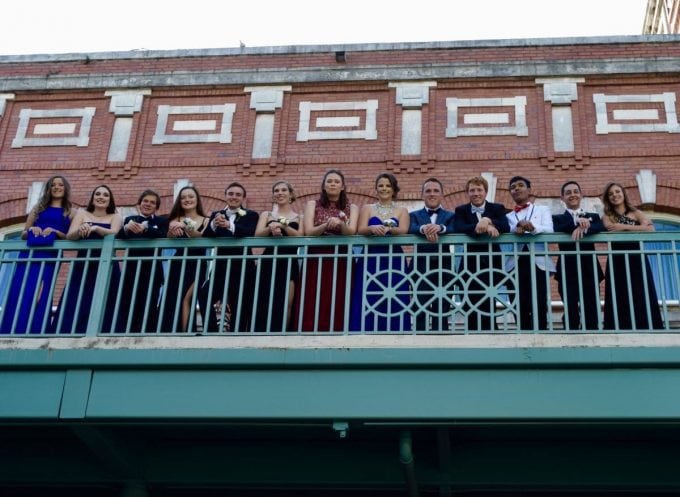 This group of kids, also loves to come to hang out at our place. Yes, you see me smiling! I am going to pretend it is because they know I will feed them! LOL! They are going to be thrilled I made this cake. I think it may call for a pool party and a slice of Pina Colada Cake!
Cheers to all things pineapple. For now, I am dreaming of beach days and pineapple ways! At least for now I have this delicious pine-apply Pina Colada Poke Cake.
What you need to make Pina Colada Poke Cake
Butter or Yellow Cake Mix
Ingredients to make cake - butter, water, eggs
Cream of Coconut
Sweetened Condensed Milk
Crushed Pineapple
Whipped Topping (Cool Whip)
Coconut Flakes
Marichino Cherries (optional)
How to make this Tropical Pineapple Coconut Cake
First bake the cake according to the box instructions. This usually include preheating the oven to 325 or 350 depending the on the cake pan you use. Pour batter into a 9 x 13 greased pan. I used glass and baked for 30 minutes at 325 degrees. Let the cake cool for 10 minutes.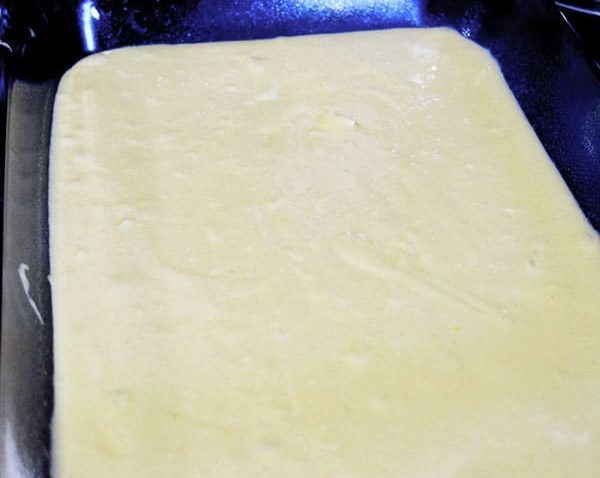 While the cake is baking, drain the pineapple juice from the canned pineapple into a bowl.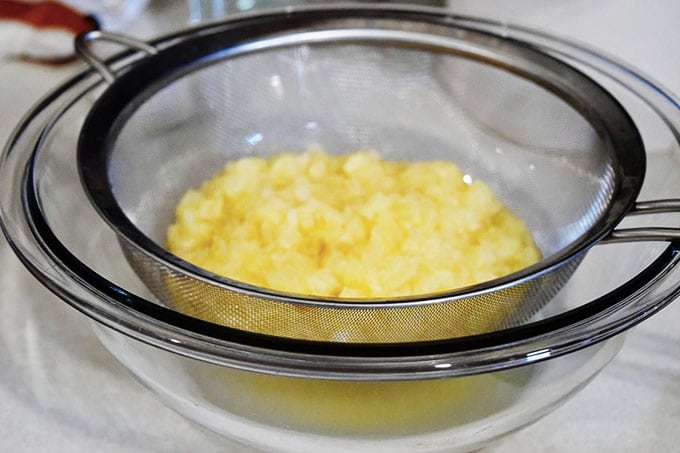 Reserve the pineapple for the cake as well. Mix the juice, sweetened condensed milk, and the cream of coconut (not coconut milk) together.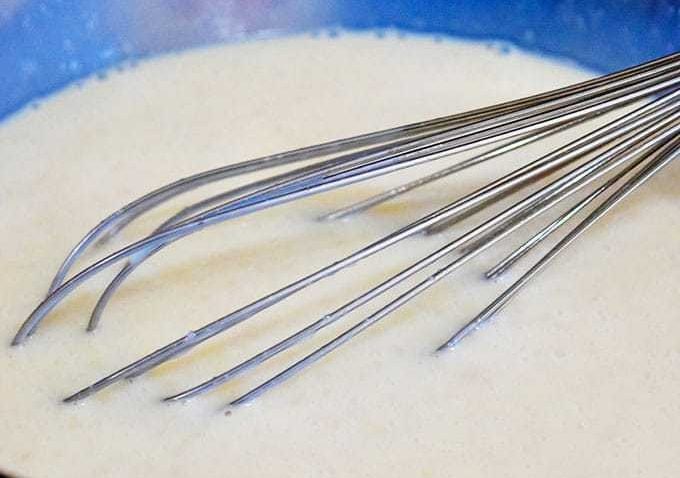 With the top of a wooden spoon or a straw poke holes in the top of the cake. Pour this on top of the cake and let cool completely. I usually wrap it up and stick it in the refrigerator for a couple of hours.
Once cooled, sprinkle pineapple evenly on top of cake.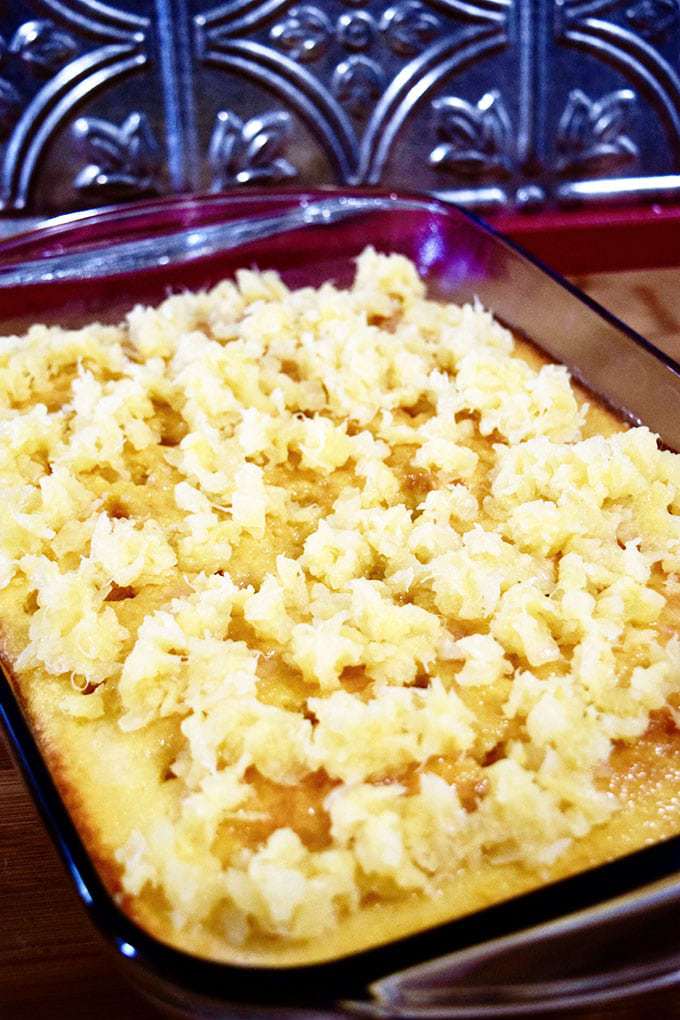 Top with whipped topping and sprinkle coconut flakes on top. Cover and refrigerate until serving. This one is really good the next day. So it is perfect to make ahead the day before! All those flavors soak into the cake! DIVINE!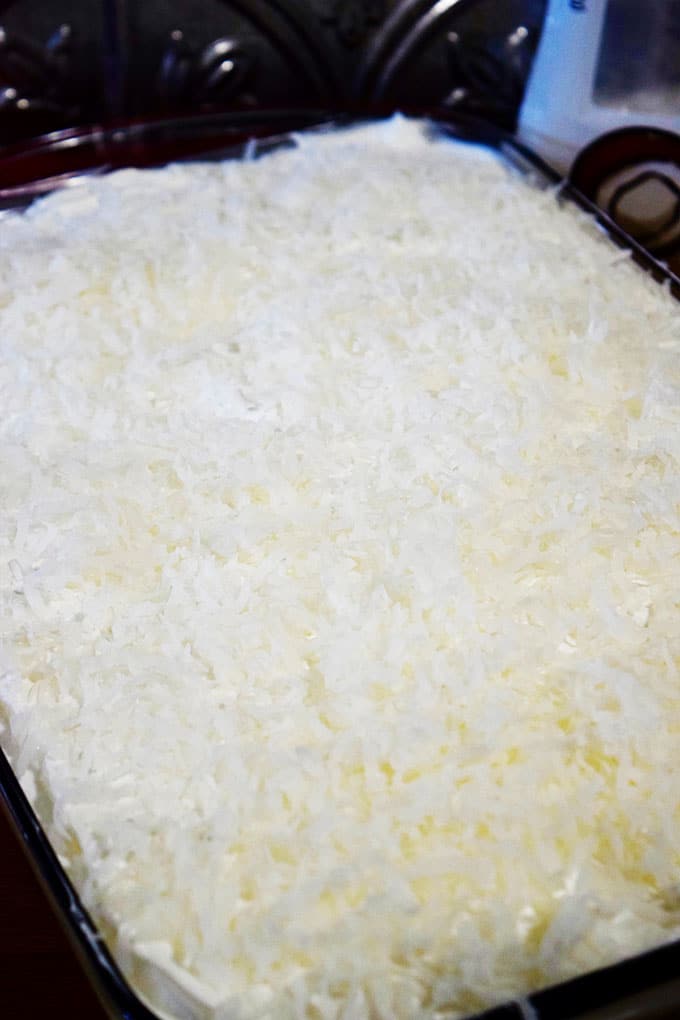 You can garnish with maraschino cherries if desired. It adds a pop of color, if you like that sort of thing 😉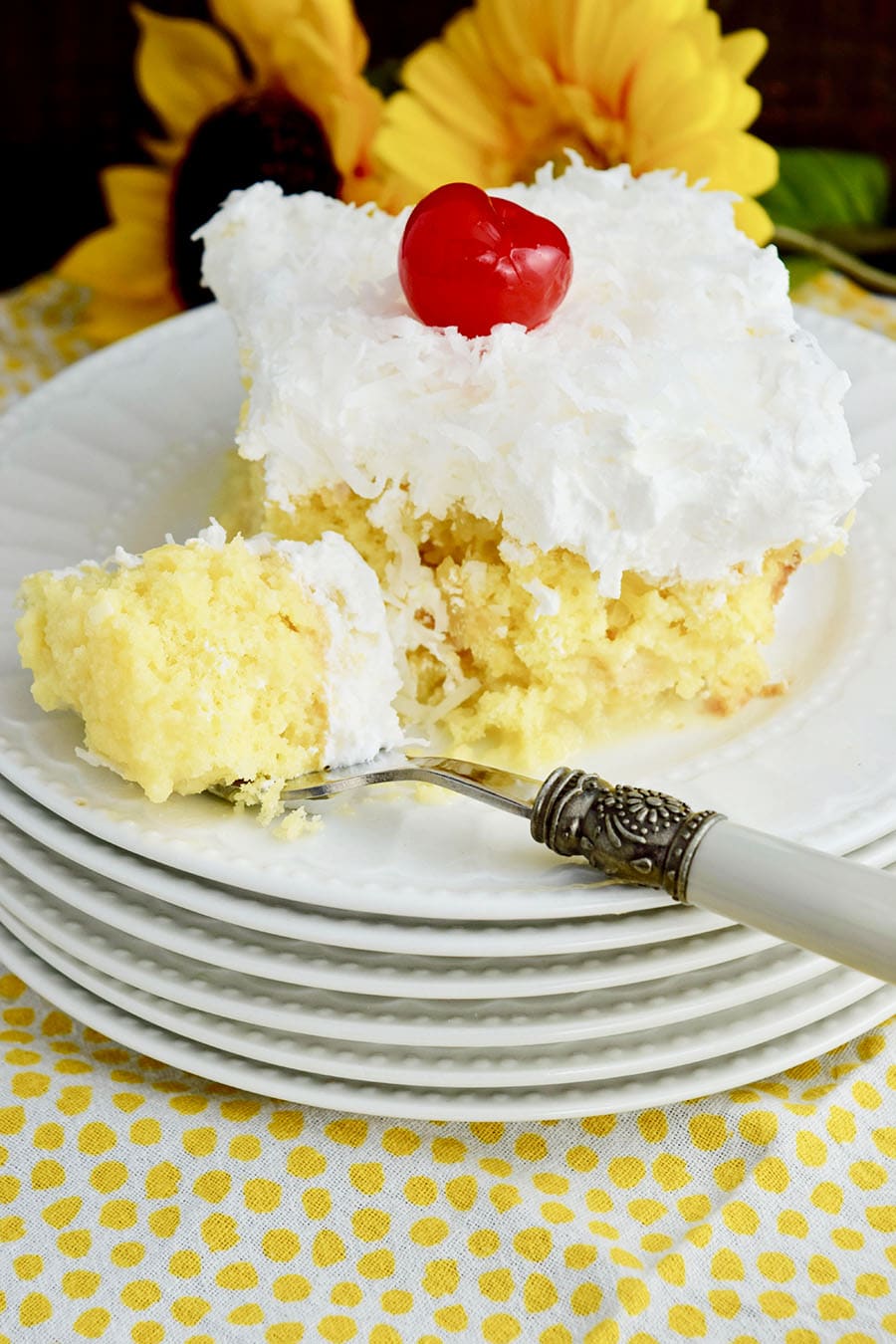 Please Pin - Pina Colada Poke Cake - and Save for Later
Other Recipes you may love
I hope y'all enjoy this slice of PARADISE!!
Much Love,
Nikki
Pina Colada Pole Cake
You can also find this at Weekend Potluck and Meal Plan Monday!