The combination of some staple spices, mixed with olive oil, balsamic vinegar, and honey makes up the Best Grilled Chicken Marinade ever.  This marinade is fantastic on chicken and pork and once tried will be a go to when you light up those BBQ Grills!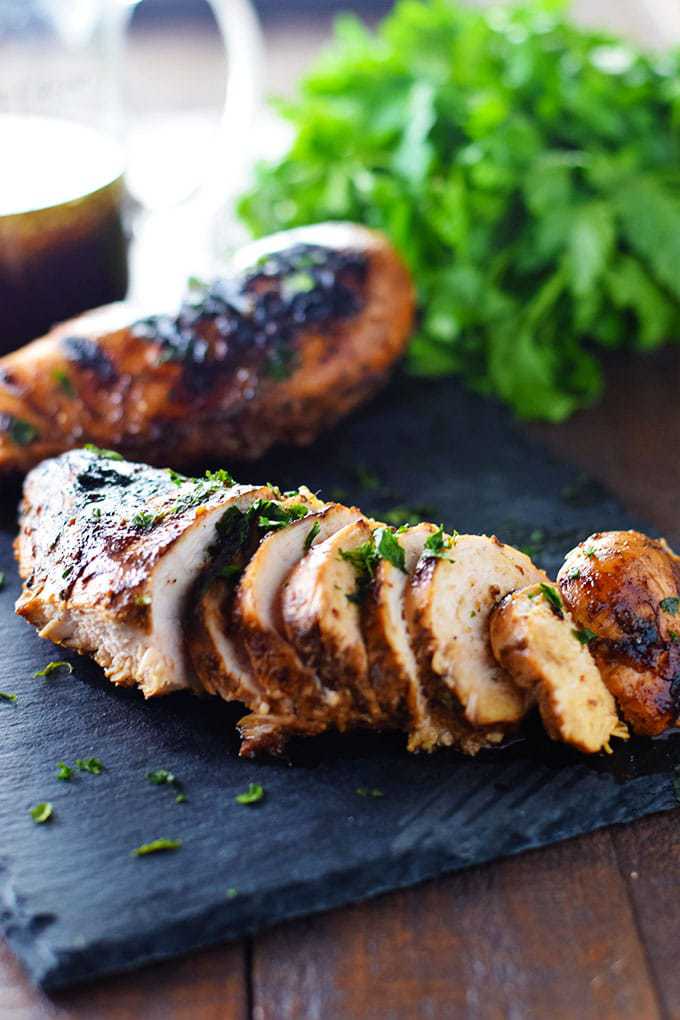 Although this is Florida and we can grill almost year round, there still seems to be more BBQ'in at the start of spring and in summer months! You can just smell the grilling going on in the air! Yes literally, I often walk outside and get a whiff of deliciousness through out our neighborhood. I'm always trying to guess what the neighbors might have cooking up!
Spring Break seems to be the kick off for our GRILLING SEASON! My daughter was home and she has been experiencing lots of cold weather while away for college. I warned her not to go away so far north ;).  It obviously did not work! She packed those bags and flew the coop anyway! And for some reason I was required to help. Just kidding I am so glad she is away living her dream but it only took me a year or so to adjust. Any other parents out there relate?
She did however bring some of the cooler weather home with her. How dare she, I guess it's a good thing that hot tub is powered by gas just like the grill is. They got to soak in bubbly hot water when the evening temps dropped. Too bad spring break isn't now. It's been in the mid 80's all week.
Back to this delicious Grilled Chicken Marinade - it is our go to! And for good reason, it is AMAZING and I would say the BEST EVER Grilled Chicken Marinade.
It only takes about 30 minutes to lock the flavors into the chicken and then its ready to go on the grill.  Even though I typically use this on chicken it is really good on pork as well!
What you need for THE BEST GRILLED CHICKEN MARINADE EVER
chicken breasts
olive oil
balsamic vinegar
Worcestershire sauce
soy sauce
lime
honey
parsley
stone ground Dijon mustard
salt
pepper
garlic powder
This recipe is pretty straight forward and very easy. You know I use that word easy a lot on my blog. But I really like simple dishes with lots of flavor.
How to Make The Best Grilled Chicken Marinade and Grill the Chicken 
Step 1.     Mix all the ingredients in a large bowl with a whisk. Reserve half of the marinade to baste on the chicken while cooking.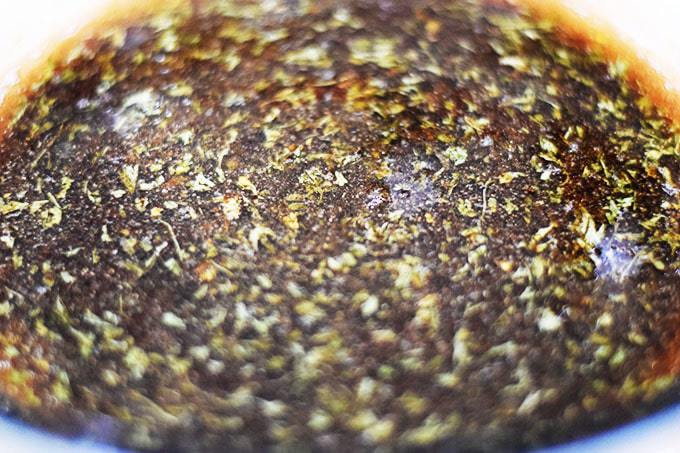 Step 2.   Place Chicken in a large bowl and pour the marinade over the chicken. Move it around and get all that great flavor covering the chicken. Let it marinate for 30 minutes or to overnight (if you marinate over night make sure it goes in the refrigerator).
If ya don't like touching chicken grab those tongs to stir this all up!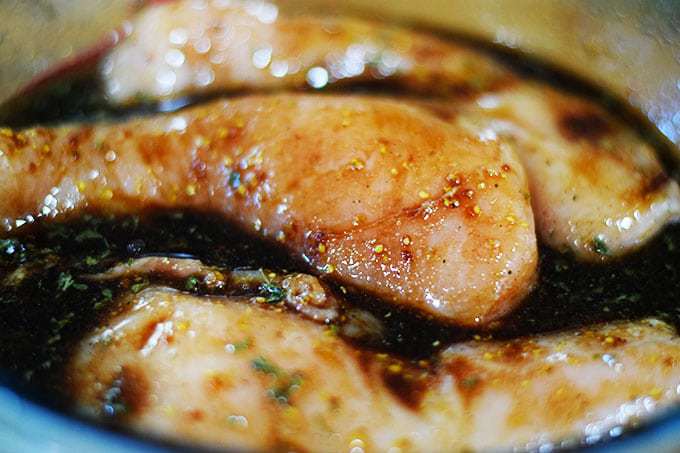 Step 3.     Preheat that grill. Remove the chicken from the marinade and let excess drip off. Don't want flames a ruining all this beautiful chicken.  Grill chicken on each side for 5 to 10 minutes depending on the thickness of the chicken breast.Baste the chicken with remaining marinade while cooking. Cook through until no pink throughout.
Step 4.     Remove from the grill to a plate or platter and cover with foil. Let chicken rest for 5 minutes and then devour!!!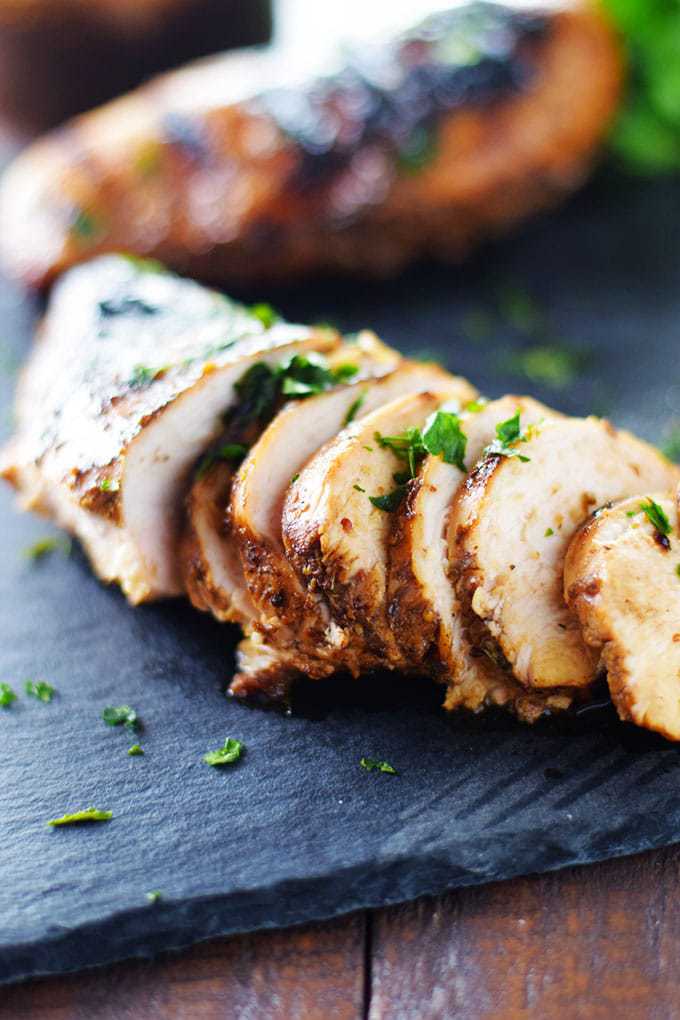 TIP for MEAL PLANNING:  Double the recipe and use the grilled chicken for salads, grilled chicken wraps, or pack to go containers with chicken and a protein that can be quickly heated for lunches for the week.
This is great with a Big Greek Salad, Instant Pot Green Beans, Shelly's Pasta Salad or Cream Mac N Cheese just to name a few!
Items you May want to use for Grilled Chicken
*Soulfully Made is a participant in the Amazon Services LLC Associates Program, an affiliate advertising program. Please note: This post may contain affiliate links to products I use and love. I earn a small commission, at no extra cost to you, to help with blog expenses when you make a purchase through an affiliate link. Thank you for your support!


Recipes you may love to try 
BEST GRILLED CHICKEN MARINADE
Please Pin - Best Grilled Chicken Marinade - for Later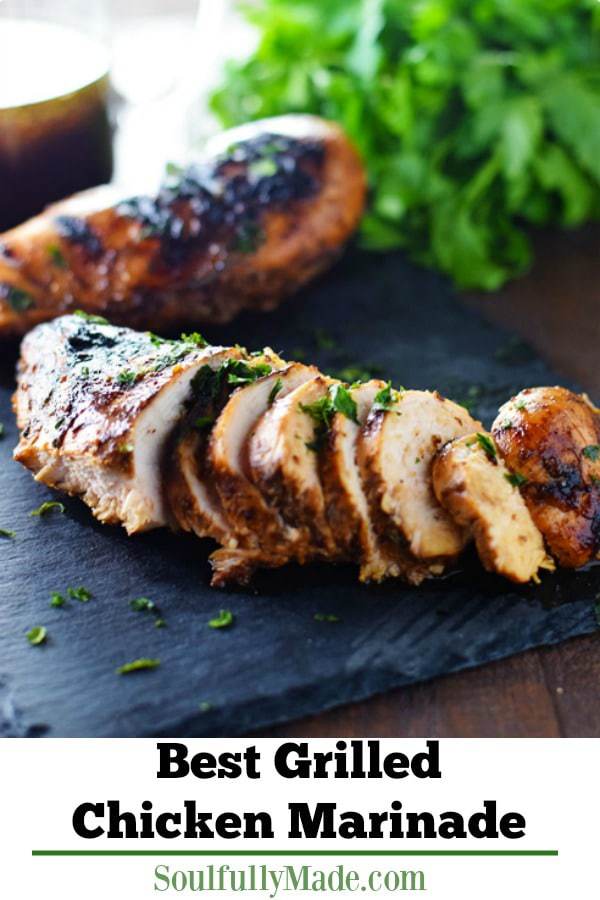 ---
Love Southern Inspired Recipes Come Follow along!
Facebook | Instagram | Pinterest | Twitter | Google +
Get Free Recipes from Soulfully Made delivered right to your inbox!
You can find this over at Weekend Potluck