With only 3 simple ingredients you can make this fresh sweetened homemade whipped cream recipe! Its fluffy creamy texture makes it the perfect topping for cakes, pies, cupcakes, cheesecakes, trifles, jello and many more sweets!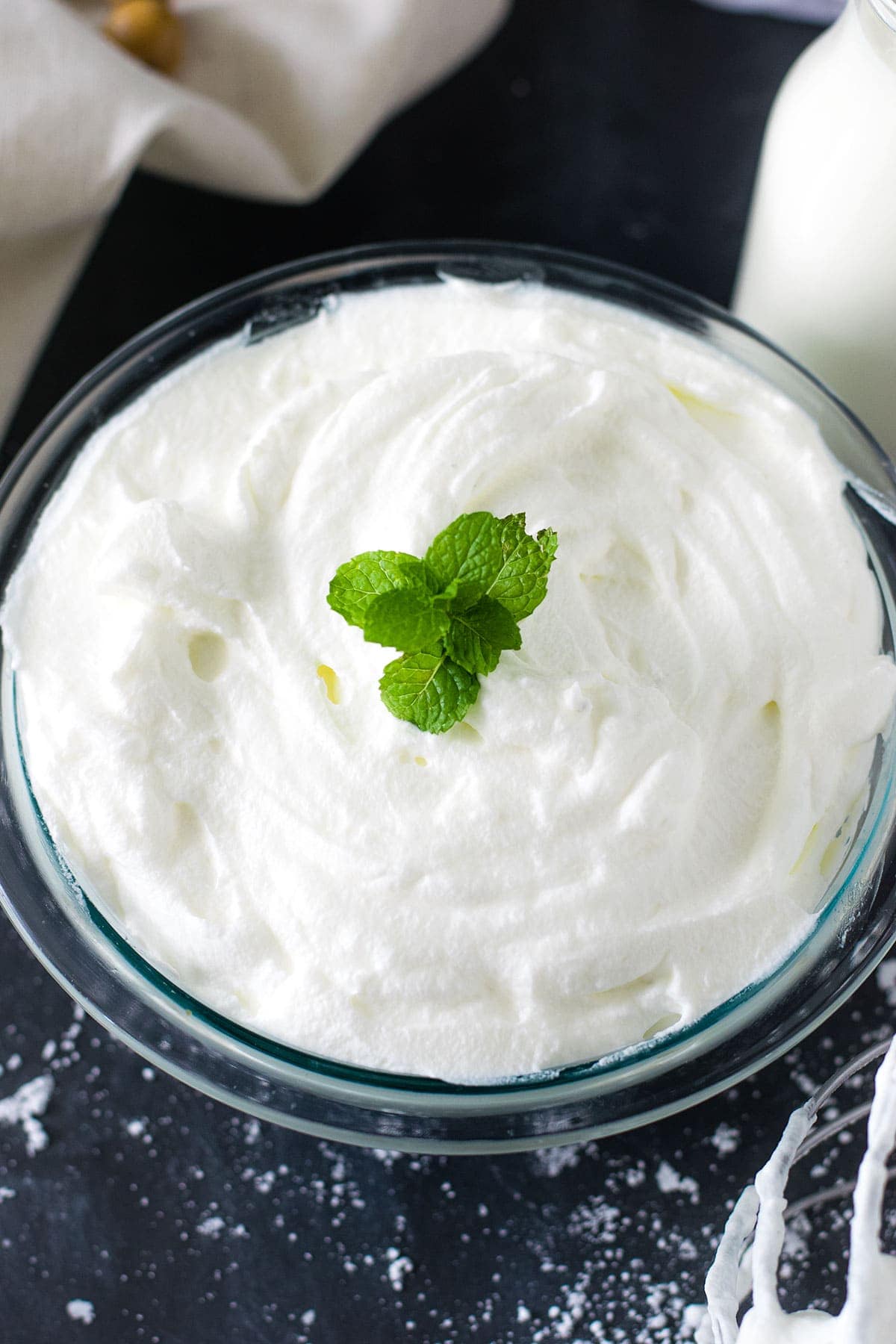 Whipped Cream is one of those things that some people are afraid to tackle! But honestly it is such an easy thing to make. It's the sweet treat my family loves oh so much! I have to admit we all have the hardest time not licking the bowl. And heck why not! It's delicious.
There are options in the grocery store like canned whipped cream or frozen whipped topping and there are times I will use that for convenience in recipes, however this fresh homemade whipped heavy cream recipe is 100 % better in flavor and billowy texture! You just cannot get that with the store bought stuff.
Why not make whipped cream at home, when all you need is 3 ingredients and just a few minutes. The result is creamy, light, cloud like deliciousness!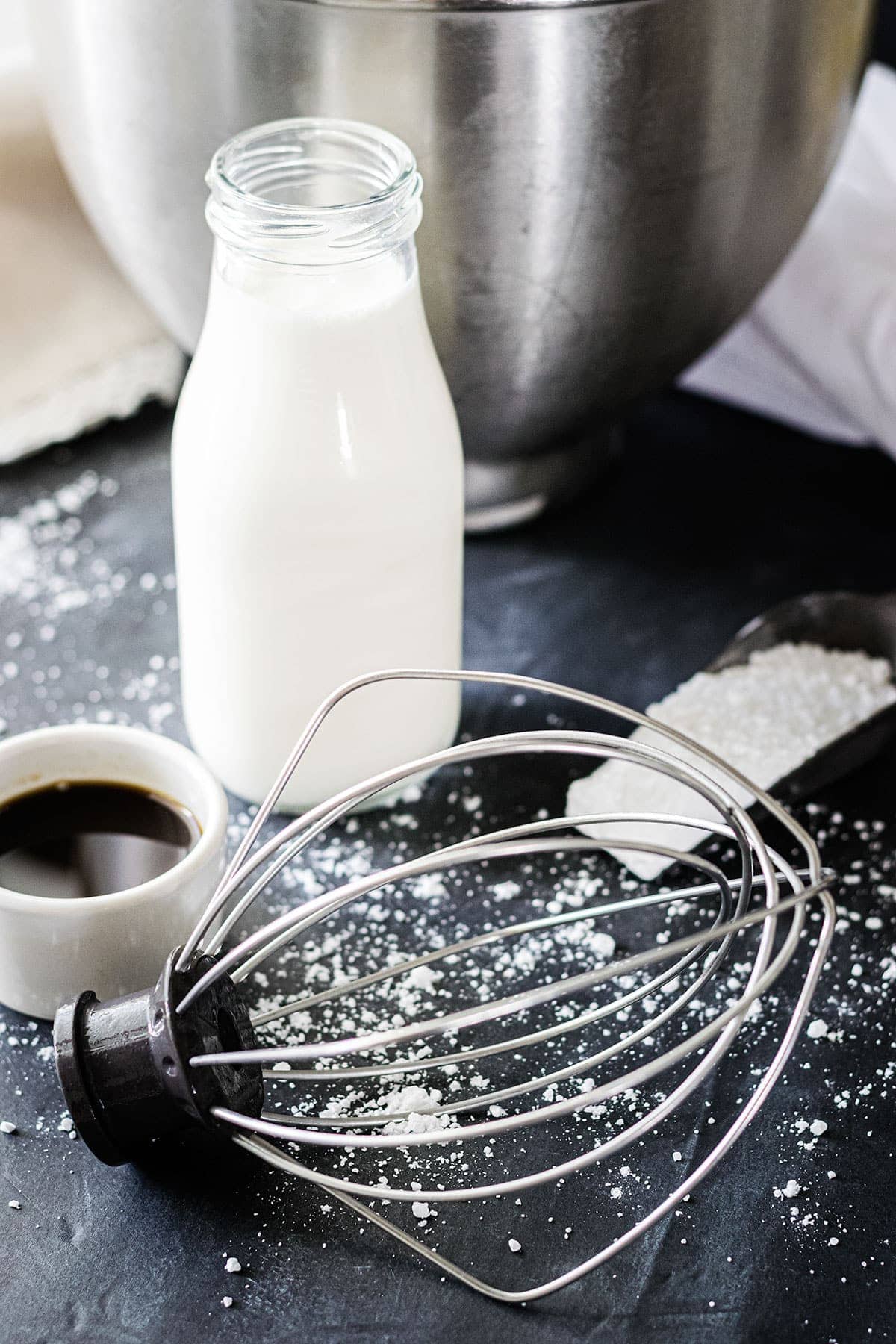 What you need
An electric or stand mixer - a hand held or stand mixer with a whisk attachment are my go to for this recipe. You can do it by hand and I'll share a few tips later, but I find the easiest best results are with these kitchen tools.
A cold mixing bowl - I love to use a metal bowl that I place in the freezer along with my whisk. This helps the process along.
Cold heavy whipping cream or heavy cream.
Powdered or Confectioners Sugar- this sweetens the whipping cream.
Vanilla Extract - this adds flavor. The French call this Crème Chantilly.
How to make whipped cream at home
Start with your cold bowl & whisk: I put them both in the freezer for about 20 minutes.
Make sure your heavy cream is cold: The colder your cream is the better it will whip up. It makes for a lighter and fluffier whipped cream. If it is warm it will not whip up as well.
Whip the heavy cream, sugar, and vanilla on medium-high speed. This has been fool proof for me. If it is too low and the cream is under whipped. On high it can go to over-whipped too easily.
Keep an eye on it: Whipped cream only takes a couple of minutes. It will go from just perfect to over-whipped quickly. It becomes grainy and curdled. You want soft billowy. So don't leave it!
Soft to Medium peaks are perfect:

If you would like a softer cream beat until when lifted a soft peak forms and falls ever so slightly back into the bowl. This is perfect for berries and whipped cream or on shortcake.
Want something to hold up a bit more for your recipe go for a medium peak. You are looking for a slightly sturdy peak, meaning that when you lift up the whisk you will see a peak. It will still have some movement and droop down a bit, just barely staying on the whisk without falling.
Can I make whipped cream by hand?
Yes, you can! Go ahead and work out those arm muscles!
By hand with a balloon whisk: It does take a little time and some effort. Use a nice big bowl to allow room for movement and a balloon whisk. Pour ingredients in a the bowl and make circular motions with your wrist until soft to medium peaks form.
Shake in a Mason Jar: Place the ingredients in a mason jar and shake. Did you ever make butter in a jar as a kid? This is the same theory, but stop once you have the consistency of whipped cream. This is something fun for the kids to do to help in the kitchen.
How to store whipped cream
In a perfect world whipped cream is best when used right away. It gives the best most creamy results.
However, we live in reality and sometimes you need to make it ahead. In this case you can make it and store in an airtight or plastic wrap covered container and place in the refrigerator for 24 hours.
You may also freeze whipped cream. You can also portion or pipe out individual servings and freeze up to 3 months for future use. You could notice a slightly different texture, but it does work and is still delicious. It will need to thaw for 10 or 15 minutes.
Can you replace whipped cream for cool whip?
Yes! Homemade whipped cream is a great more flavorful replacement for cool whip (which is a frozen whipped topping purchased in your local grocery store). Use the same amount your recipe calls for.
How to make flavored whipped cream
Want to try another flavor for a recipe or to top off your strawberry shortcake, switch out the vanilla extract with another flavoring of choice. Other extracts or liquors are perfect to make this change. Just make sure to taste it to see if you need more to get the flavor profile you want.
Some delicious ones to try are: coconut, almond, amaretto, coconut rum, or bourbon. You can even add honey, maple syrup, or about ½ teaspoon of cinnamon. The choices are abundant and delish!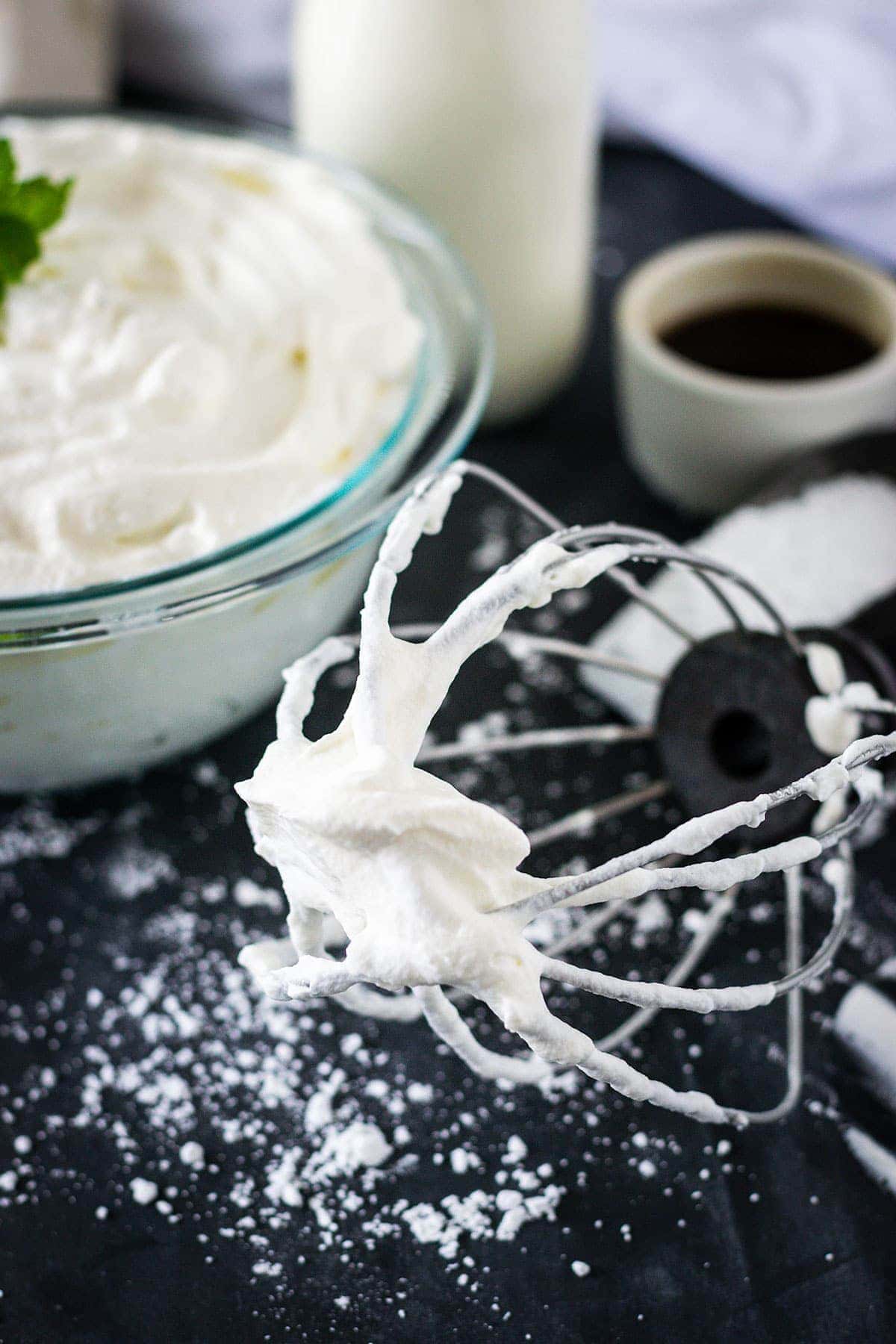 Whichever method or flavor you choose to use, it is always worth it to make the homemade version of whipped cream! Now whip up a batch and enjoy the creamy deliciousness!
Recipes to use homemade whipped cream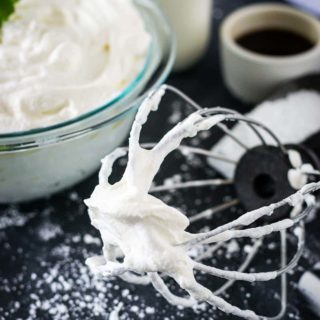 Homemade Whipped Cream Recipe
With only 3 simple ingredients and you can make this fresh sweetened homemade whipped cream recipe! With its fluffy pillowy texture it is the perfect topping for cakes, pies, cupcakes, cheesecakes, trifles, jello and many more sweets!
Ingredients
1

cup

cold heavy cream or heavy whipping cream

2

Tablespoons

powdered or confectioners sugar

½

teaspoon

vanilla extract
Instructions
Using a hand or stand mixer fitted with whisk attachment, whip heavy cream, sugar, and vanilla extract on medium-high speed until medium peaks are formed (about 3-4 minutes).

Use immediately or cover tightly in an airtight container or with plastic wrap and chill in the refrigerator up to 24 hours.
Nutrition
Serving:
2
cups
Calories:
487
kcal
Carbohydrates:
11
g
Protein:
4
g
Fat:
48
g
Saturated Fat:
31
g
Polyunsaturated Fat:
14
g
Trans Fat:
2
g
Cholesterol:
151
mg
Sodium:
36
mg
Sugar:
10
g
Nutrition Disclaimer
Soulfully Made is not a dietician or nutritionist, and any nutritional information shared is only an estimate. We recommend running the ingredients through an online nutritional calculator if you need to verify any information.
Our latest recipes!
LOVE SOUTHERN INSPIRED DISHES COME FOLLOW ALONG!
Facebook | Instagram | Pinterest | Twitter
If you share a picture of something you make from our blog, tag it with #SoulfullyMade so we can see it. We might feature it on Instagram!
If you loved this recipe please make sure to give it 5 Stars!