This post may contain affiliate links. Please read our disclosure policy.
This Classic Cheesecake Recipe is ultra-smooth, creamy, and nestled on top of a delicious buttery graham cracker crust. Included are all the helpful tips and tricks for making a perfect cheesecake each and every time!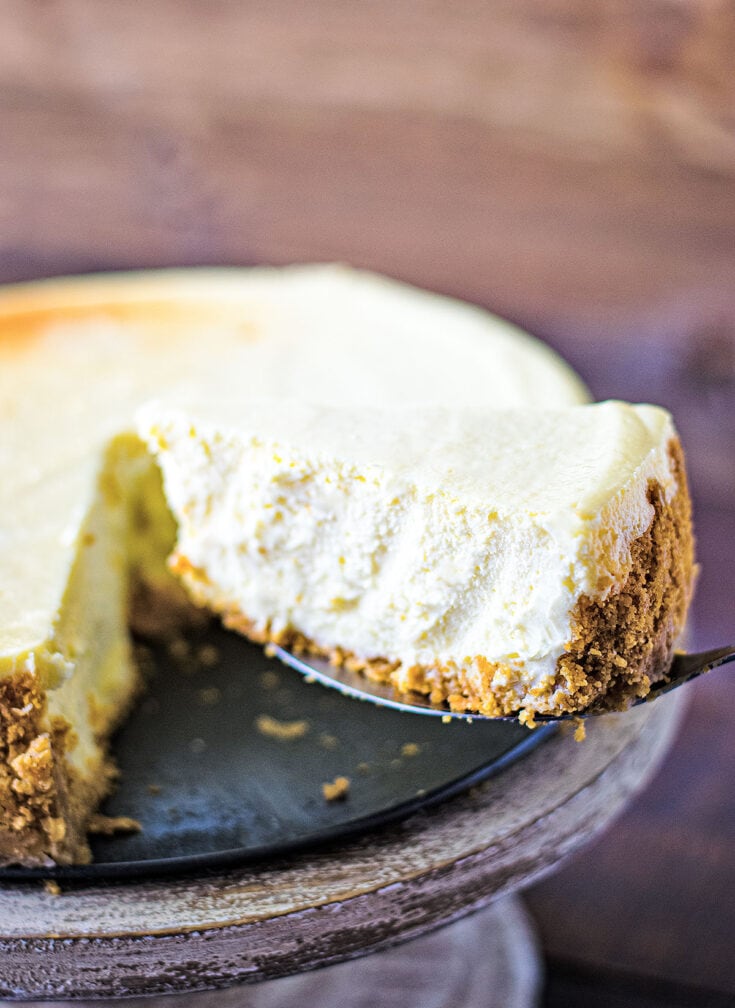 Cheesecakes may seem intimidating at first, but I am here to tell you if I can conquer it, anyone can! They just take a little time and patience (and love). And even though most often I keep things super simple around here at the blog, there are moments in life when cheesecake is called for! Like today! It's my son's birthday and he loves cheesecake – along with Chocolate Cake with Oreo Whipped Cream and Key Lime Pie. All three are his absolute favs!
Preparing the cheesecake is a piece of cake (like how I did that ?). It is often the baking methods and over mixing that results in disaster – like cracking, over baking, or even under baked results. I will share many tips and tricks that will help you make this classic cheesecake super successful. You will be whipping this up time and time again!
And when you need a no fail cheesecake recipe, I want you to have one to pull out of that trusty recipe box!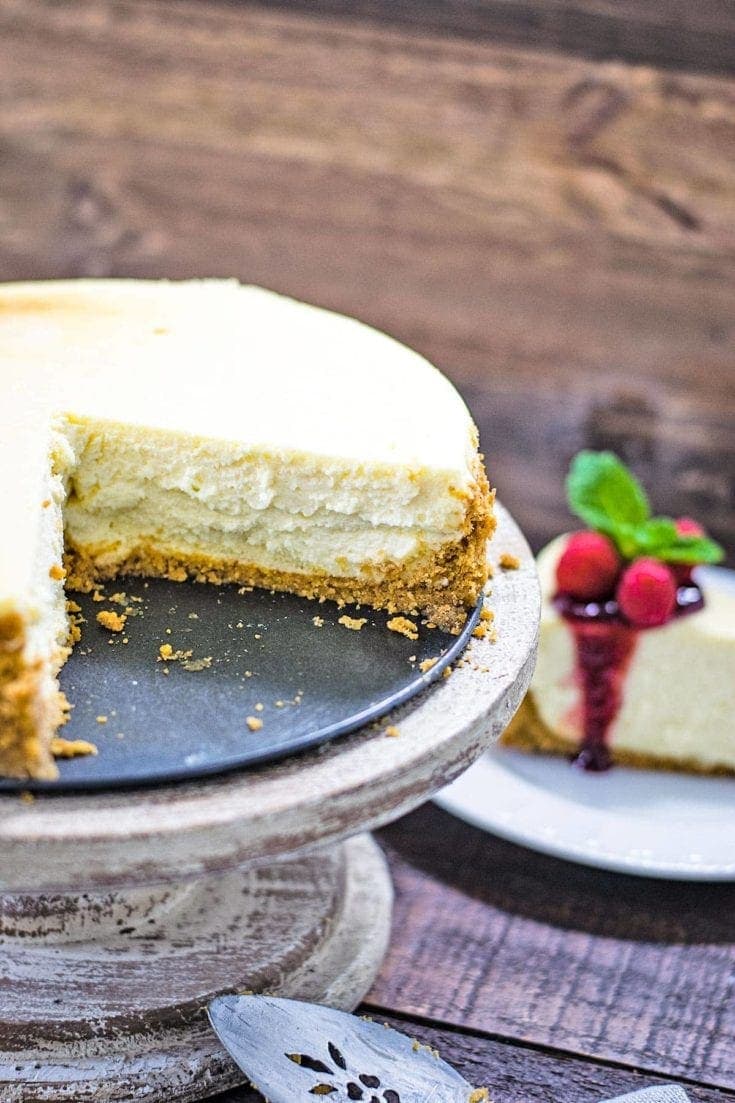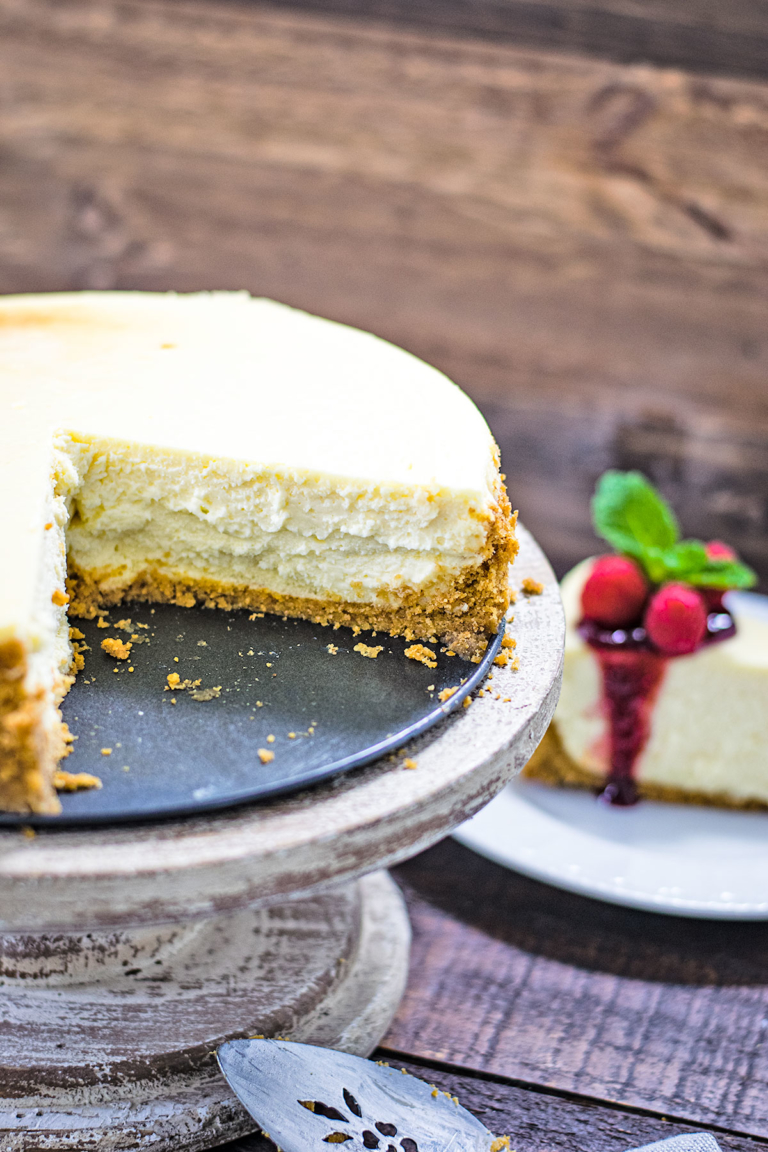 How to Make a Graham Cracker Crust
To make this classic cheesecake recipe, you start with a homemade graham cracker crust.
Melt Butter: Place butter in microwave and melt for 30 seconds or until completely melted.
Combine Graham Crackers, Sugar, and Butter: Place graham crackers into a food processor and pulse under crumbs start to form add in sugar. Close lid and drizzle butter in through through the top opening until combined and forms a wet sand like consistency.
Prepare Springform Pan: In order to remove more easily from the pan you can place a cut piece of parchment paper or aluminum foil on the bottom of the pan. This is not necessary if serving on the bottom, or you can pretty easily remove it without this step. However by doing so it makes it much easier to remove. (optional)
Press into a Springform Pan: I use the bottom of a measuring cup to firmly press it down into the bottom of the pan.
Bake the crust for 8 to 10 minutes and set it aside to cool.
Ingredients Needed for a Classic Cheesecake Recipe Filling
You only need a few simple ingredients for a delicious cheesecake.
Use Block Cream Cheese : It is really important to use a full fat block of cream cheese and not the spread kind you find in a tub. Full fat is a must for an ultra creamy and velvety texture.
A little Sugar: Just the right amount of sugar so that you get that hint of tang that makes it cheesecake! You want a nice balance between the sweet and the tangy. After all if it is overly sweetened is it really cheesecake y'all?
Sour Cream: This adds some richness and a smoothness to the cheesecake. While many recipes call for heavy cream, I think that lends a almost too soft texture. The sour cream gives it just the right balance of creamy and lends to a perfect consistency.
Flavor Components: A little vanilla extract and lemon juice are secret weapons! The right amount of vanilla extract gives it a subtle flavor without tasting like vanilla cake – save those beans for vanilla cheesecake! Lemon brightens things up a bit without it tasting like lemon! You just know there are notes of something special here.
Eggs: Adding the eggs until just incorporated binds the cheesecake together. You want to add one in at a time and make sure you do not overmix the batter. Overmixing adds too much air into the cheesecake and this results in cracking and possible deflating (that sunken look)!
And one of the most important things to remember is to start with Room Temperature Ingredients! If you want successful cheesecakes this a MUST! This will insure your batter is smooth, even, and comes together magically. If your ingredients are cold, things will be lumpy and uneven. You don't want to bite into a lump a cream cheese!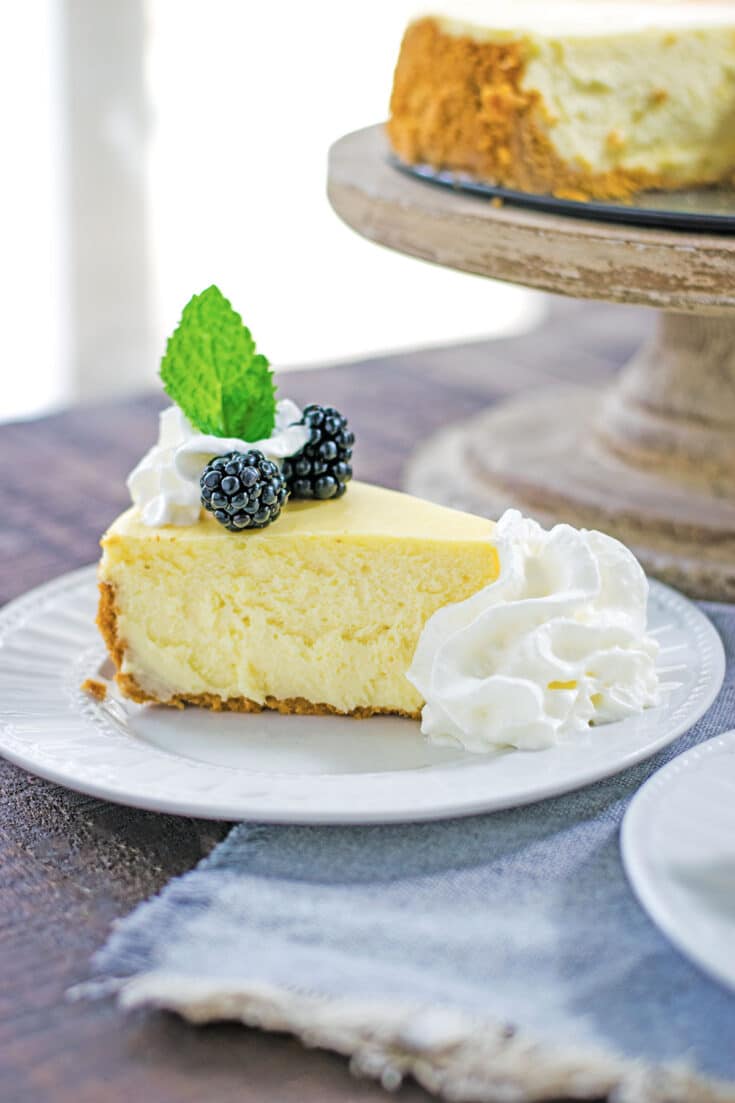 How to Make a Water Bath
A water bath sounds complicated, but it really isn't. All you are doing is placing your springform pan into another pan, filling it with hot water, and baking.
A humid environment is perfect for an amazing cheesecake (although come to think of it is humid year round here in FL, just not in my oven). The steam from the hot water allows it cook evenly and slowly. This will reduce the risk of cracks on the surface. It also prevents the cake from deflating as it cools down.
Make sure to wrap your springform pan with heavy duty aluminum foil or even use an oven bag as an added level of protection from water leaking in. I like this springform pan to prevent leaks, but I still use this method to be extra careful. No one likes a soggy crust!
Preparing a water bath and taking a few extra steps is well worth the effort. Remember it's a labor of love and a very important step!
Slowly Cooling & Chilling the Cheesecake
Making the perfect classic cheesecake recipe is a slow and gentle process that awards you this most amazing results! Be patient and you get the most creamy and dreamy classic cheesecake!
Once it is finished cooking you need to turn off the oven, crack open the door, and let it cool in the oven for 1 hour. This is another way to prevent cracks. Drastic and sudden changes in temperature are sure ways for cracking and sinking to happen. So, if you go from a really hot oven to the countertop or fridge the cake cools down too fast and can be disastrous.
After the cheesecakes cools in the oven for 1 hour, remove it from the water bath. Place on the counter to cool completely. After it has cooled, cover springform pan with aluminum foil or plastic wrap and chill in the refrigerator for 4 hours to overnight.
The wait will be worth every luscious bite! I promise!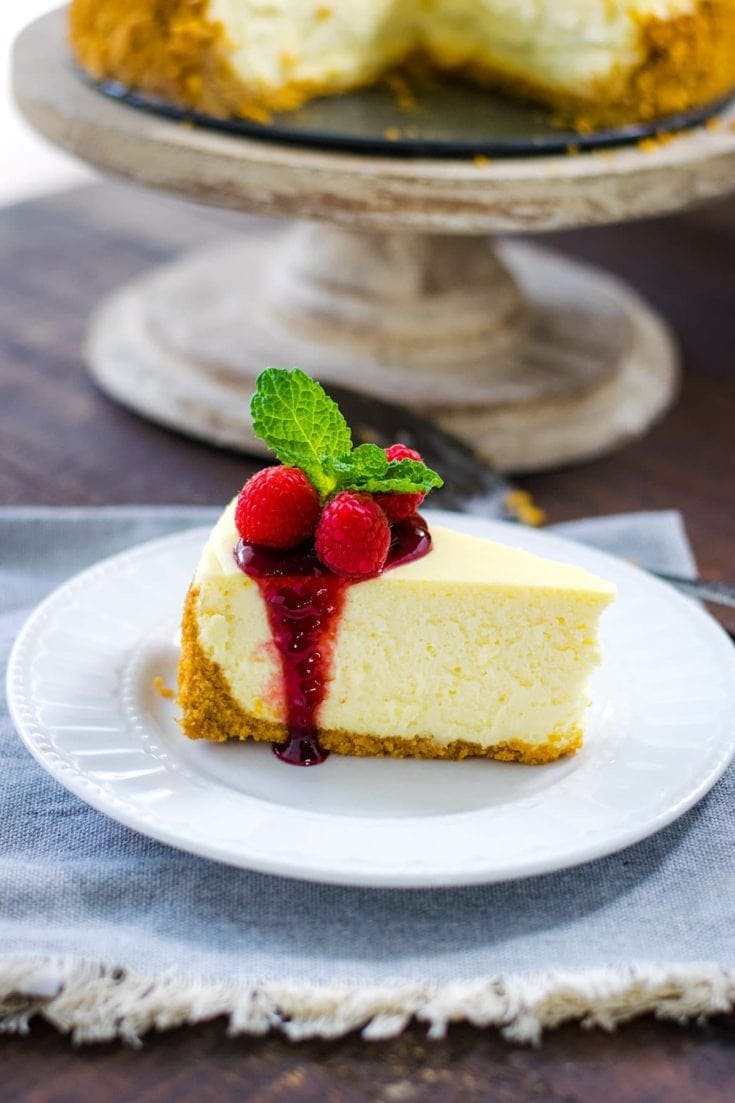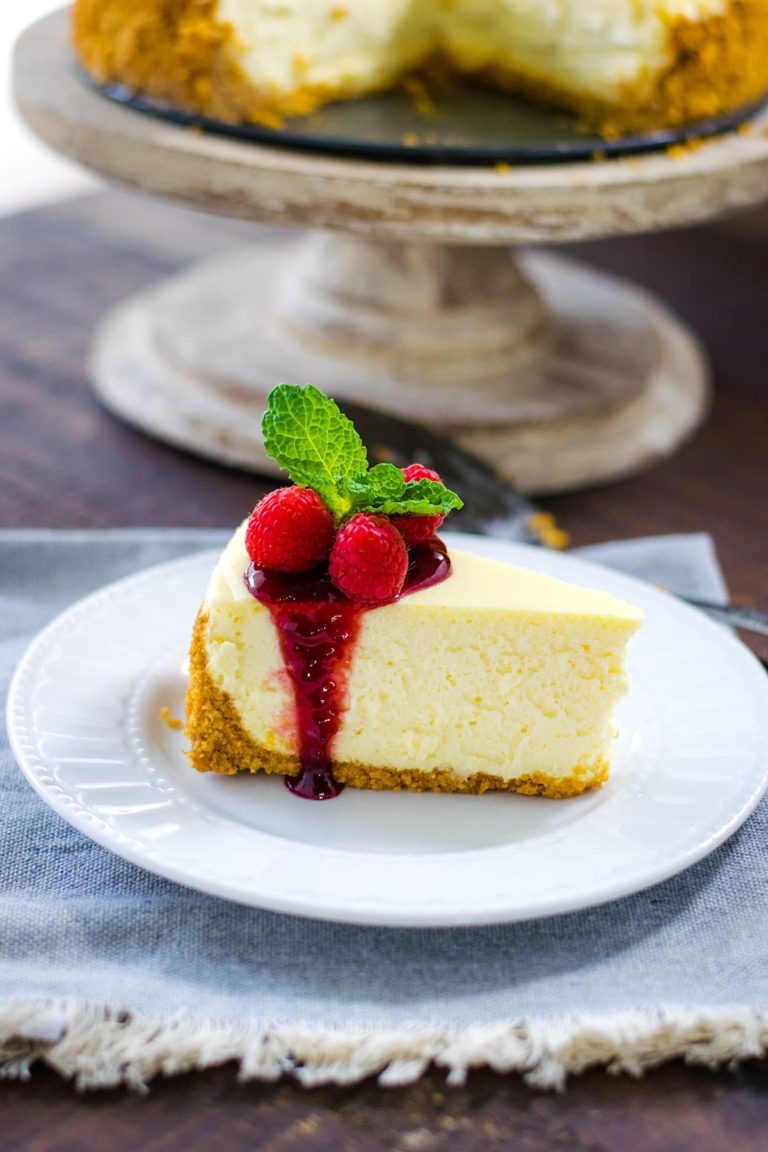 Important Tips for Classic Cheesecake Recipe Perfection
Make sure all ingredients are at room temperature. Take out the cream cheese, sour cream and eggs ahead of time.
Do not over-mix the cheesecake batter! When mixing keep it low and slow and mix until just until combined. This keeps too much air out.
Before baking gently tap the pan on the counter a few times. Any air bubbles will come to the top. You can pop them with a toothpick and then smooth out the top.
Always bake in a water bath. Start boiling a large pot of water before making the filling.
Wrap your springform pan in doubled heavy duty aluminum foil to the prevent water bath from leaking into pan. You can also use an oven bag wrapped up around the pan to be extra sure the water does not sneak in. This ensures a crunchy crust.
Slowly cool the cheesecake. Start with a 1 hour cool down in the oven after baking.
Then cool completely at room temperature before chilling in the refrigerator.
Delicious Desserts to Enjoy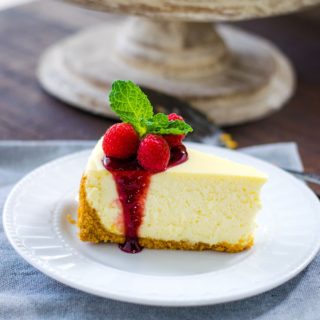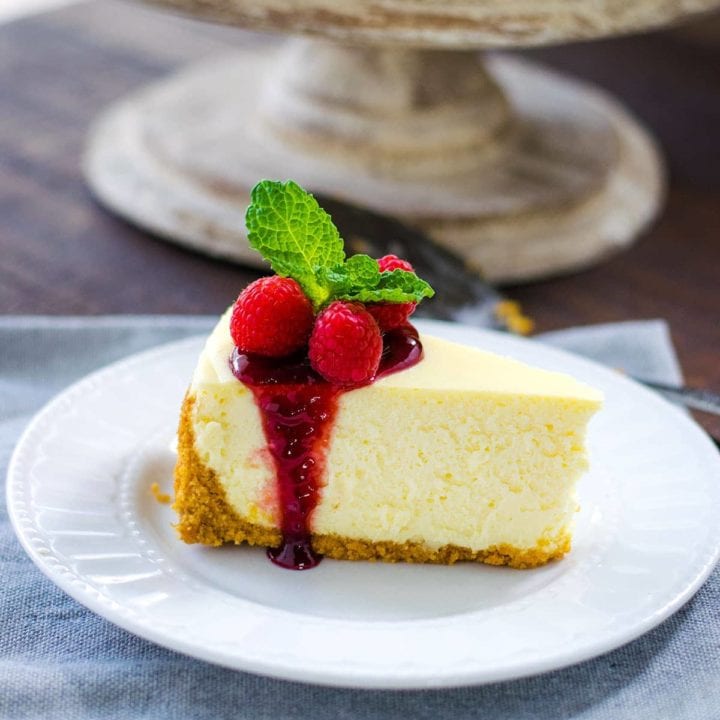 Recipe
(click stars to rate)
Classic Cheesecake Recipe
This Classic Cheesecake Recipe is ultra-smooth, creamy, and nestled on top of a delicious buttery graham cracker crust. Included are all the helpful tips and tricks for making a perfect cheesecake each and every time!
---
Ingredients
Graham Cracker Crust
2

cups

graham cracker crumbs

¼

cup

granulated sugar

7

Tablespoons

butter

,

melted

pinch

kosher salt
Cheesecake
4 - 8

ounce

blocks block cream cheese

,

room temperature

1

cup

granulated sugar

1

teaspoon

vanilla

1

cup

sour cream

,

room temperature

2

teaspoons

fresh squeezed lemon juice

3

large eggs

,

room temperature
Instructions
Making the Graham Cracker Crust


Adjust oven rack to the lower middle of oven, so that roasting pan will fit. Preheat oven to 350 degrees.

Using a food processor, pulse the graham crackers into crumbs. Pour in sugar and melted butter and pulse together. (You can also crush crackers in a ziplock bag with a rolling pin or something heavy. Then pour medium bowl and stir in sugar and butter until combined.) Mixture will be sandy in texture. Pour crumbs into the bottom of a 9 or 10 inch springform pan.

If desired place parchment circle or line bottom of springform pan with foil. This makes it easier to remove from pan after baking.

Press the crumbs into the bottom and up the sides of the springform pan. I use the bottom of a measuring cup to pack the crust in firmly.

Pre-bake crust for 8 to 10 minutes. Remove from oven to a cooling rack to slightly cool while preparing filling.

Reduce oven heat to 325 degrees.

Preparing the Cheesecake Filling

Using a handheld or stand mixer fitted with paddle attachment, beat the cream cheese and granulated sugar together on medium-high speed until smooth and creamy, about 2 minutes. Add in the sour cream, vanilla extract, and lemon juice and beat until combined. On medium low speed, add in eggs on at a time. Stop and mix in each egg until incorporated into the batter. Avoid over mixing as this may cause cracking.

Preparing the Water Bath & Baking Cheesecake

Boil a pot or kettle of water. You need enough water to have 1 inch of water in your roasting pan. As water is heating, wrap the springform pan with heavy duty aluminum foil. Pour the cheesecake batter on top of the graham cracker crust. Use a spatula to smooth the top into an even layer.

Place springform wrapped pan into roasting pan. Carefully pour the hot water inside the pan and place in oven. (You can also place pan in over first and pour water into pan in the oven.)

Bake cheesecake for 55 to 70 minutes or until the center is almost set. When it is done the center will jiggle slightly if you gently shake it. Turn the oven off and open the door slightly. Let the cheesecake sit in the oven in water bath and cool down for 1 hour.

Remove from oven and water bath, then cool completely at room temperature. Then refrigerate the cheesecake for at least 4 hours to overnight.

Use a knife to loosen the chilled cheesecake from the rim of the springform pan. Unlock and remove rim from springform pan.

Using a clean sharp knife cut into slice for serving.

Serve cheesecake as is or with desired toppings.

Cover and store leftovers in the refrigerator for up to 5 days.

Nutrition Information
Serving:
1
1 serving
Calories:
266
kcal
(13%)
Carbohydrates:
33
g
(11%)
Protein:
3
g
(6%)
Fat:
14
g
(22%)
Saturated Fat:
7
g
(44%)
Polyunsaturated Fat:
5
g
Cholesterol:
78
mg
(26%)
Sodium:
160
mg
(7%)
Sugar:
25
g
(28%)
Nutritional Disclaimer
Soulfully Made is not a dietician or nutritionist, and any nutritional information shared is only an estimate. We recommend running the ingredients through an online nutritional calculator if you need to verify any information.
©️Soulfully Made