Alice Springs Chicken Recipe – an Outback Copycat dish you can make right at home. Honey mustard marinated chicken piled with tender mushrooms, bacon, and lots of delicious cheese.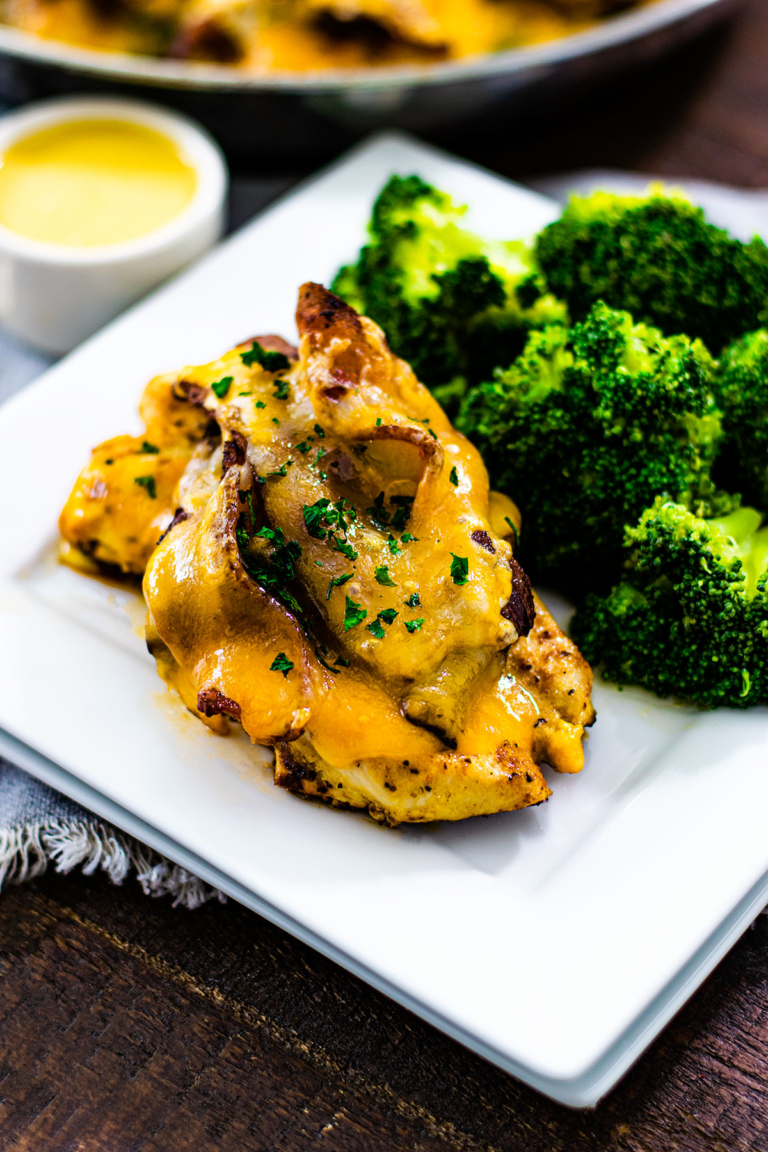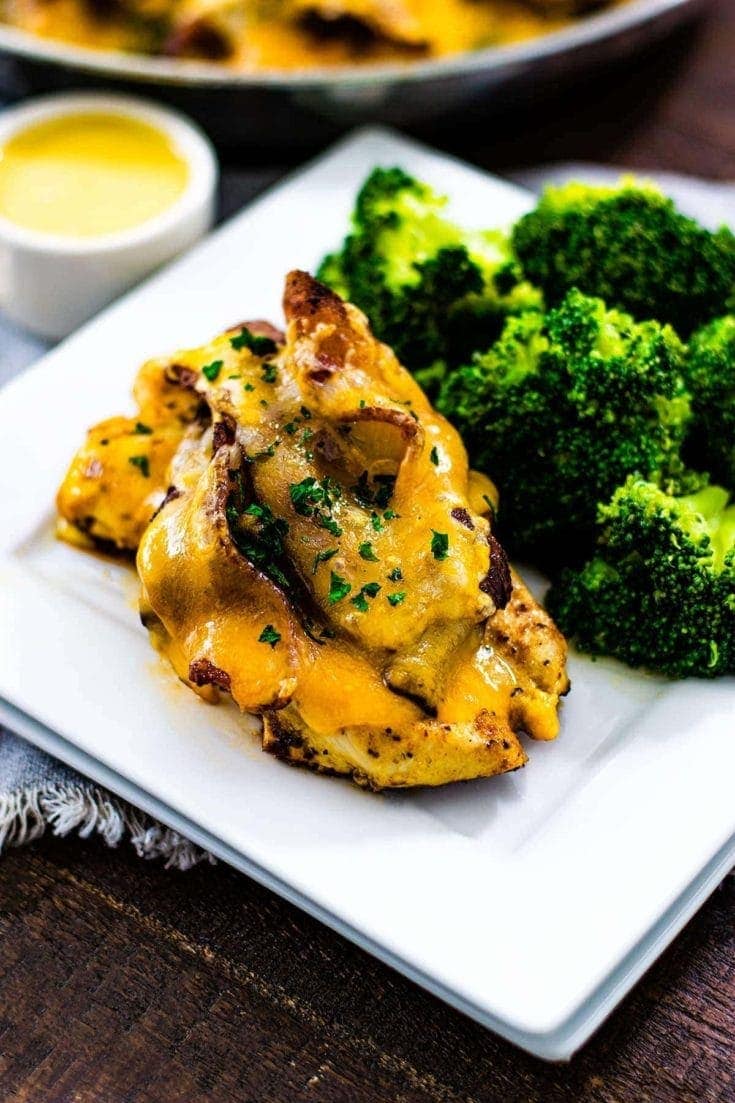 This week I am participated in a food blogger recipe swap of sorts. They call it Freaky Friday. It's a time when a few fellow bloggers are assigned a secret sister of sorts. We pick a recipe from each other's blog to recreate in our own kitchens. Thank you Michaela at An Affair from the Heart for hosting
I was lucky to get Brandi from Aunt Bee's Recipes. We are both southern cooks so I immediately felt a kinship. Her story is inspiring! After marrying she realized she really didn't know much about cooking. So she set off on a mission to learn. From being married to having beautiful children you sort of learn by trial and error. And boy did she ever!
Brandi is so very sweet and has the most delicious recipes. If you have not checked out her blog make sure to go over and visit! I sure have enjoyed looking through her amazing recipes! Her Kentucky Butter Cake had me drooling a little and take a look at her Gorgonzola Steak with Pasta – just wow!
To choose just one was difficult, but I went with her delicious Outback Restaurant inspired Alice Springs Chicken. It is one of those dishes you just cannot resist! From the juicy tangy chicken to the ooey gooey topping, it's a divine topped trio of mushrooms, bacon, and of course cheese. Who would want to resist that!!!! Not me – so let's jump right in to cooking this wonderful recipe!
How to make the Honey Mustard Marinade
Honey mustard is one of those things that is so delicious to make fresh at home. It tastes so much better than store bought and is so easy. All you need to do is combine a few ingredients and giving it a good stir.
For this recipe you need Dijon mustard, honey, mayo, and a little fresh lemon juice. I cut the honey down a little so there is a little more tang, but you can play with that flavor profile if you like it on the sweeter side.
Can I MAKE Alice Springs chicken on the grill
Actually Outback says theirs is cooked on a wood fired grill. You can definitely adapt my pan seared and finished in the oven version. Once you marinate the chicken, I would recommend bringing it to room temperature before grilling. Then remove the chicken from the marinade and shake off excess honey mustard and grill for 4 to 7 minutes on each side depending on the thickness of your chicken.
Then move the chicken to an ovenproof skillet or baking dish to finish in the oven, but you could certainly finish on the grill in a skillet as well.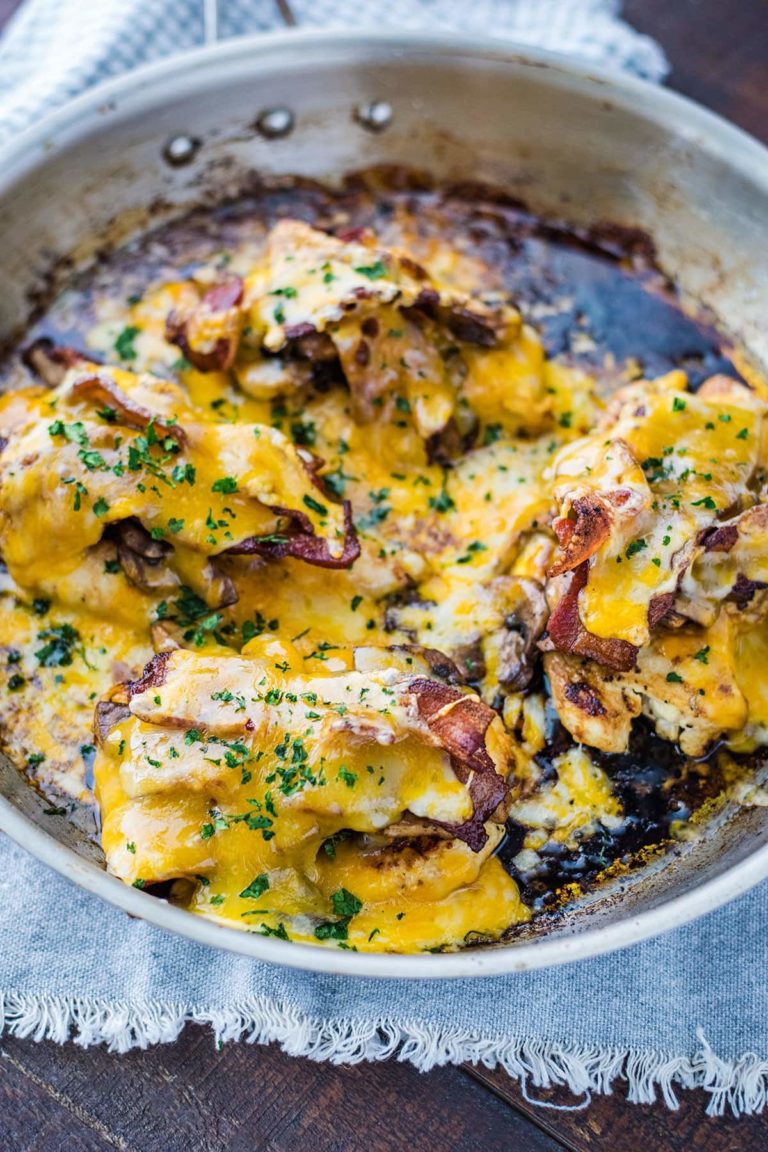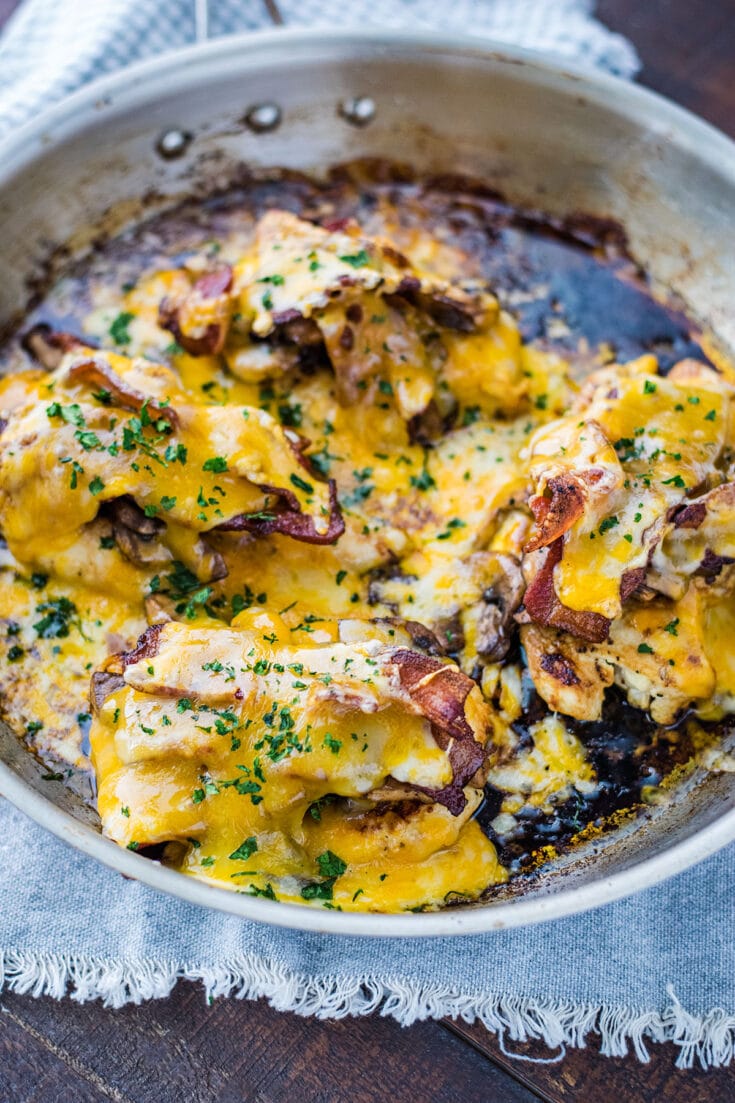 Is ALice SPrings Chicken Low Carb?
Not really, but IT CAN BE. The honey mustard contains sweet notes that add carbs to this dish. However, you could leave it off and it would still be delicious or you could adapt it for a more carb friendly version. Here's a low carb honey mustard option
Low Carb Honey Mustard Alternative
1/2 cup Mayonnaise
1 Tbsp apple cider vinegar
1 Tbsp yellow mustard
2 tsps Dijon
18 drops liquid stevia
1/2 tsp paprika (optional)
What to serve with Alice Springs CHicken Dish
Outback serves theirs with french fries and that is certainly easy. My family's favorite is mashed potatoes. I usually make Instant Pot Mashed Potatoes or a Crock Pot version of Mashed Potatoes – both are super creamy and delicious. We also like steamed broccoli with it as well!
How to Store leftover Chicken.
Place the chicken in an airtight container and store in the refrigerator for 3 or 4 days. (If you are lucky enough to have leftovers 😉!)
Ideas for leftover ALice SPrings CHicken Recipe
Honey Mustard Chicken Salad – chop up the chicken and toppings add in mayo and serve on a croissant or toast for loaded chicken salad amazingness.
Chicken Quesadilla – chop up the leftover chicken and toppings and place on top of a tortilla. Drizzle some of the reserved honey mustard. Heat on a skillet until warm and delicious. (They have this on the menu at Outback too)
Alice Springs Chicken on a Bed of Greens – Chop into bite sized pieces. Fill a bowl with chopped lettuce greens. Top the greens with spoonful of chicken, add in tomatoes, croutons, and maybe some green onion. Serve with honey mustard or ranch to change it up a bit.
Alice Springs Chicken Wrap – Grab a wrap and layer chicken, fresh lettuce, tomatoes and drizzle with honey mustard or ranch.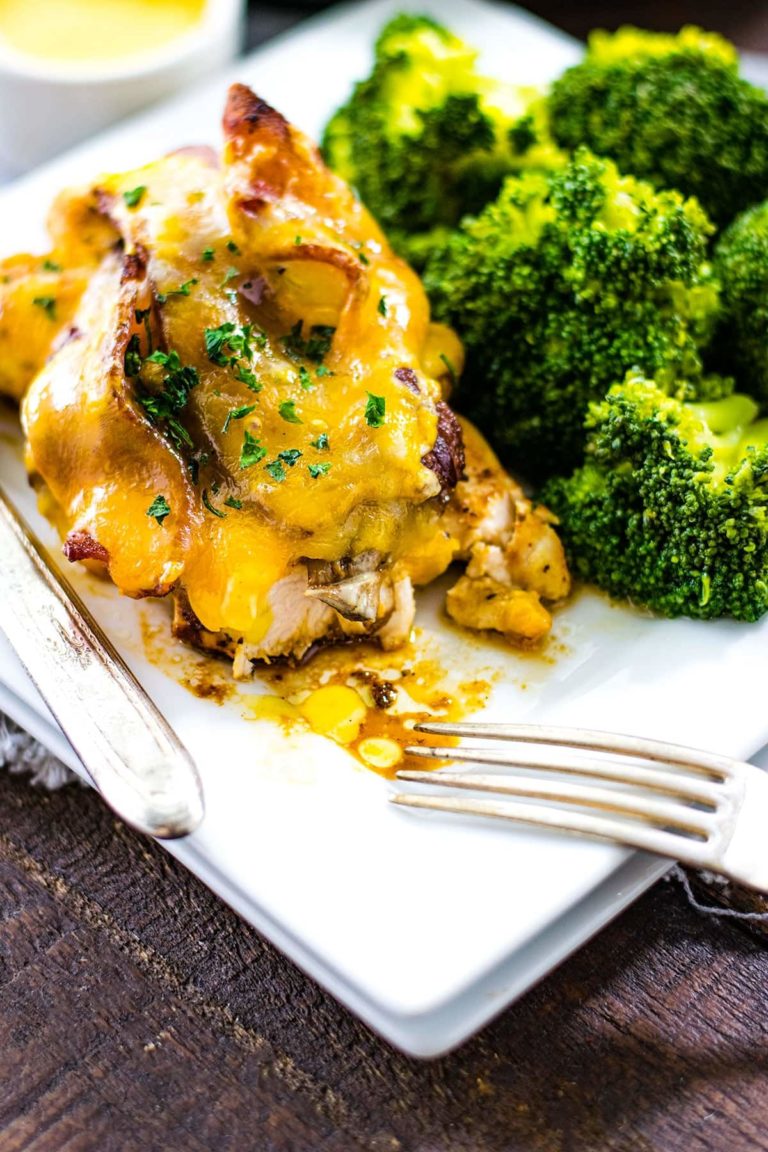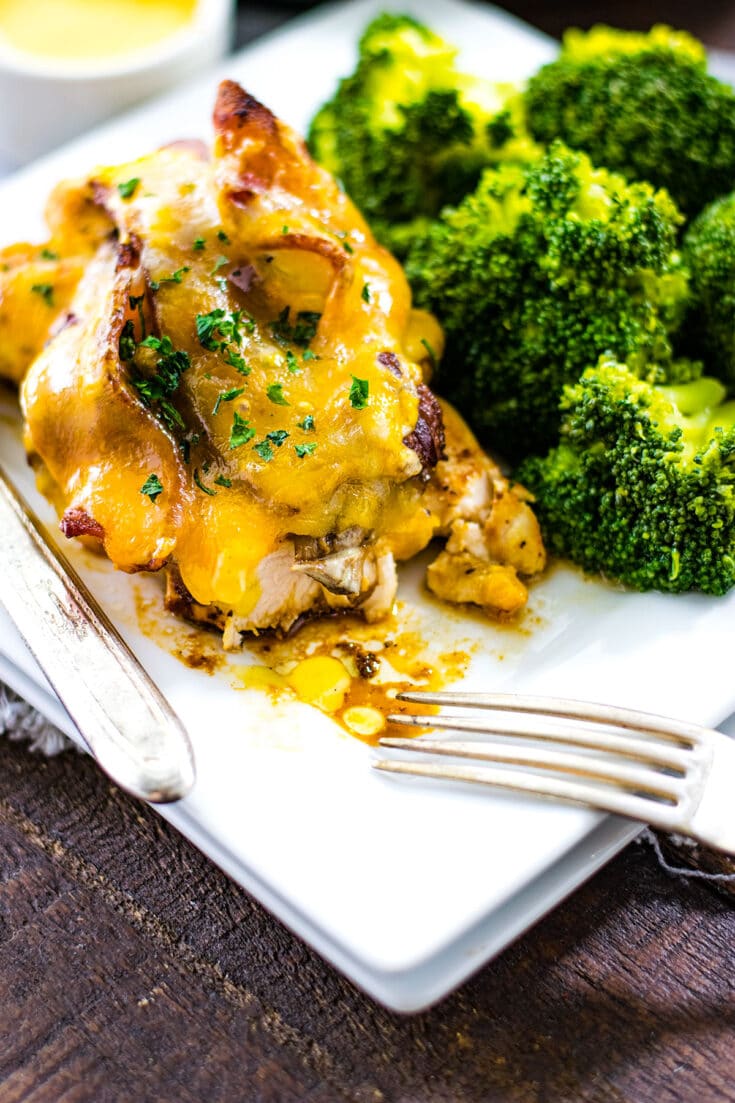 Other delicious ChicKen Recipes to Try
LOVE SOUTHERN INSPIRED DISHES COME FOLLOW ALONG!
Facebook | Instagram | Pinterest | Twitter
If you share a picture of something you make from our blog, tag it with #SoulfullyMade so we can see it. We might feature it on Instagram!
If you loved this recipe please make sure to give it 5 Stars!
Yield: 4
Alice Springs Chicken Recipe (Outback Copycat)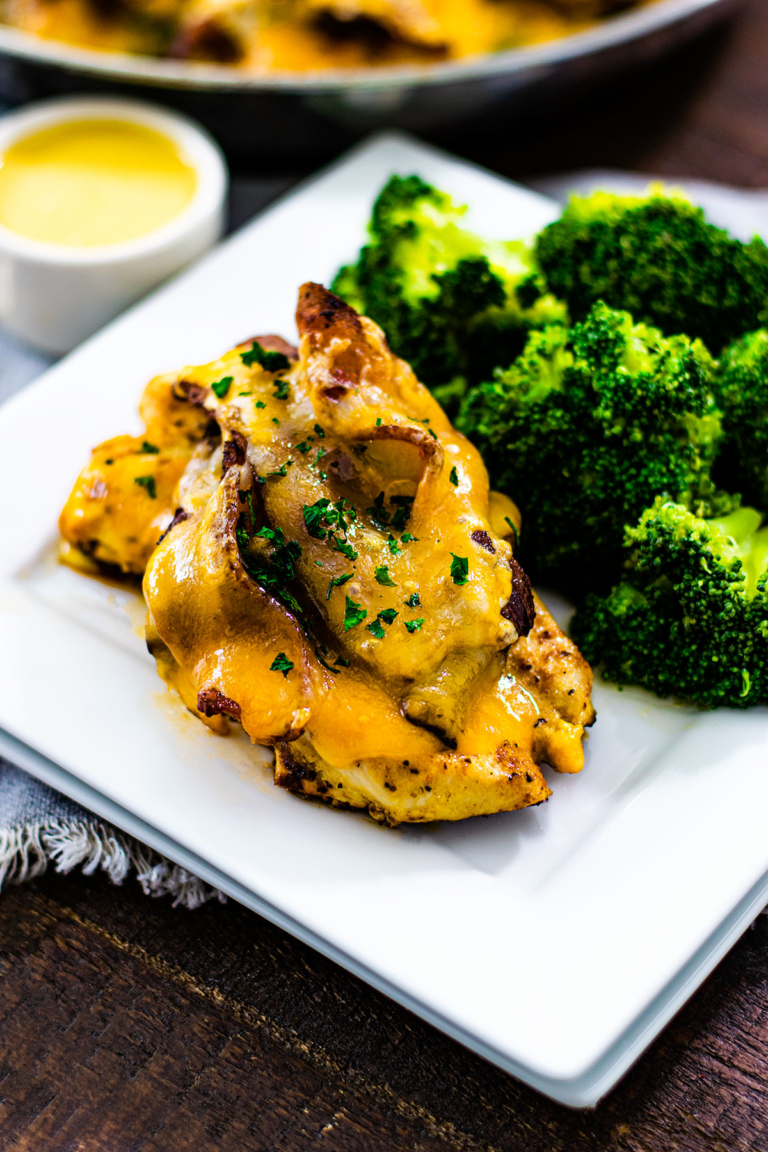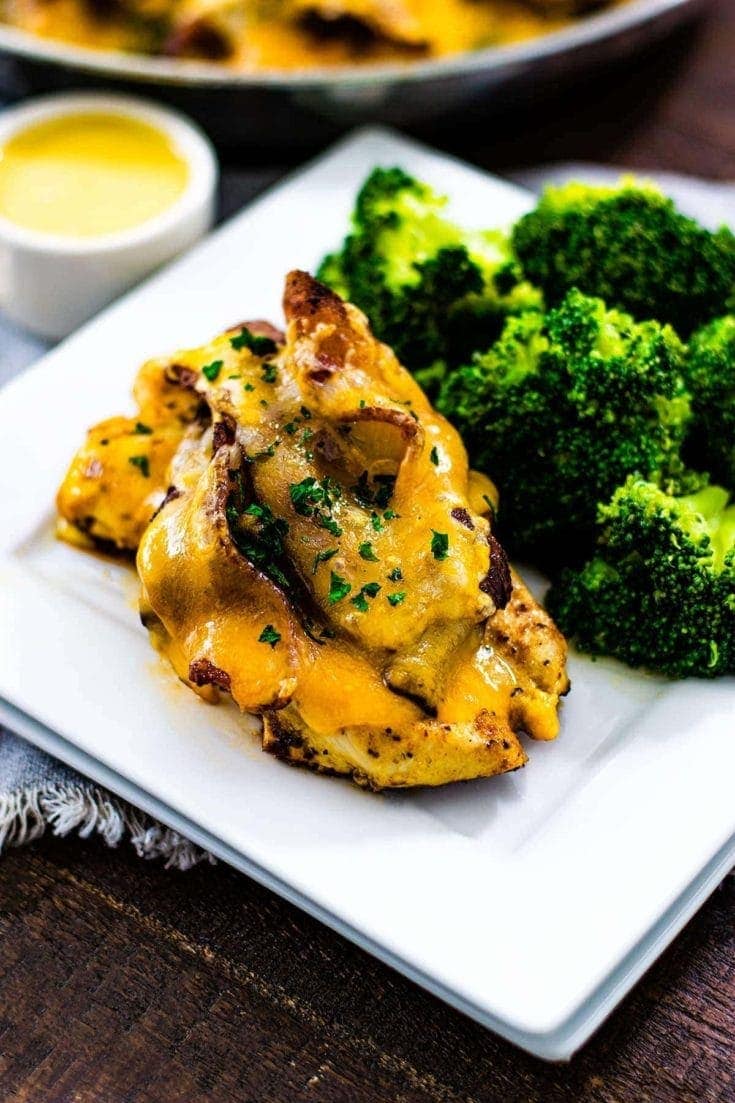 Alice Springs Chicken Recipe - an Outback Copycat dish you can make right at home. Honey mustard marinated chicken piled with tender mushrooms, bacon, and lots of delicious cheese. 
Total Time
1 hour
20 minutes
Ingredients
For the marinade / dressing:
1/2 cup Dijon mustard
1/4 cup honey
1/4 cup mayonnaise
1 teaspoon fresh lemon juice
For the Chicken:
6 slices of bacon, cut in half
4 boneless skinless chicken breasts (about 1 1/2 pounds)
1/2 teaspoon seasoning salt, (or to taste)
1/2 to 1 teaspoon black pepper
1/2 teaspoon garlic powder
8 ounces mushrooms sliced
2 cups Colby Jack cheese, shredded or grated
2 Tablespoons fresh parsley for garnish, optional
Instructions
To make the honey mustard marinade / dressing:
In a small bowl, whisk together mustard, honey, mayonnaise, and lemon juice. Reserve 1/2 cup sauce in an airtight or covered container and place in refrigerator until serving.
Place chicken breasts in bowl and toss in the marinade until coated. Cover and refrigerate for 30 minutes or overnight.
To make the chicken:
Preheat oven to 375 degrees.
Cut bacon in half and cook, in a large ovenproof skillet (if available), over medium high heat until done. Remove bacon to paper towel lined plate and set aside. Discard all but 2 Tablespoons of bacon grease from skillet.
Add mushrooms and saute until they have released most of their liquid. As they start to release water scrape the bottom of the pan with a wooden spatula to get up the browned bits from the bacon. This adds a lot of flavor to the mushrooms. Cook until they start to turn brown. This will take about 5 to 7 minutes. Transfer to a bowl.
Season chicken with seasoning salt, pepper, and garlic powder.
Place 1 Tablespoons butter in skillet and melt . Then add chicken breasts to the skillet. Cook over medium high heat for about 4 to 5 minutes. Turn to brown and cook the other side for about 4 to 5 minutes. (If you do not have an ovenproof skillet, move chicken to a casserole or 9 X 13 baking dish for cooking).
Divide the mushrooms evenly over the chicken. Top with bacon and cheese. Bake until chicken is done or reaches 165 degrees, about 10 to 15 minutes.
Remove and garnish with parsley, if desired. Serve with reserved honey mustard sauce on the side for dipping.






Notes
If you like your honey mustard more sweet you can use 1/2 cup honey. I like mine a with a little tang.
For a little more heat add cayenne pepper to the 1/2 honey mustard that you use for marinade or sprinkle directly on the chicken with other seasonings. I like to use 1/4 to 1/2 tsp, but use to your taste.
Adapted from Aunt Bee's Recipes
Recommended Products
As an Amazon Associate and member of other affiliate programs, I earn a very small portion from qualifying purchases at no cost to you. Thank you for helping me bring you more great content!
Nutrition Information:
Yield:
4
Serving Size:
1
Amount Per Serving:
Calories:

765
Nutrition data provided here is only an estimate. If you are tracking these things for medical purposes please consult an outside, trusted source.
---
Take a look at all of our 2020 Freaky Friday Winter Edition Recipes: