Indulge in the vibrant and refreshing flavors of a berry fruit salad with honey lime dressing. This delightful combination of juicy raspberries, blackberries, blueberries, and strawberries, drizzled with a sweet and tangy honey lime dressing, is a perfect way to celebrate the bounty of summer fruits.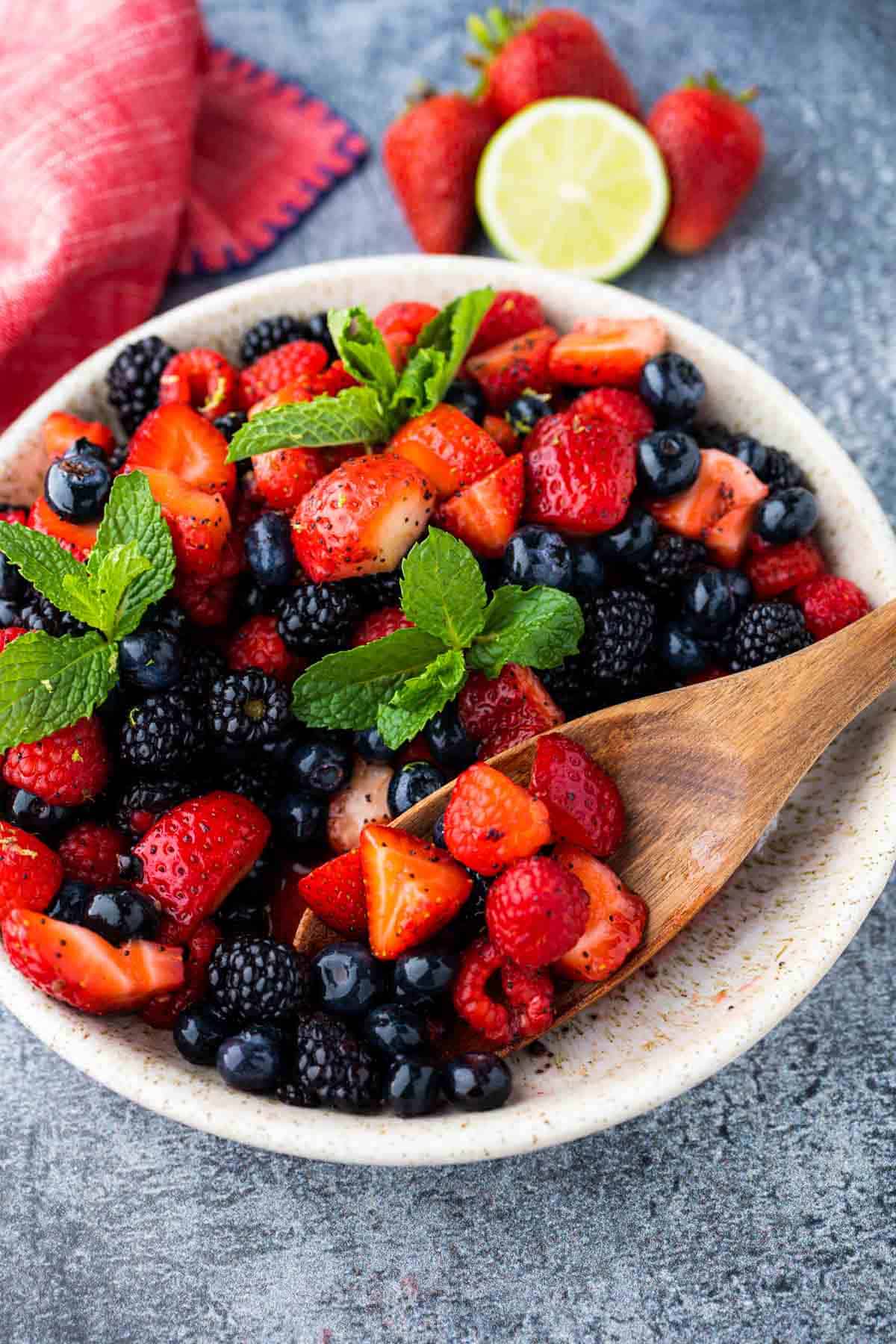 Table of Contents
Berry fruit salad is the quintessential summer favorite, perfectly suited for any backyard BBQ and festive occasions like Memorial Day, Fourth of July, and Labor Day.
As the sun shines and temperatures rise, this refreshing medley of raspberries, blackberries, blueberries, and strawberries brings a burst of vibrant colors and flavors to your table.
Its sweet and tangy honey lime dressing provides a delightful contrast, elevating the salad to a crowd-pleasing treat that embodies the essence of summer gatherings and celebrates the abundance of nature's bounty.
Whether enjoyed alongside grilled favorites or as a refreshing dessert, this summer berry salad is the perfect addition to any summer celebration on a hot summer day!
Why We Love This Recipe!
Sweet Taste: The honey lime dressing adds a bright, fresh sweetness that compliments the berries.
Versatility and Customization: Berry fruit salad is incredibly versatile and can be easily customized to suit personal preferences as well as what is available.
Healthy Crowd Pleaser: This fruit salad is enjoyed by adults and kids alike. The berries are packed with antioxidants making it a healthy dessert option, a perfect side dish, and a wonderful fresh fruit salad.
Ingredient Notes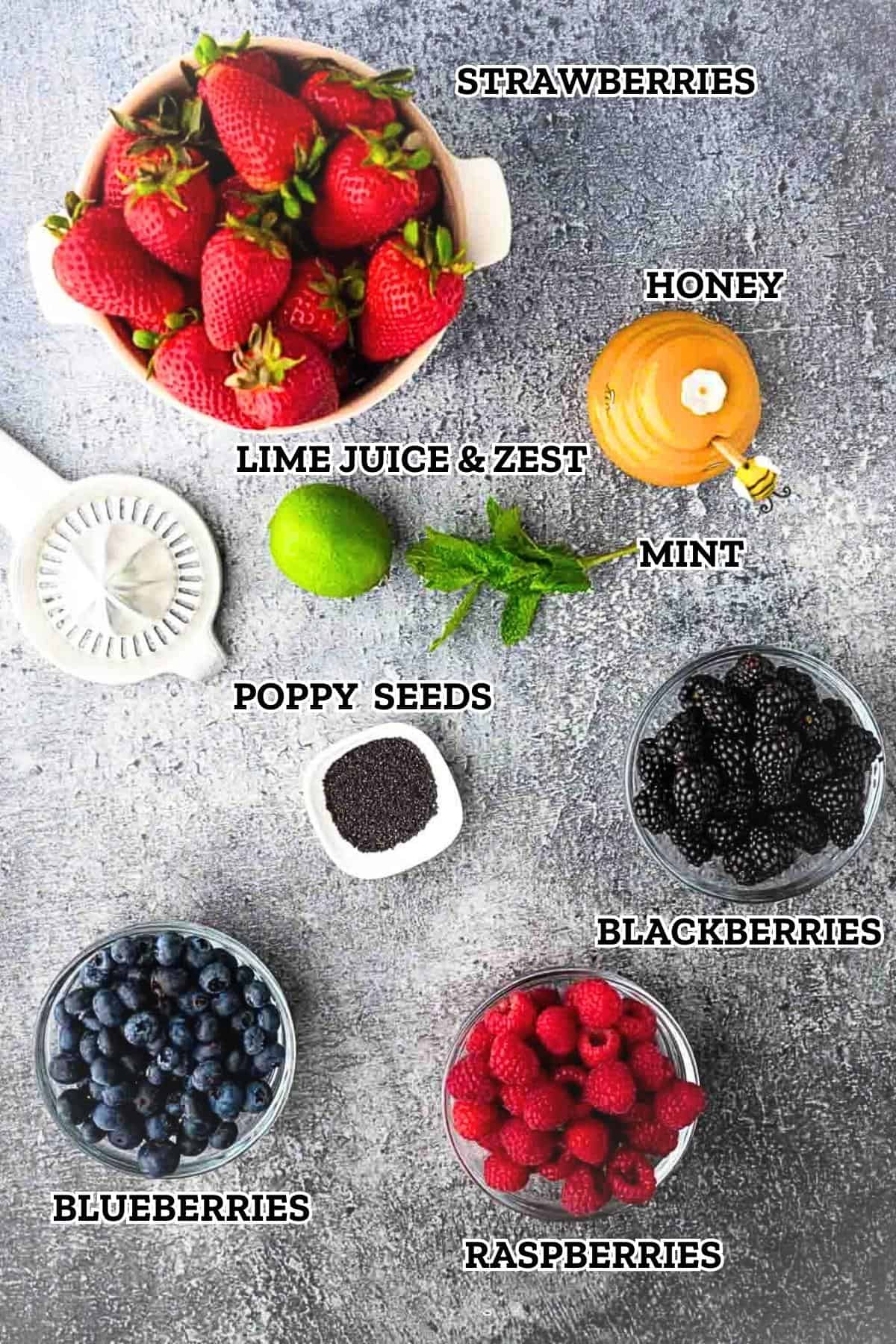 How To Make Berry Salad with Honey Lime Dressing
✱ Be sure to see the recipe card below for exact ingredients and instructions!
Step 1 | Prep Berries
To make this simple berry salad, start by washing and drying all the fruit. Then, hull the fresh strawberries and slice them into halves, quarters, or bite-sized pieces.
Next, grab a large bowl and combine the raspberries, blackberries, blueberries, and sliced strawberries in it.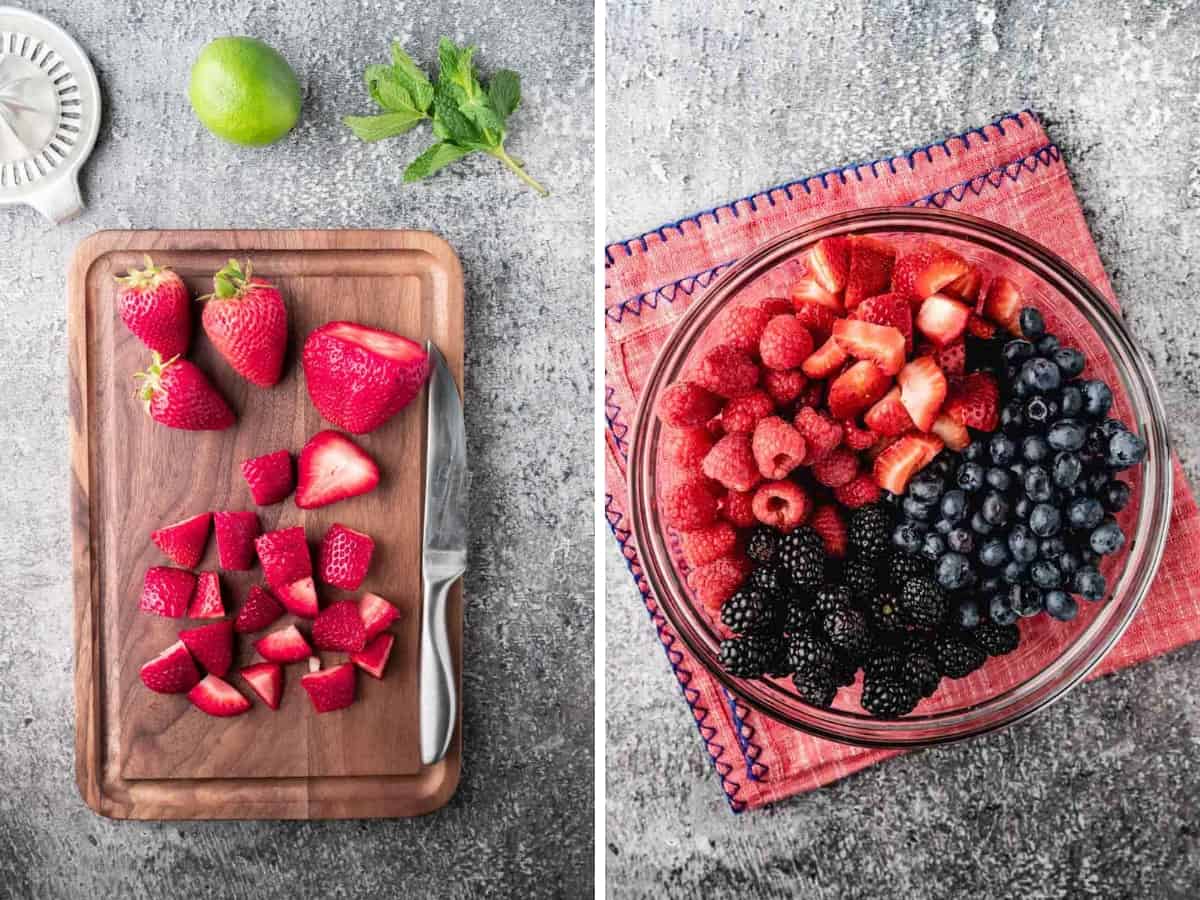 Step 2 | Make Honey Lime Poppy Seed Dressing
In a separate small bowl, whisk together the dressing ingredients- honey, lime juice, and poppy seeds, until they are well combined.
Now, pour this sweet and tangy mixture over the berries and gently toss everything together to ensure each fruit is coated.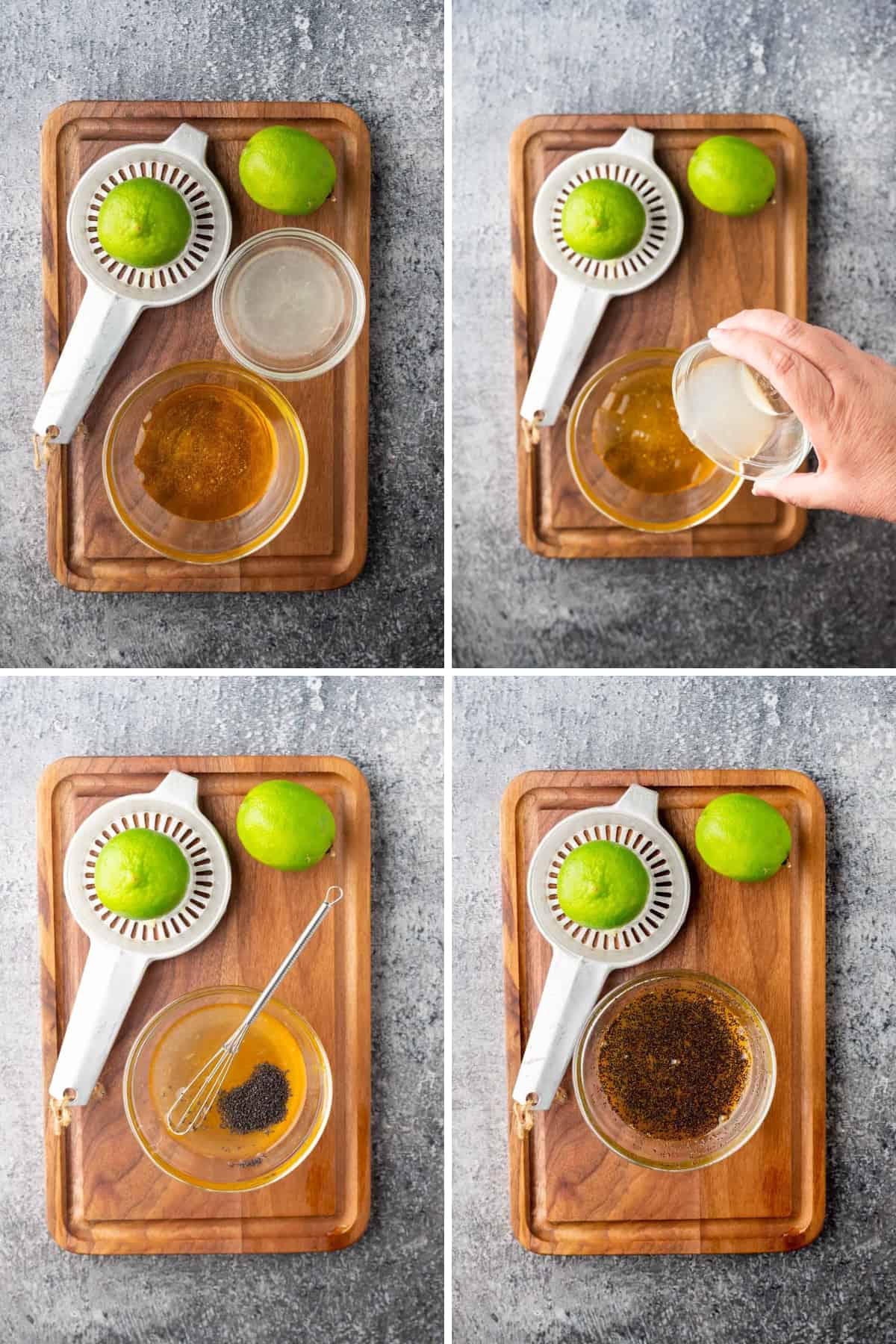 Step 3 | Garnish and Serve
If you'd like, you can garnish the salad with fresh mint sprigs and lime zest to add an extra touch of flavor, and they are a beautiful bright pop of green on the berry salad.
You can enjoy the salad right away, or if you prefer, cover and refrigerate it for up to 4 hours to let the flavors meld together.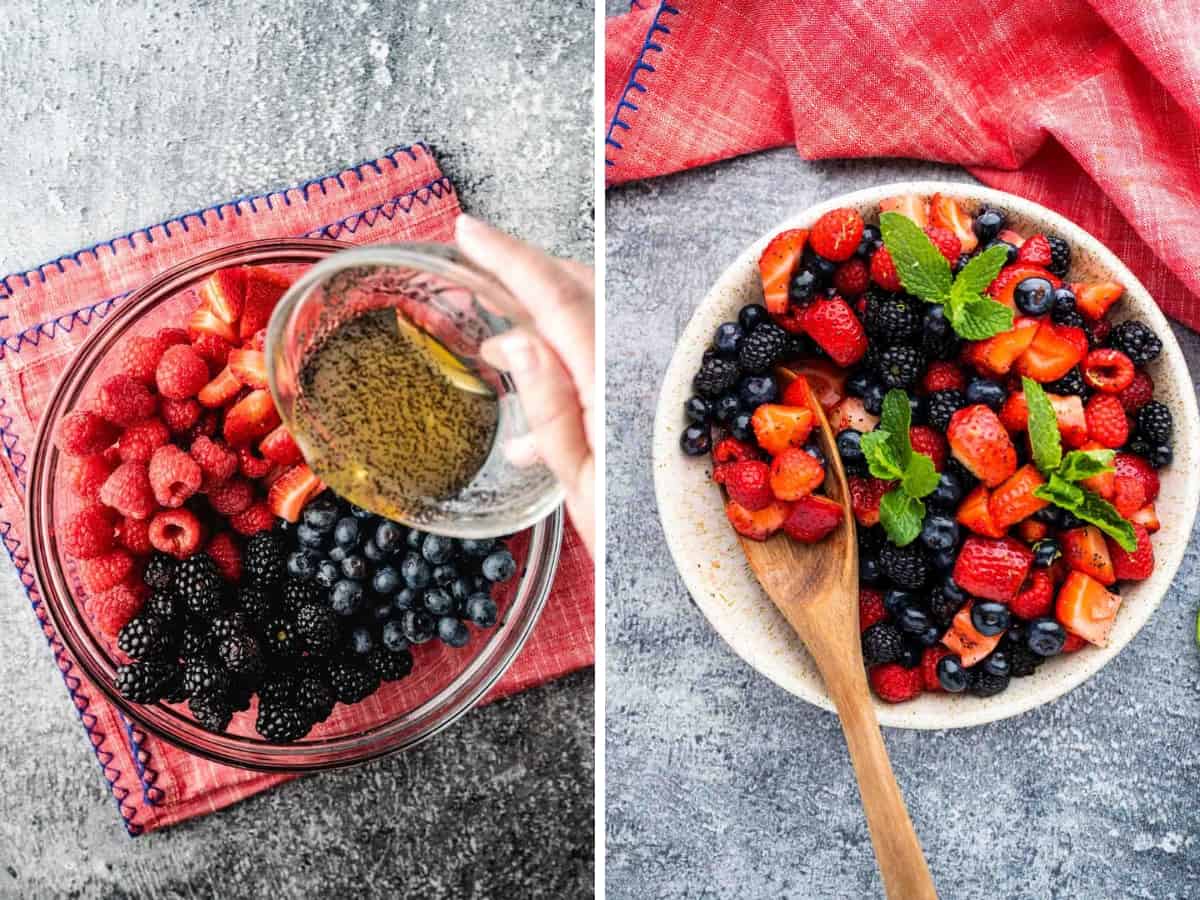 Tips
Choosing Ripe Berries: Select ripe and flavorful berries for the best taste. Look for berries that are plump, brightly colored, and without any signs of mold or mushiness.
Preparing the Berries: Wash the berries just before serving to maintain their freshness. Pat them dry gently with a paper towel or use a salad spinner to remove excess moisture.
Garnish Creatively: Besides the suggested mint springs and lime zest, you can get creative with additional garnishes. Sprinkle some shredded coconut, finely chopped fresh basil, or a drizzle of balsamic glaze for added complexity and visual appeal.
Variations and Substitutions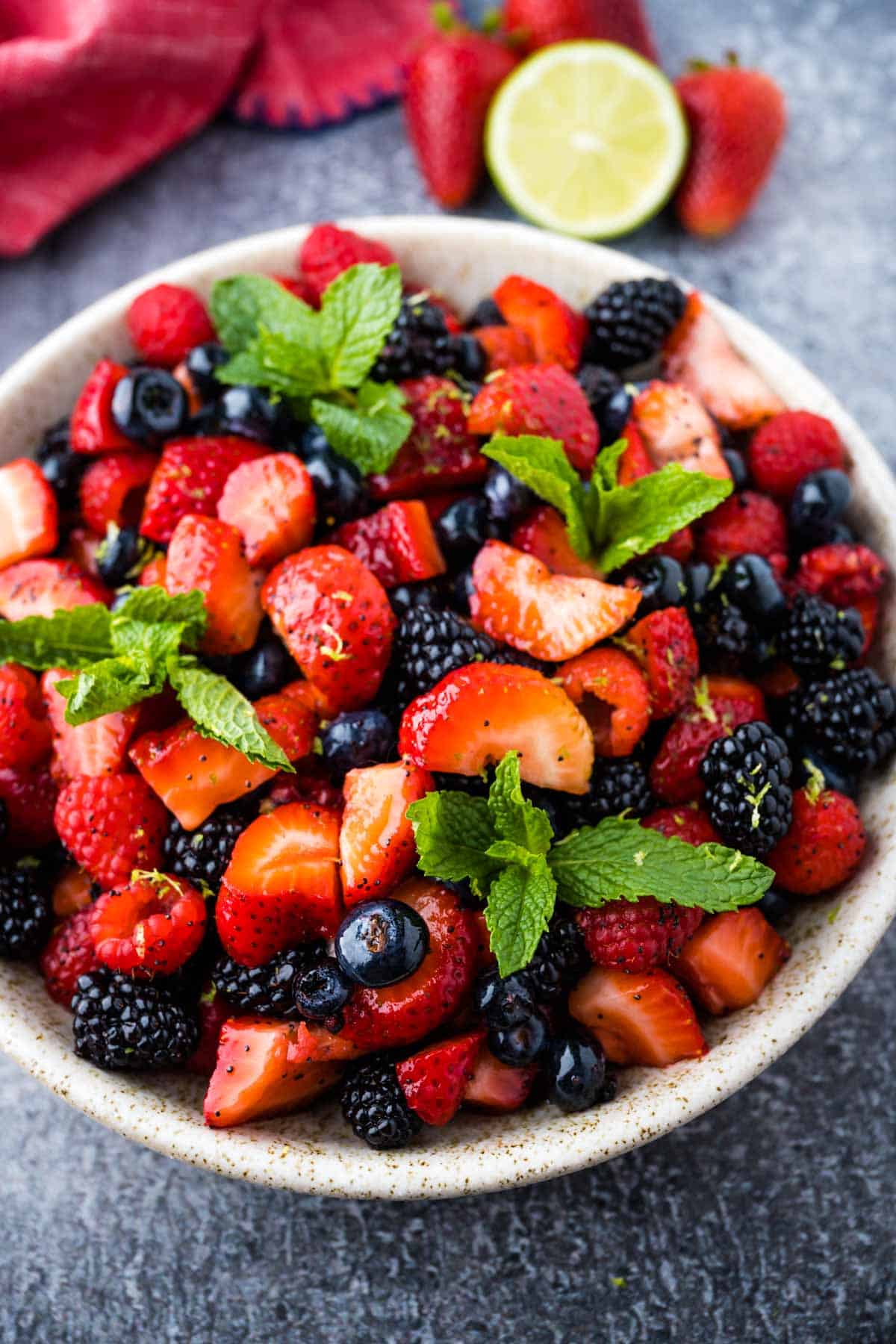 Recipe FAQs
Can I make the salad ahead of time?
It is best to prepare the salad shortly before serving to maintain the freshness and texture of the berries. However, you can prepare the dressing in advance and store it separately. When ready to serve, toss the berries with the dressing.
Can I use frozen berries for the salad?
While fresh berries are recommended for optimal flavor and texture, you can use frozen berries if fresh ones are not available. Thaw the berries before using them in the salad and drain off any excess liquid. The texture will be much softer than fresh berries. I recommend using what you can find in season and replacing any berries you cannot find with other fruits if needed.
How do I prevent the berries from turning mushy?
To prevent the berries from becoming mushy, handle them gently during washing and avoid excessive tossing. It's also best to store the salad in the refrigerator and consume it within 24 hours for optimal texture.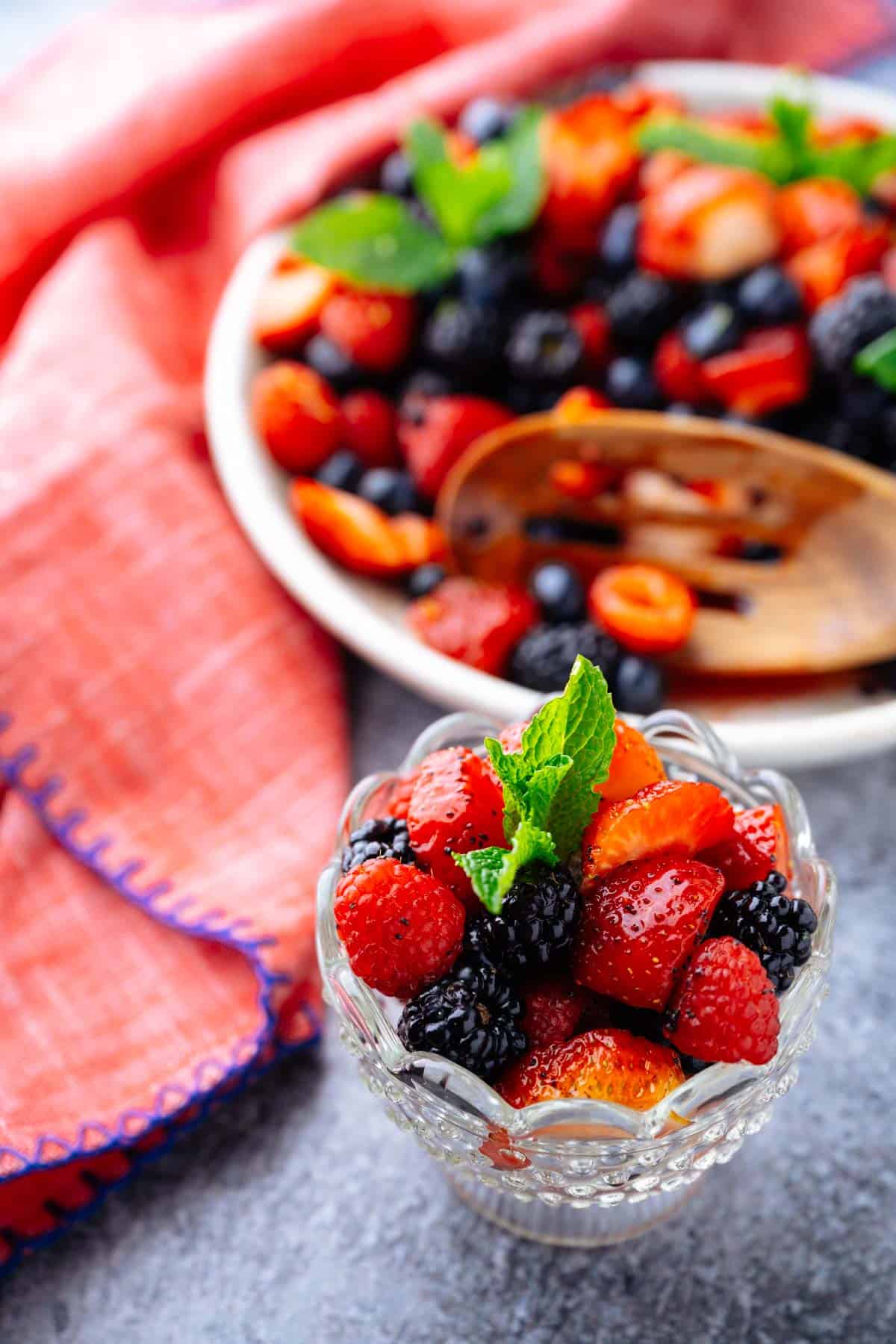 Storage Instructions
Storage: Place the salad in an airtight container or cover the bowl tightly with plastic wrap. Then refrigerate the salad promptly to keep it fresh. The berry fruit salad can typically be stored in the refrigerator for up to 2-3 days. However, it is best to consume it within 24 hours for optimal freshness and flavor.
The dressing may release some moisture as the salad sits in the refrigerator. Before serving leftovers, gently toss the salad to redistribute the dressing and coat the berries evenly.
Keep in mind that the berries may soften slightly after being refrigerated. While the flavors will still be delicious, the texture might be different from when the salad was freshly prepared.
Remember, the longer the salad is stored, the more the berries may break down and release their juices. Therefore, it is recommended to enjoy the salad within the first day or two for the best taste and texture.
What to Serve with Summer Fruit Salad
Mixed Berry fruit salad pairs wonderfully with a variety of dishes, complementing both sweet and savory flavors. Here are some delicious options to serve alongside the berry fruit salad:
Brunch Fare: Serve the fruit salad alongside a spread of breakfast or brunch items such as pancakes, breakfast casserole, or Shakshuka. I love how the vibrant and refreshing fruit salad adds a burst of freshness to balance the richness of the brunch dishes.
Grilled Meats: This salad is a fantastic accompaniment to grilled meats like chicken, pork, or even steak. The sweet and tart flavors of the berries contrast beautifully with the savory and smoky notes of the grilled meats.
Summer Salads: Serve the berry fruit salad alongside other fresh summer salads, such as a mixed green salad, burrata caprese salad, creamy cucumber and tomato salad, or a watermelon and feta salad. The combination of crisp vegetables and the sweetness of the fruit salad creates a delightful balance.
Other Recipes Made with Berries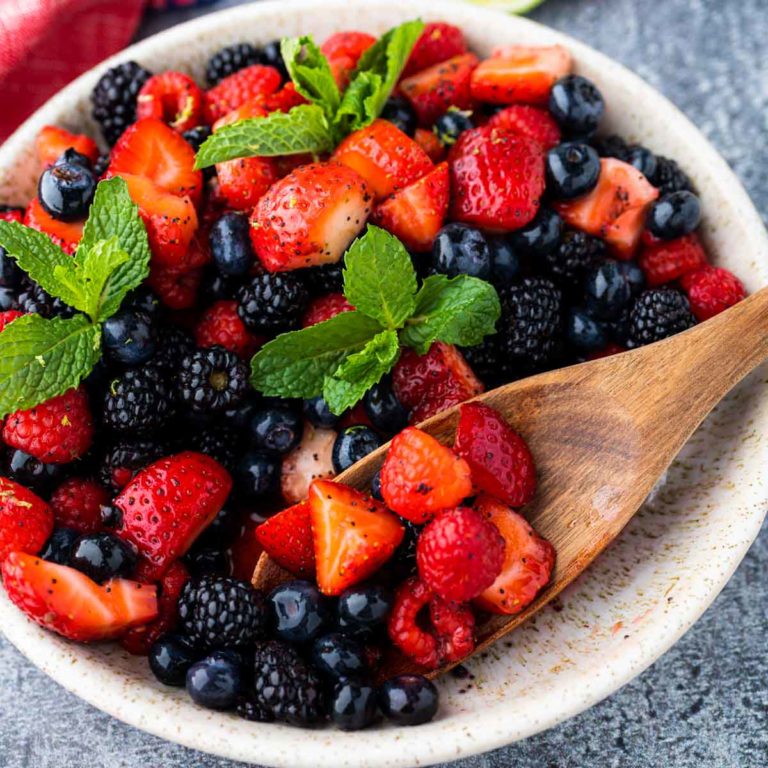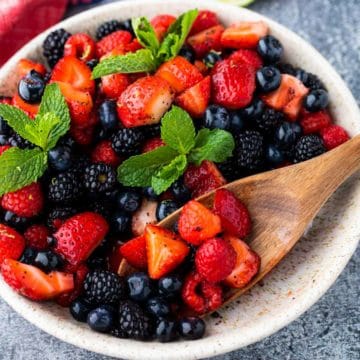 Berry Fruit Salad
Berry Fruit Salad: A vibrant medley of raspberries, blackberries, blueberries, and strawberries, tossed in a sweet and tangy honey lime dressing, creating a refreshing and irresistible summer favorite.
Ingredients
1 ½

cups

raspberries

1 ½

cups

blackberries

1 ½

cups

blueberries

1

pound

strawberries

,

hulled and halved or quartered

3 - 4

tablespoons

honey

2

tablespoons

lime juice

mint springs

,

to garnish

zest of 1 lime

,

to garnish
Instructions
Wash and dry fruit. Hull and slice strawberries in half, quarters or bite sized pieces.

Place the raspberries, blackberries, blueberries, and strawberries in a large bowl.

Whisk together the honey, lime juice, and poppy seeds in a small bowl until well combined.

Pour the honey lime mixture over the berries and gently toss to coat.

Serve immediately, or cover and refrigerate for up to 4 hours. Garnish with mint sprigs and lime zest if desired.
Nutrition
Serving:
1
serving
Calories:
110
kcal
Carbohydrates:
27
g
Protein:
2
g
Fat:
1
g
Saturated Fat:
0.03
g
Polyunsaturated Fat:
0.4
g
Monounsaturated Fat:
0.1
g
Sodium:
2
mg
Potassium:
259
mg
Fiber:
6
g
Sugar:
19
g
Vitamin A:
118
IU
Vitamin C:
65
mg
Calcium:
34
mg
Iron:
1
mg
Nutrition Disclaimer
Soulfully Made is not a dietician or nutritionist, and any nutritional information shared is only an estimate. We recommend running the ingredients through an online nutritional calculator if you need to verify any information.