This sweet and simple Mixed Berry Yogurt Parfait will have you wondering how in the world such a divine treat could be considered breakfast! Beautiful and colorful layers include a mixture of fresh and juicy berries such as raspberries and blackberries, which are paired with creamy and tangy yogurt and the crunch of granola.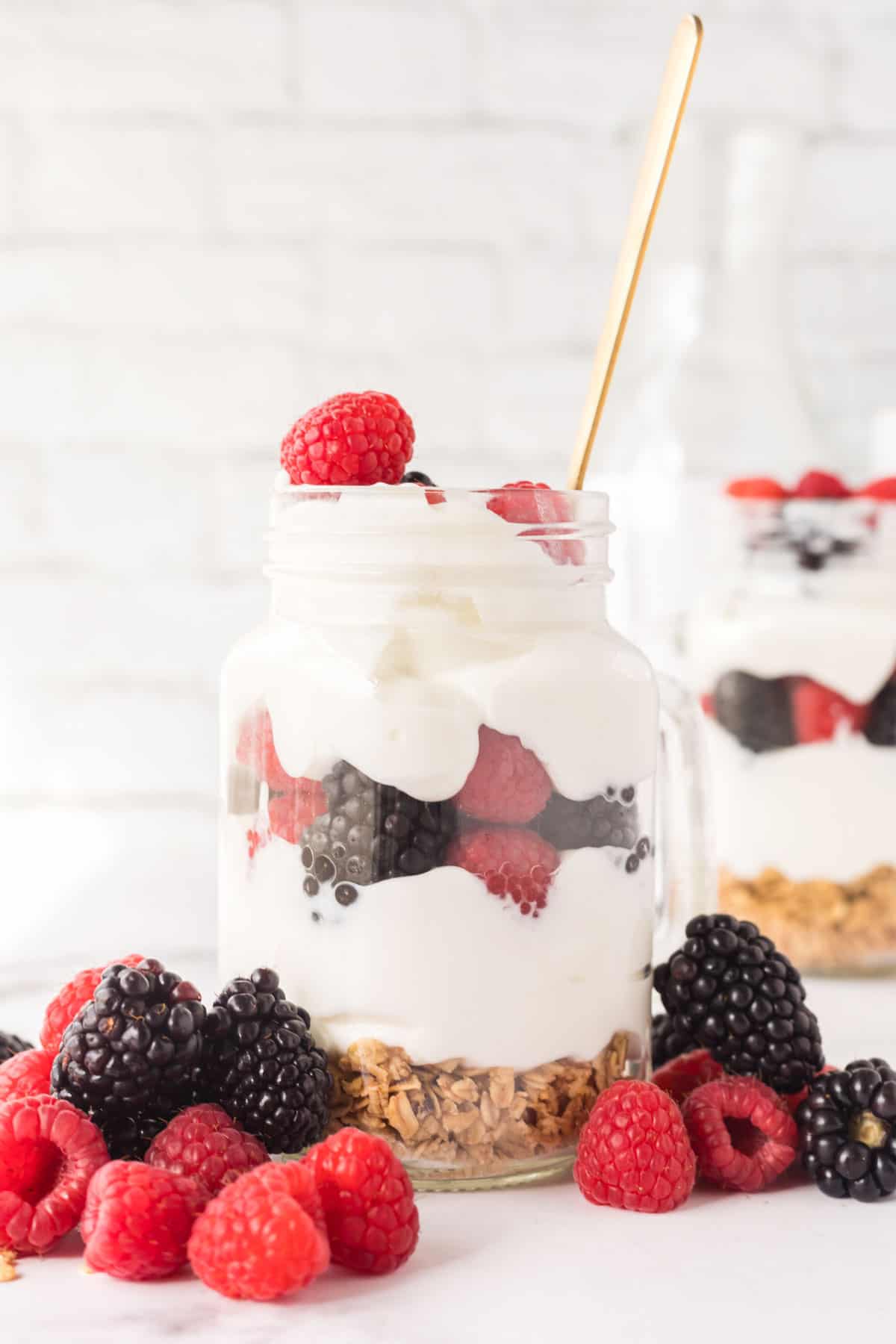 And the best part? DRUMROLL PLEASE! These berry parfaits are super customizable! You can use any amount or type of yogurt, crunchy granola, and your favorite fruit. Include more tasty ingredients like chocolate chips, M&M's, or whatever makes you happy!
A mixed berry yogurt and granola parfait is perfect for a quick and effortless breakfast for a busy morning. And it's also an excellent pick-me-up snack in the middle of the day. Healthy eating is easy with yogurt parfaits to kick your mind and body into gear.
If you're a fan of parfaits, try my brand-new Strawberry Yogurt Parfait, Strawberry Cheesecake Parfait, and this irresistible Banana Pudding Parfait!
Table of Contents
Why We Love This Recipe!
Five-Minute Prep: After only five minutes to throw together, fuel your day with this quick and easy breakfast parfait!
Nutritious: Greek yogurt is high in protein and has vitamin B12 and calcium. It's the go-to food for improving gut and bone health, as well as tackling other chronic health issues. Plus, the berries benefit your heart and blood sugar.
Perfect for Spring: With spring around the corner, it's time to switch from warm cozy bowls of winter oatmeal to welcoming spring with this bright and fruity parfait!
Ingredient Notes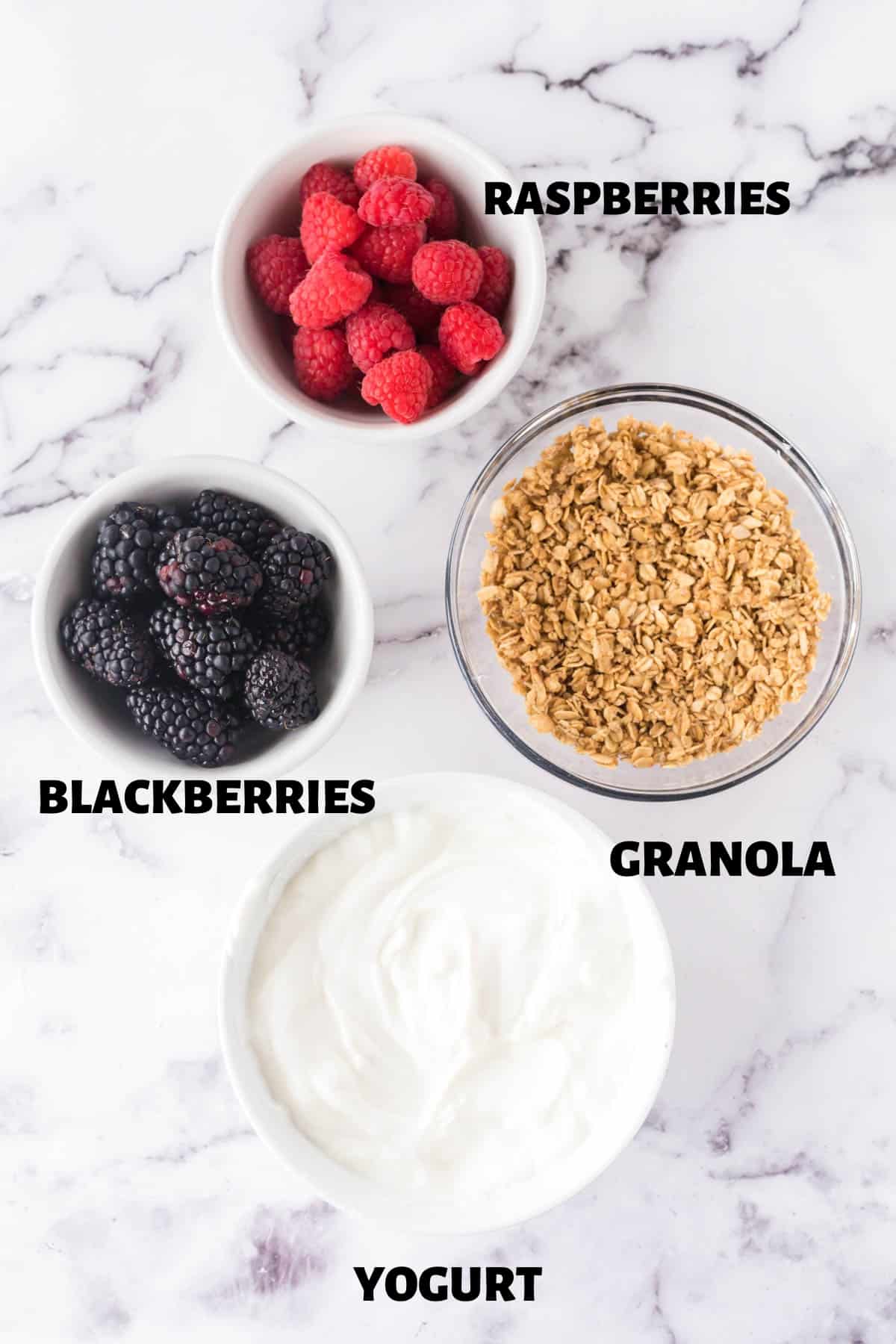 Variations and Substitutions
How To Make Mixed Berry Yogurt Parfait Recipe
✱ Be sure to see the recipe card below for exact ingredients and instructions!
Step 1 | Create the granola base
Grab four regular-sized drinking glasses or 8-ounce mason jars OR six to eight short glasses. Begin assembling the mixed berry parfait by spooning a small layer of granola into each glass. You'll want it to be around just 1 inch thick.
Step 2 | Add yogurt, then berries
Next, add a layer of creamy yogurt over the granola in each glass. Then, top the yogurt with a small handful of raspberries and blackberries.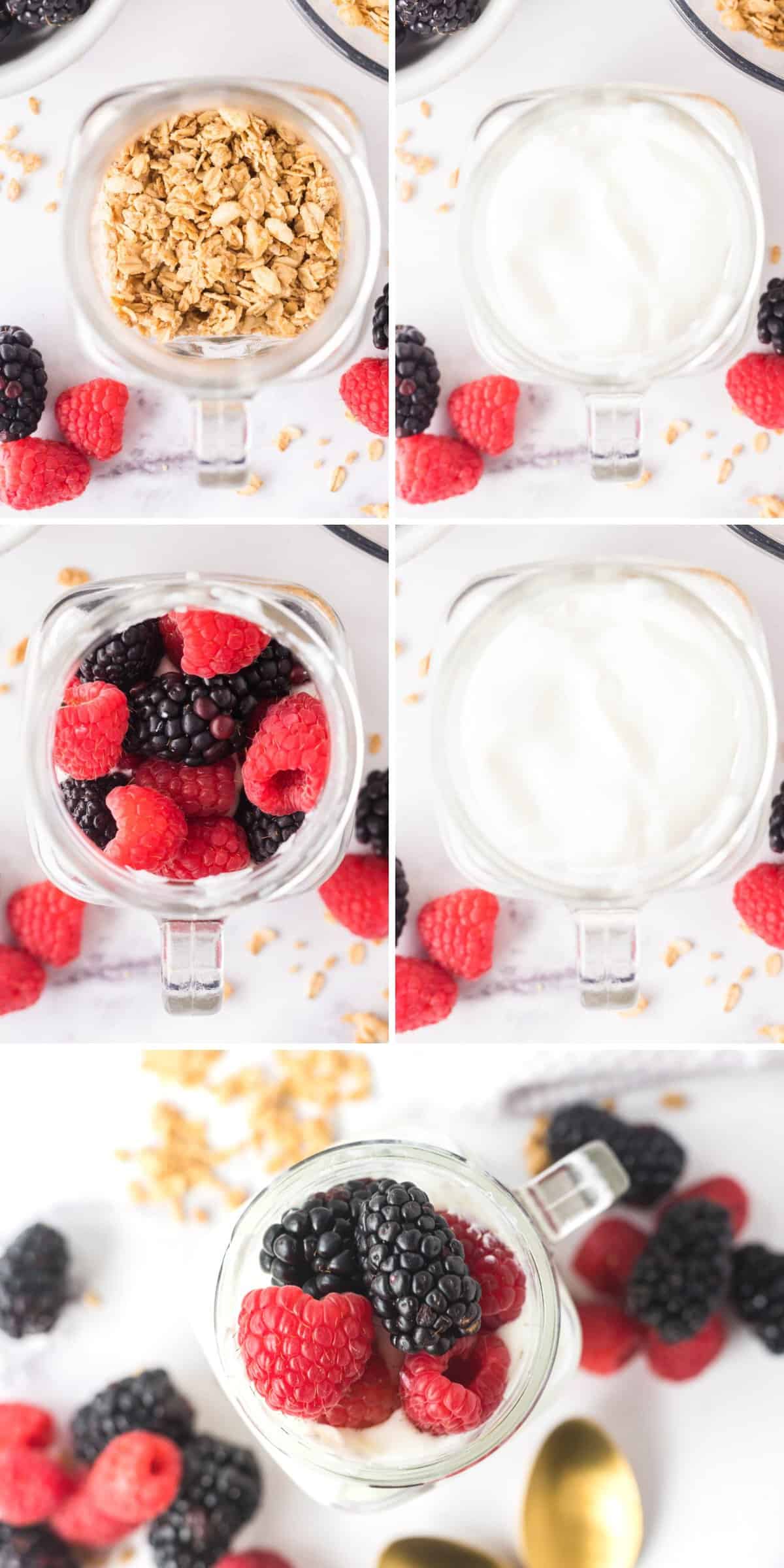 Step 3 | Finish the parfait layers
All that's left to do is drop another layer of the remaining yogurt into each glass on top of the berries. Then, top the parfaits with some more fresh fruit. If preferred, you may also add one more layer of sprinkled granola.
Step 4 | Serve and enjoy!
And that's all it takes to make a healthy and delicious breakfast or snack. You'll be happy to know that a mixed berries parfait is one of the best breakfast choices, providing protein, dietary fiber, and healthy fats to get you through the day!
For the best flavor and texture, serve your parfaits right away!
Tips
Avoid Soggy Granola – Be ready to serve these parfaits quickly after creating them, or you may have mushy granola as it absorbs the moisture from the yogurt and berries.
More Berry Flavor – Add more fresh berry taste by smashing part of the berries into the Greek yogurt before assembling the layers. Mix the two and use this berry yogurt for a yogurt layer.
Granola with Yogurt Breakfast Parfait - It is not only for breakfast-- try it for an afternoon snack or a delicious dessert.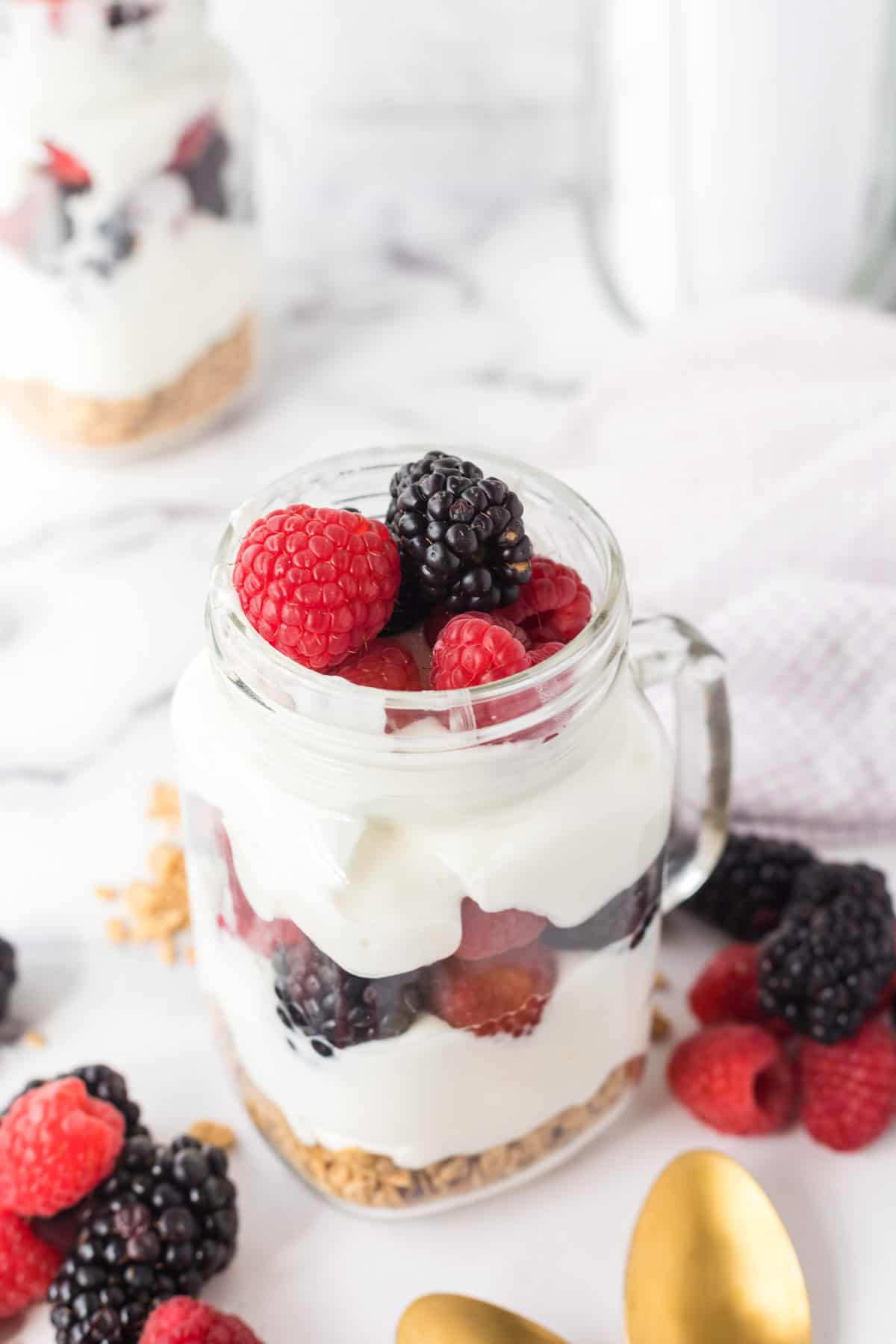 Recipe FAQ's
Can you make a parfait with frozen fruit?
For parfaits, I will always recommend using fresh fruit only. This is because frozen fruit becomes soft and mushy as it thaws. One of the signature qualities of a perfect parfait is its freshness. Soggy fruit just won't do the trick.
Can you store parfaits for later?
Your mixed berry parfaits are best served fresh. After a while, the yogurt will start to soften the granola. However, if you do not care about the texture of your granola, you can absolutely store these parfaits in airtight containers in the fridge. They'll keep for up to 2 days when covered with plastic wrap or sealed in a mason jar as well.


If you want to make them ahead of time without mushy granola, try omitting the bottom granola layer and add the granola at the top of the easy parfait when ready to serve.

Are parfaits gluten-free?
They can be! It totally depends on the individual ingredients you choose for your parfait. Yogurt is naturally gluten-free, but some brands may contain gluten in the flavoring. So, be sure to check for the gluten-free label. The same idea applies to the granola. Remember to check for the GF-certified symbol, and you're good to go! And, of course, the fresh berries are 100% gluten-free.
Storage Notes:
Storage: As mentioned, the granola will become soft instead of nice and crunchy when you let it sit in the fridge with the yogurt and berries. But, if you don't mind the texture, they'll last a couple of days when sealed in a container in the fridge.
Freeze: I wouldn't recommend storing the parfaits in the freezer. Because of the dairy in the yogurt, the texture and taste may be off when you thaw the parfaits to serve later on.
What to Serve with Your Healthy Mixed Fruit Parfait
One of my favorite ways to enjoy sweet and fresh parfaits is to serve them with fresh-from-the-oven Blueberry Lemon Poppy Seed Muffins topped with a tart lemon glaze! For a break from the berry flavor, serve the parfaits with my Banana Nut Muffins.
And this next serving suggestion works for both breakfast and dessert! Try this delicious berry parfait with my rich and sweet Double Chocolate Banana Bread.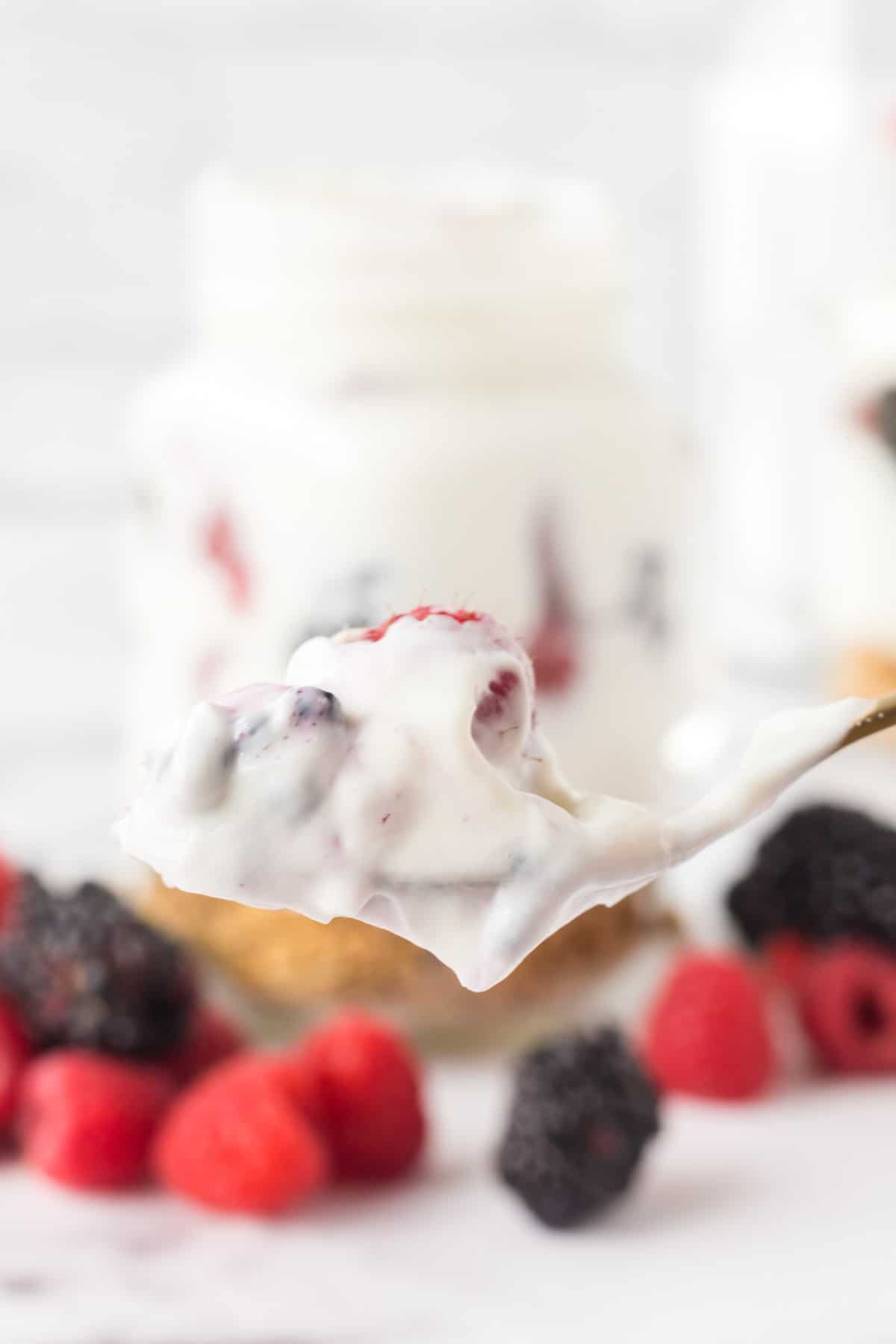 More Berry Delicious Recipes!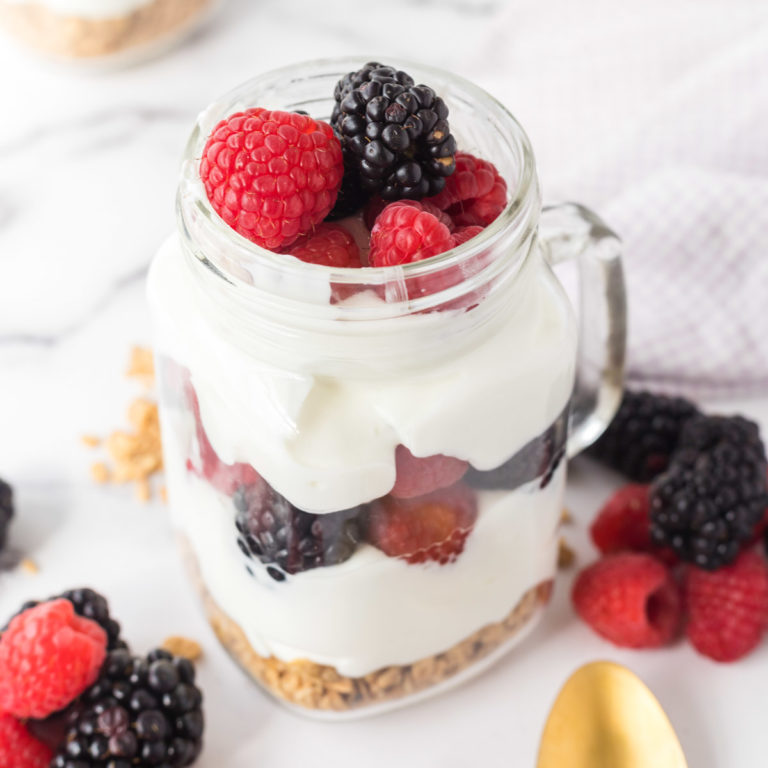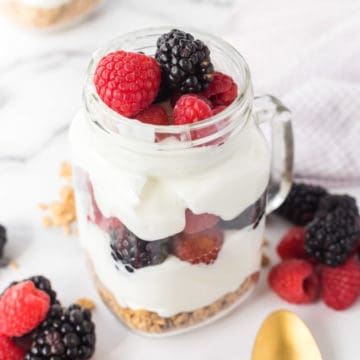 Mixed Berry Yogurt Parfait
This sweet and simple Mixed Berry Yogurt Parfait will have you wondering how in the world such a divine treat could be considered breakfast!
Ingredients
1

cup

fresh blackberries

1

cup

fresh raspberries

1 ½

cups

granola

2

cups

vanilla greek yogurt

,

(or your favorite yogurt)
Instructions
In 4 regular-size drinking glasses or mason jars (8 ounces,) place a small layer of granola about 1 inch thick.

Add a layer of yogurt over in each glass on top of the granola. Top the yogurt with a handful of raspberries and strawberries.

Add the remaining yogurt to the glasses and top the parfaits with some more fresh fruit.
✱ Nikki's Tips
These parfaits can be assembled with any kind of granola, making them fun to experiment with.
These parfaits are completely customizable. You can use any amount of yogurt, granola, and fruit if it fits in the glass.
We recommend fresh fruit with these parfaits. With frozen fruit, you have to let the berries thaw and by then they are mushy.
The parfaits are best served fresh. After a while, the yogurt will start to soften the granola. If you do not care about the texture of your granola, you can store these parfaits in the fridge for up to 2 days covered with plastic wrap. The granola on top will still be crunchy, just not the granola on the bottom of the glass.
Nutrition
Serving:
4
servings
Calories:
174
kcal
Carbohydrates:
28
g
Protein:
10
g
Fat:
3
g
Saturated Fat:
2
g
Polyunsaturated Fat:
1
g
Monounsaturated Fat:
1
g
Cholesterol:
4
mg
Sodium:
35
mg
Potassium:
545
mg
Fiber:
6
g
Sugar:
24
g
Nutrition Disclaimer
Soulfully Made is not a dietician or nutritionist, and any nutritional information shared is only an estimate. We recommend running the ingredients through an online nutritional calculator if you need to verify any information.