This recipe for berry Chantilly Sheet Cake is a soft and tender sponge cake with fresh berries and a fluffy Chantilly cream icing that melts in your mouth!
Made easy by turning it into a sheet cake. It's perfect for any celebration and gets rave reviews! You don't even have to tell anyone how easy it is to make!
Chantilly Cake is an absolute family favorite at our house. We first fell in love with this cake while enjoying it at a birthday party. It was my brother-in-law's birthday and they served a Publix chantilly cake and you really can't go wrong with any of Publix's cakes!
However, I just knew I had to come up with my version of a Publix Chantilly Cake and I wasn't going to rest until I did.
My kids loved, and technically I should say adored that chantilly cake! At least that is what they told me, before begging me to make one!
I knew I had to figure it out, but wanted to make an easy version. I also wanted to make one that would be good for our family gatherings! That bunch really loves cake!
Why you'll love this recipe
Semi-homemade: Even though this cake starts with a cake mix, it is amazingly delicious. It is topped off with a homemade whipped chantilly cream icing that is to die for!
Easy: Sheet Cakes are easy to make and easy to put together. Grab a jelly roll or 9 X 13 pan and you have an easy chantilly cake for the win!
Adaptable: While this is an easy sheet cake version, you can certainly make this a layer cake as well.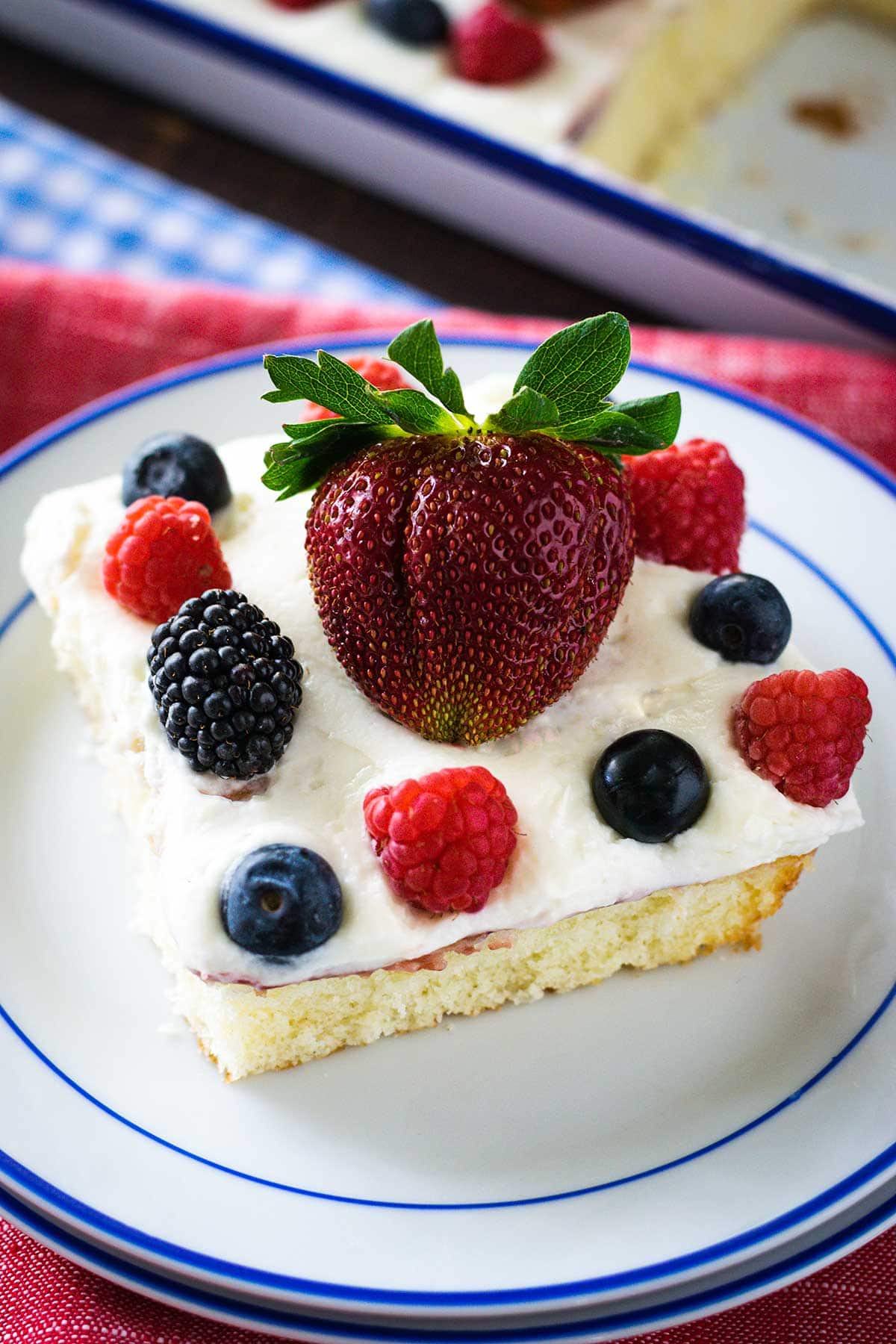 Ingredients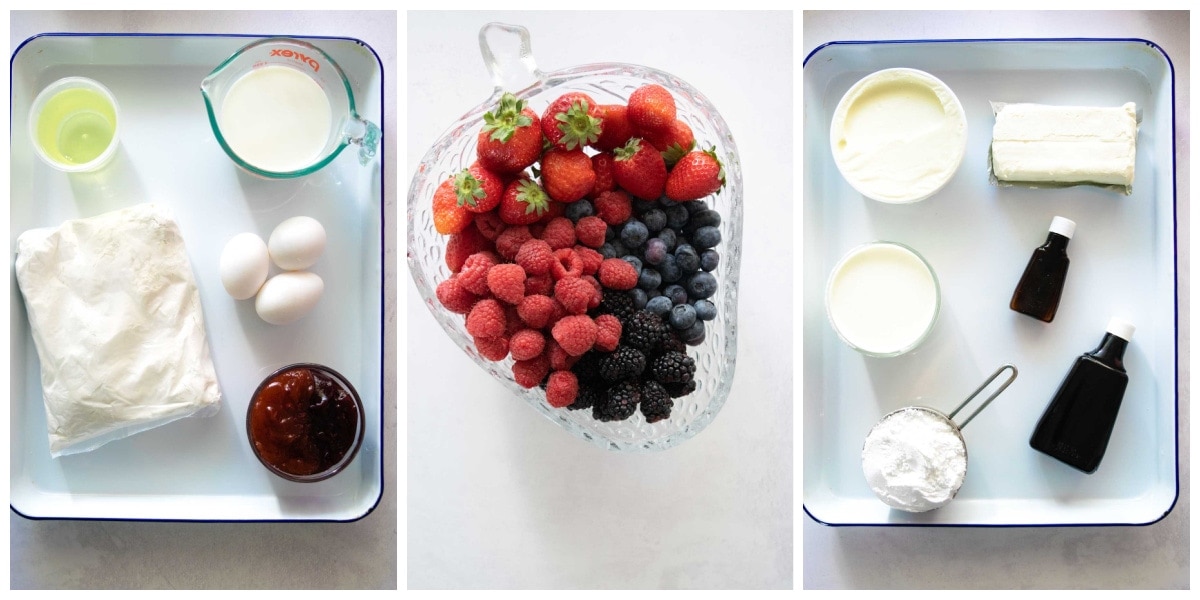 White cake mix - I have tested with Dunkin Hines and had amazing results. You can use what you have on hand.
Eggs - I use the whole egg, but you can also use just egg whites.
Milk - Whole milk makes for a really moist and soft cake.
Oil or melted butter - Vegetable, canola oil, or melted butter all work great.
Strawberry and raspberry jam - You can use one, both, or the jam of choice.
Cream cheese - I like to use full-fat cream cheese for silkiness smooth texture.
Marscapone cheese - The combination of cream and mascarpone cheese makes this a chantilly icing. The taste and texture are amazing.
Powdered sugar - Gives just the right amount of sweetness. Some call this confectioners sugar. It's all the same.
Heavy whipping cream - This whips up so nicely and makes this icing light and fluffy.
Vanilla extract & Almond extract - Using a little of both give this icing a really beautiful flavor. It makes it something special.
Fresh berries - Garnish with your favorite fresh berries that complement the jam filling. It adds freshness and really tops this cake off nicely.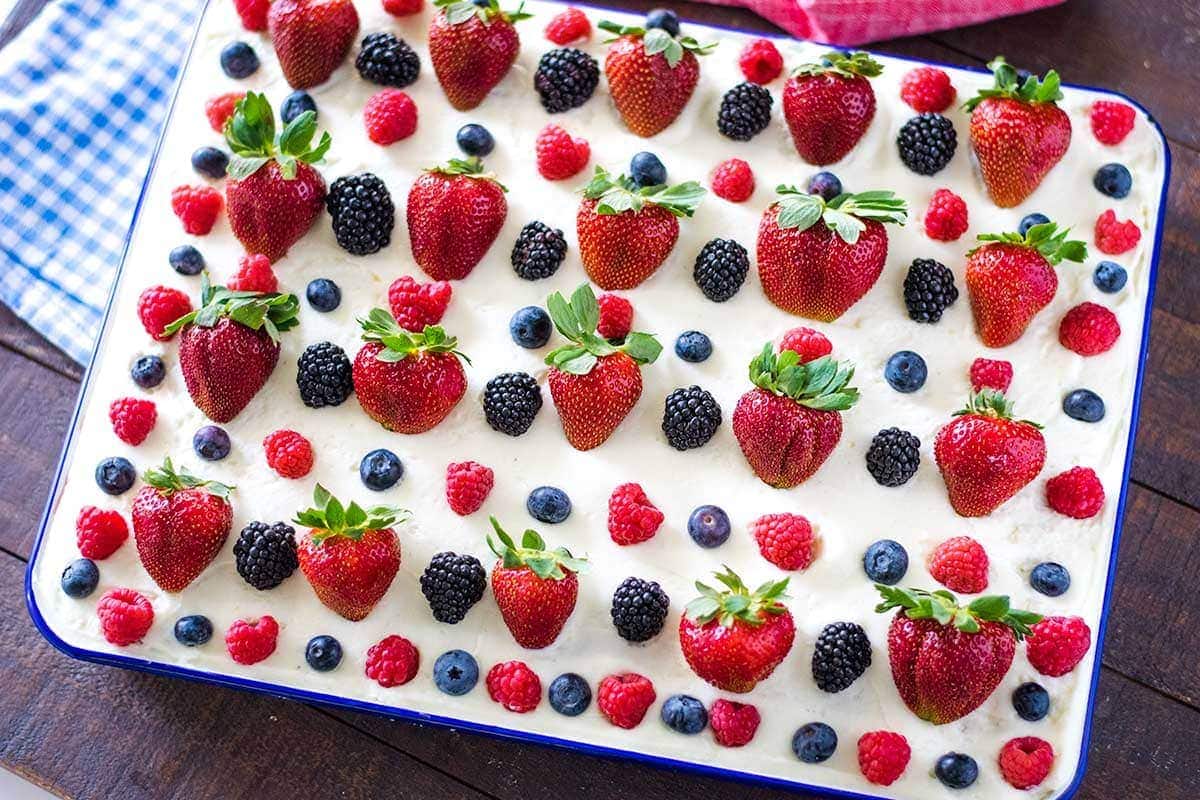 How to make chantilly sheet cake
✱ Be sure to see the recipe card below for exact ingredients and instructions!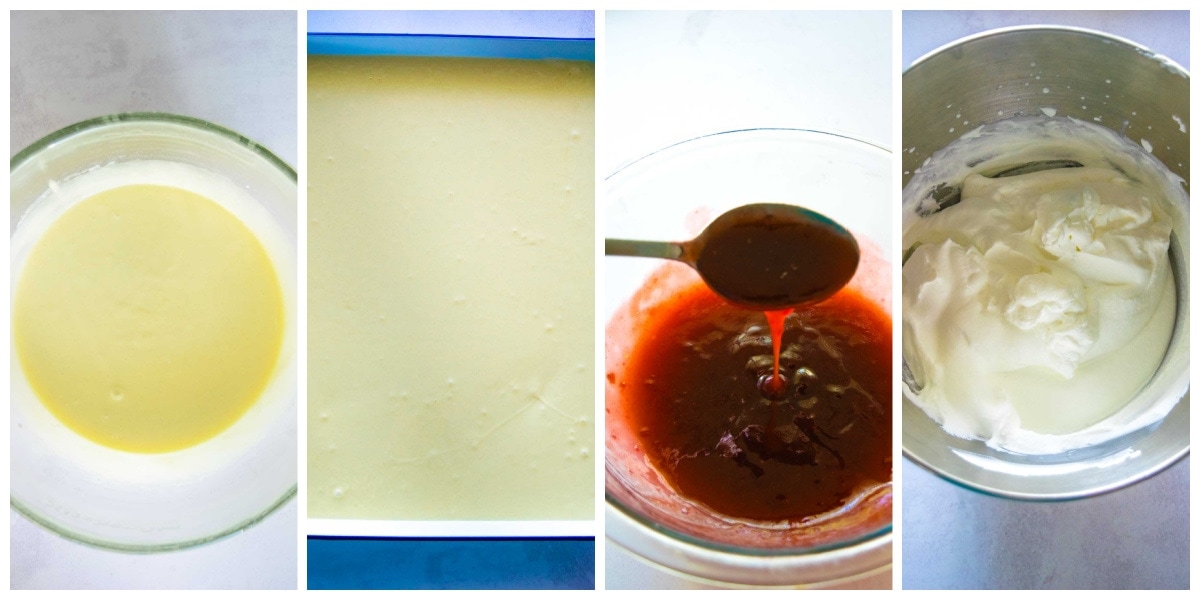 Chantilly Sheet Cake & Jam Filling
This sheet cake is a semi-homemade version to simplify the process while not losing out on flavor.
It starts with a cake mix and then you add in simple pantry items to get a nice sponge-like cake. I use this doctored-up cake mix recipe when I bake a white cake. I often also add sour cream but wanted a more sponge-like texture for this cake so I left it out.
Use a stand mixer to mix all the cake ingredients together until combined.
Bake the cake and let it cool for 10 minutes.
While cooling, microwave jam until it liquifies. Then pour over the cake and let it cool completely.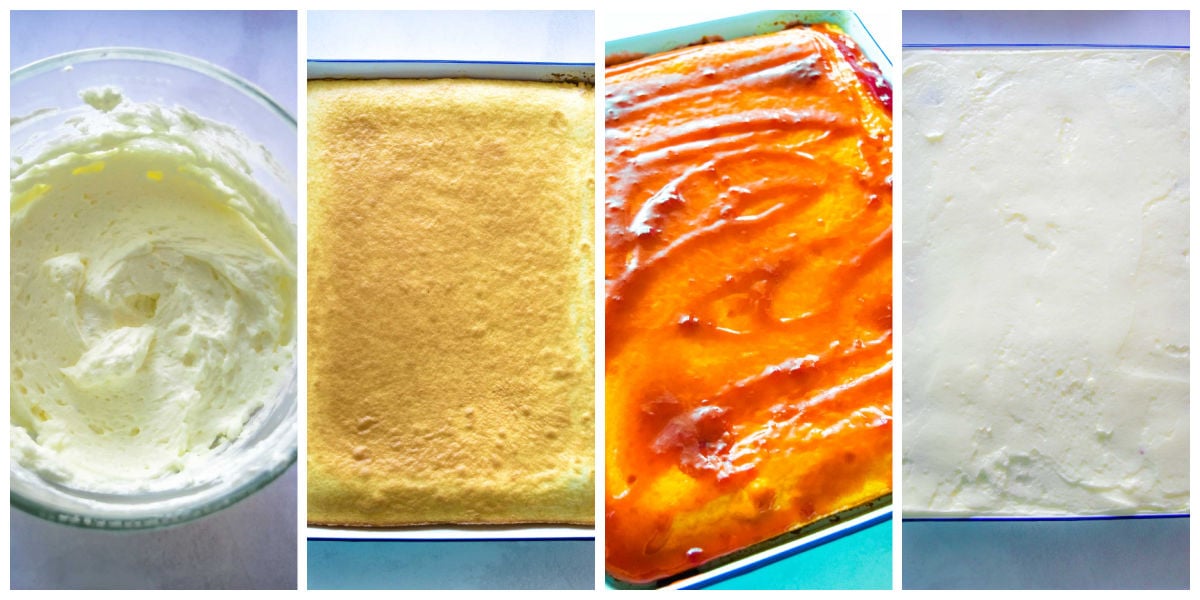 Chantilly Whipped Cream Icing
For the icing, we are going all out homemade! That doesn't mean difficult though. It comes together easily and I promise it is so good you will be lucky if it makes it from the bowl to the cake!
Here are some great tips on making perfect whipped cream.
Whip heavy whipping cream and extracts until stiff peaks form.
Beat together the cream cheese, mascarpone cheese, and powdered sugar until blended and smooth.
Gently fold whipping cream into cream cheese mixture. Spread onto cooled caked and garnish with berries. Refrigerate until ready to serve (at least 2 hours).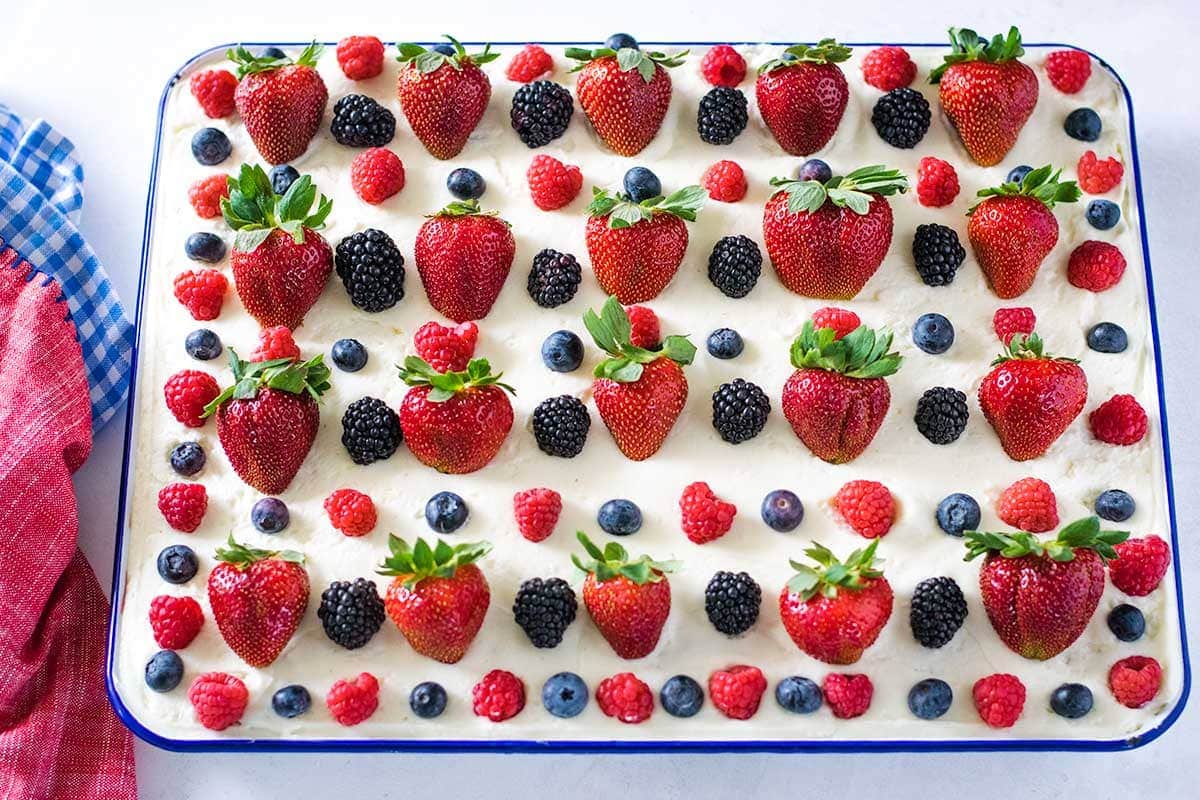 Frequently Asked Questions
What is chantilly cream?
Chantilly cream may sound a little fancy, but it really is just a sweetened whipped cream made with heavy cream. The name Chantilly actually comes from the place where it was is thought to be invented, Château de Chantilly France. Here is a little history on it, if you want to know more.

It is traditionally made with vanilla, but I add a little almond to this recipe for an amazing flavor. I also prefer the taste of Chantilly cream made with a mixture of mascarpone and cream cheese. It's the perfect combination.
What is the difference between and chantilly cake and a gentilly cake?
Often you may hear a Chantilly cake referred as a Gentilly cake.
Really the difference is a Gentilly cake is typically made with buttermilk rather than milk like in a Chantilly cake.
What is mascarpone?
Mascarpone (pronounces mahs-car-Poh-nay) is an Italian double or triple cream cheese. It is smooth and silky in texture. It is made from cow's milk and has a high butterfat content that gives it such a rich buttery texture.

It is much more creamy than American cream cheese which is firmer and tangier. It also is more expensive as well, but well worth it in for this recipe my opinion.
Where can you buy mascarpone cheese?
Usually, you can find this in the deli aisle in your grocery store, where the specialty cheeses are located. Keep in mind this cheese usually has a freshness date of only a week or so. You won't want to buy this too far in advance when making this recipe.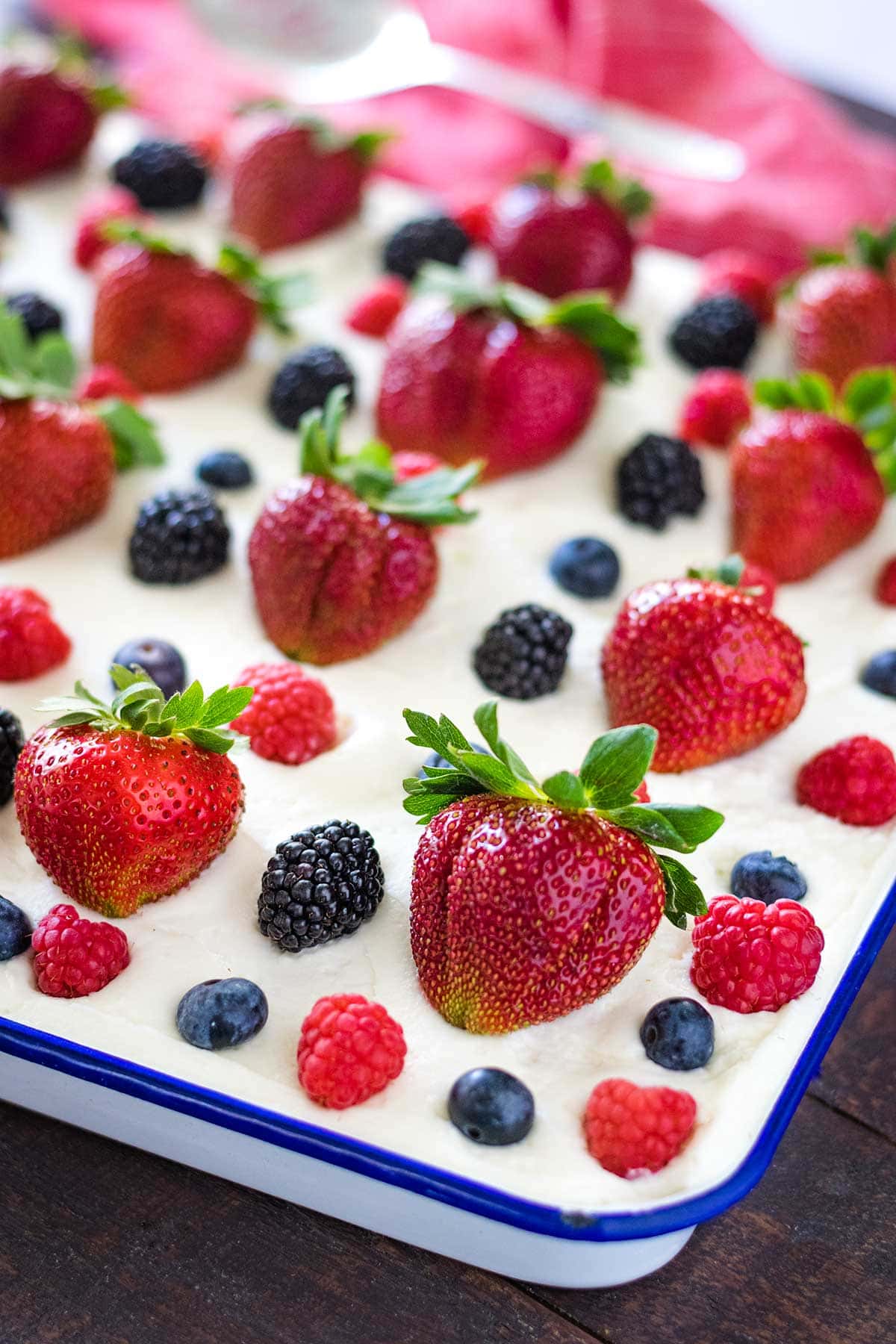 Make sure the cream cheese and mascarpone cheeses are completely softened/room temperature. This will make for a smooth icing.
For a true white frosting use a clear vanilla extract.
Want a super-smooth icing? Sift the powdered sugar before mixing it into the cream cheese.
Keep in mind how hot your oven cooks (all oven temperatures are different) and watch the cake cook time. I like to check about 5 minutes before the earliest cook time to be sure it doesn't overbake.
You can serve this at room temperature. However, I wouldn't keep it out any more than 1 to 2 hours. I definitely don't recommend serving this cake outside in warm temperatures. The whipped cream icing melts quickly in the heat.
Tips
Storing Chantilly Cake
Chantilly cream, as well as berries, are somewhat delicate. You are using fresh whipped cream and a cream cheese mixture, so this cake needs to be stored covered in the refrigerator.
The berries on top will keep the wrap from getting stuck to the icing and keep the cake pretty. It will keep for up to 3 days.
Variations
Traditionally this cake is made with a combination of fresh berries. Here are a few ideas that I think would also be delicious:
You could feature just one particular berry and use the complimenting jam.
I think this would be delicious with fresh peaches or nectarines and peach jam.
Guava, mango, or papaya sounds delicious too.
A tropical vibe would be amazing with fresh pineapple on top, pineapple jam filling, and use coconut extract in place of the almond extract.
This cake is perfect for a family gathering, an Easter or spring dessert, church potluck, or just when you want cake!
The colors of the berries are perfect for summer and patriotic festivities. Just remember not to keep this one out in the heat!
Last time I served this cake I was told by a friend it reminded them of the Whole Foods cake! So if you love chantilly cake from Whole foods you are sure to love this one too!
I hope you enjoy this delicious cake! When I serve this I really do get rave reviews. According to my daughter, it's the best cake she's ever had!
It's now on my most requested dessert list from family and friends, along with my banana pudding and chocolate cake with oreo whipped cream!
More divine dessert recipes
Helpful Kitchen Items for this recipe:
DISCLOSURE ~ If a purchase is made using one of the affiliate links on this website, we may earn a small commission at no cost to you. Thank you! This helping to keep making new free recipes for you!