Raspberry Fluff Cake - a beautiful raspberry cake piled high with a fluffy raspberry whipped cream icing. It's light, tart and all around amazing. This sheet cake is perfect for Valentine's Day, holidays, birthday parties, church potlucks, a girlfriends get together or just anytime you want cake.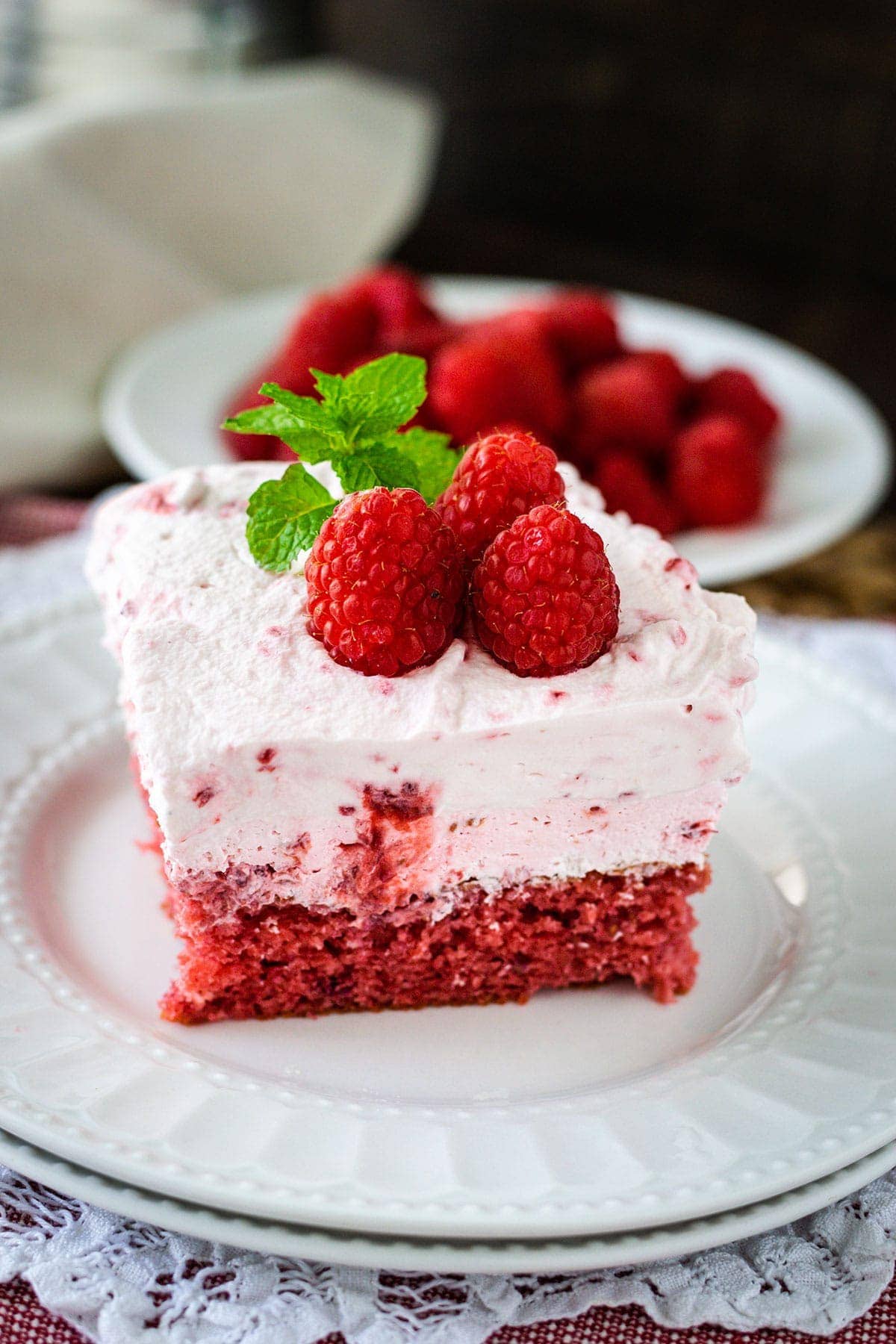 Let's be honest, cake is never a bad idea! Any occasion around my house we can think of for cake I gladly bake one. This week the reason is Valentine's Day and something pinkish was in order.
I made this cake for a shower once and it turned out so fluffy I named it raspberry fluff cake. It is also the perfect cake for our Valentine treat, any holiday or really any gathering.
It has that cloud like bite you get with a poke cake, without the holes! If you love airy cakes like lemon pudding poke cake or carrot cake with whipped cream icing you are sure to love this Raspberry Cake!
Why you'll love this recipe
Simple: Although this cake is super bright and beautiful, it is super simple to make.
Make ahead: The cake can easily be made ahead of time, I like to make it the night before, perfect for a feast or gathering .
Delicious: The cake is wonderfully light and moist and the whipped icing has a bit of tart raspberry while fluffy and delicious!
Ingredients
white cake mix (dry)
raspberry gelatin
canola or vegetable oil
large eggs
hot water
frozen whole raspberries
granulated sugar
heavy whipping
powdered sugar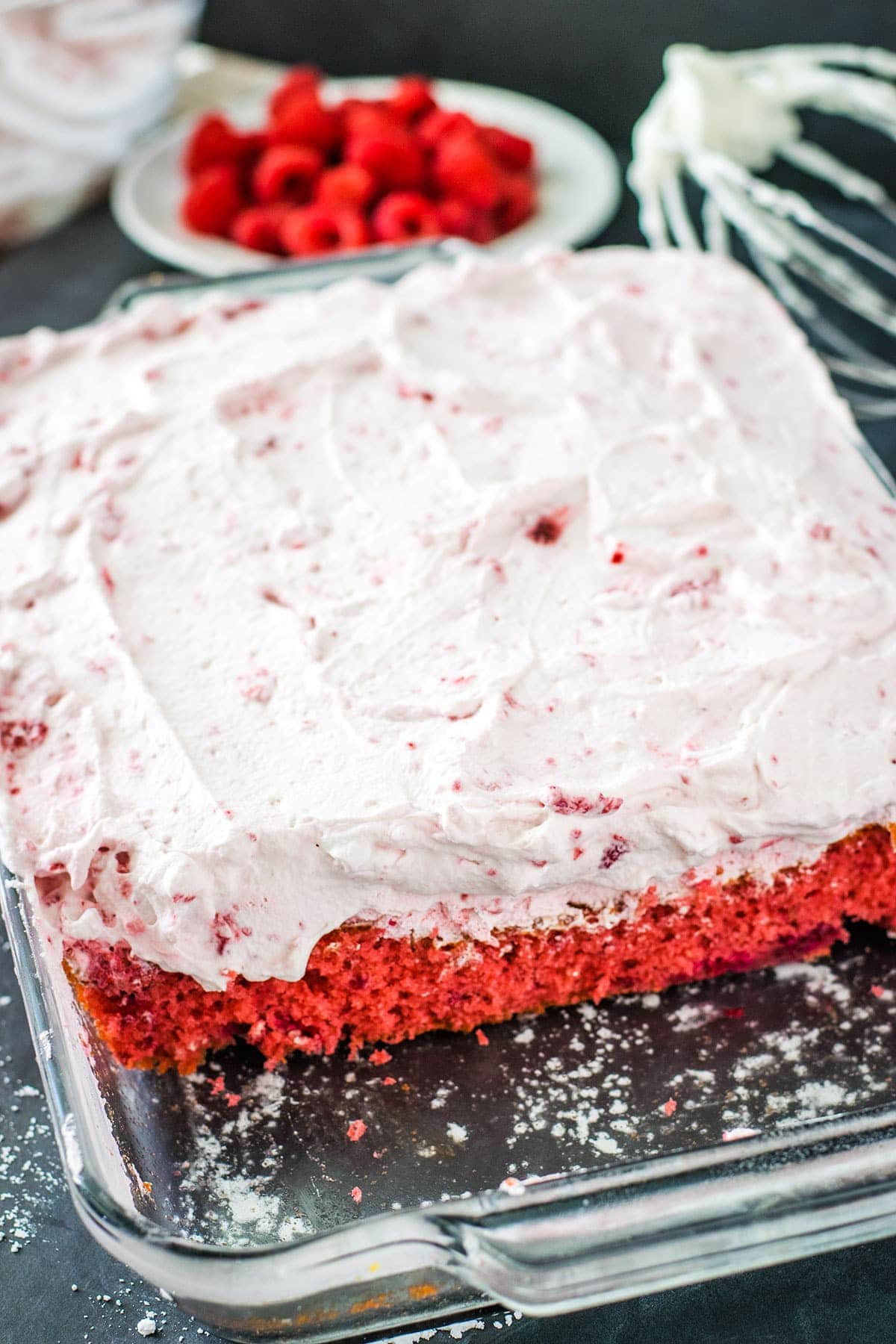 How to make raspberry fluff cake
✱ The full list of ingredients and instructions is found in the printable recipe card below.
For the cake
Prepare 9 x 13 pan and preheat oven to 350°.
Sweeten and coat raspberries with granulated sugar.
Mix cake mix and half of sweetened raspberries.
Pour into prepared dish and bake.
Remove and completely cool cake
For the whipped cream topping
Whisk together heavy whipping cream with powdered sugar and vanilla until stiff peaks form.
Fold in remaining sweetened raspberries.
Spread on cooled cake and refrigerate 2 hours to overnight.
FAQ's
Can this cake be made ahead of time?
Yes! I think it's best made no more than 24 hours ahead for the best freshness. So you can make the cake the day before with or without the topping.
The whipped topping needs to refrigerate at least 2 hours so that it is nice and cold and the flavors combine. So, if you choose to only prepare the cake ahead make sure to plan accordingly.
How to store cake?
This cake needs to be stored in the refrigerator. Cover with plastic wrap and refrigerate for 3 to 5 days.
Can you make this a layer cake?
This can be made as a layer cake as well. Just follow cooking times on cake box and then layer whipped icing between 2 - 9 inch cakes and ice the outside of the cake.
Tips
Don't over mix the cake batter, just combine the ingredients for a moist and tender cake.
Make sure to cool the cake completely before adding the fluffy raspberry whipped cream topping.
Refrigerate the cake for at least 2 hours so that the whipped topping is nice and cold and the flavors combine.
Garnish with fresh raspberries and mint leaves for a beautiful presentation.
More cake recipes
You can find all my delicious cake recipes here!