Slow Cooker Roast Beef Debris Recipe - Tender shredded beef cooked low and slow creating the most juicy deliciously rich gravy all while it cooks. Perfect for a New Orleans Style Po' Boy or served as a main dish over potatoes or french fries!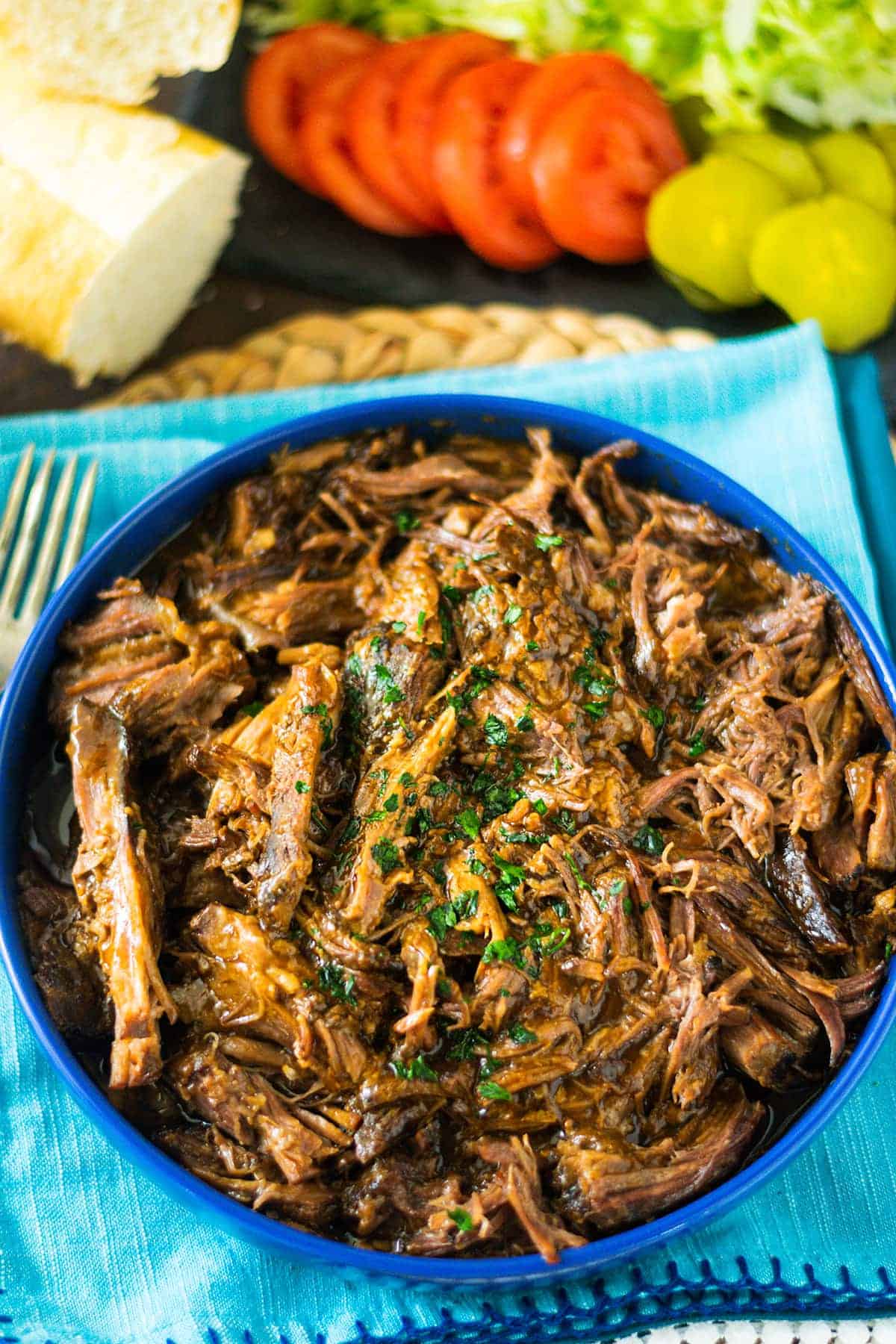 Let's talk comfort food! If you look up the definition I am sure you will see a picture of this. Oh my goodness is this ever scrumptious!
My family loves New Orleans style food. We love the spicy dishes, the seafood, the richness that you often see in their food, and those beignets are the most heavy bites of dough known to man!
How we have never been to New Orleans is a mystery to me. That is definitely going to happen soon. Okay I have digressed, but I guess part of my heart is there already. And for sure my taste buds!
This roast beef debris recipe is a little spin off on the original. However, it does not lack in that richness I speak of or in flavor. What it does do is take a dish and make it super easy. It is one the whole family will love.
Why you'll love this Roast Beef Debris Recipe:
Easy no fuss recipe. With this easy slow cooker recipe you just pour in the ingredients and let the slow cooker do all the work. Simple as that.
Extra Delicious - There is so much flavor in this dish! You feel like you have stepped into a taste of New Orleans.
Make ahead - You can make this ahead if desired and reheat in slow cooker.
Perfect family meal & great leftovers - This recipe makes a great main dish, sandwich, and it tastes great for leftover too.
What is roast beef debris?
Roast Beef Debris refers to the bits of beef that have been slow cooking in the drippings to create a very rich and delicious flavor like no other. You will find this in New Orleans most likely served on crusty French bread in the form of a Roast Beef Debris Po' Boy.
For this recipe I've taken some short cut convenience ingredients combined with a well marbled chuck roast to add to your slow cooker and the end result is tender melt in your mouth goodness. This allows every bit of the roast to be debris.
Ingredients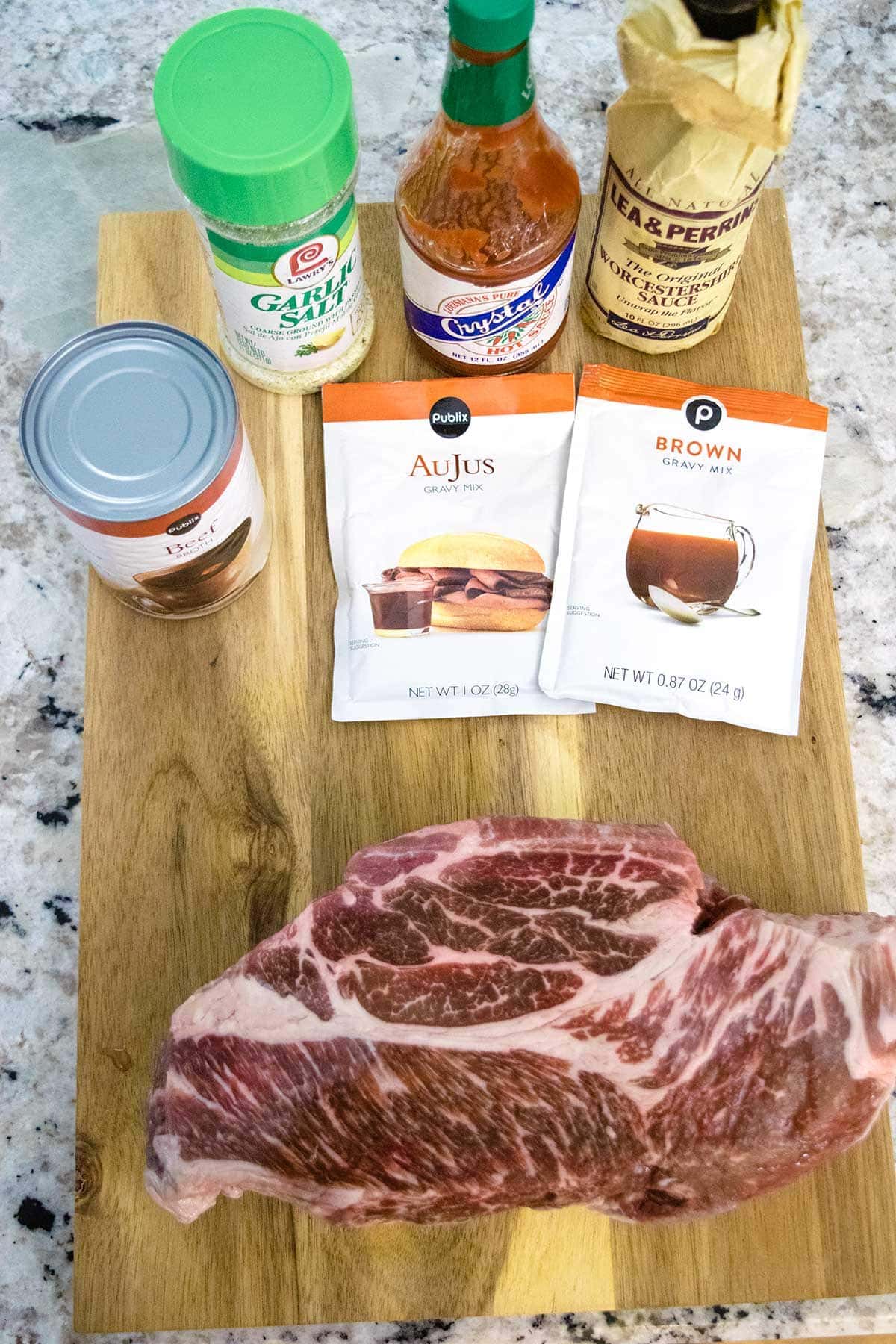 Chuck Roast - This cut makes for that melt in your mouth texture you are looking for. It also really soaks in all the flavor you add nicely! That is why it's my pick for a really good roast beef debri.
Pantry Ingredients - Use dry au jus packet and brown gravy packet to add in tons of flavor. These are convenient and pack that rich punch you want.
Spices - Garlic Powder and Salt to taste if desired. TIP: If you are watching salt intake you may not want to add salt. The gravy and au jus are pretty salty naturally. I add a little, but my family likes it salty.
Beef Stock or Broth - this adds moisture and flavor. It also helps create a delicious gravy.
Sauces - Hot Sauce for a little kick and Worcestershire Sauce for even more flavor.
How to make Roast Beef Debris with Gravy in the slow cooker:
✱ Be sure to see the recipe card below for exact ingredients and instructions!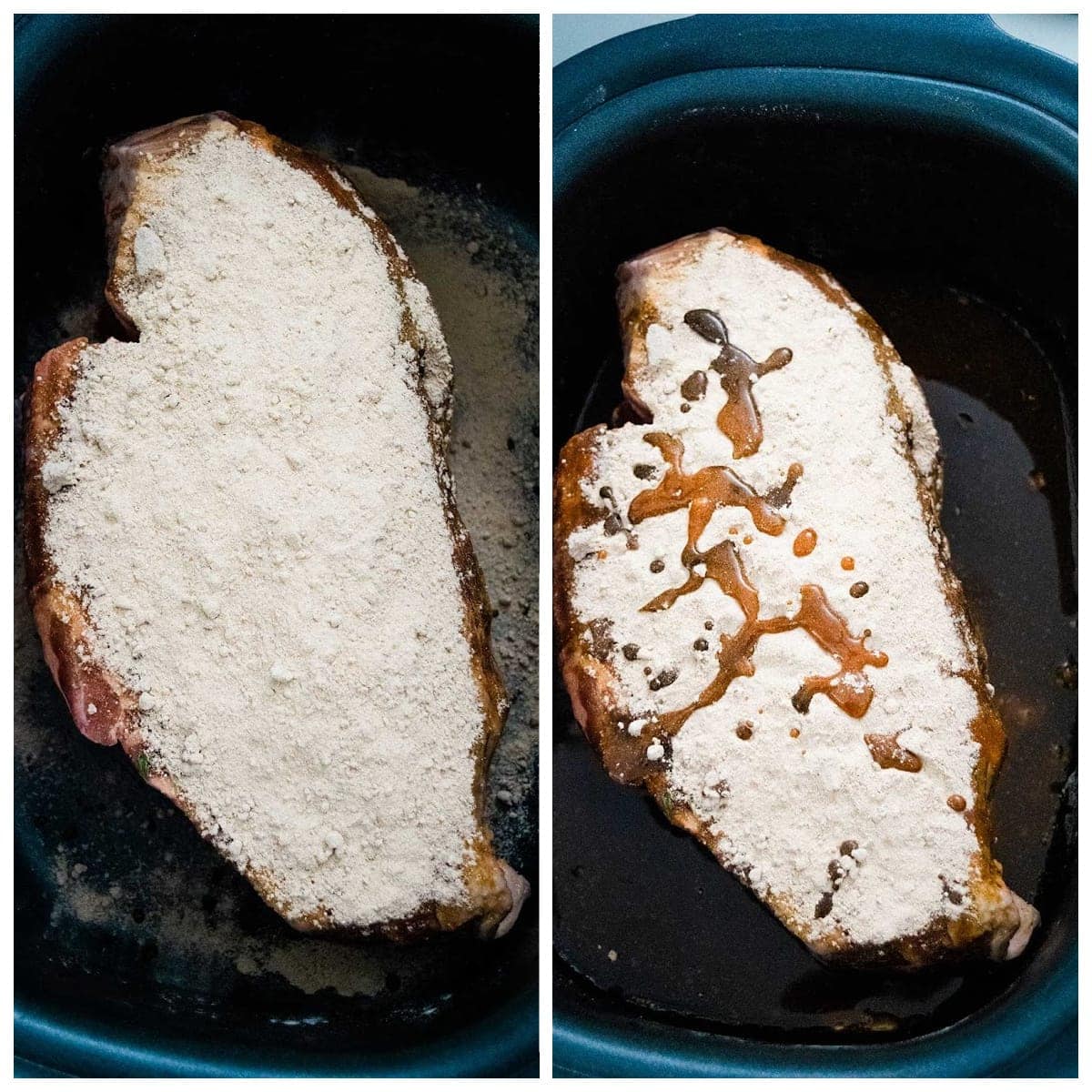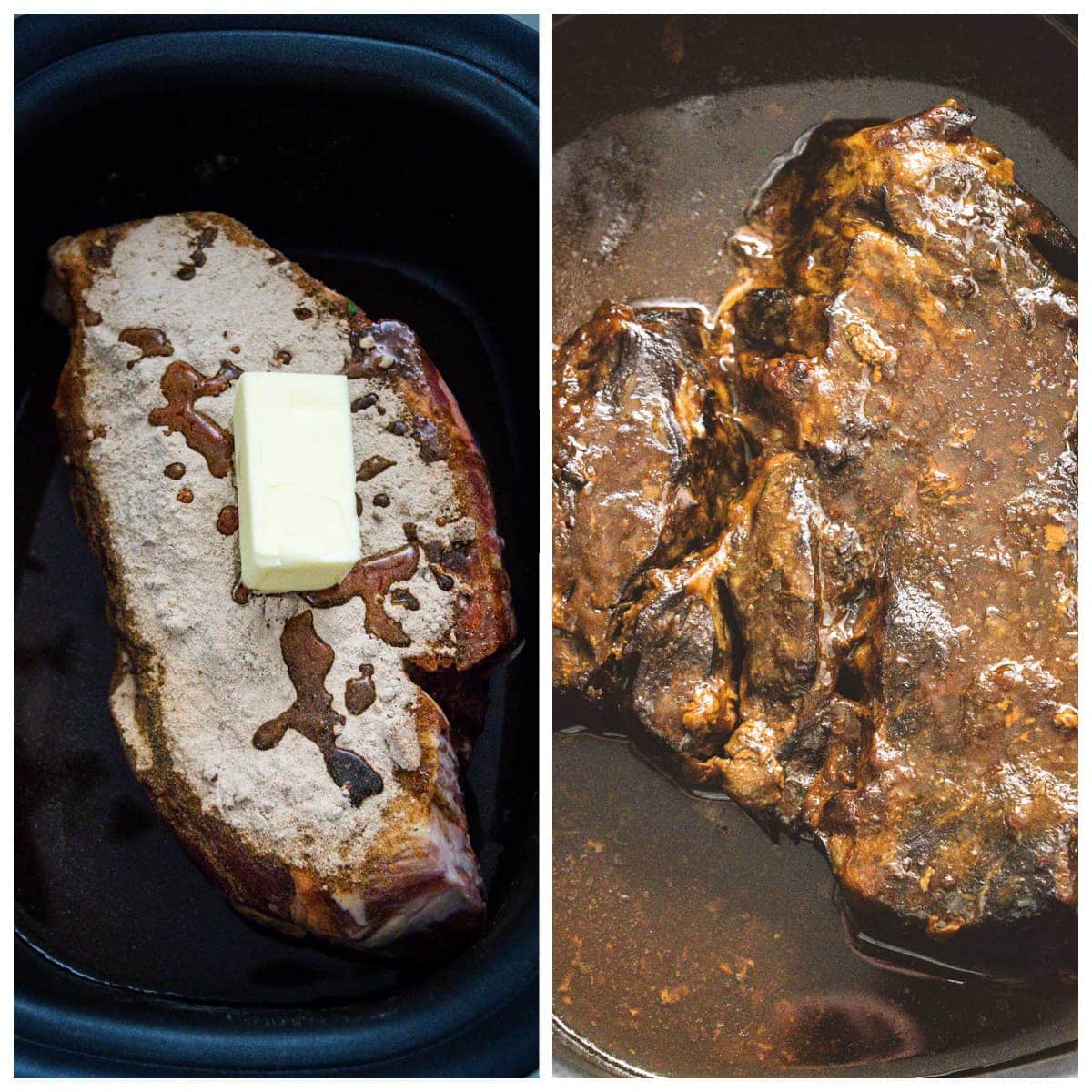 This recipe is pretty much a dump and let the slow cooker do the work recipe.
Place the chuck roast in the slow cooker.
Sprinkle dry ingredients on top of the roast.
Then top with sauces.
Pour beef broth into bottom of the slow cooker, around the roast.
Put on lid and cook for 8 hours on low.
Once done remove and shred.
Stir in cornstarch slurry if desired (see recipe notes), return roast beef back into slow cooker, and stir into the gravy that was created while cooking.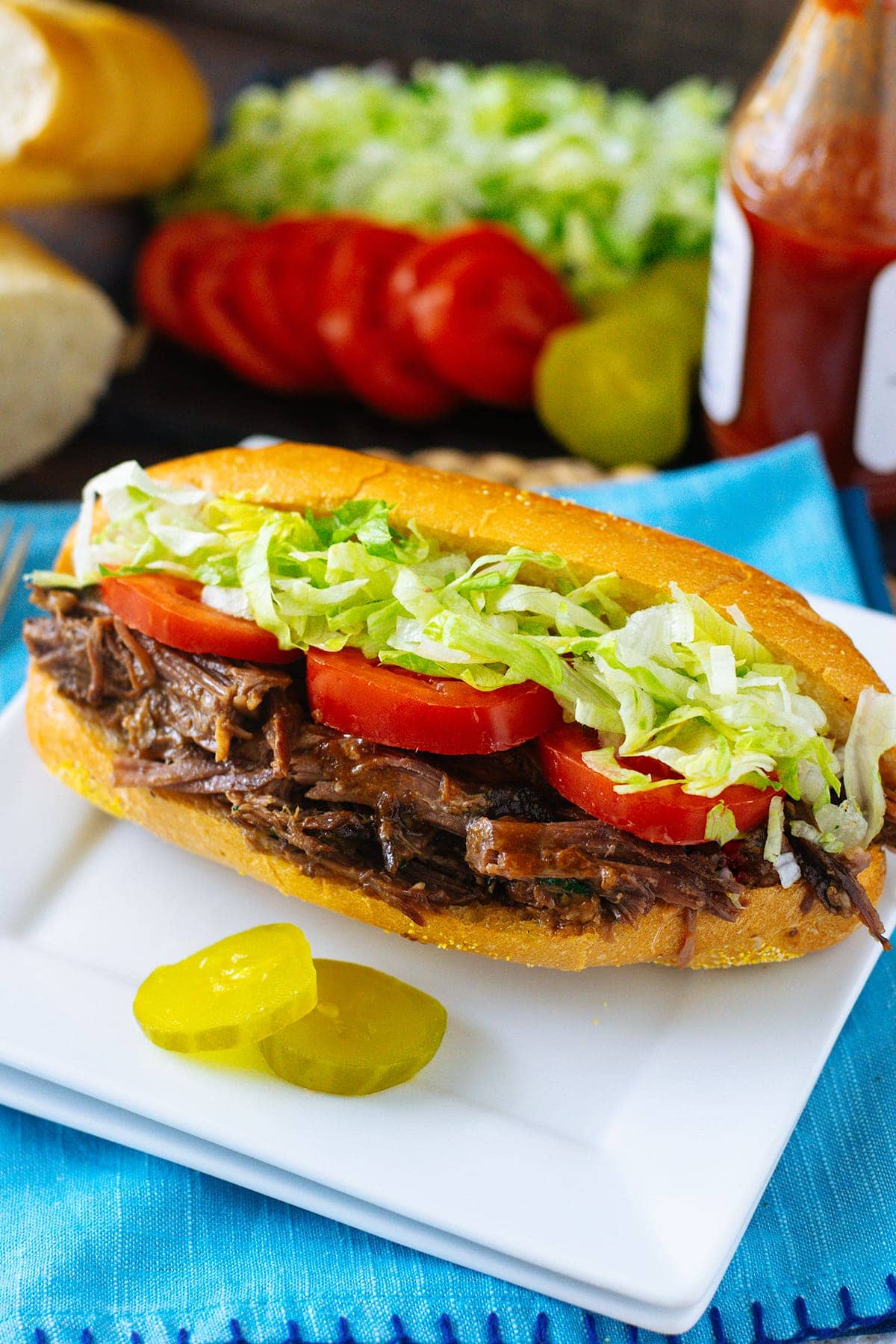 Frequently Asked Questions
What kind of beef is best for roast beef au jus?
I use a boneless chuck roast most often for this Slow Cooker Roast Beef Debris Recipe, but I have also used a rump roast as well. It's okay to use a tougher cut for this recipe because it will get super tender in the crockpot.
Do I need to sear the meat first?
No, I don't sear the meat because the ingredients add plenty of flavor to this dish. You certainly can though and it will add an additional flavor depth. I just keep this dish simple and don't miss that step with this recipe.
What type of bread do you use for roast beef debris po'boy?
The bread really does matter with this sandwich. You will traditionally see this served on nice crusty french bread. I also use sub rolls from my local grocery bakery, because they are crusty as well and have the flavor of a french loaf. You are going for nice and crusty on the outside and nice and soft on the inside.
What toppings are traditionally served on a roast beef debris po'boy?
Most often you see Mayo, shredded lettuce, tomato, and don't forget the pickles. That is how you will see it in NOLA. However, feel free to add the ones you love. I often drizzle a little hot sauce on top too!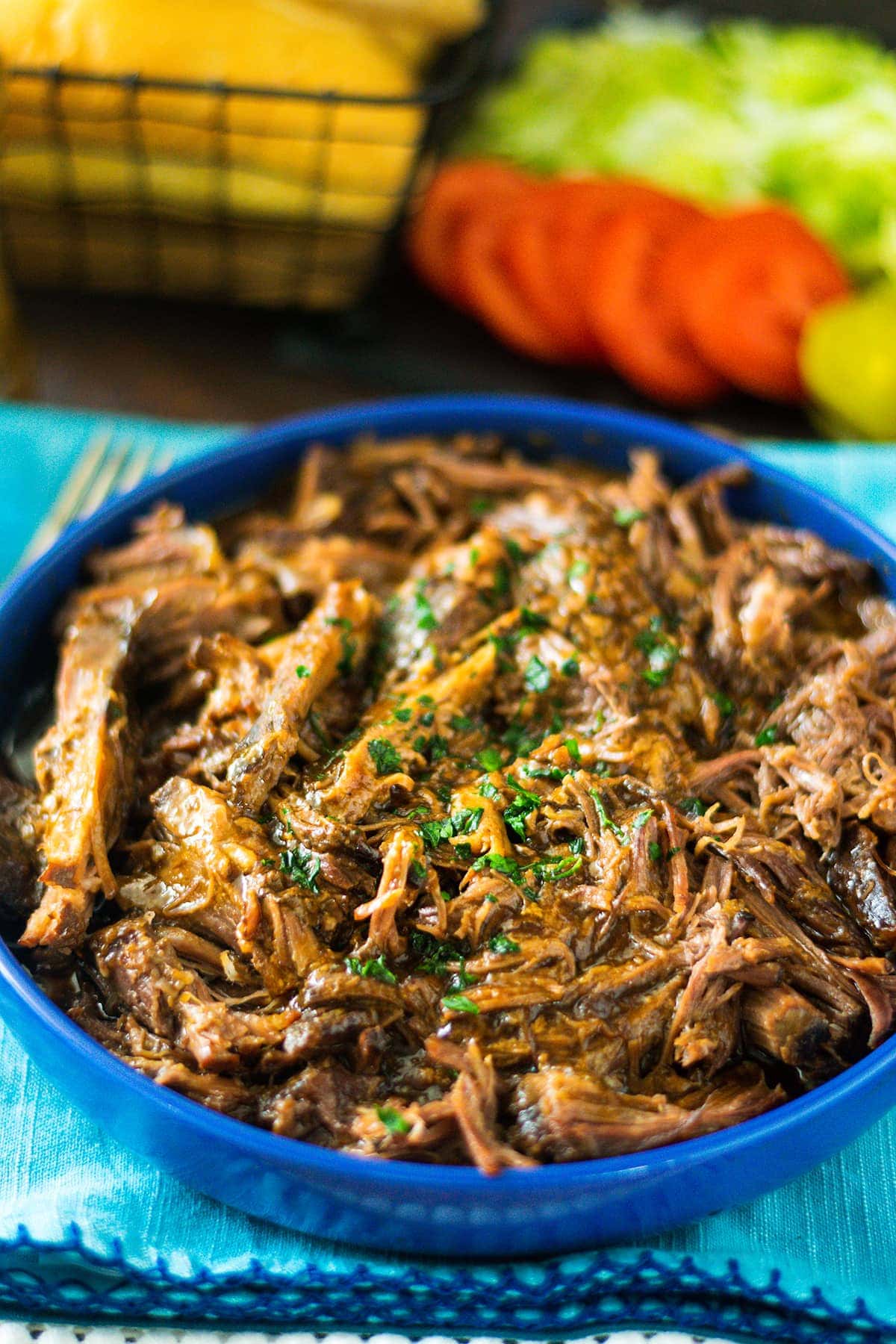 Tips
For an extra rich flavor you can add ½ a stick of butter on top while cooking. This really does pump up the richness. You can leave it off though if you would like. (I recommend trying it once and see what you think)!
Discard large fatty pieces - If you find larger pieces of fat when shredding, pull those out. Most of the time they will melt while cooking and that is what gives it all the flavor. However, every once in a while this happens. Just discard it.
Use Fresh Bread - If you are going to make this into a Roast Beef Debris Po' Boy, make sure to get fresh crusty french bread or one that is nice and crusty on the outside and nice and soft on the inside. It makes a world of difference.
Try over French Fries - Let me tell you this is heaven on a plate. Nice hot french fries with the debris gravy on top is so good it will make you want to dance! At our favorite NOLA place locally they add a little cheese too. It's delicious with or without that cheese.
How to serve roast beef debris
This is great as is or over riced cauliflower for a lower carb option.
Perfect over mashed potatoes, buttered egg noodles, or rice.
It makes an amazing Po' Boy Sandwich. Serve on French Bread with mayo, lettuce, tomato and pickles.
I cannot express how delicious this is over french fries! It's a great appetizer or even as meal. So GOOD!
More New Orleans Inspired Dishes
Whether you want something to celebrate Mardi Gras or are just in the mood for some Louisiana-style dishes a Debris Po Boy and any of these other recipes will do the trick!
The Best Shrimp and Grits - Shrimp and Grits cooked to creamy perfection and topped off with an andouille cream sauce that will make your heart happy!
Andouille and Crawfish Pimento Cheese Fries - These are heaven on a plate. If you don't care for crawfish you can substitute shrimp or just omit them completely! You have to eat these just once and you will be hooked.
Cajun Seafood Gumbo - A little spice and a lot of flavor! It starts with a roux and is finished off andouille sausage, shrimp, and crab meat! It's a classic Southern Dish, after all, it has okra in it y'all!
Chicken and Dirty Rice Skillet - This Louisiana-style Chicken and Dirty Rice Skillet will add a little Cajun spice to your week! This easy dish promises so much taste on a plate with andouille sausage, the trinity of veggies, all with just the right spices, and long grain rice all cooked in one skillet!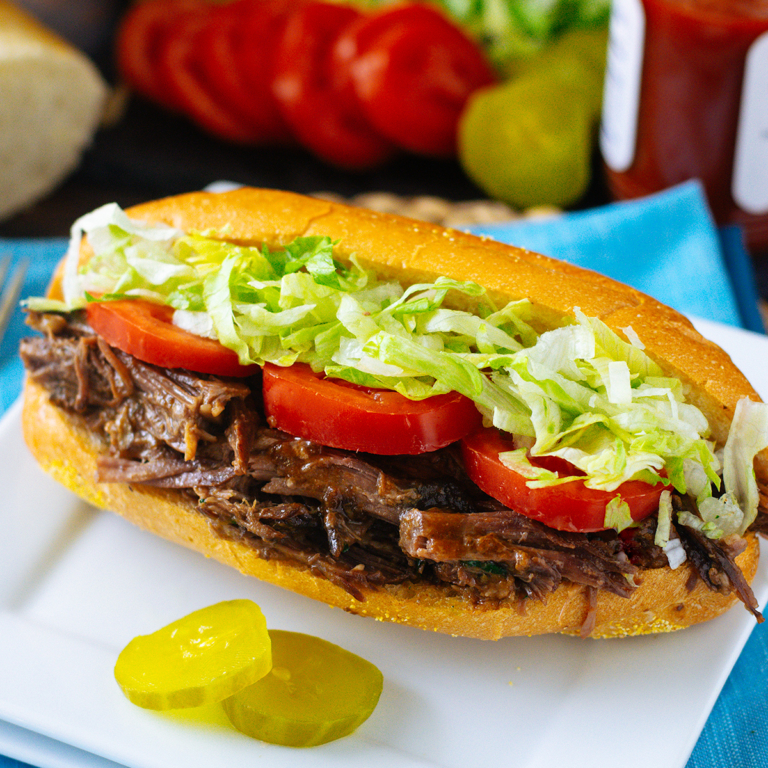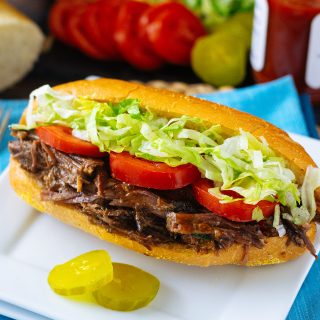 Slow Cooker Roast Beef Debris Recipe
Slow Cooker Roast Beef Debris Recipe - Tender shredded beef cooked low and slow creating the most juicy deliciously rich gravy all while it cooks. Perfect for a New Orleans Style Po' Boy or served as a main dish over potatoes or french fries!
Ingredients
3½ to 4

pound

chuck roast

½

teaspoon

garlic powder or salt

1

packet au jus mix

,

dry

1

packet brown gravy mix

,

dry

2

cups

beef broth

1

tablespoon

worcestershire

1

tablespoon

hot sauce

½

stick butter

,

optional
Instructions
Place chuck roast in slow cooker.

Sprinkle garlic powder over top of roast. Then add dry au jus mix and brown gravy mix on top.

Pour on top of dry mixes the worcestershire and hot sauce.

Place half stick of butter on top. (optional, but add a nice richness to the dish)

Pour beef broth in bottom of slow cooker around the roast.

Place lid on top and cook on low for 8 hours or on high for 4 hours.

Once done, shred beef into bite sized pieces. (see note if you want extra gravy)

Eat over potatoes, french fries, rice or Po' Boy Style on a french roll with cajun mustard and/or mayo, sliced tomatoes, lettuce and pickles.
✱ Nikki's Tips
Extra Debri Gravy Instructions
This recipes creates a delicious gravy as it cooks and usually is plenty for the amount of meat. However, if you would like extra gravy you have couple options.
1. When beginning to cook add an additional brown gravy packet and 4 cups of beef broth or water for extra gravy.
2. If you have already cooked as instructed and decide you want more gravy, remove beef to a plate or cutting board to shred. Add in 2 cups of beef broth and then make a cornstarch slurry with ¼ cup water and 3 tablespoons cornstarch. Stir into liquid in slow cooker, let thicken and enjoy.
3. If you want to go all out for a creamy gravy, you can skim off about ½ cup of drippings. In a skillet over medium high heat, add 3 tablespoons butter and ⅓ cup flour, stirring with a whisk cook flour for 1 to 2 minutes. Add in drippings and slowly pour in 1 to 2 cups of heavy cream or to desired thickness. If you want a more traditional debris gravy skip the cream and use beef broth instead.
Nutrition
Serving:
1
1 serving
Calories:
611
kcal
Carbohydrates:
3
g
Protein:
57
g
Fat:
42
g
Saturated Fat:
19
g
Polyunsaturated Fat:
20
g
Trans Fat:
2
g
Cholesterol:
204
mg
Sodium:
789
mg
Nutrition Disclaimer
Soulfully Made is not a dietician or nutritionist, and any nutritional information shared is only an estimate. We recommend running the ingredients through an online nutritional calculator if you need to verify any information.