This BUTTERY BEER BREAD RECIPE calls for just a 4 simple ingredients! The beer bread has a buttery, crunchy crust and a super soft dense crumb. It's perfect to serve with your favorite soup or to top with a little honey, butter, or jam.
Don't have yeast! You won't need it for this recipe! It's super simple and simply delicious!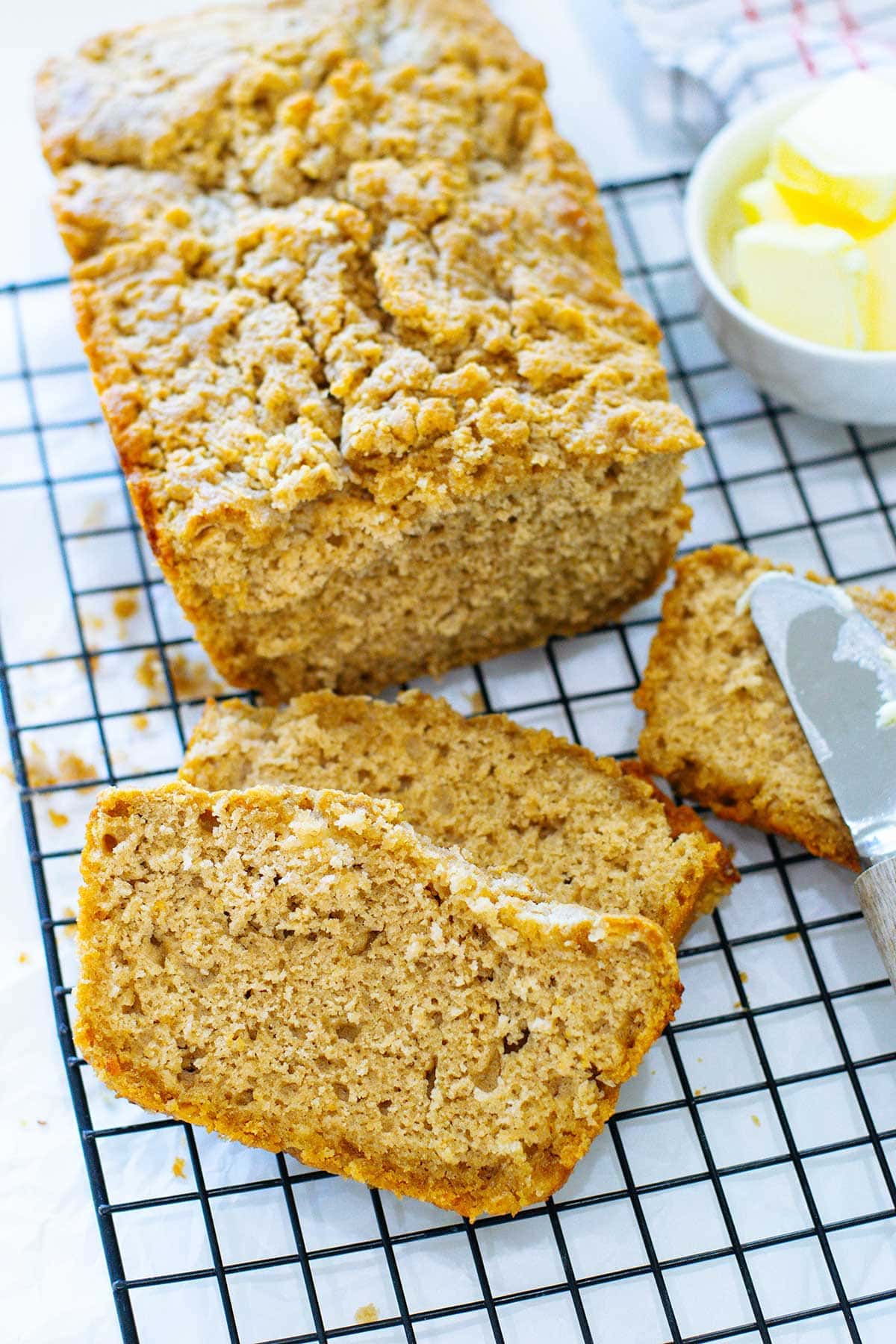 Whether you are not quite sure you can tackle making bread with yeast and all the kneading and rising goes along with that, or if you just want a simple bread that is delicious and quickly made, this is the perfect solution!
Even if you are a bread baking pro this bread is totally worth making because it is so good!
It is delicious for sandwiches, toast, dunking in your favorite soup or stew. It has a slightly sweet and a subtle buttery taste almost similar to cornbread. It goes great alongside chili, a bowl of beans, or even some barbeque!
Why you'll love this recipe
Quick and easy to make: Just 4 simple ingredients mixed together. No kneading and no yeast required!
Adaptable and versatile: You can easily use what you have on hand and you can easily substitute with what is in your pantry. You can also change it up by adding your favorite mix-ins.
Great taste and texture: This bread's texture is super soft and has a moist and dense crumb. It has a delicious buttery taste with just a touch of sweetness.
Ingredients for quick beer bread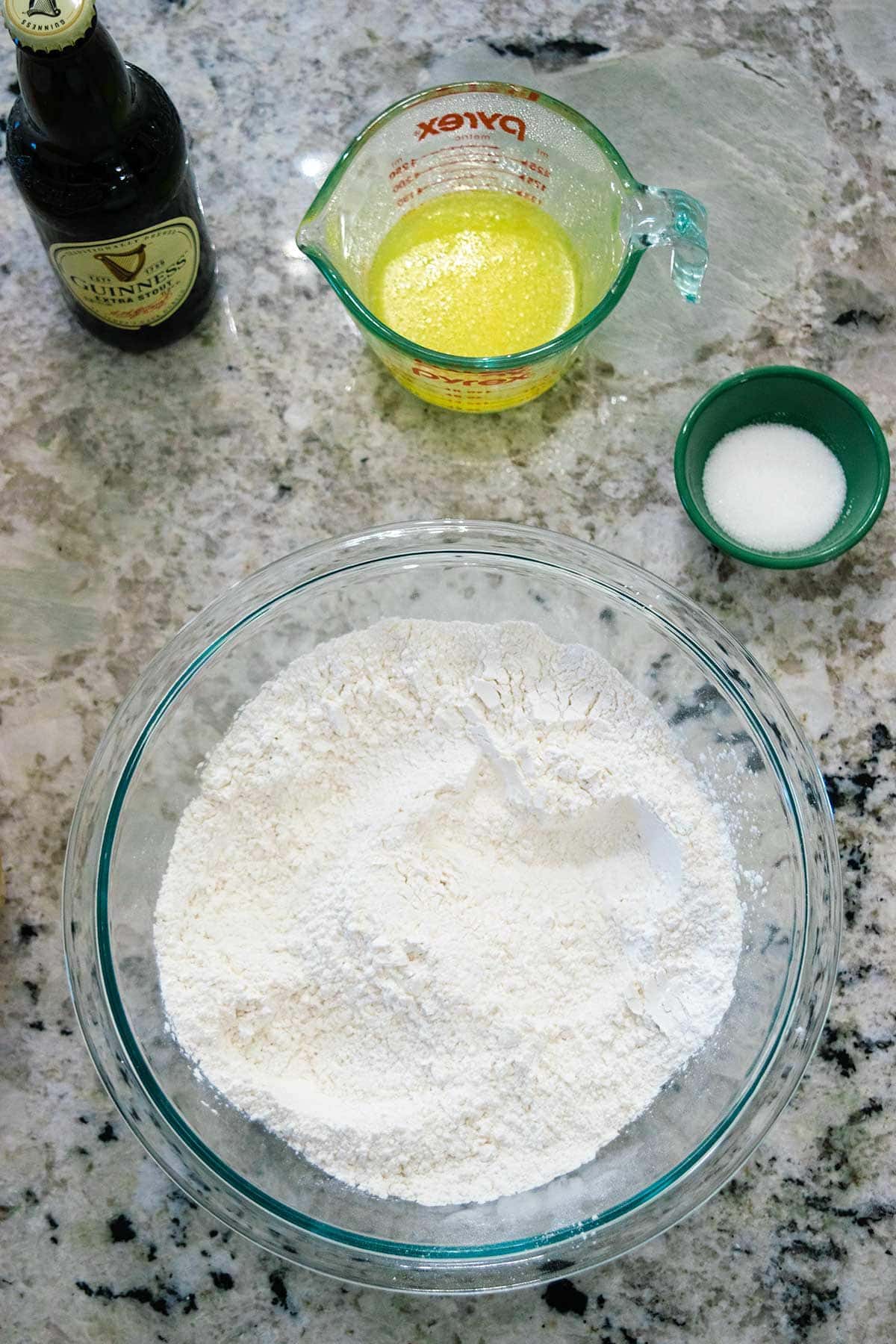 Flour: This recipes uses self rising flour to make it quick and easy. No self rising flour - no worries, I have included directions for how to make your own with all-purpose flour for a substitution.
Beer: Adds the leavening and tons of flavor to the bread. Dark beer will give you a deeper flavor and a lighter beer has a lighter-tasting flavor. Either way use what you have and try different ones each time you make them. Substitutions: Use any beer you like or have on hand.
Butter: Well in my opinion butter makes everything better. It does that in this bread too. Substitutions: Canola or vegetable oil, olive oil or even avocado oil (I would cut these back to 6 tablespoons).
Sugar: Add a touch of sweetness, but it mostly just rounds out the flavor of the beer bread. Substitution: Honey - you can use the same amount 1 to 4 tablespoons
How to make buttery beer bread
This bread is a super simple quick bread. I have always had success with this recipe - It's a no fail recipe I make again and again!
✱ Be sure to see the recipe card below for exact ingredients and instructions!
STEP 1: Mix dry ingredients and pour in beer of choice.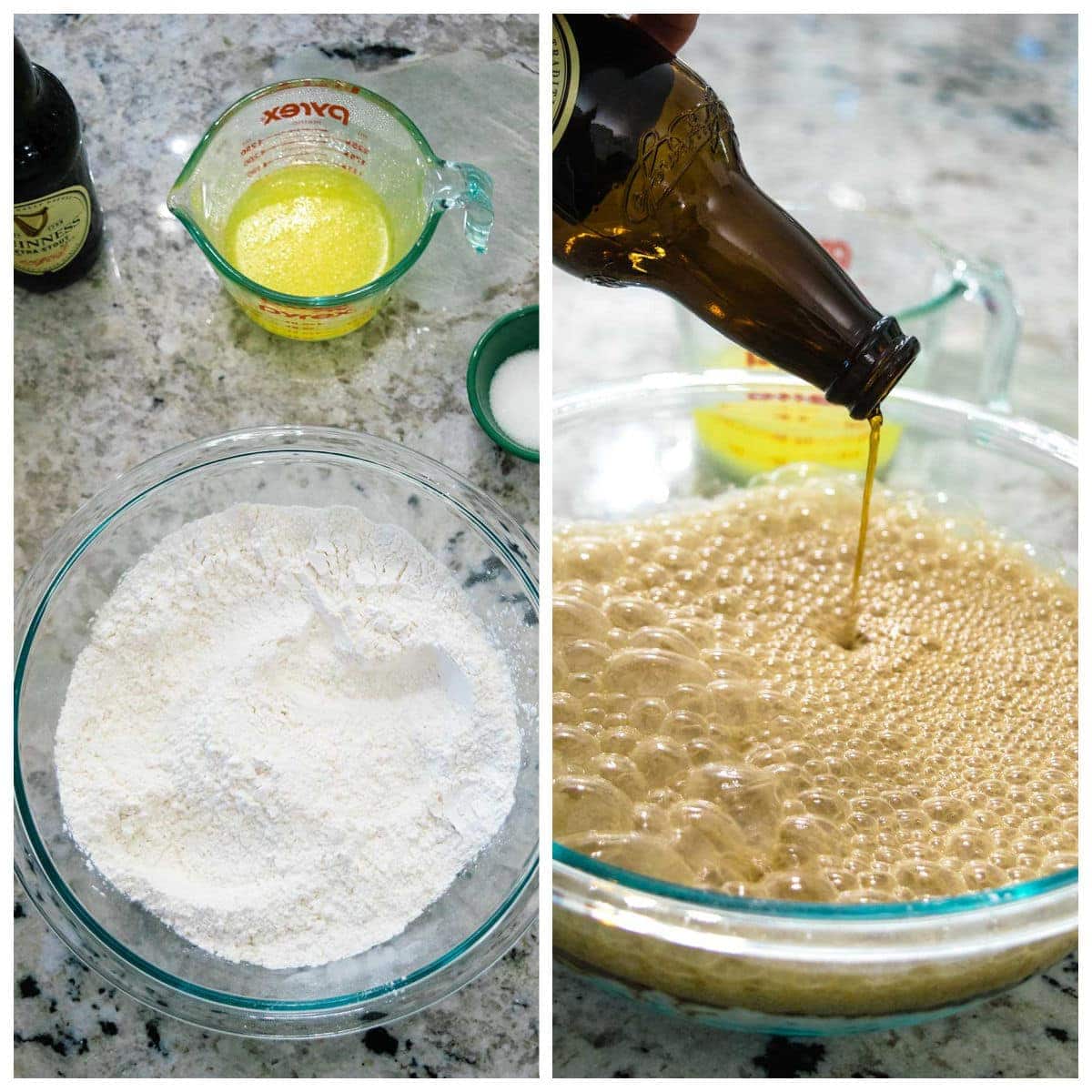 STEP 2: Stir beer into dry ingredients until combined.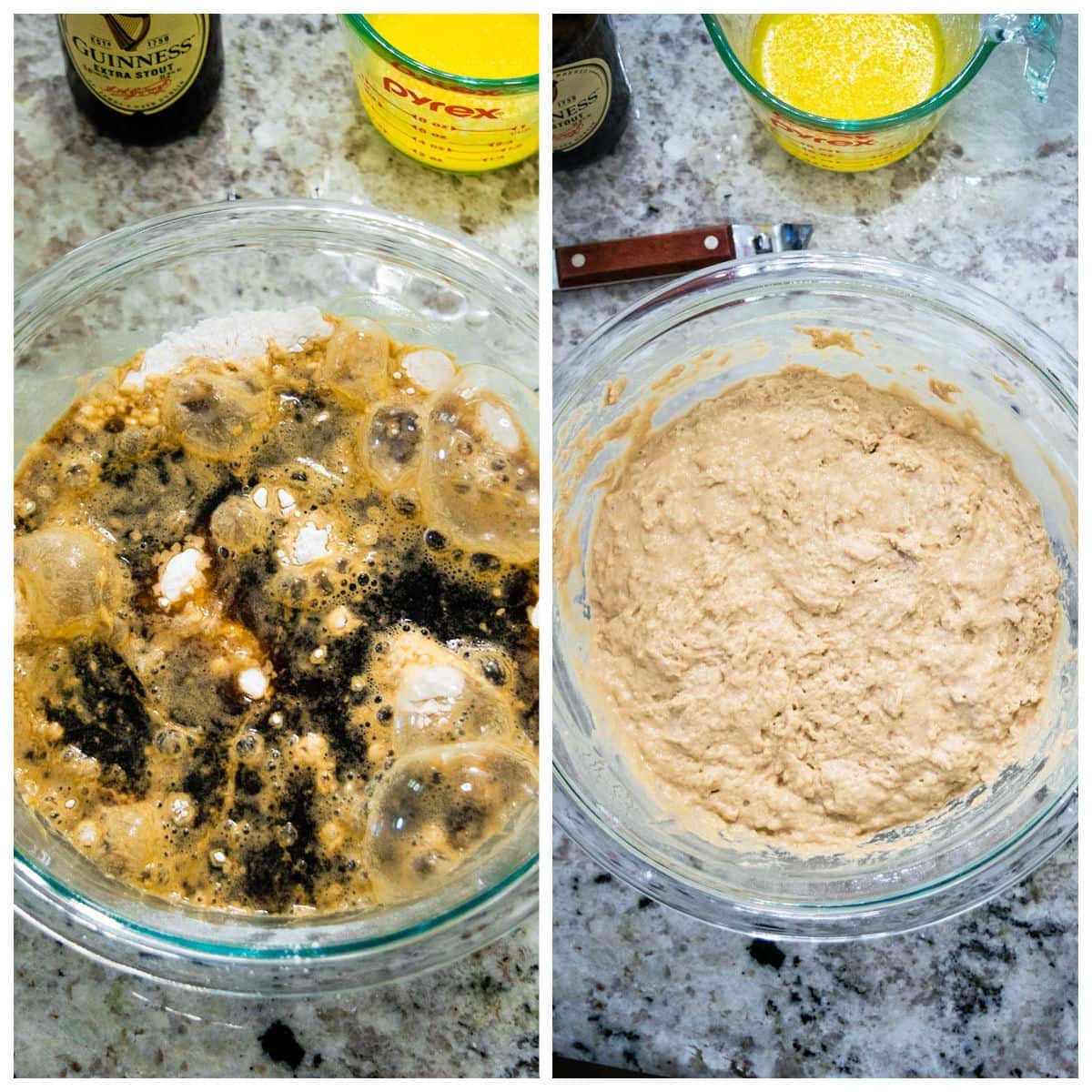 STEP 3: Pour half of butter into loaf pan and brush up the sides. Then spoon in batter into loaf pan and spread out to the corners.
STEP 4: Pour other half of butter over the top of the dough.
STEP 5: Bake at 375° for 35 to 45 minutes. Remove from oven let cool a few minutes. Then enjoy!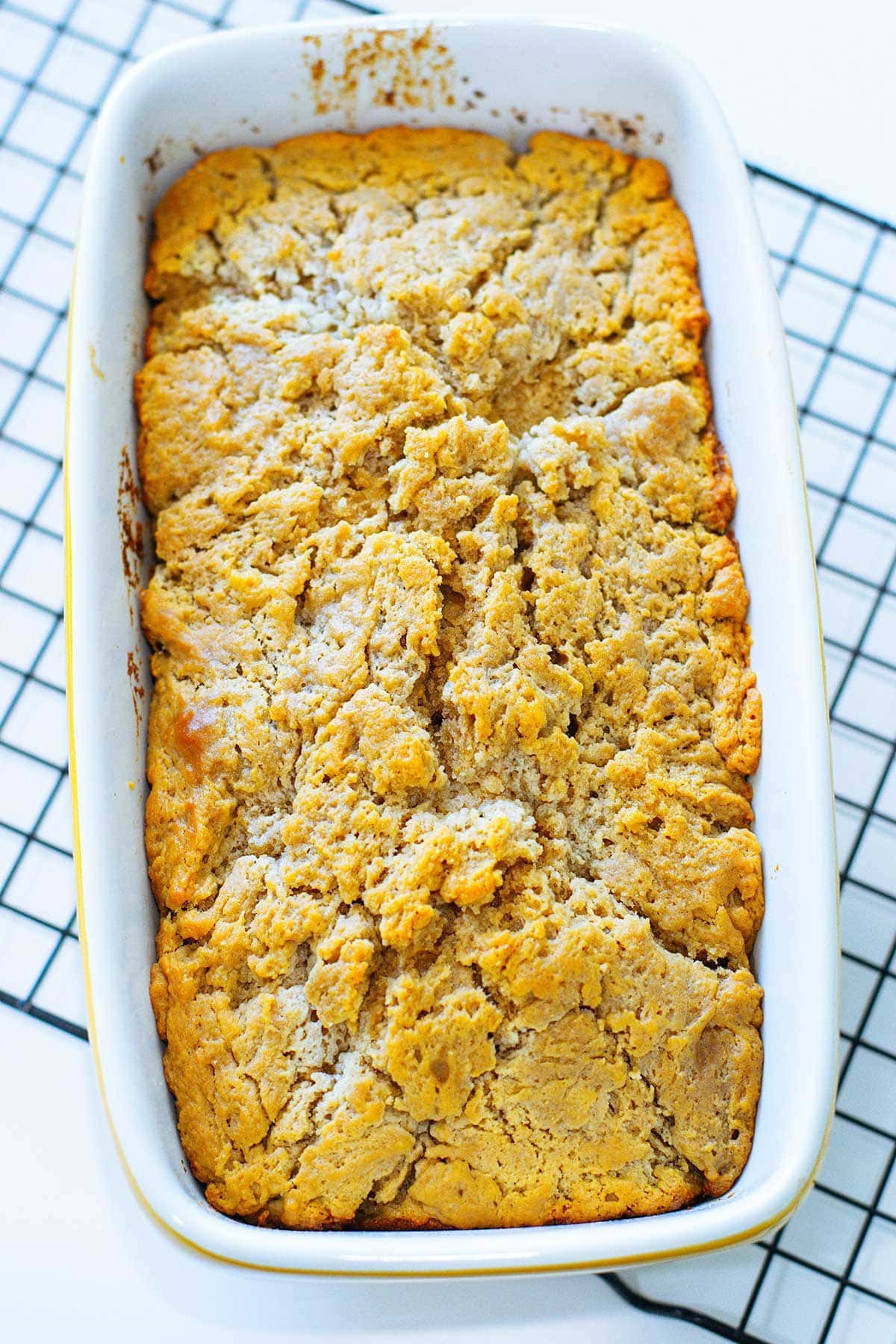 Frequently Asked Questions
How does beer bread work?
Beer bread is a simple quick bread. The beer replaces the yeast for leavening.
What beer should I use?
Any kind works! Use a light beer, a stout, a pale ale. Really any kind you like.
Can children eat this bread?
Yes, most of the alcohol cooks out. It just leaves a nice flavor to the bread. So anyone can enjoy this bread. Unless, of course, there is an allergy concern.
How do you store beer bread?
Wrap bread tightly with cling wrap and then foil, or store in an airtight container at room temperature for 3 days. This will keep it from drying out.
Can I freeze beer bread?
Yes, it freezes well. Once completely cooled, double wrap with cling wrap and then foil. I usually place in a freezer bag and label and date the bag. It will freeze well for up to 3 months.
Thaw overnight and warm up in the oven or toaster.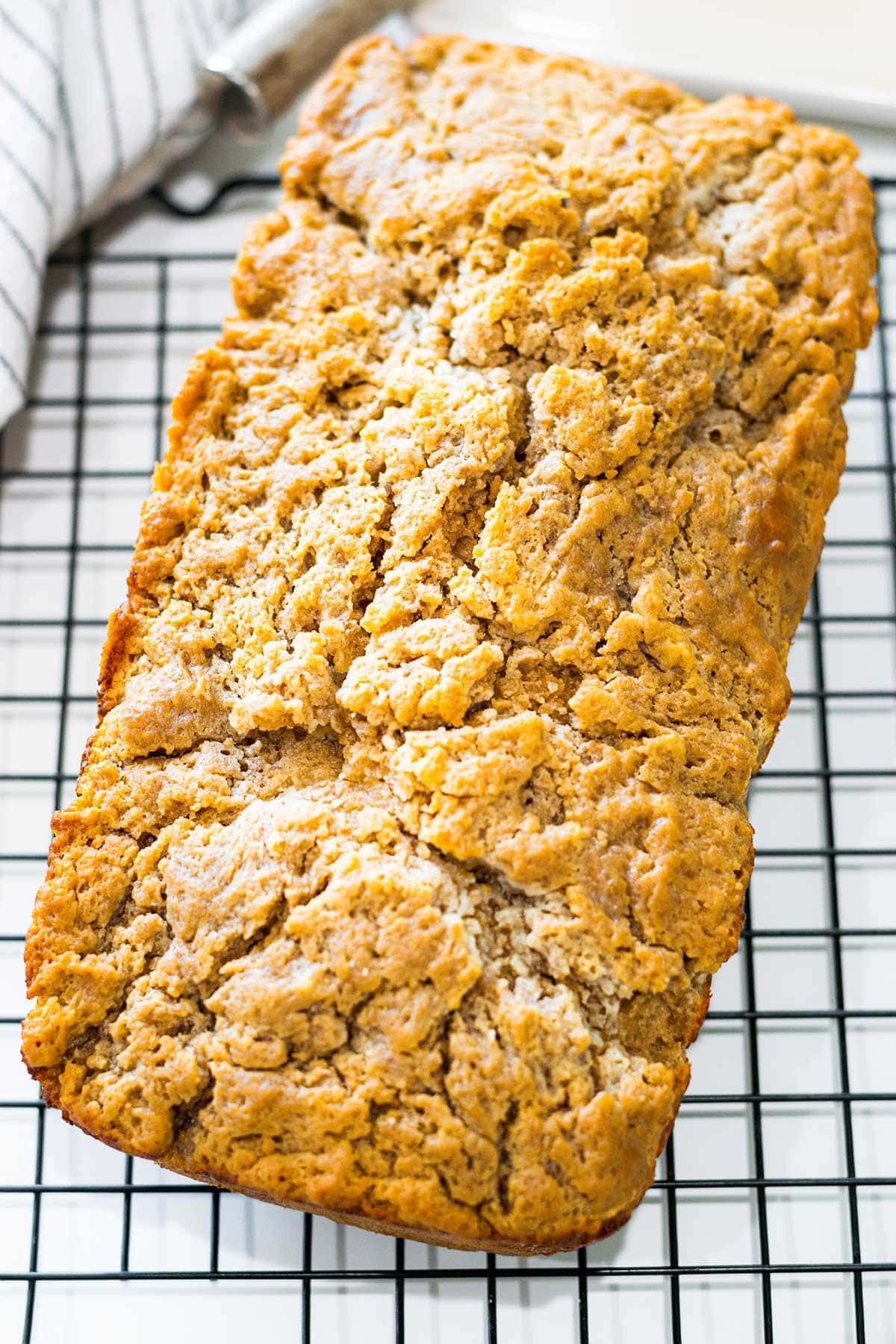 Variations or Add Ins:
This buttery beer bread is delicious as is, with a pat of butter or even toasted. But if you like to change things up from time to time, here are some of my favorite combinations:
Simply add your mix-ins of choice when you stir together your dough.
Stir in shredded cheese, like cheddar, pepper jack, gruyere, or pick your favorite. (1 to 1 ½ cups works well). I like to put about ¼ cup on top, so reserve a little for the topping.
Add in spices, like garlic, Italian seasoning, or a taco or mexican blend. (1 Tablespoon)
Fresh herbs, such as rosemary, thyme, parsley or basil.
Basil, mozzarella, and garlic are delicious together.
Fresh garlic - raw or roasted!
Pickled jalapenos or even diced chilis are perfect add ins. (Both of these are delicious with cheese too).
Mix or layer in pesto.
✱ When using add ins especially things like pesto or cheese you might need to increase cook time a little.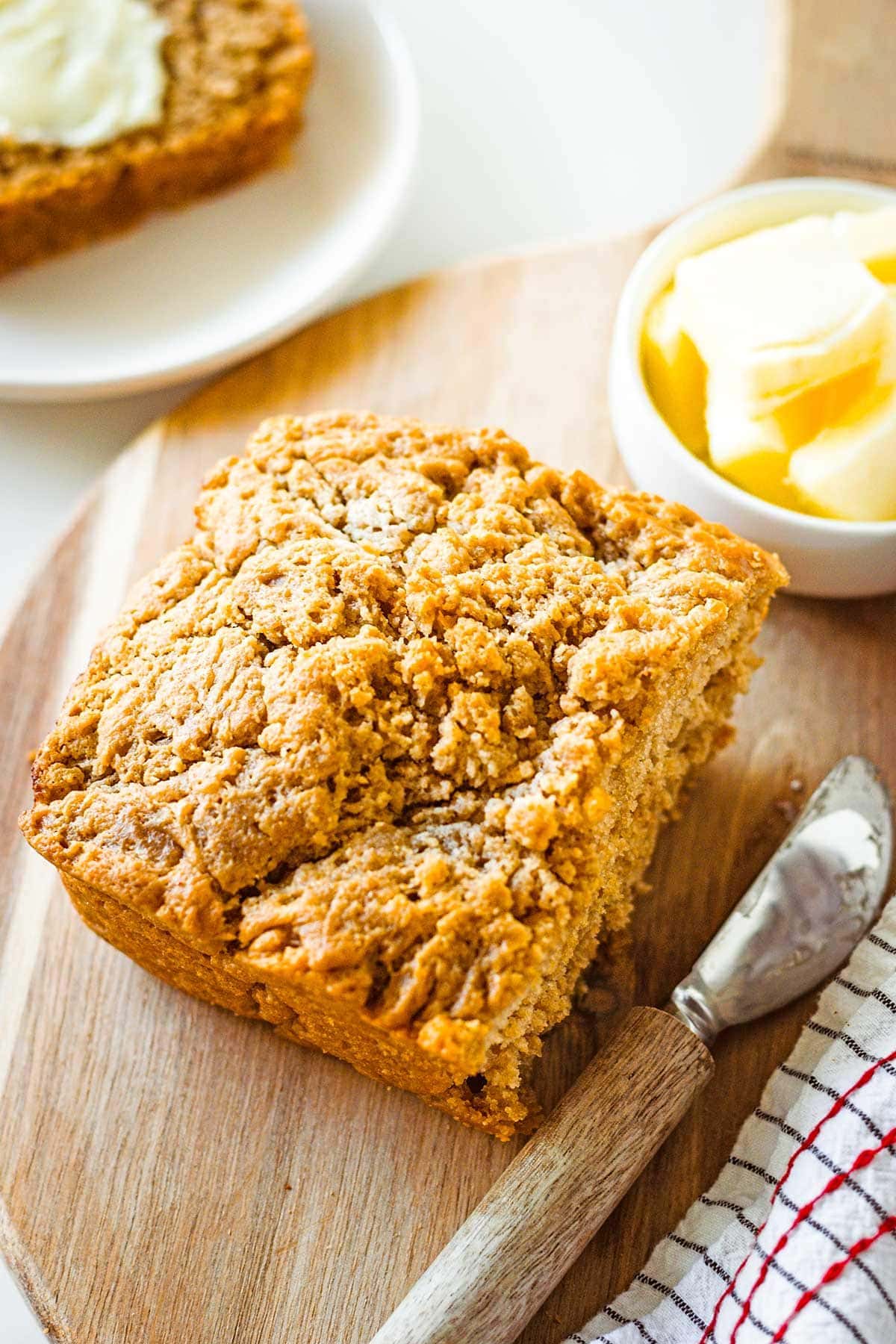 Tips
If you don't have self rising flour - Mix 1 ½ teaspoons of baking powder and ¼ tsp of salt for every 1 cup of all-purpose flour.
Remember to stir and spoon in the flour to the measuring cup then level it off. You want to do this without compacting it in. (This gives you more flour than the recipe calls for).
Mix the dough until combined. You do not want to overmix or you will make the bread a little touch and much too dense.
Keep in mind the beer you use determines the flavor profile and the sweetness, so as you make this you can adjust the amount of sugar to your liking. Sometimes it takes making a time or two to get it just the way you like it. This recipe is simple and is good no matter which one you pick though.
The type of beer will also change the color of the bread. If you use a stout it will be darker and a light beer will be lighter in color. (Note: my bread pictured here was made with a stout, thus giving it a darker color)
Save a little of the melted butter to brush on the top after it comes out of the oven. It gives it a little extra sheen and makes for a beautiful top.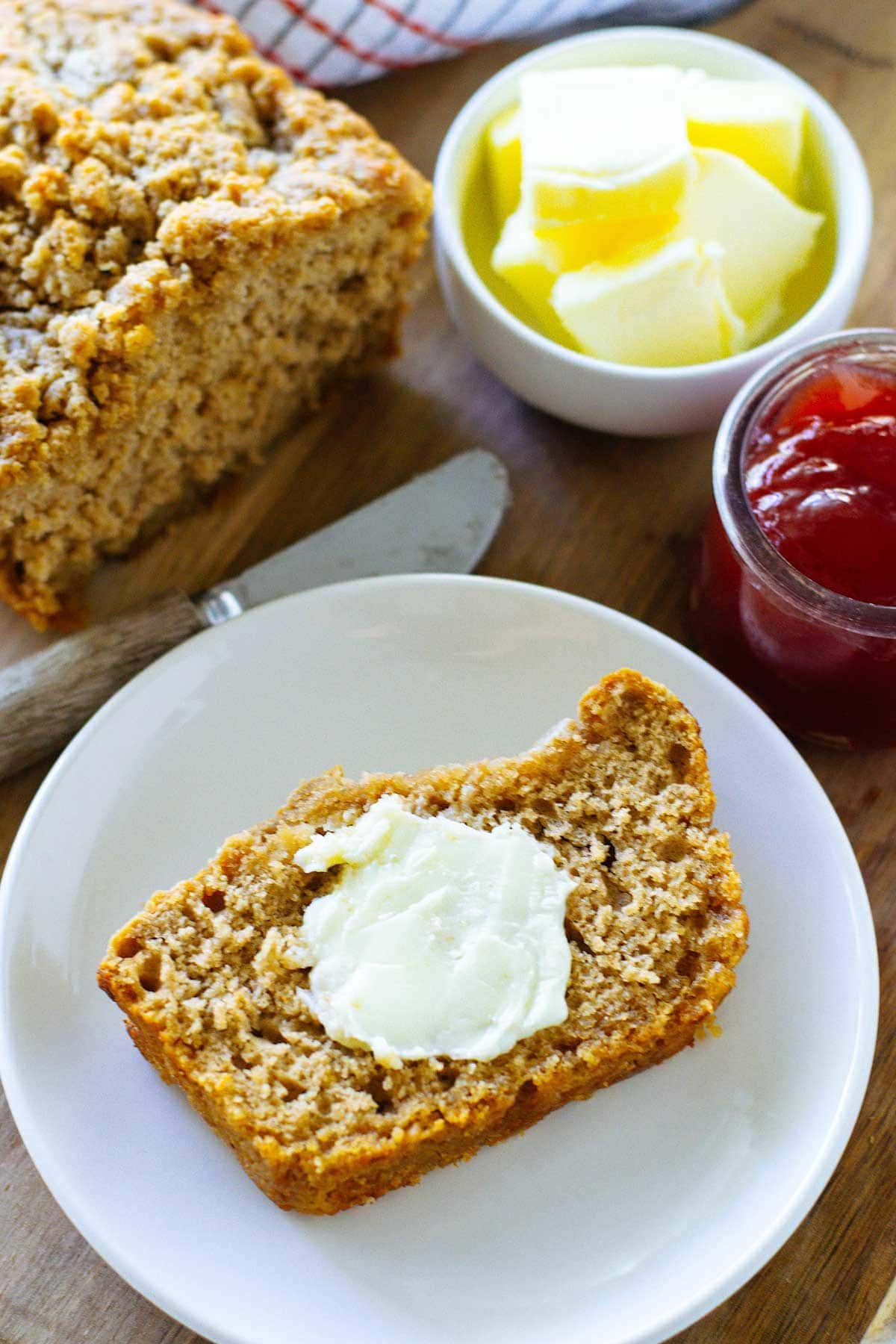 What to serve with beer bread
I suggest serving this with a savory soup, chili or bowl of beans. creamy potato soup, zuppa toscana soup, instant pot chili recipe, a white chicken chili, or this black-eyed pea and collard green soup!
It goes great with this Baby Lima Beans and Slow Cooker BBQ Beef Brisket too!